The best gluten-free dairy-free nut crusted chicken fingers recipe. These low carb chicken tenders are baked and very healthy! Simple and easy to prepare and can use almond flour, almond meal, or even finely chopped almonds to bread the chicken. Kids love them!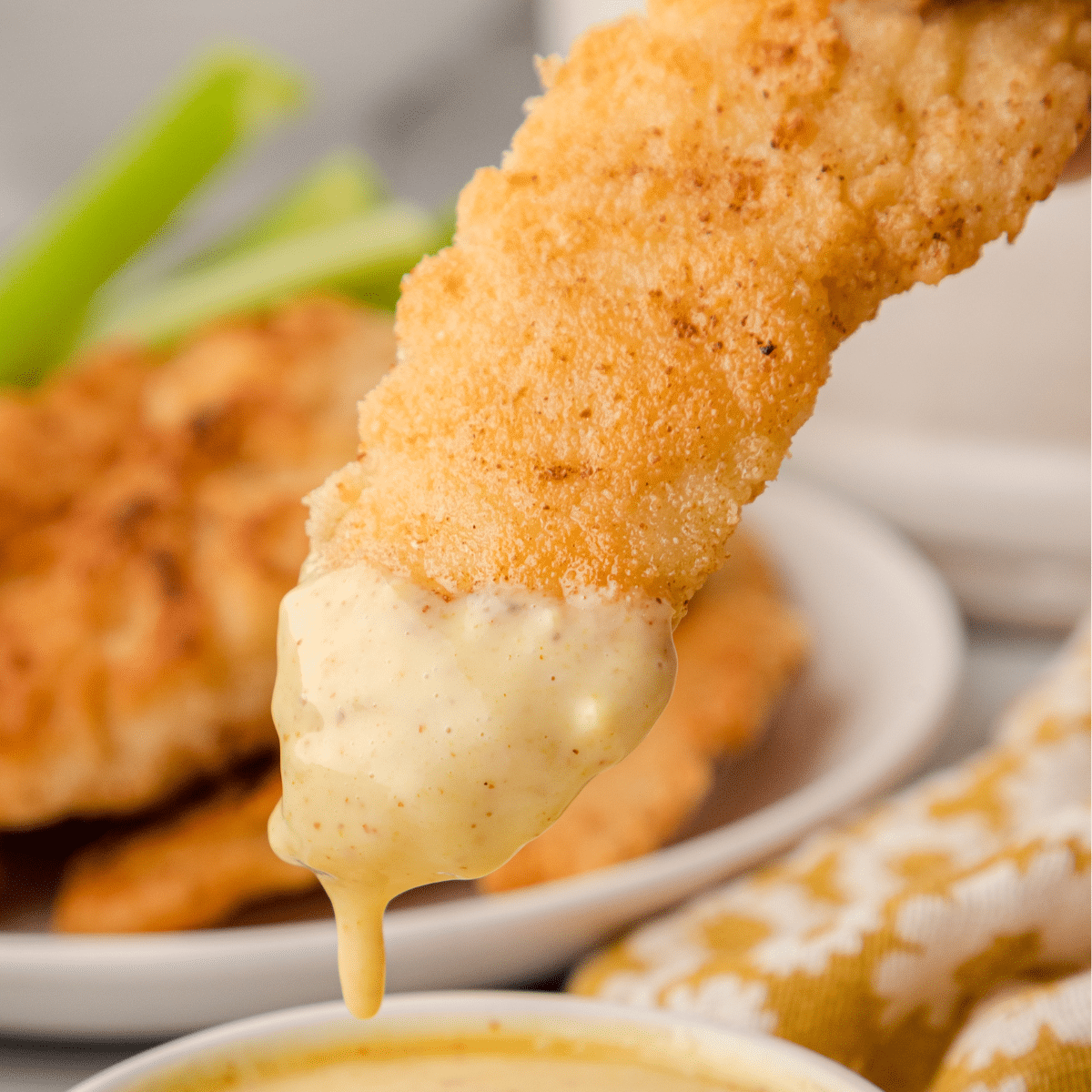 Eating gluten-free is not as hard as I expected it would be.
We've been eating normally for the most part since I went gluten-free. We have cut out most of our pasta and bread, having gluten-free pasta only twice (it wasn't that good) and no gluten-free bread (also not very good).
We've modified some recipes and used our gluten-free flour blends quite a bit.
I am pain-free, though I can't be sure whether it's because I'm gluten-free, because I wear hand/wrist braces to bed every night, or because the medicine my rheumatologist gave me is finally working. It's probably a combination of all three. I have already ascertained that I can't go without the braces or the medicine (via very scientific experimentation).
My next back to a normal life step is to eat gluten normally for a few days and see how it affects my gut and my hands.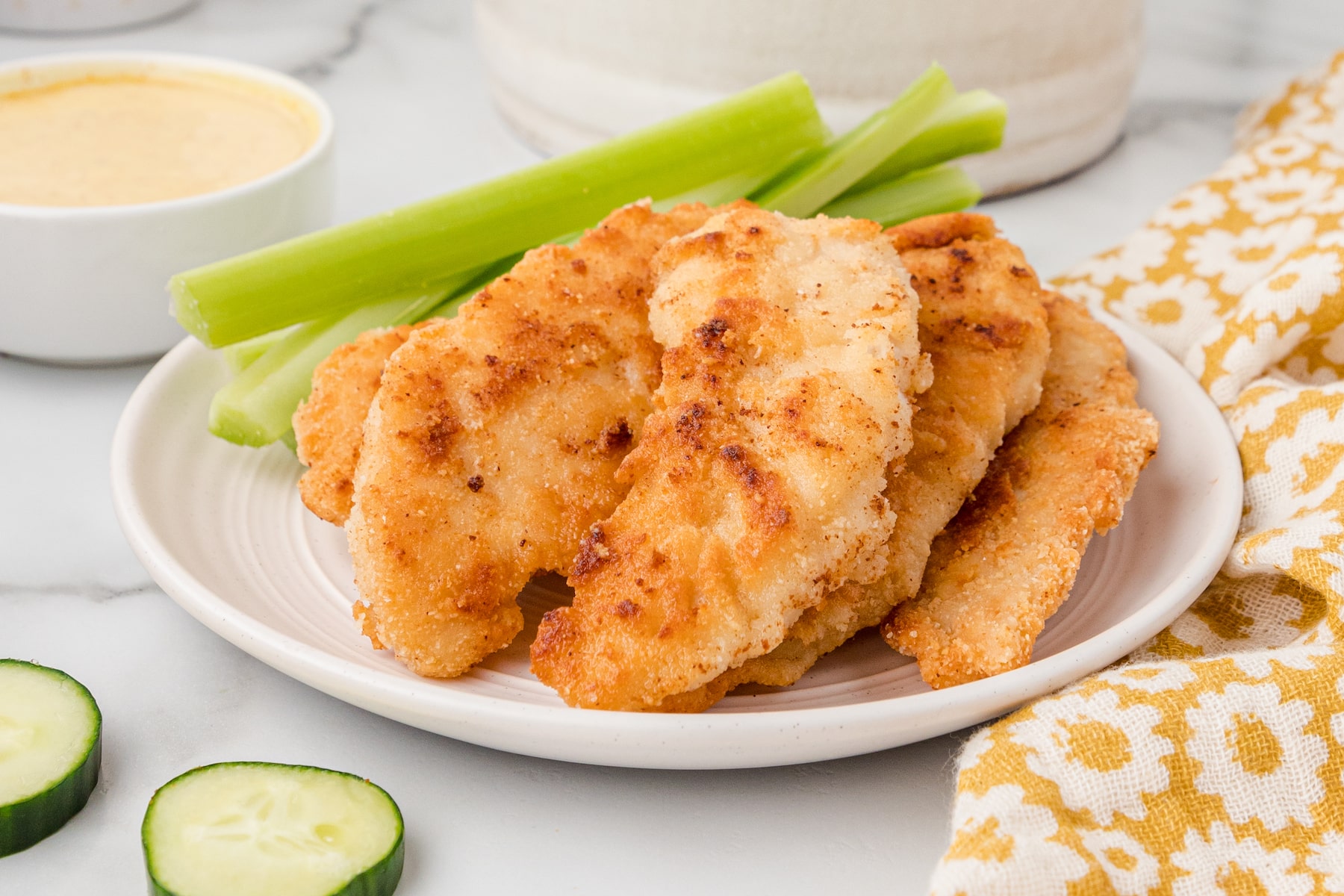 Anyway, these chicken strips are amazing. When Joe said he was going to make gluten-free chicken fingers, I was skeptical. I may have groaned inside, remembering the first gluten-free pizza he made. That experiment was not a success even though I lied and said I liked it.
So the chicken strips.
Try them, whether you eat gluten or do not eat gluten. You will love them.
I ate all the leftover chicken strips for lunch, not sharing a single one with my children. The nuts in the coating give the chicken fingers a nice crunch and a boost of protein.
This is my new favorite chicken fingers recipe. The gluten free breading is crispy and has a tremendous flavor. I won't ever go back to the old bread crumbs way.
What you'll need to make gluten free chicken fingers
I recommend always using a meat thermometer when cooking any kind of meat, fish, or poultry.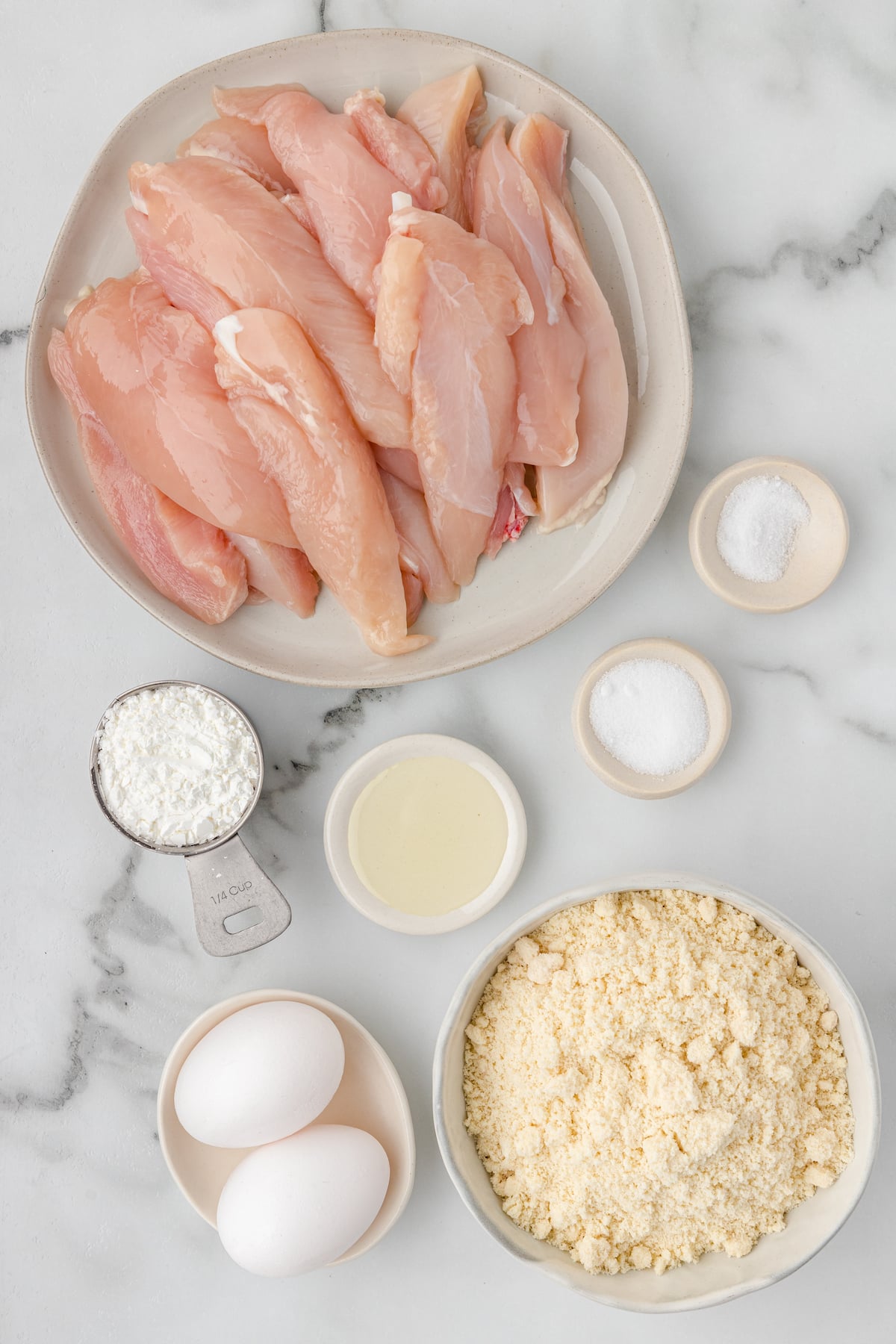 See printable recipe card at the bottom of the page for measurements and nutritional information.
Cornstarch - This will allow your almond flour to stick to the chicken.
Sugar - This is a tiny amount, but if you must, you can leave it out.
Salt - This brings out the flavor of the almonds.
Water
Egg whites, lightly beaten - You need eggs to make the breading to stick to the chicken. You can use whole eggs if you want to.
Almond flour - You can also use almond meal or plain old ground nuts. You'll want to get the pieces as small as possible or else your chicken tenders will look like this. Not bad exactly, but the nuts are tough to cook properly. They burn pretty quickly.

Boneless skinless chicken breasts - Cut into strips, or else you can buy chicken tenders already cut.
Canola oil - Alternately, you can use avocado oil
Honey mustard sauce for dipping - See my quick & easy recipe below.
How to make the best nut-crusted gluten free chicken tenders recipe
In a flat, shallow bowl (or a pie plate), blend cornstarch, sugar, salt, and water.

Gradually whisk in egg whites.

Place the ground nuts in a second flat, shallow bowl.
Dip each chicken finger in the egg mixture then coat with nuts.

It's best when breading foods to keep a "wet hand" and a "dry hand." In other words, always work with one hand in the liquid mixture and the other hand in the flour. This way, you won't get big clumps of wet flour all over the place.

In a large skillet over medium high heat, fry chicken fingers for 5-7 minutes or until there's no more pink and the internal temperature is 165ºF in the fattest part of the chicken.

Drain on paper towels.

Serve with honey mustard and some veggies.

What kind of dipping sauce do you serve with gluten free chicken fingers?
You can use a commercial honey mustard dressing or whip up your own using ½ cup brown mustard, ½ cup light mayo and ⅓ cup hot honey (or regular honey if that's all you have). You could also dip these in some homemade ranch dressing or cajun remoulade sauce, either of which would be delicious.
Are these homemade chicken tenders dairy-free?
Yes, they are dairy free.
Can you bake gluten free chicken strips?
Yes, you can, and it's actually a little easier. Place tenders in a single layer on a baking sheet (on top of a wire rack if you have one) and bake them in a pre-heated oven at 375ºF for about 20 minutes or until the internal temperature is 165º. I say it's easier because the breading sometimes sticks a little in a skillet, whereas the breading sticks nicely to the chicken and stays out of the pan when you bake them.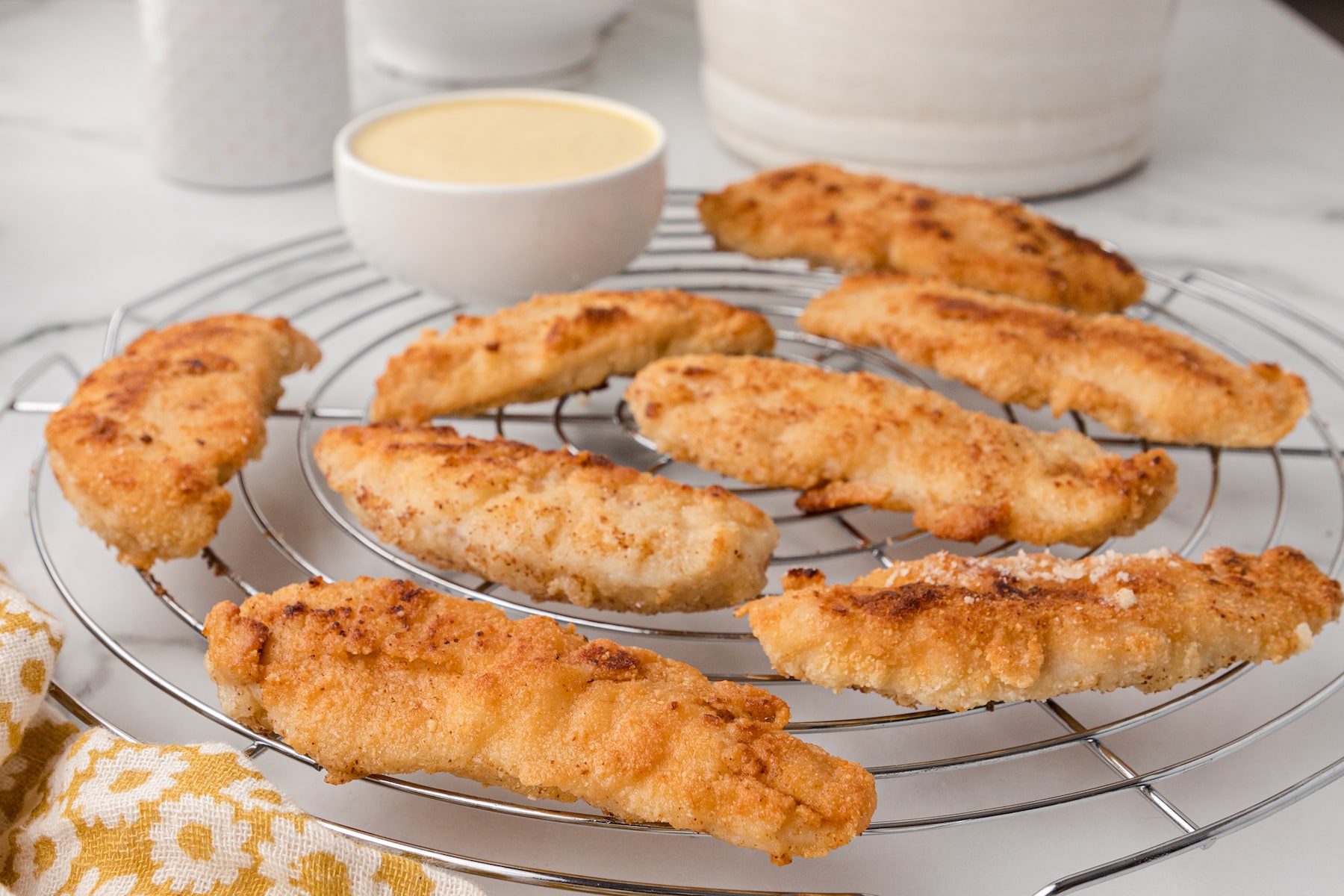 Can you cook gluten free chicken tenders in an air fryer?
Yes, you can. Place tenders in a single layer in the air fryer basket. Pre-heat the air fryer to 400ºF and cook 5-6 minutes on each side (or until crispy). Double check that the internal temperature is 165ºF before serving.
Serve your gluten free chicken tenders with one of these sides:
Storing leftover chicken strips
You can store leftovers in an airtight container in the fridge for up to 4-5 days. To reheat, pop them in the air fryer at 350ºF for 4 minutes or in a 375ºF oven for 10 minutes.
To freeze chicken tenders, spread them out in a single layer on a parchment lined baking sheet and place in the freezer for 6-8 hours. After they are frozen solid, you can place them in a zippered freezer bag and store in the freezer for up to 2 months.
To reheat frozen chicken tenders, thaw overnight in the fridge and then reheat as directed above.
Try these other low carb and gluten free recipes while you're here:
Recipe
Recipe adapted from Taste of Home Kid-Approved Cookbook, which my mom and sister gave us for Christmas. It's an awesome cookbook, and we love it.