Garlic Parmesan roasted carrots are crispy and sweet, and the addition of the crunchy Parmesan cheese sends them over the edge to amazing. Your family will devour these carrots at holiday meals and everyday dinners. Always double the recipe if you want leftovers because these carrots disappear quickly.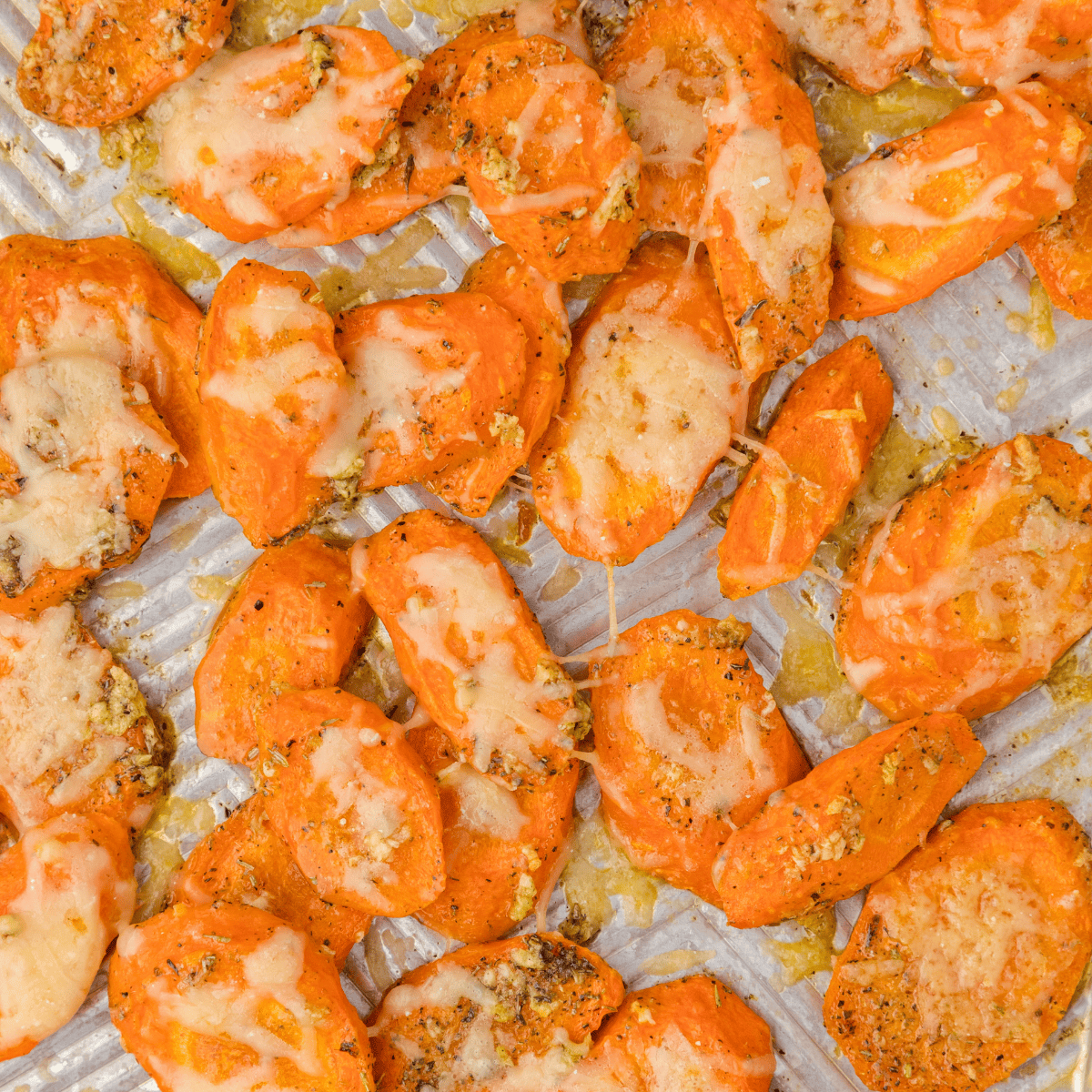 We are always on the lookout for good, low carb vegetable dishes because, on my bariatric diet, I eat about 5 ounces of meat with 3 ounces of vegetables for every lunch and dinner.
That's what I eat, day in and day out, and will for the rest of my life. No sugar, and very few carbs outside of vegetables and limited fruit.
So we need a little variety because plain old steamed veggies get pretty old pretty fast. I have come to hate plain old steamed vegetables.
That desperation is where this recipe came from. I knew I liked roasted vegetables better than steamed, and Joe suggested throwing a bit of Parmesan cheese on top of the carrots. The cheese would melt and then get crispy in the oven, giving a new texture to the carrots.
The Parmesan cheese adds some calories to the carrots, but it's pretty minimal and makes the carrots taste so very good.
The recipe tells you to slice carrots on a mandoline. This is an excellent one that will get your carrot slices much more uniform than all but the best knife skills can. It's important to have uniform slices or else you will have some carrots that are overcooked and mushy and some that are undercooked and crunchy. Uniform slices means they will all be perfectly cooked at the same time. I have had a mandoline for at least 20 years, and I would never cook without it.
In fact, I wrote a whole post about it many years ago - 10 Things to Make with a Mandoline. Check that out to see why you need one of these handy gadgets in your kitchen.
Why these are the best roasted carrots
These garlic Parmesan roasted carrots are one of my most favorite easy side dish recipes, and they are the single vegetable that my kids ask for consistently. They won't eat broccoli or cauliflower or peas, but they ask for Parmesan roasted carrots at least once a week – and there are NEVER any leftovers!
These roasted carrots are the best because they're quick and easy. Melt some butter, toss the carrots, and you're almost done.
Carrots caramelize in the oven when roasted at a high temperature. So even if you don't add honey or maple syrup (and I don't, in this recipe), your carrots will develop a sweet flavor that is really appealing to kids and adults alike. Paired with the slight saltiness of the Parmesan cheese, you have a winning combination!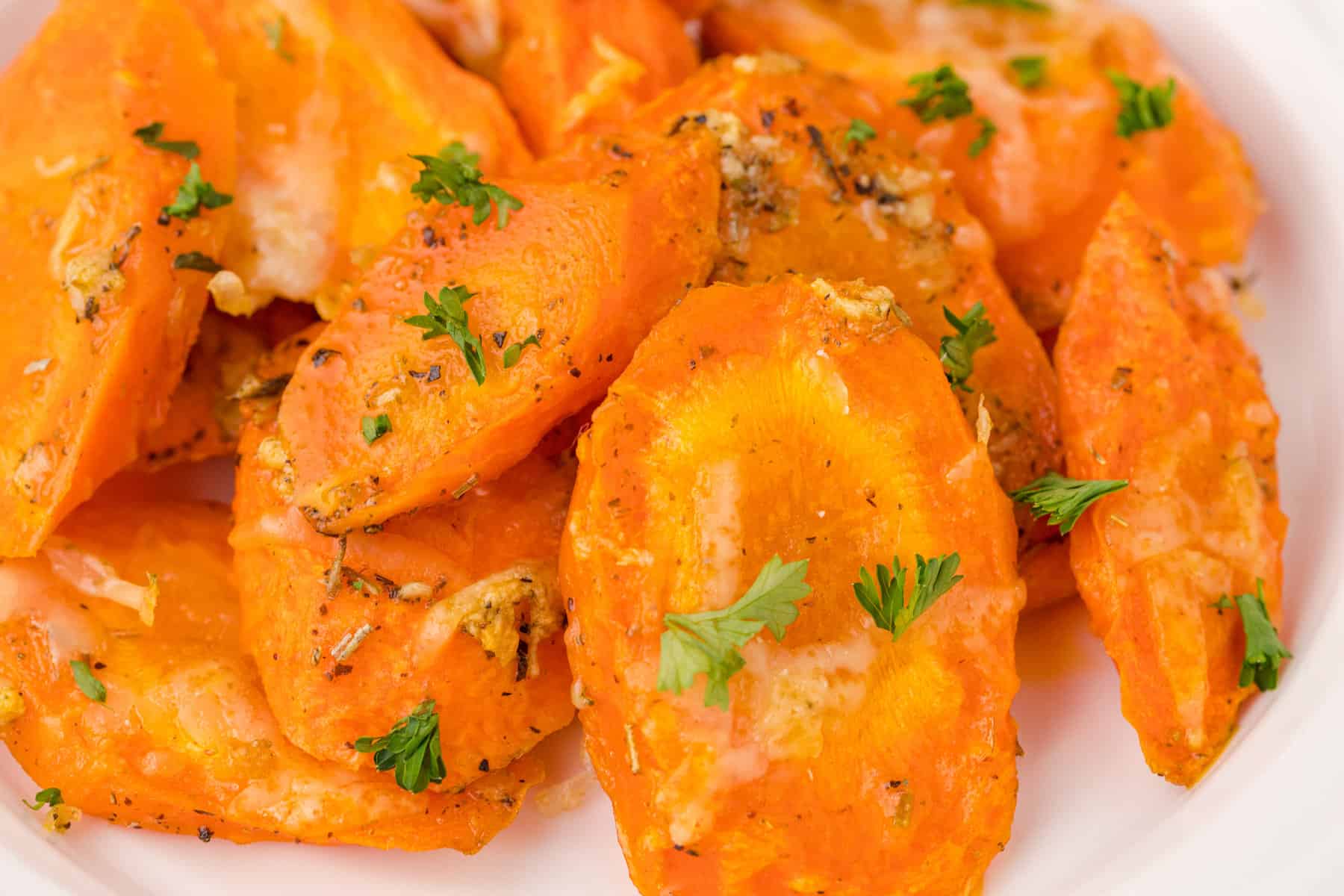 What you'll need to make garlic Parmesan roasted carrots
Equipment
If you buy baby carrots, you can skip the vegetable peeler, but if you buy larger carrots, you'll need it for sure. I prefer to cut my carrot sticks with a mandoline, as I said above, and I mince my garlic with a garlic press. If you buy baby carrots, have good knife skills and a very sharp knife, you could get around needing all three of those items.
You will, however, need a baking sheet, and there's no way of getting around that. You need a pan to roast the carrots on in the oven. I prefer a baking sheet with a rim around the edges to prevent any liquid from spilling over onto the bottom of the oven. I have a self-cleaning oven, but I hate using it (all those toxic fumes!). So, better to contain the liquid during cooking.
Ingredients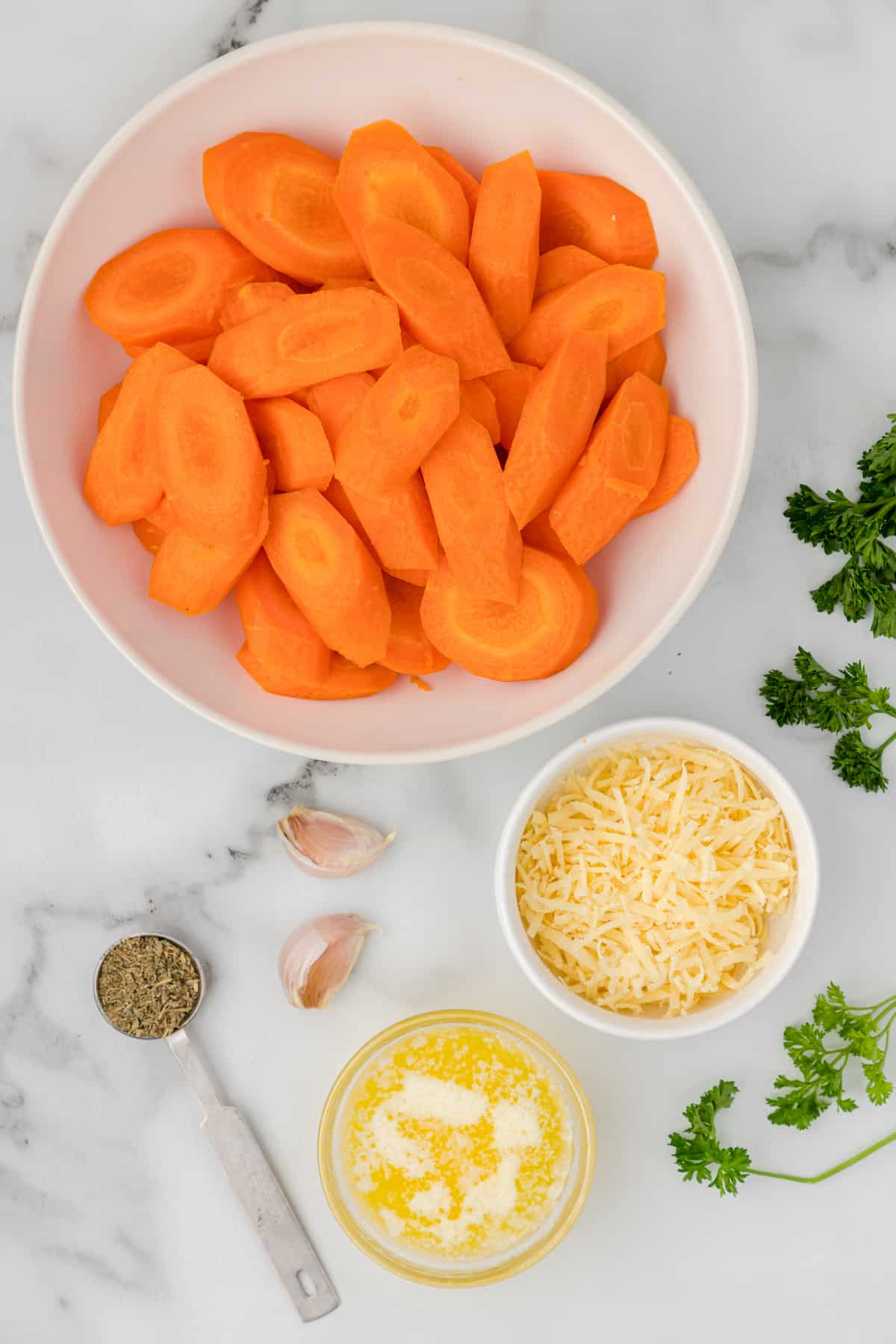 See the printable recipe card at the bottom of the page for all measurements and nutritional information.
Carrots - I like to use whole carrots and cut them myself.
Melted butter – You can substitute an equal amount of extra virgin olive oil or canola oil if you prefer, but I love the flavor that the butter adds.
Fresh garlic – You'll press or mince this. Nobody wants a big bite of garlic, even if it is roasted.
Fresh rosemary – This is optional but adds a nice flavor.
Kosher salt & black pepper – Entirely optional. I don't season my carrots, but you can if you want to.
Parmesan cheese – For the love of God and all that is holy, do NOT use the powdery stuff that comes in a can. That is an abomination and not real cheese. For this recipe, you need real Parmesan cheese that has been grated or cut into tiny slivers. You can buy pre-grated Parmesan cheese in the refrigerated cheese section of your grocery store. It's also usually found in a specialty cheese case at the front of the store, but that stuff is super expensive, and the cheaper stuff in the back will taste just as good.
Fresh parsley – This is optional and only for a garnish.
How to make garlic Parmesan roasted carrots
Preheat your oven to 400ºF.
Peel the carrots if necessary and cut them into the thin planks or sticks.
Mix the melted butter, pressed garlic, and fresh rosemary together in a large bowl.

Toss carrots in this mixture to coat them.

Line a baking sheet with parchment paper.
Place carrots in a single layer on the prepared baking sheet.

Roast for 15 minutes, then sprinkle the carrots with Parmesan cheese.

Roast for another 10 minutes or until the carrots are fork tender and the cheese is melted, slightly browned, and maybe even a little crunchy.

Remove from oven, top with parsley, and serve hot. (Although, these carrots are just as good served room temperature!)

Variations of the roasted carrots recipe
Roasted carrots are wonderful when tossed in a tablespoon or two of honey to bring out the natural sweetness. You can do that before tossing in the melted butter, if you prefer your carrots to be a little sweeter. I prefer mine to be more on the savory side, so I don't add the honey. This is the perfect side dish recipe either way!
You can use a variety of fresh herbs if you don't like rosemary. Fresh thyme is especially nice. You can also use a variety of seasonings in place of the rosemary, including taco seasoning, fajita seasoning, cajun seasoning, sweet BBQ seasoning, spicy BBQ seasoning, or ranch dressing mix. (Those are all links to recipes for healthy, great-tasting homemade seasoning mixes.)
If you're in a pinch, you can use garlic powder in place of the fresh garlic, but it won't taste the same.
The cooking time specified results in fork tender carrots for me. If you cut your carrot sticks thicker or use whole baby carrots, they'll likely need to cook longer. If you use really tiny carrot sticks, they might need to cook less. Also, if you prefer your carrots on the crunchy side, you should shorten the cook time. (My roasted carrots are not mushy by any means, but they do get soft.)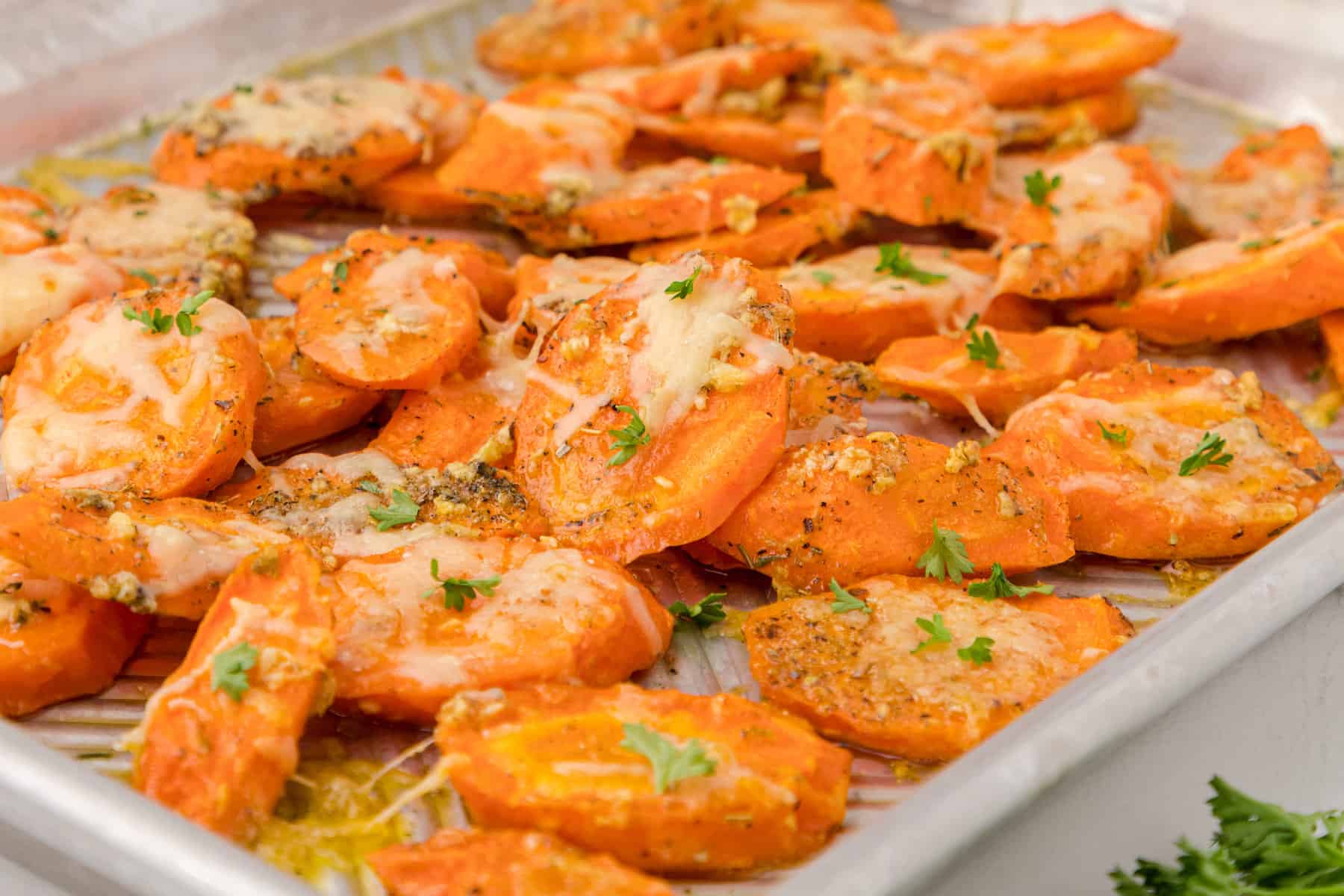 Do you have to peel carrots to roast?
You don't. In fact, you don't have to peel carrots to eat ever. Some people (including me and especially my kids) prefer to eat peeled carrots because they look nicer.
You should always wash your carrots (they grow in the dirt, after all), but if you scrub them really well with a brush or scrubber mitt, you wouldn't need to peel the skins off. It's up to your personal preference.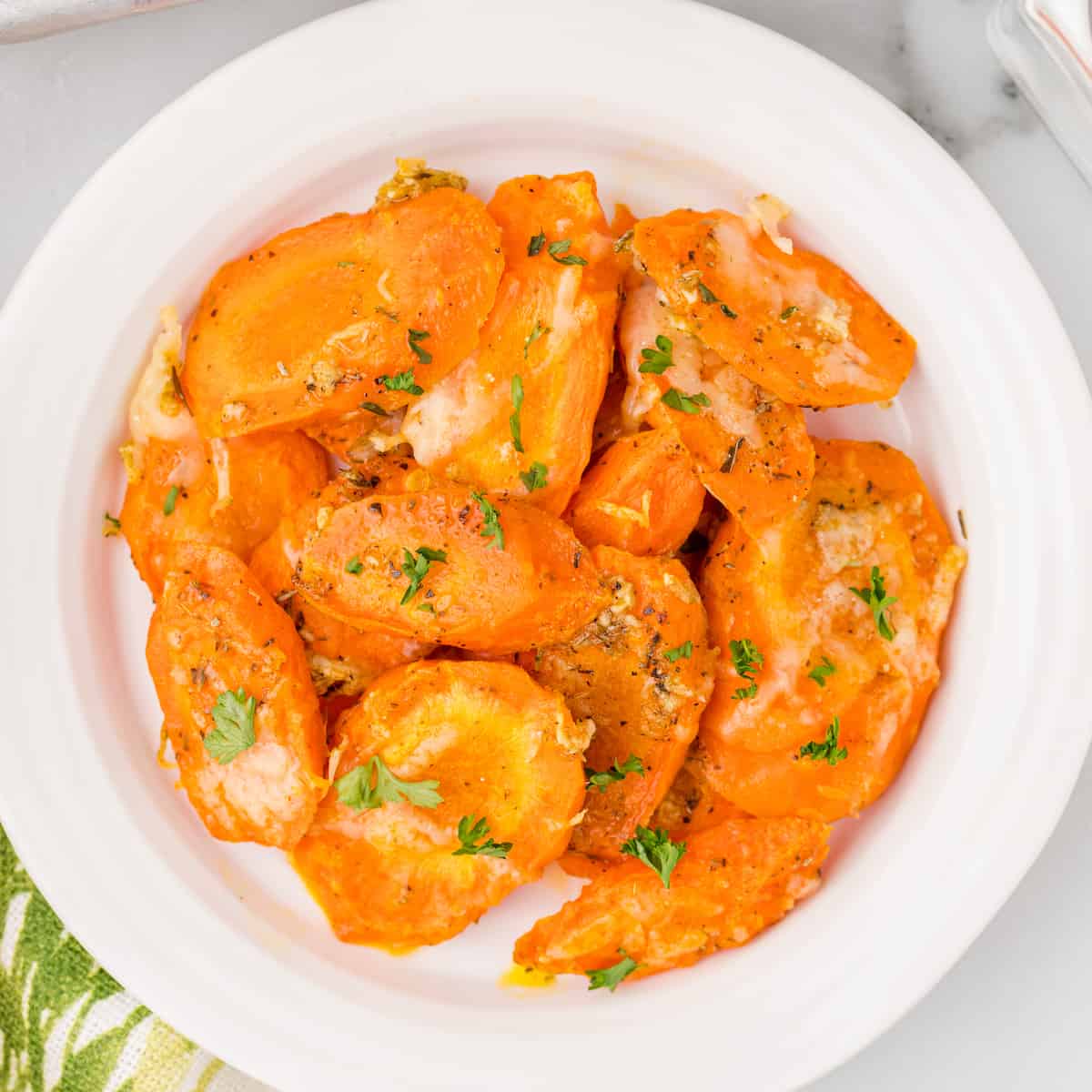 Storing leftover roasted carrots
Put any leftovers into an airtight container and keep in the refrigerator for 3-5 days. You can also freeze these carrots for up to 2 months.
To reheat, simply pop the carrots into the microwave for a minute or two.
More amazing carrot recipes
And here are a few more vegetable side dishes to make for dinner tonight:
Recipe