The best homemade dry BBQ pork spice rub recipe works great for pulled pork, ribs, and roast, but works just as well for chicken, fish, beef, and even vegetables and potatoes. It's a simple and easy recipe that makes great mason jar gifts and stores well in the freezer or in the cupboard.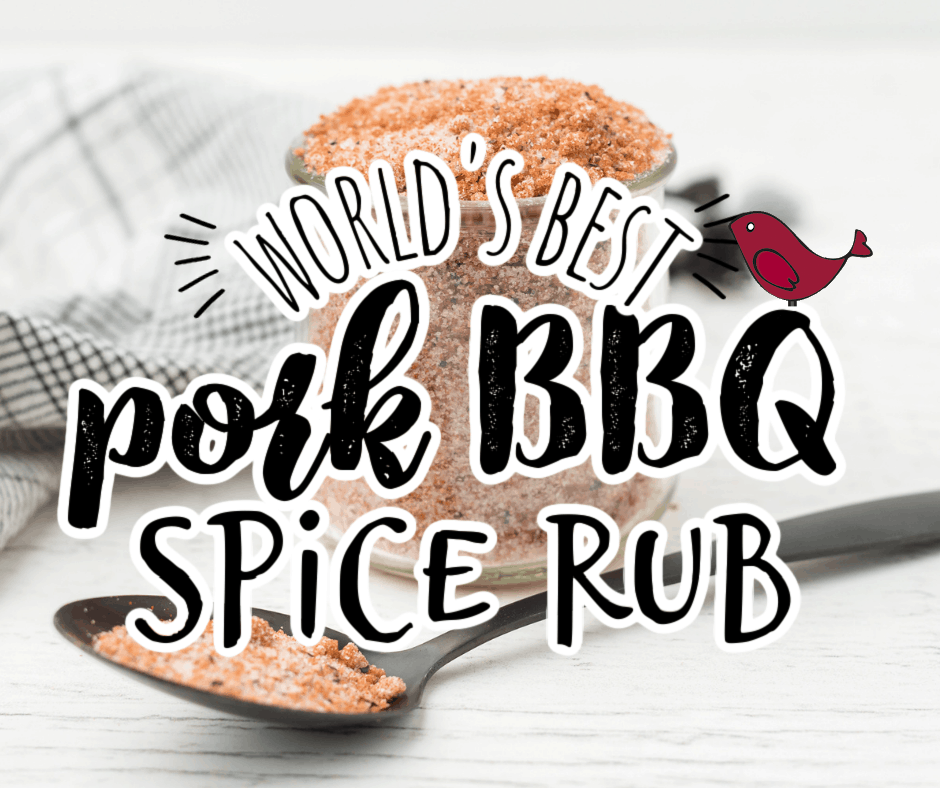 When I was gluten-free, we made most of our own spice blends and spice rubs because a lot of pre-made ones have gluten added (for reasons I do not understand). Pre-made rubs and seasoning blends also have a lot of salt and weird ingredients that you may not want to feed your family.
These days, I'm not gluten-free, but we still prefer the flavor of the homemade mixes and dry rub recipes and continue to make and use them regularly. We also like homemade taco seasoning, sweet & spicy BBQ seasoning, cajun seasoning, fajita seasoning, and homemade ranch dressing mix.
We do like a couple of spice mixes from The Pampered Chef (Italian Seasoning, All Purpose Dill Mix, and Crushed Peppercorn & Garlic Rub), as well as a generic pumpkin pie spice, but for the rest of our mixes, it's all homemade.
This particular BBQ spice rub is perfect on almost all meats. If you can put it on the grill (the gas grill or an indoor electric one), you can apply this rub generously with some olive oil and come out with perfection. It works really well on pork ribs, pork chops, pork roast, pork loin, and pork shoulder of course, but it also goes really nicely with chicken (whole or breasts), salmon, and beef. We've even sprinkled it on vegetables for a kick of BBQ flavor and mixed it with some Greek yogurt to top baked potatoes. It's an awesome all-purpose seasoning mix.
Why is this the best pork spice rub?
Sweet and spicy - This rub is excellent because it includes both white and brown sugar for sweetness and paprika and cayenne pepper for a mild heat. This is not a rub that will knock your socks off and make your nose run; it's a pleasant heat that gives the rub extra flavor.
Common ingredients - This rub is made with ingredients that almost everyone has in their pantry. You can make it without a trip to the store to buy new stuff. That said, spices do lose their potency over time, so you won't be as happy with your rub if the spices you use to make it are 5 years old.
What is BBQ spice rub?
If you've ever had chicken wings in a flavor other than buffalo hot, you have probably had a spice rub.
A rub is a blend of assorted spices, seasonings, and flavoring ingredients that you apply directly to the outside of meat, poultry, or seafood before cooking. The rub forms a coating on the food and gives it a strong flavor. A robust rub can transform a plain piece of meat from boring and bland to rich and flavorful!
Spice rubs can be wet or dry. A dry rub is made of only the spices and seasonings, without any oil, vinegar, or sauce. A wet rub is a dry rub plus liquids: olive oil, balsamic vinegar, Tabasco, soy sauce, Worcestershire sauce, or lemon juice.
Ingredients for this BBQ pork rub recipe
White sugar - If you prefer, you can replace this with brown sugar.
Brown sugar - This is the key to the recipe because it adds sweetness and balances out the salty and savory flavors. Don't replace this with white sugar.
Kosher salt
Freshly ground black pepper
Paprika - You can use sweet paprika or smoked paprika. Obviously, they will have different flavors and will make the finished spice rub taste different. This is the primary flavor in the rub.
Garlic powder - If you don't have this, you can double the onion powder.
Onion powder - If you don't have this, you can double the garlic powder.
Cayenne pepper - You'll use just a tiny bit of this. It's enough to add a deep, rich flavor, but not enough to make the rub spicy hot.
If you wanted to add additional heat, you can increase the amount of cayenne ¼ teaspoon at a time and/or add some chipotle chili powder 1-2 teaspoons at a time. (Regular chili powder will add a savory flavor but not much heat.)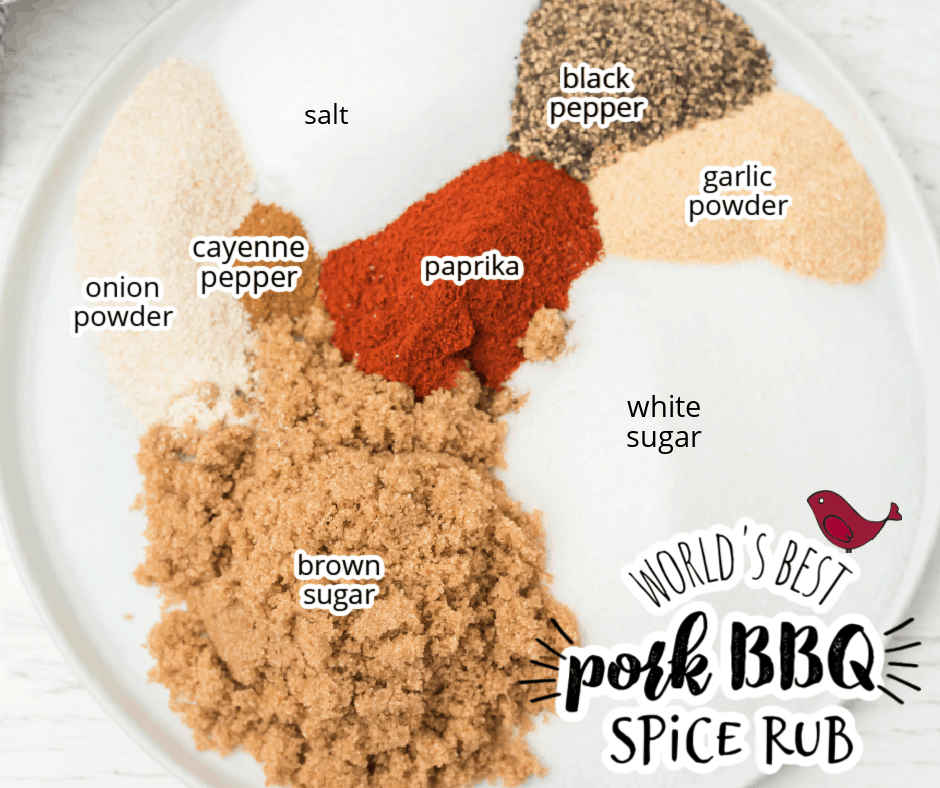 What's the difference between a rub and a brine?
Spice rubs and brines both enhance the flavor and texture of meat, fish, or poultry, but they are very different. A spice rub (either wet or dry) is applied just before cooking and left on the meat. It is cooked, served, and eaten directly on the meat. A brine is applied to meat for hours or days in advance and rinsed off before cooking.
What's the difference between a rub and a marinade?
A wet rub is a lot like a marinade, but there are some key differences. Whether wet or dry, a rub is literally rubbed onto and into the meat. The spices are massaged into the surface and typically form a crust during cooking. Sometimes the spices are applied a few hours in advance, but typically just before cooking
A marinade contains more liquid than a wet rub, usually acid to tenderize the meat and oil to add fat. The meat soaks in the marinade for a period of hours to overnight (much less for seafood). The acidic base of the marinade permeates the cells in the meat and breaks them down.
While rubs stay on the meat during cooking, marinades should be discarded before cooking. They are not rinsed off like brines, but they are not kept to use as a sauce either.
Rub it in or sprinkle it on?
Rubs, whether wet or dry, need to be applied generously and massaged into every nook and cranny of all four sides of the meat's surface. The idea is that the sugar in the rub melts and caramelizes, and that can't happen if there's not enough of it to form a nice crust.
How much rub should you use?
The general rule is 2-4 tablespoons of dry rub per pound of meat. You will have to play around with the amount to figure out what you like.
If you're using a commercial rub, you probably don't want to use more than 1 tablespoon per pound because of the high salt content. Those can get unpleasantly salty really fast. But when you make the rub yourself, that is not a concern.
For a homemade spice rub like this one, you don't want to see much (if any) of the meat peeking through the rubbed surface. At the same time, you don't want to have any dry dusty spices on the surface of the meat because they will turn into a gritty mess when cooked.
Aim for a thoroughly covering but not so much spice that it cakes on the surface of the meat.
This recipe makes about 1.5 cups of dry rub, and that should be enough for 3-4 3-pound roasts or a dozen nice, fat pork chops.
How do you actually use a dry rub?
I mentioned this above, but you really do rub the spices into the meat. Here's how:
Pat the meat dry with paper towels.
Drizzle a tiny bit of oil onto the meat, and then rub it in. You want an evenly glossy surface without any drips or puddles. Really massage the oil into all the surfaces, nooks, and crannies of the meat and under the skin if it is present.
Coat the meat with spices. This is where the 1-4 tablespoons comes in. Sprinkle the spices over the oiled surface of the meat and vigorously rub it in. There shouldn't be any large spots of raw meat peeking through, and there shouldn't be any large spots of dry spices hanging on. The meat should be evenly coated with the spice rub, and the rub should be incorporated into the meat's surface. As with the oil, make sure you get all of the surfaces, nooks, and crannies and under the skin, if there is any present.
Chill (optional). Some people cover and chill their rubbed meat for a few hours to overnight to let the flavors develop. You can if you want to, but it's not necessary. Try not to wrap anything around the rubbed meat (like foil or plastic wrap) because it will most likely pull your rub back off. Your best bet is a plastic container or zippered plastic bag, although they too will remove some of the spices. I don't do this, and my meat always tastes really good.
Cook the meat. See next section below for tips on cooking the rubbed meat.
How long should dry rub sit on pork or meat?
You can let the rub sit on the pork for an hour or two, up to overnight. Be sure to keep the meat in the refrigerator during that resting time.
If you are in a rush, you can cook the meat immediately after rubbing the spices in, but it won't have as much of the flavor as it would if you let it sit for a while.
How do you cook the meat after applying the rub?
You can prepare the meat using any dry method. (Obviously, you don't want to boil it because all of that beautiful spice will just float right away.) So grill, roast, smoke, bake, or sauté that beautiful piece of meat. You could also put it in your slow cooker, air fryer, or Instant Pot (just don't submerge it in water - steam or dry heat only).
How do you store a homemade dry rub?
You can think of your dry rub as you would any other spice or seasoning blend. Keep it in a cool, dry place (away from heat and sunlight) in an airtight container for maximum flavor and freshness. A pantry or cupboard that's away from the stove and refrigerator is a safe spot.
Generally, a dry rub will keep for up to 6 months this way, although they have their best flavor in the first 2 months.
Did you know that's the general recommendation for most spices? I do not follow it, still using the same bulk container of dried chives since 2004, but I would most certainly notice a difference if I threw them out and bought new ones. All that to say that it is recommended by the flavor gods that you use BBQ spice rub within 6 months, but it won't spoil if you keep it longer.
Don't forget to label and date the jar or bag.
The white and brown sugar in this spice rub may cause it to harden over time. This is okay and will not affect the flavor. Simply crush it with a spoon or pulse a few times in a food processor or spice grinder. It will be as good as new.
Recipe