This easy homemade fajita seasoning mix is a simple and quick recipe that adds lots of delicious Mexican flavor to beef, chicken, pork, seafood, and veggies. Easy to make from scratch with just a few standard pantry ingredients.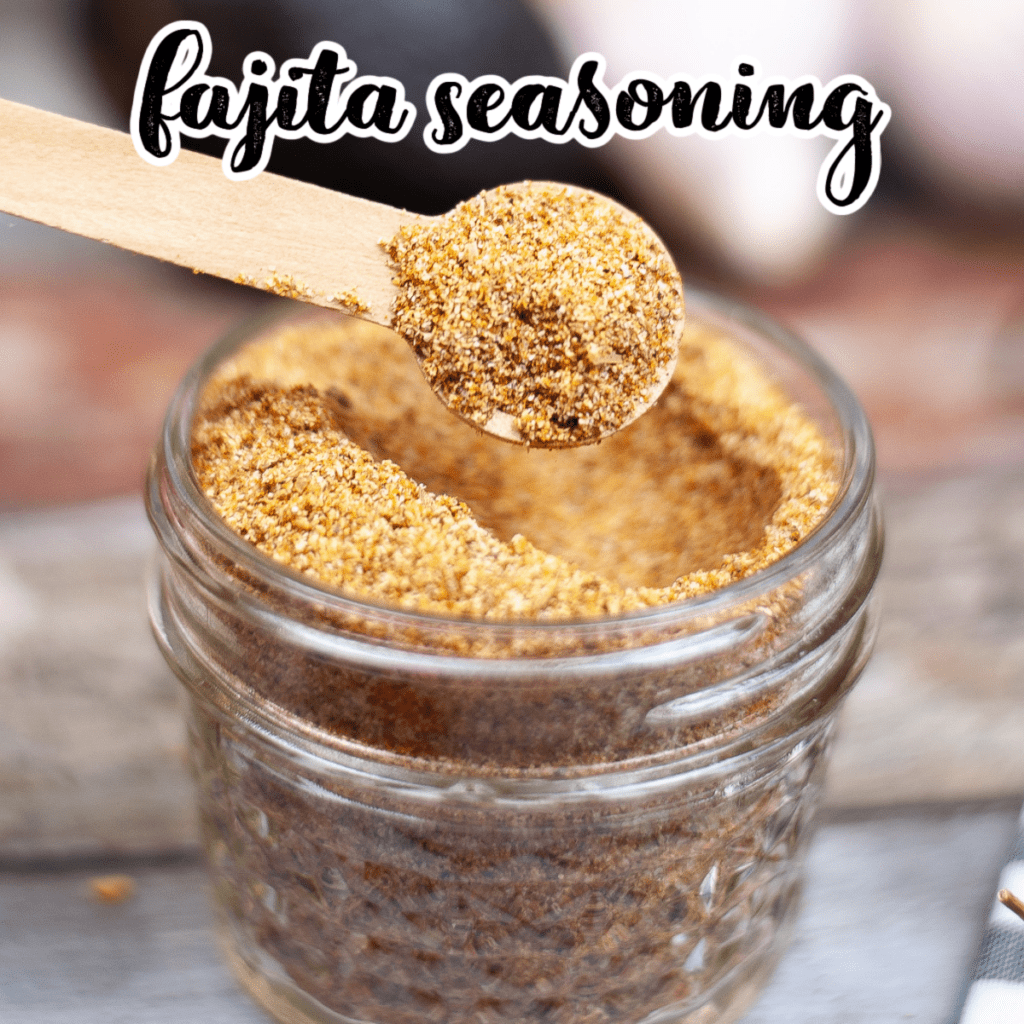 I'm the first person to reach for convenience foods when necessary - pre-made pie crust, frozen whipped topping, and ketchup are high on my list - but I also make a lot of things from scratch. In almost every case, cooking from scratch is healthier and better-tasting – and almost always cheaper, too.
I usually buy guacamole seasoning, but I make most other blends, like taco seasoning, BBQ seasoning, and cajun seasoning. The fajita seasoning below is another one that I prefer to make.
My trouble is that pre-made seasoning mixes are insanely high in salt and contain preservatives that probably aren't the healthiest. If I can make them at home with minimal effort, I do it.
The other benefit of making my own seasoning blends at home is that I can make them exactly how I want - varying the amount of chili powder for example, which controls the heat in the final spice.
What's the difference between taco seasoning and fajita seasoning?
That is a very good question. If you look at the recipe for taco seasoning, you will see that it is mostly chili powder, cumin, salt, and pepper with a couple of other spices mixed in. The fajita seasoning below is mostly onion powder, cumin, chili powder, and paprika.
There's no official definition of what makes a taco seasoning or a fajita seasoning, but for me, taco seasoning is spicier and fajita seasoning is earthier.
What you need to make homemade fajita seasoning mix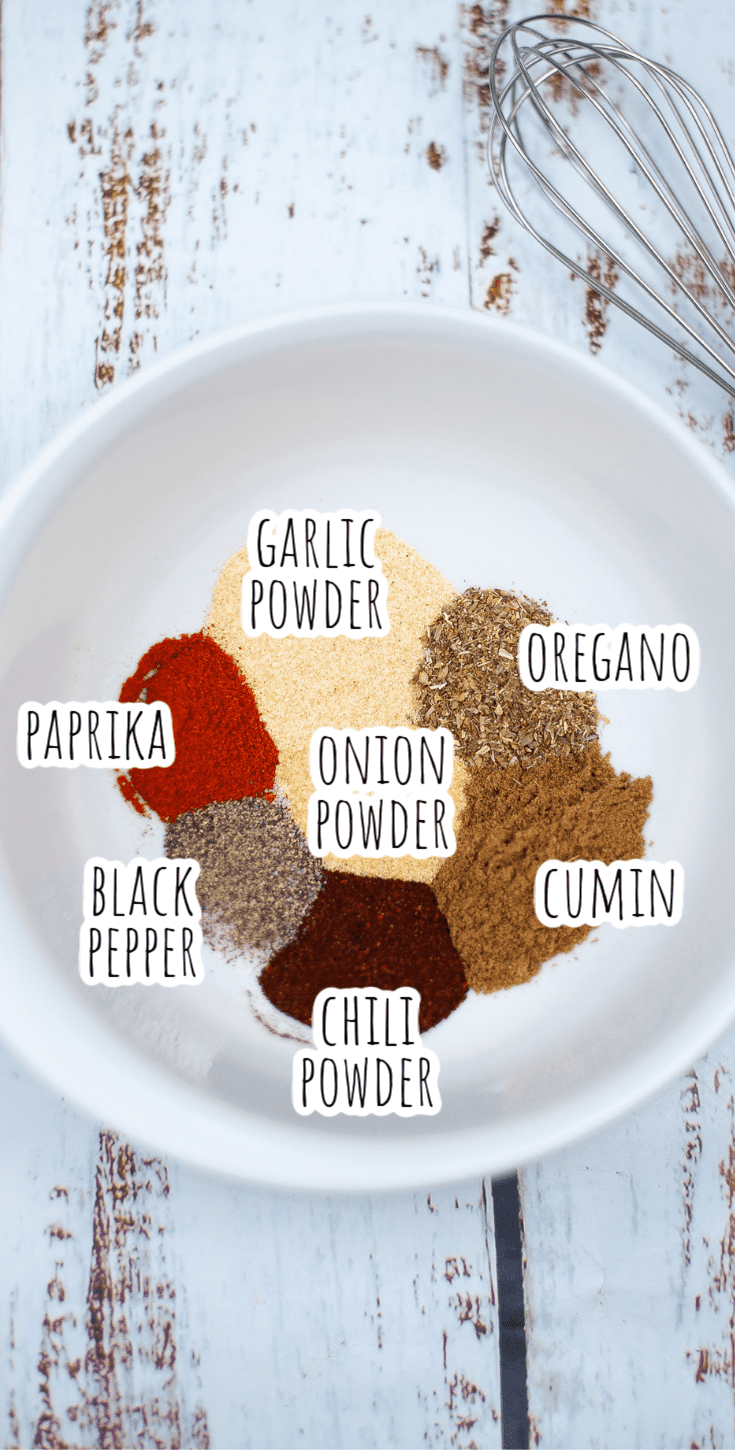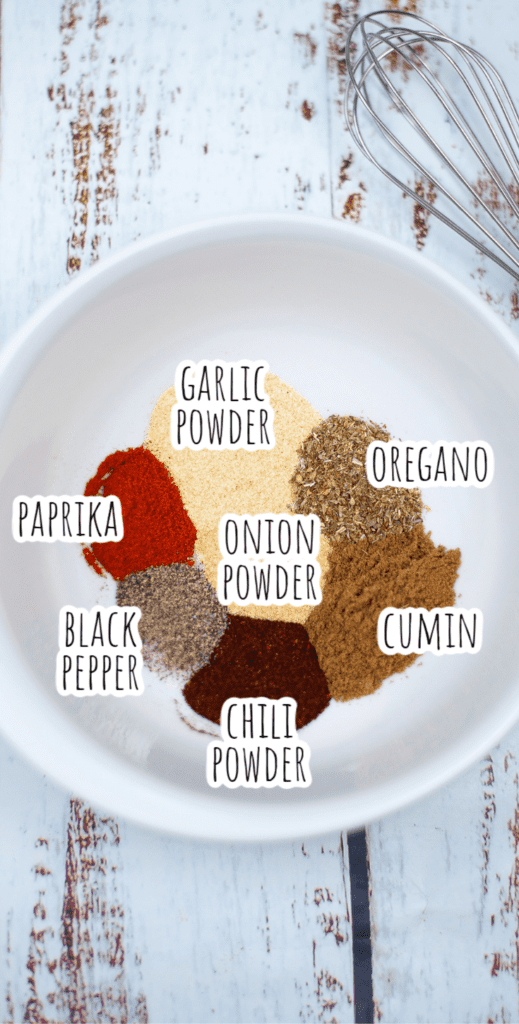 The beauty of making your own spice blends is that you get to control the ingredients. You decide how spicy it should be. You decide how much chili powder you put in and how spicy it should be. It's all up to you.
I recommend that you start with my base recipe, but taste it before you put it on your meat and adjust the spices as you think will suit your taste. Don't put the stuff on a pound of ground beef before you taste it!
Chili powder - This adds heat, but it is important to the finished spice. You can't skip it but you could go a little lighter if you absolutely must.
Cumin - Cumin has a pungent, slightly earthy flavor that is popular in curries as well as Mexican dishes.
Smoked paprika - Sweet paprika (the normal kind) has a slightly smoky flavor, but in fajita seasoning, I prefer smoked paprika. You can use them pretty much interchangeably.
Garlic powder
Onion powder - Don't skip this even if you don't like onions! You need it to balance out the flavors!
Oregano - This might be a surprise to see in a Mexican recipe, but trust me. You need it.
Salt - I forgot this in the picture, but you still need it.
Ground black pepper
Is fajita seasoning spicy?
Mine isn't. If you want yours to be spicy, you can add cayenne pepper. Start with ¼ teaspoon and increase from there, tasting often to see how you like the overall flavor.
How to make homemade fajita seasoning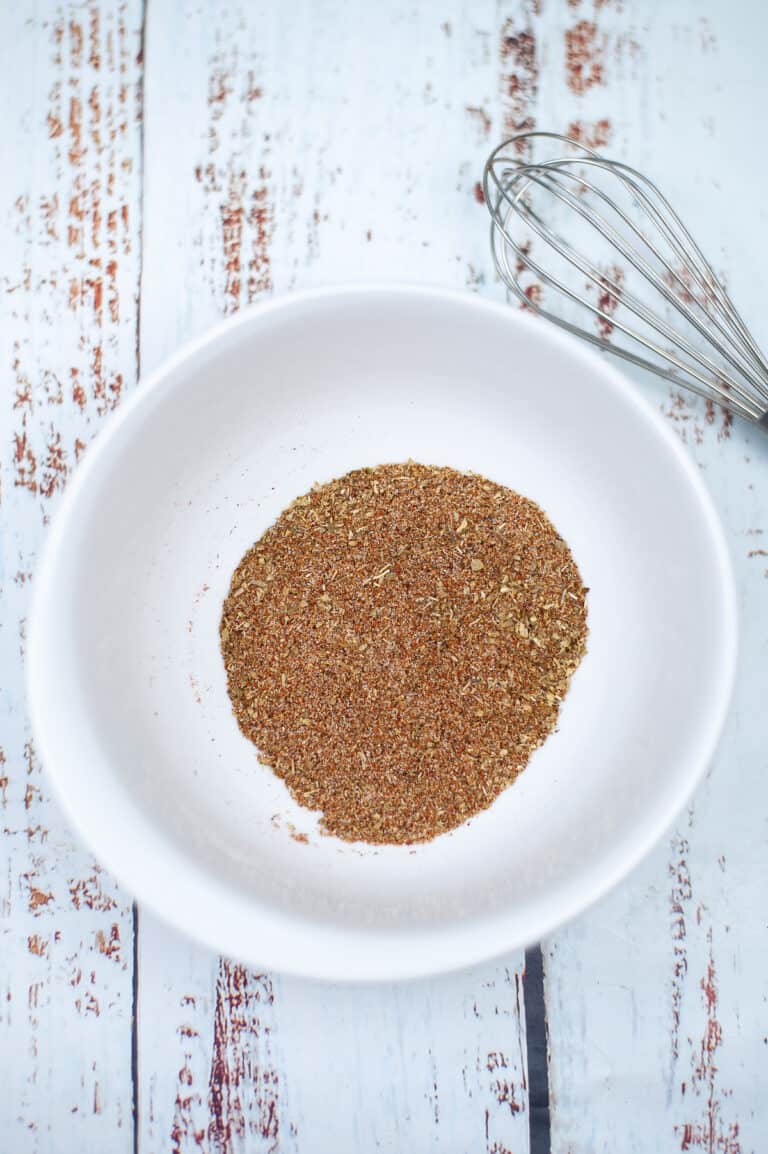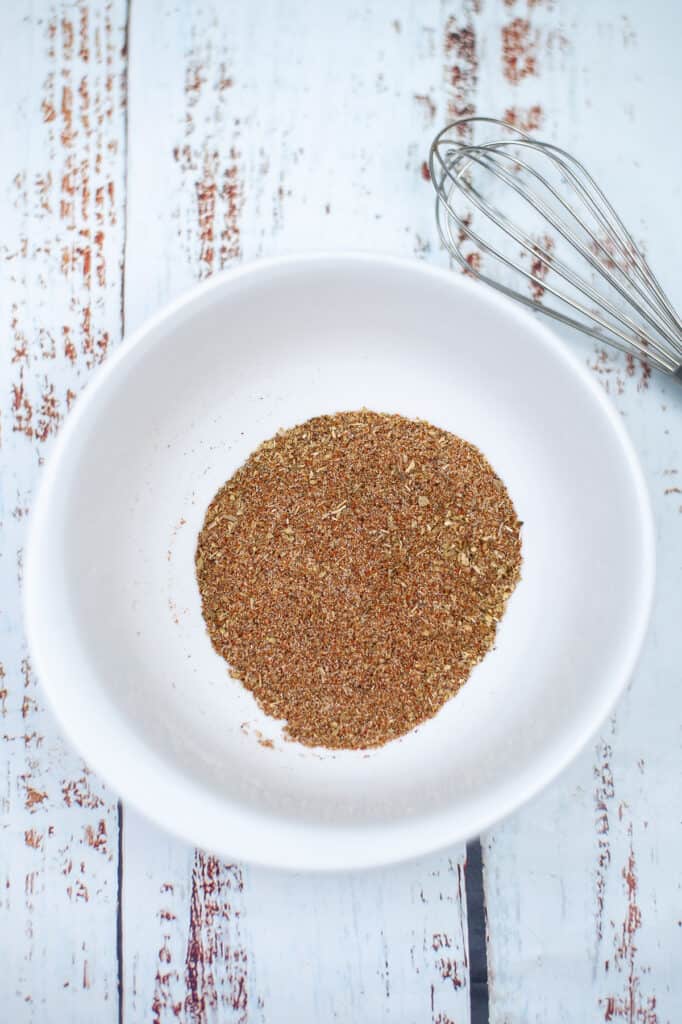 This is very complicated.
Put all the ingredients in a bowl.
Whisk them together until well combined.
Pour into a small, airtight jar.
How long does homemade fajita seasoning last?
Does anyone go by the guidelines on how long to keep spices? I still have chives that I bought in 2001.
Kidding aside (was I kidding?), spices do have a shelf life because they lose their potency over time, even when stored in an airtight container in a cool, dry, dark place.
This homemade fajita seasoning mix will be its at its best for 3-6 months, assuming your spices were new when you made it, but you can use it for longer than that. Just know that you might have to use a little more to get the same flavor if it sits longer.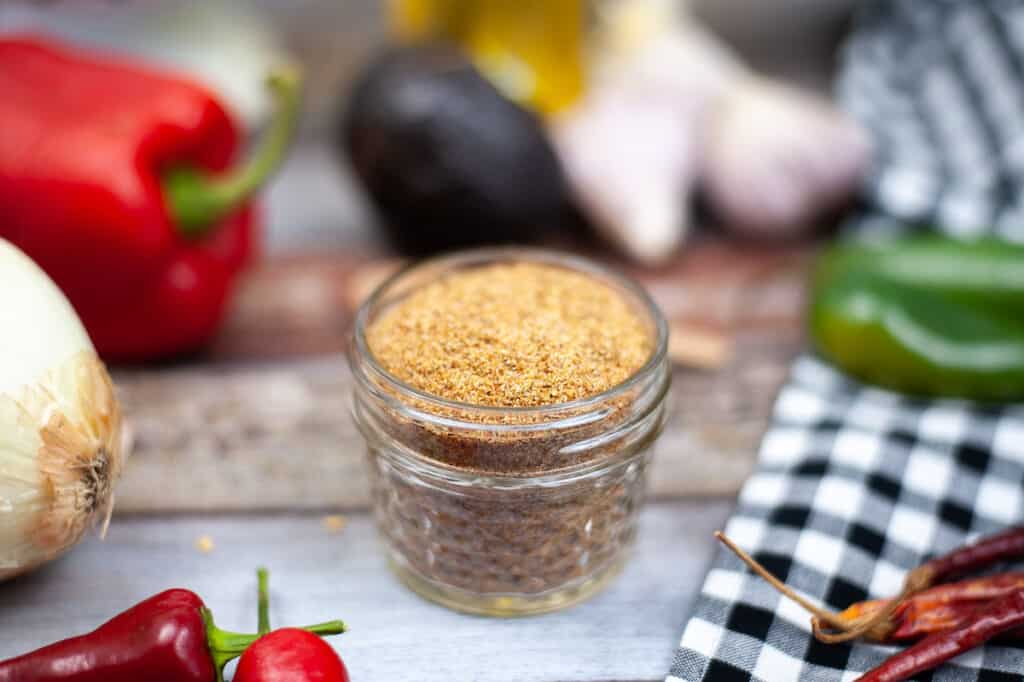 How much fajita seasoning to use
One packet of pre-made fajita seasoning is good for one pound of meat and contains about 2 tablespoons of spices.
When I am making fajitas with beef, chicken, pork, or seafood, I sprinkle 2.5 tablespoons of my homemade fajita seasoning over the meat and add about ½ cup of water to help the meat stay moist while sautéing in a skillet.
How to use homemade fajita seasoning
Sprinkle it on sliced onions and peppers when sautéing
Sprinkle it on any type of sliced meat (with or without the onions and peppers mentioned above) during cooking to make fajitas
Sprinkle it on shrimp during cooking to make shrimp tacos or shrimp fajitas
Substitute it for taco seasoning in any recipe, and especially on ground beef for a different take on tacos
Sprinkle it on a baked potato with butter and sour cream
Sprinkle it on home fries, toward the end of cooking
Sprinkle it on scrambled eggs and top with salsa, shredded cheddar, and sour cream
Substitute fajita seasoning for Old Bay in crab cakes or on steamed shrimp
Add it to cheese & onion quesadillas or leftover turkey quesadillas
Combine ¼ cup olive oil with 2-3 tablespoons of fajita seasoning to make a tasty marinade for any meat, seafood, or veggies. Simply marinate the food for 30-60 minutes before cooking (less time for seafood, more time for veggies and meats). You can also add the juice of a lime and/or ¼ cup fresh cilantro to your marinade to punch up the flavors.
Use as a dry rub before cooking. Just take a few tablespoons of the fajita seasoning and rub it into the outside of a piece of meat, then cook as usual. You can also rub the meat, let it sit for a few hours to overnight (in the refrigerator, of course), and then cook it after it sits. This will give them meat more of the flavor from the seasoning mix.
Butter your corn on the cob and then sprinkle with fajita seasoning
Add it to your Spanish rice
Mix it with sour cream to use on tacos, baked potatoes, and other dishes
Try these other spice blend recipes
Recipe