Traditional Old Bay Steamed Shrimp Recipe for Peel & Eat Shrimp - These delicious shrimp can be cooked in a skillet or sauce pot on the stove. This is the best simple, quick, and easy seafood seasoning recipe. Very healthy with vinegar and no butter. Perfect low carb, keto, paleo, whole 30 dinner. Can be served cold. Can use seafood seasoning instead of Old Bay.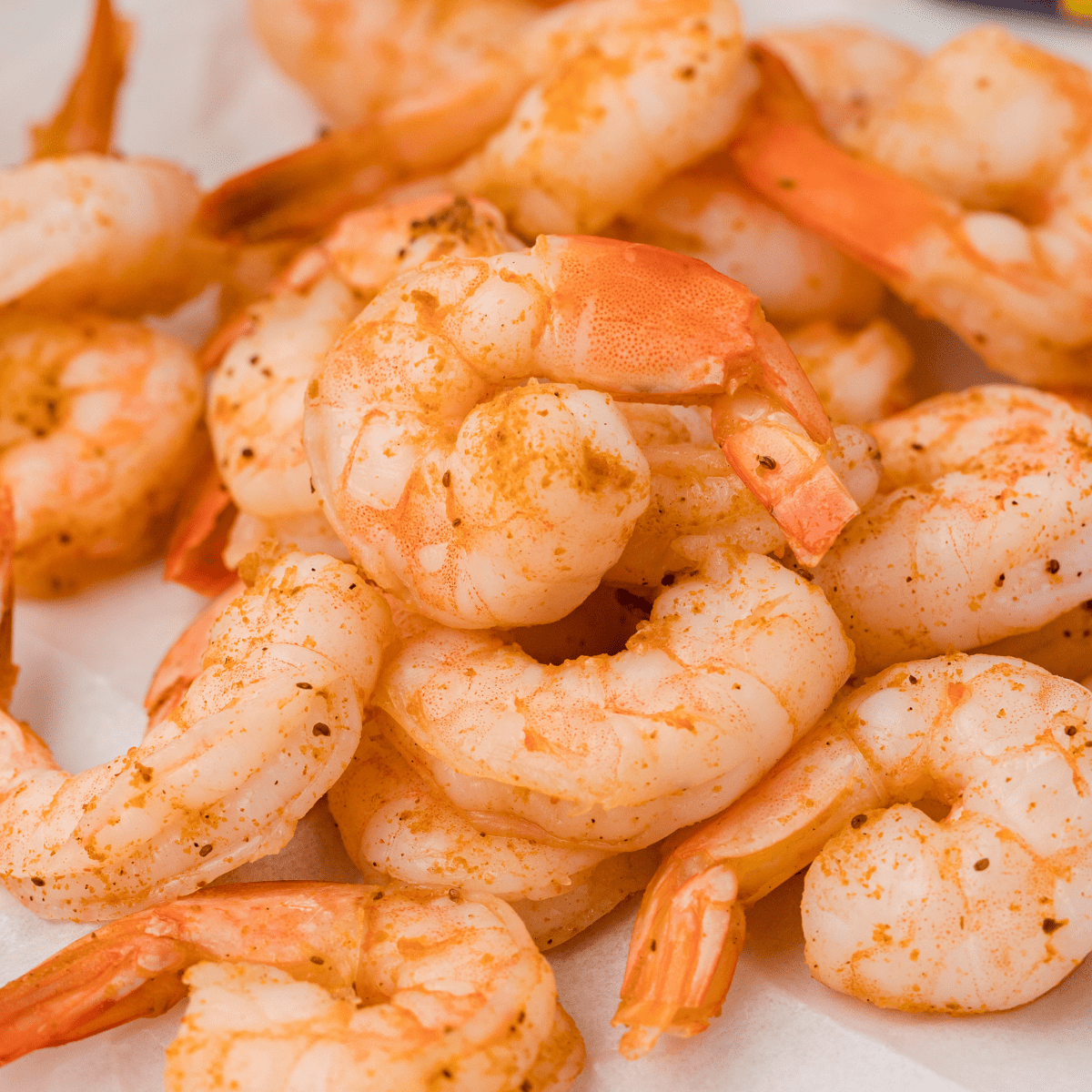 Every year on New Year's Eve, Joe makes three pounds of these Old Bay steamed shrimp for dinner. (It's okay to substitute seafood seasoning for Old Bay if you can't find the latter.) He loves peel & eat shrimp, and while I don't love them as much, I do partake of his bounty on that special occasion.
What is Old Bay?
Old Bay seasoning is sold by McCormick and was originally created by the Baltimore Spice Company in Maryland. In the eastern US, it is synonymous with seafood dishes, but I've eaten it on popcorn, French fries, corn on the cob, fried chicken, potato salad, and many other dishes and meats.
Old Bay is a blend of celery salt, paprika, and black and red pepper. It is smoky, salty, and a little spicy, so a little goes a long way.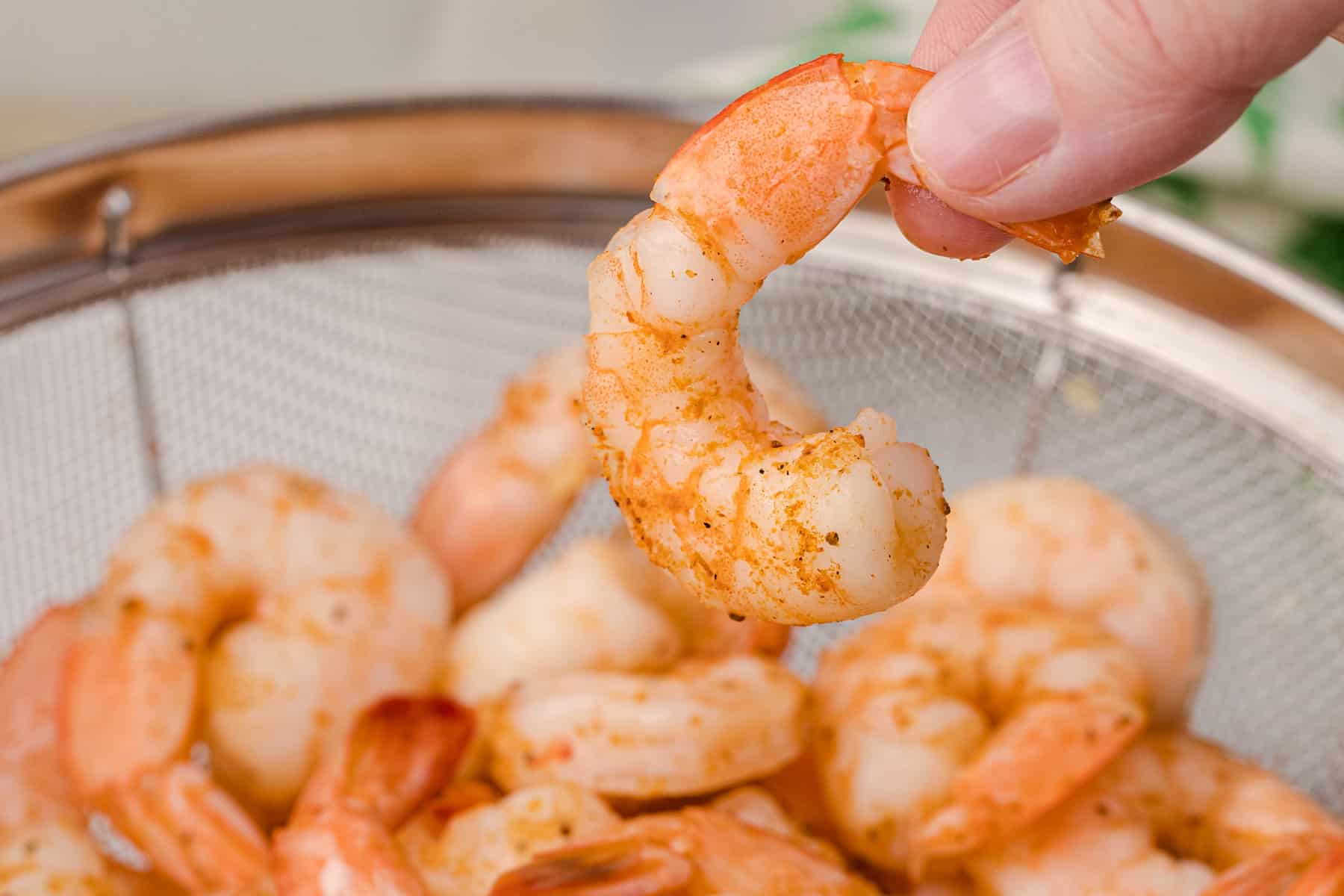 What you'll need to make this Old Bay Shrimp Recipe
EQUIPMENT
INGREDIENTS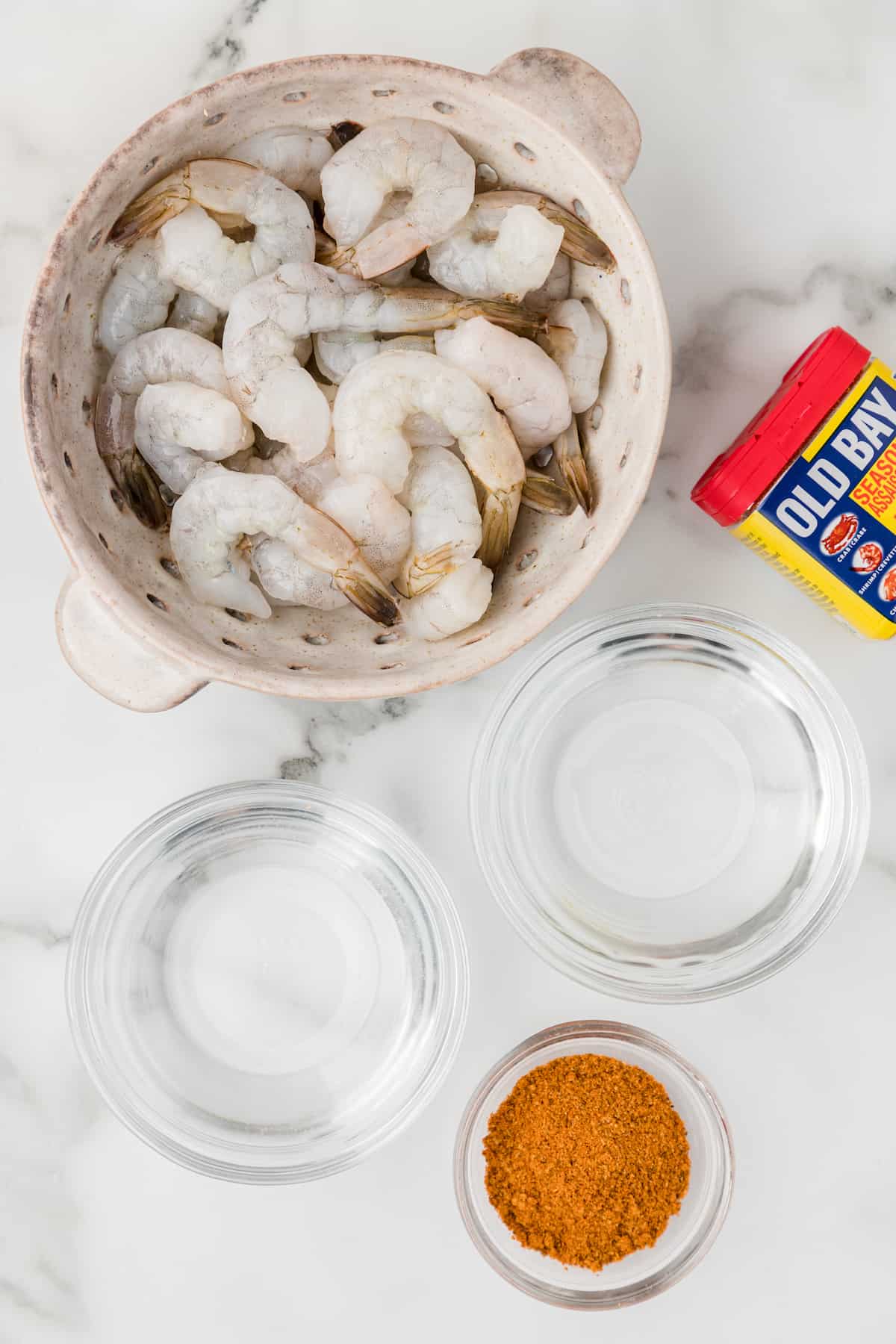 See recipe card at the bottom of the page for measurements.
Raw jumbo shrimp - Peeled & deveined, unless you want to do a lot of work before cooking. Tails on or tails off, it doesn't really matter. Most people leave the tails on until they eat, but it doesn't really matter a whole lot.
Water
White vinegar - You'er going to mix this into the water. Trust me, vinegar makes the shrimp good. You can use apple cider vinegar if you don't have white.
Old Bay - If you can't find Old Bay, you can use a generic "seafood seasoning" or even cajun seasoning.
Lemon wedges, melted butter, and/or cocktail sauce - I prefer to eat my shrimp with a squeeze of lemon juice and cocktail sauce, but I've also seen a lot of people dip theirs into melted butter. You can do either, or even just eat the shrimp plain with an extra dusting of Old Bay.
How to Make Old Bay Steamed Shrimp
Bring the water, vinegar, and Old Bay to a rolling boil in a large pot over high heat.

Once the Old Bay mixture is boiling, reduce to medium heat and drop a steamer basket into the pot. It's important that the water is not over the top of the bottom of the basket or you will boil your shrimp rather than steaming them. (That's not totally bad, just different.) Add the shrimp to the steamer basket.

Cook for 2-3 minutes, until the shrimp have turned pink. Try not to overcook the shrimp or they will get rubbery and tough to peel.

Carefully remove the steamer basket from the pot and discard the cooking liquid.

Sprinkle the shrimp with additional Old Bay if desired. Shrimp can be served hot as is or chilled and served cold. They are good both ways. I like to dip my shrimp in a bit of melted butter or cocktail sauce.
How to store leftover shrimp
Store leftovers in an airtight container in the refrigerator for up to 3 days. As with any seafood, discard after 3 days.
Try these other shrimp recipes while you're here:
Recipe