This simple and easy one skillet spicy cajun shrimp is the perfect way to enjoy your favorite seafood! It's spicy and delicious and works great over pasta or rice.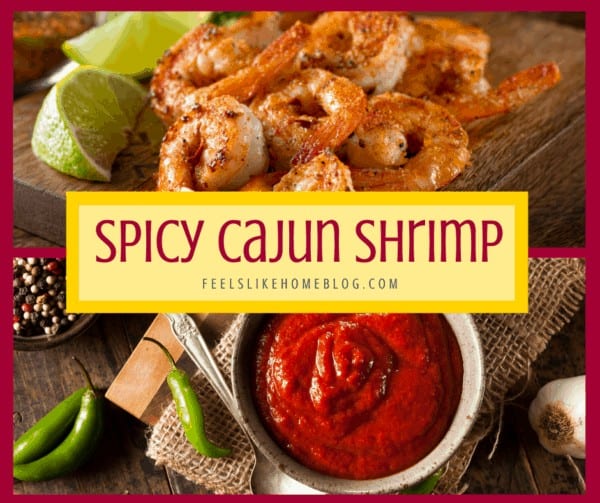 I love spicy foods. I don't like quite as much heat as I did in my younger days, but I still enjoy foods with big, bold flavors and a mild heat. This is one such recipe.
The sauce of this recipe is what makes it fabulous. It takes the plain old shrimp to a whole new level, like what I imagine you'd get in New Orleans. I've never been there, but that's what I think of when I eat this spicy cajun shrimp.
When you make this, you will want to marinate the shrimp for several hours, so plan ahead for that. Joe usually makes this the night before and then cooks it after work. It really doesn't need to marinate that long (an hour is probably enough, and we've even cooked it without marinating at all, and it still comes out really good).
The recipe below requires a few specialized ingredients: sweet chili sauce, liquid smoke, smoked paprika, and sriracha, all of which we typically purchase from Amazon because it's easier than hunting at many different grocery stores. I imagine that they would be cheaper from local stores, but who has time to hunt around at several different groceries for all the ingredients? Not me, and probably not you either. Just saying.
How to make spicy cajun shrimp
Add butter, olive oil, sweet chili sauce, Worcestershire sauce, chili powder, liquid smoke, smoked paprika, dried oregano, sriracha (we've also used sambal oelek when we were out of sriracha), garlic, and salt and pepper to a large skillet. Heat until the butter is melted then stir to combine and simmer for 5 to 10 minutes.
Remove the skillet from the heat and let it cool for 5 minutes. Add the shrimp and stir so that they are well coated.
Cover the skillet with foil and refrigerate for an hour to overnight. As I said above, we have occasionally skipped this step, and it turns out fine, but if you have time to marinate, it will make the flavor richer and deeper.
To cook the shrimp, preheat the oven to 400º.
Bake the shrimp and sauce for 10 minutes, until the shrimp is opaque.
Serve with a spoonful of sauce over pasta or rice. Squeeze some fresh lemon juice over it just before serving.
If you like this spicy cajun shrimp, you'll want to check out a few other shrimp recipes that I've shared:
If you like spicy foods, I hope that you'll give this spicy cajun shrimp recipe a try. It packs a lot of flavor into these little seafood creatures, and I think you're going to love them.
Recipe