This warm and creamy shrimp casserole recipe is the perfect comfort food for dinner! It's a one pot dish full of shrimp, noodles, and mushrooms in a cheesy Velveeta sauce. The whole family will love it!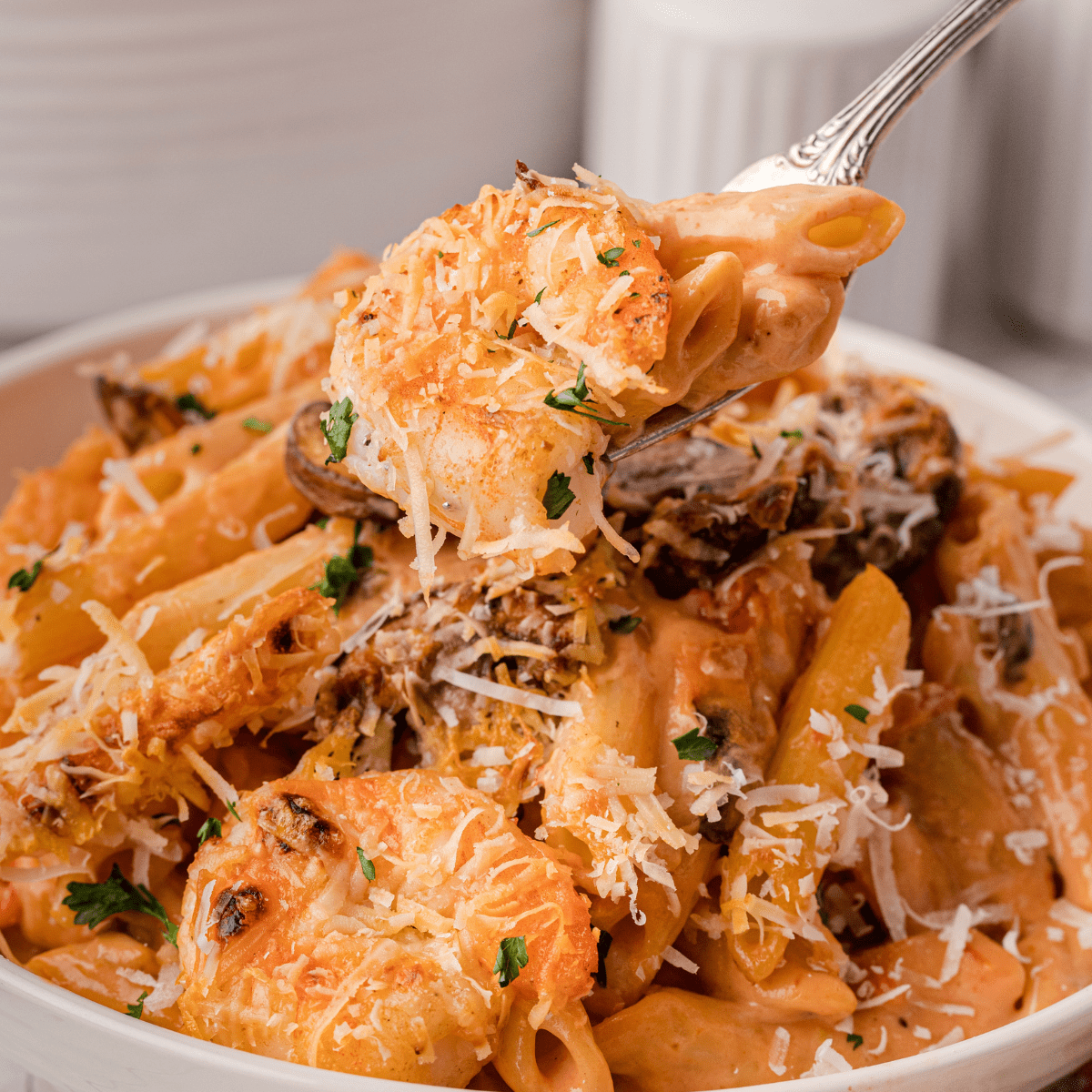 I've mentioned before that I'm not a huge seafood fan, so when my friend, Jeanne, made Cheesy Shrimp Pasta for a get-together this past weekend, I was not expecting to eat any.
Joseph got a plate-full of the shrimp casserole and sat down next to me on the couch.
I wasn't even curious about the meal until everyone in the room began to ooh and aah over it.
Even Grace, who said, Can my have some more, Daddy? I asked for a taste of Joe's, and he gave me two noodles.
They were fabulous. I asked for a second taste, and he told me to get my own.
So I did.
When I was done, I wanted to get another plate, but I abstained, hoping there would be leftovers when we visited later in the week. I can't even begin to tell you how delicious and wonderful this recipe is.
It's better than words can explain.
What you'll need to make cheesy shrimp casserole
EQUIPMENT
Garlic press - If you don't have a garlic press, you can mince the garlic very very small with a very sharp knife.
Casserole dish - You'll want to use a dish that's deeper than it is long and wide. If the pan is too shallow, the pasta will dry out and be very unpleasant.
INGREDIENTS
See printable recipe card below for measurements and more information.
Whole wheat pasta - You can use gluten-free pasta or any pasta really.
Olive oil - You'll use this to sauté the shrimp. You could substitute with butter if you'd rather use that.
Fresh garlic - There is no substitute for fresh garlic. I guess you can use garlic powder or jarred minced garlic, but it won't taste the same. Pressed fresh garlic makes this dish amazing.
Fresh or frozen shrimp - You're going to pre-cook the shrimp, so it won't matter whether it's fresh or frozen.
Low fat Velveeta - Velveeta makes this dish rich and creamy. If you don't like Velveeta, you can substitute with cheddar or another shredded cheese or cheese blend.
Salsa - The flavor of the salsa is going to come through in the finished dish, so make sure you choose one that you really like. However, I wouldn't recommend a sweet salsa like pineapple. Go for a more savory version.
Sliced mushrooms - I love mushrooms. If you don't, see below for suggestions for other veggies to add.
Salt & black pepper - I don't give measurements for this. Just use a sprinkle on the shrimp when you cook it.
How to make cheesy shrimp pasta bake
Preheat oven to 350ºF.
Prepare pasta according to package directions, drain.
Sauté shrimp, garlic, salt, and black pepper in olive oil until shrimp is just pink. If you overcook the shrimp, it will become rubbery and tough. Two or three minutes will probably be enough.

Cube the Velveeta and place it in a microwave-safe bowl.

Pour the salsa on top.

Microwave for 30 seconds at a time, until the cheese is melted. Stir cheese and salsa together.

In a large bowl, combine the pasta, shrimp, cheese mixture, and mushrooms.

Toss to coat.

Transfer to a baking dish.

Sprinkle some Parmesan cheese over the top of the pasta.

Bake at 350ºF for 45-60 minutes, until the top is browned and crunchy. Sprinkle with some parsley and serve.

Variations
You can add a variety of vegetables to this casserole, including bell peppers, onions, tomatoes, asparagus, green beans, or broccoli or cauliflower florets. If you'd like to add vegetables, I'd recommend sautéing them in some butter or olive oil until they're tender. (They won't get tender when you bake the casserole, so you have to pre-cook them. Otherwise, you'll bite into raw veggies in your casserole. Trust me, you don't want that.) After they're tender, add the veggies to the cooked pasta and shrimp in the pan.
If you aren't a big Velveeta fan, you could substitute shredded Monterey jack or cheddar cheese.
If you want a little crunch, you can crush some Ritz crackers and sprinkle over the top either before or after the Parmesan. You could do the same with Panko breadcrumbs.
If you want a very different flavor, you can mix the Velveeta with cream of mushroom soup or cream of celery soup or even alfredo sauce. If you go that route, I'd sprinkle the shrimp with Old Bay seasoning or cajun seasoning when you cook it. The soup or alfredo sauce will have less seasoning than the salsa has, so it will need a little spice.
What to do with leftover baked shrimp casserole
Store leftovers in an airtight container in the fridge for up to 3 days.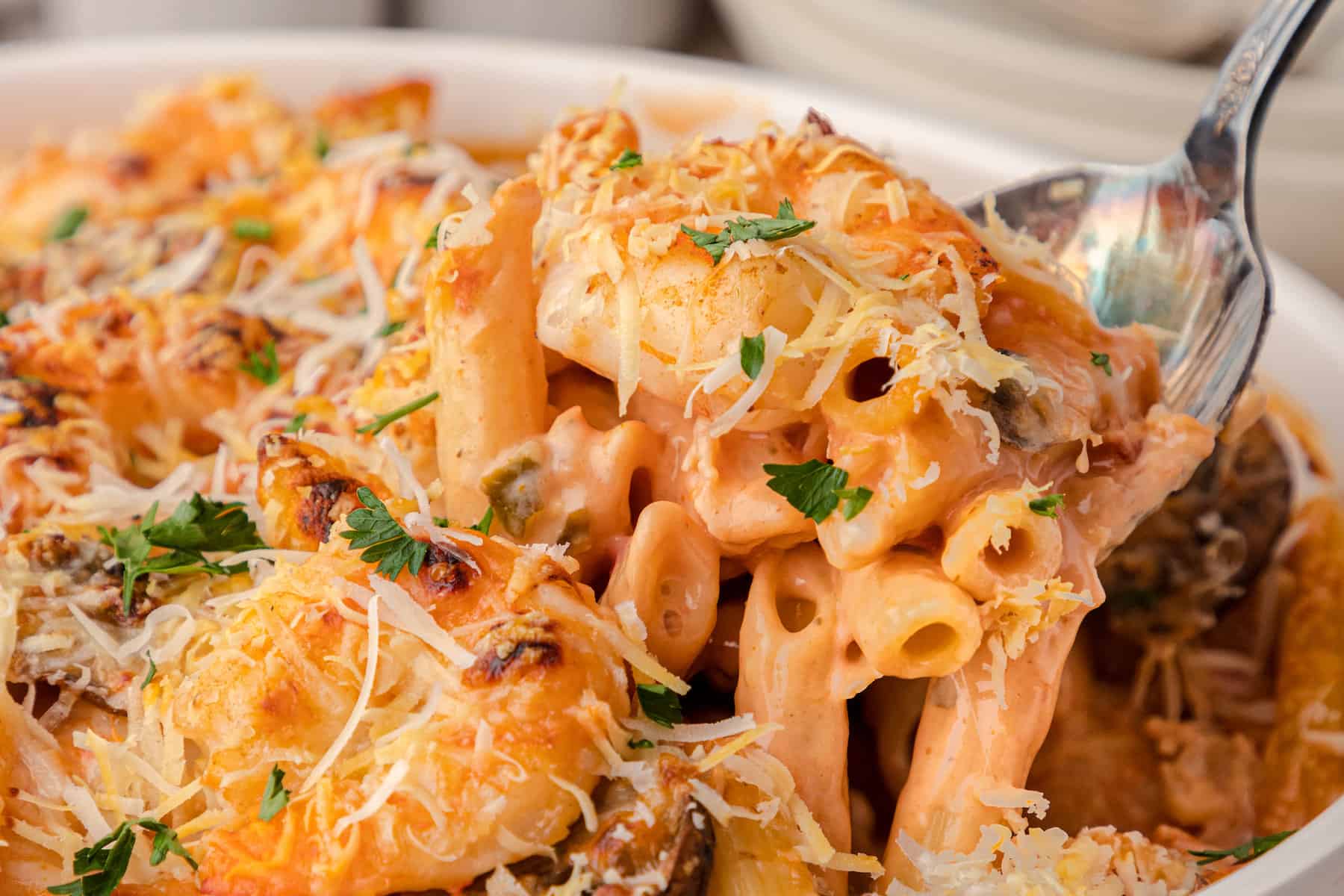 Try these other pasta dishes while you're here:
And these other delicious shrimp dishes:
Recipe