The Best Air Fryer Coconut Shrimp recipe makes Red Lobster quality comfort food healthy and delicious! It's crispy and sweet and still lighter and healthier than the original. Serve with a homemade dipping sauce for the ultimate appetizer.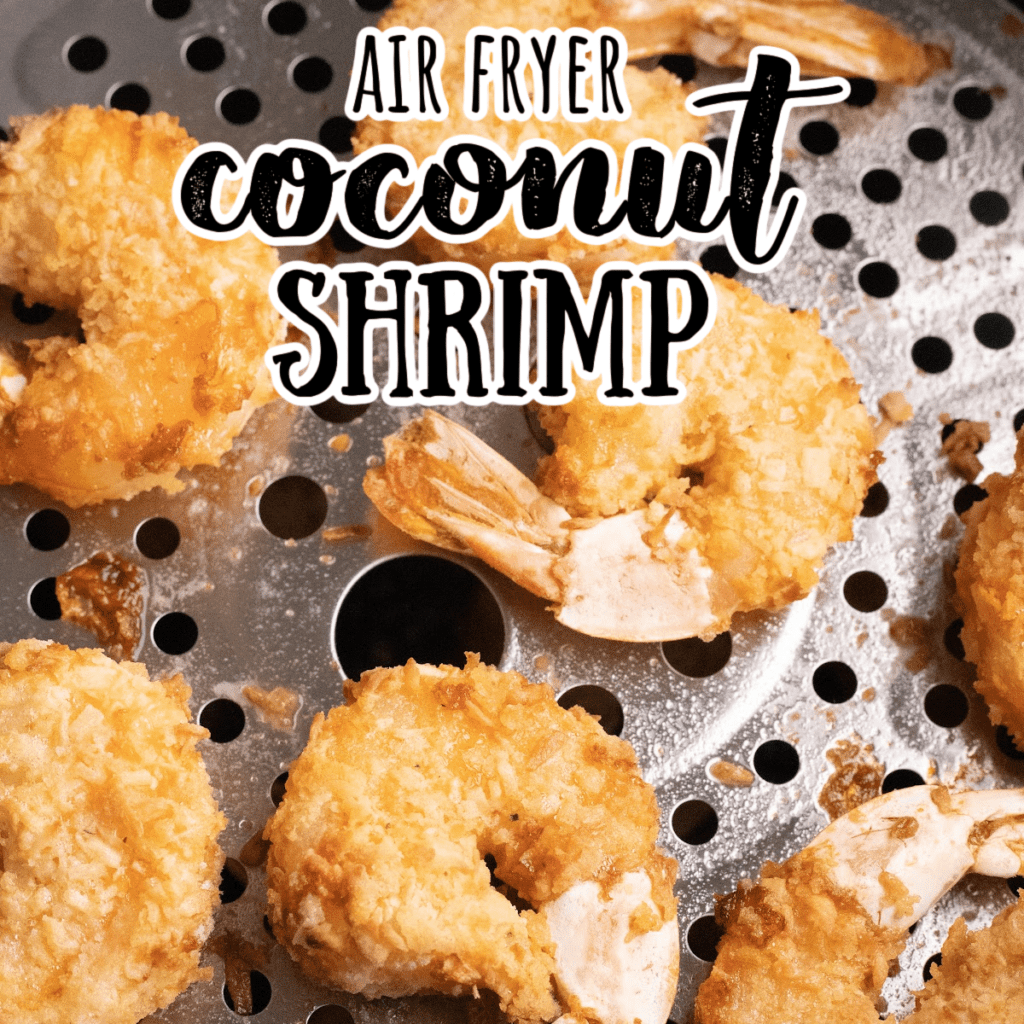 I have a confession to make.
Every time I worked on this blog post, I had to make the recipe again because I LOVE IT. These shrimp are so good - crispy and juicy and just a tiny bit sweet thanks to the (sweetened) coconut. Paired with Red Lobster copycat pina colada dipping sauce, these shrimp make the perfect meal for anytime of the year.
Some people call coconut shrimp an appetizer, but I prefer to make a meal out of it. You can serve it either way.
What you'll need to make this air fryer coconut shrimp recipe
Equipment
You will obviously need an air fryer. I resisted the air fryer craze all the way through the pandemic, but I saw this Instant Pot model (combined Instant Pot & air fryer) on a Black Friday deal at Walmart and decided to invest. I'm so glad I did - we use it several times a week! It's so awesome. We already had an Instant Pot, but we replaced it with the new model.
You'll also need a baking sheet lined with parchment paper to hold your shrimp as you bread them, before you're ready to put them in the air fryer.
Ingredients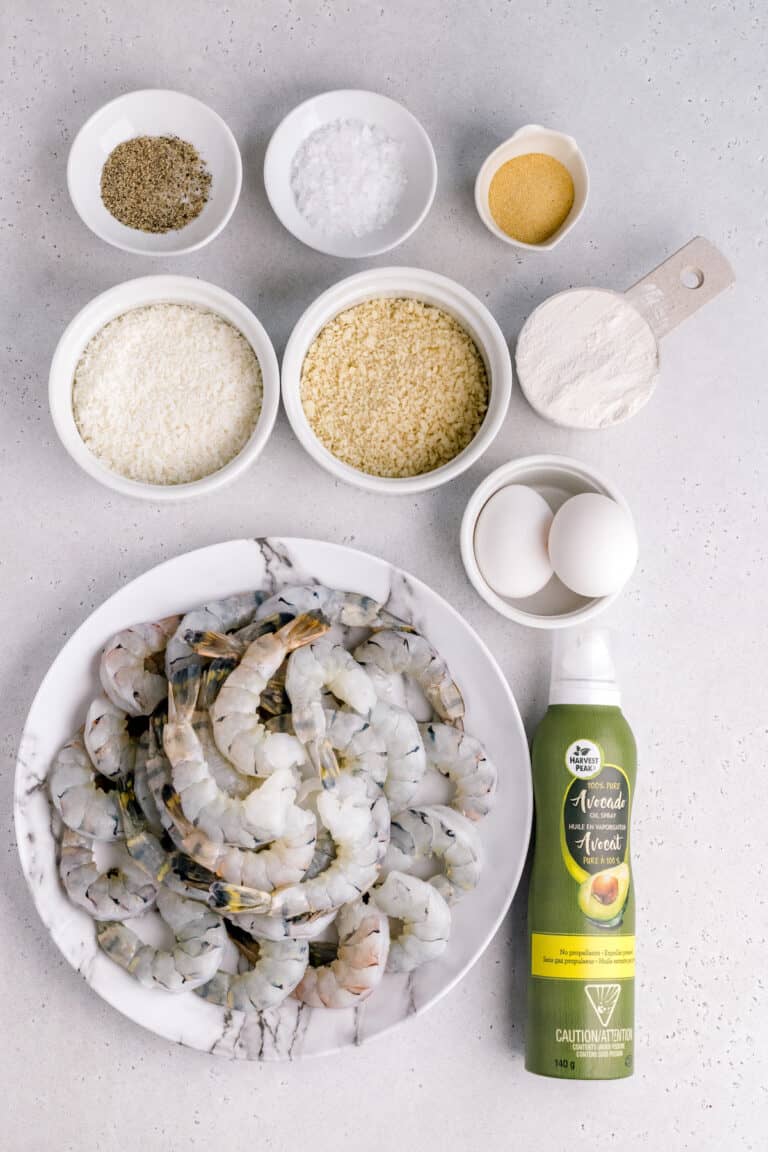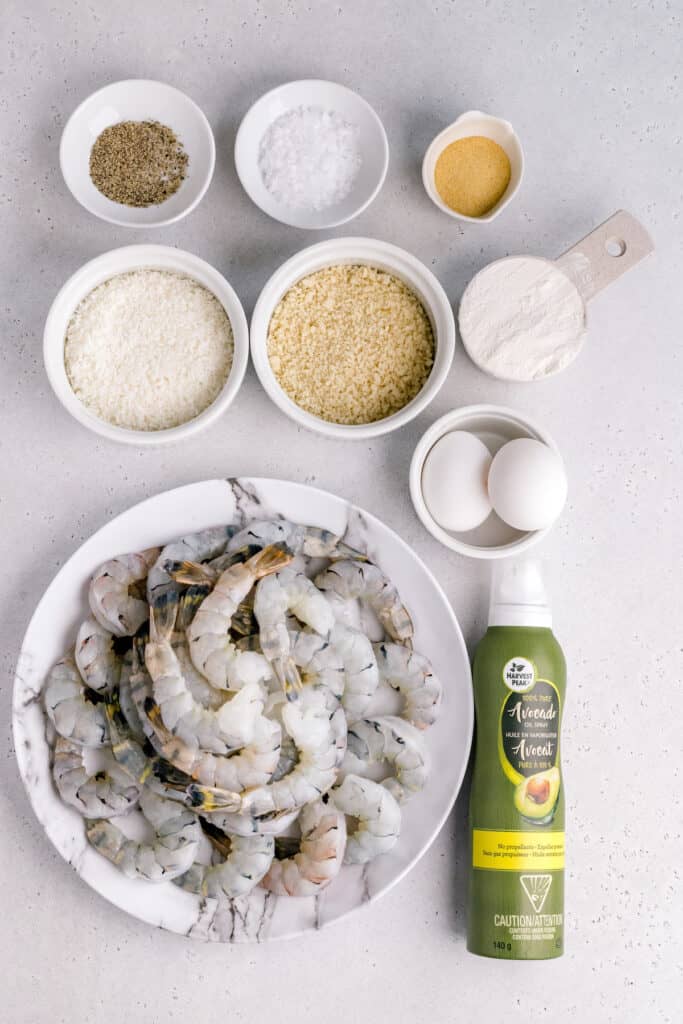 24 ounces extra large shrimp (approximately 36 shrimp), peeled and deveined but with tails left on - If you're using frozen shrimp, it is important that they are completely thawed, drained of excess liquid, and patted dry prior to breading. This is to ensure the breading sticks to the shrimp, and that the end results are crispy, golden brown fried shrimp.
Side note: It's always best to thaw seafood in the refrigerator. Don't let it sit out on the counter to defrost.
⅓ cup panko bread crumbs
⅓ cup shredded sweetened coconut - You can use unsweetened coconut flakes if you prefer, but I think the sweetness is nice in the finished shrimp. I pulse this in the food processor a few times to make the pieces smaller.
¼ cup flour - I used all purpose flour, but wheat or coconut flour will be fine. If you use almond flour (or another flour that has a noticeable flavor), you will notice a difference in the finished flavors.
2 large eggs, room temperature
1 tablespoon garlic powder
½ teaspoon salt
½ teaspoon black pepper, freshly ground if possible
cooking spray
cilantro - This is for garnish and is optional.
sesame seeds - This is for garnish and is optional.
1 lime cut into wedges - This is for garnish and is optional.
Honey sriracha mayo aioli or another dipping sauce like sweet chili sauce or cajun remoulade sauce
How to make Red Lobster copycat coconut shrimp in the air fryer
Breading the shrimp
Peel and devein shrimp if needed. Pat shrimp dry all the shrimp with a paper towel to ensure that the breading will stick, and they will get crispy in the air fryer. Set dried shrimp aside.
In a medium bowl, combine panko breadcrumbs, shredded coconut, flour, garlic powder, salt, and black pepper. Mix well with a fork.

In a smaller bowl, whisk the 2 eggs until the whites are thoroughly incorporated with the yolks.

Holding a shrimp by the tail, dip into the egg mixture, then dredge in the coconut mixture. This sounds fancy, but dredging just means that you'll place the shrimp in the bowl with the coconut mixture and work it around until it's thoroughly coated with the breading. See dredging tips below.

Set breaded shrimp aside on a sheet pan lined with parchment paper. Repeat steps for the remaining shrimp.

Air frying the shrimp
Spray the base and sides of your air-fryer basket with cooking oil spray, including the extra rack (if you have one).
Place as many shrimp in the bottom basket as possible in a single layer, without crowding them. Spray the tops with cooking spray. Repeat for extra rack if you have one.

If using the extra rack, set the heat to 400°F and timer to 5 minutes. Check the shrimp on the extra rack after 5 minutes, ignoring the ones on the basket below. Once the top surface of the top shrimp are golden and crispy, flip them over so the other side can get crispy as well. Fry for another 5 minutes and check again, adding another 1-2 minutes of cooking time if necessary. Once all the top shrimp are golden and crispy, remove the top layer along with the rack. Flip the remaining shrimp on the bottom basket and fry for another 3-4 minutes, or until golden and crispy on both sides.If using only one basket, set the heat to 400°F and timer to 5 minutes. Once the tops are golden and crispy, flip them over. Fry for another 5 minutes. Once tops and bottoms are golden brown and crispy, take the shrimp out of the fryer. Add additional time in increments of 1-2 minutes if the shrimp are still pale and not yet crispy.

Repeat the process for the remaining batches of shrimp, always taking care not to overcrowd the shrimp.
Garnish fried shrimp with chopped cilantro, sesame seeds, and lime wedges, if desired, and serve with honey sriracha mayo aioli.
Tips to dredge the shrimp in the coconut mixture
I was 40 years old before I learned this process, so if you've never done it, let me share some tips I learned from a professional chef:
Make a dredging station by putting the whisked eggs in a small bowl, big enough to submerge the shrimp but not so big that the egg spreads out and the breading mixture in a larger dish, preferably with a flat bottom. If you're right handed, you'll want the shrimp on the far left, the egg in the middle, and the coconut and flour mixture on the right. If you're left handed, do the opposite.
When you are breading meat or seafood, you will want to have a wet hand and a dry hand. In other words, you will take the shrimp out of the container and dip it into the egg with one hand, then remove it from the egg and drop it into the flour mixture with that same wet hand. Then, use your dry hand to coat the shrimp with the breading mixture, trying to avoid getting egg on the dry hand. Remove the breaded shrimp and put it on the baking sheet with your dry hand. If your dry hand gets goopy, wash your hands and dry them very well. I hope that makes sense. It's an easy process, but if you get both wet and dry on the same hand, you'll end up with a big clumpy mess.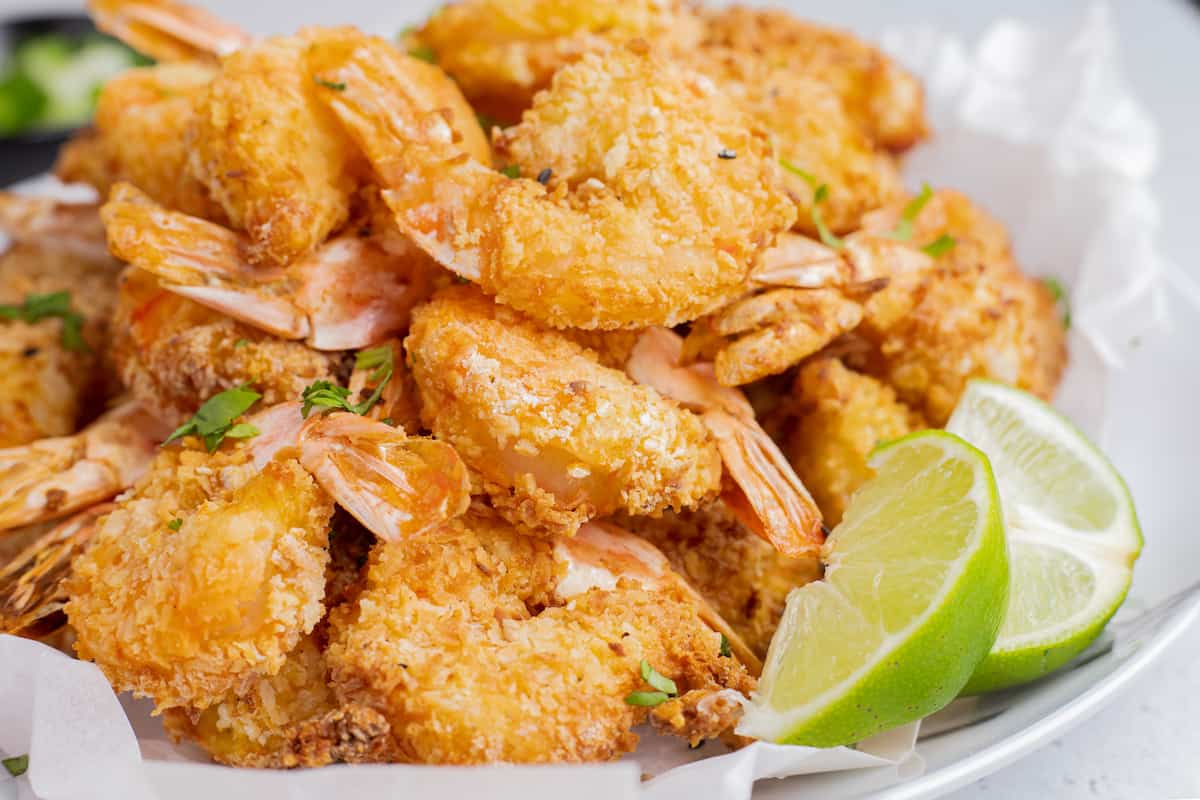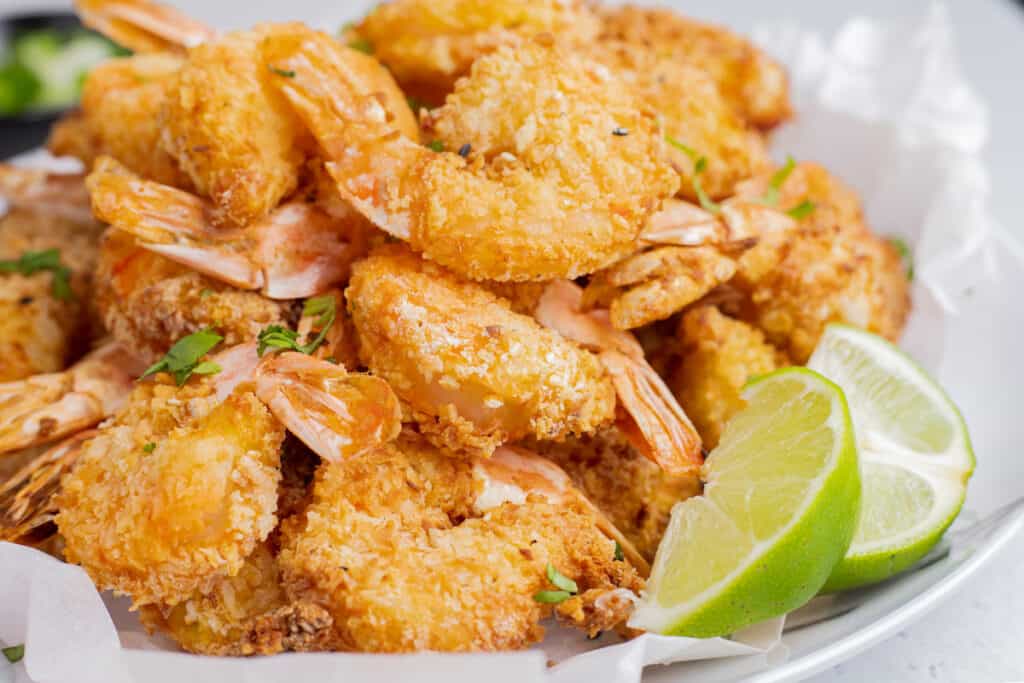 Tips for the best air fried shrimp
Use fresh or frozen shrimp. Fresh shrimp is obviously easier because you don't have to defrost it, but there's no reason why you can't use frozen shrimp. Just make sure it's completely thawed before you dredge it.
Use the largest shrimp you can find. If you use smaller shrimp, it will be all breading and no seafood. Bigger is better in this case. The shrimp Red Lobster uses are huge, and they are amazing. So use big ones.
The shrimp must be dry before breading. If it's frozen, you need to completely thaw it, drain any water, and pat each one dry with a paper towel. Make sure there's no ice and no water - either one will prevent your coconut shrimp from getting nice and crispy.
Keep the tails on. I know it's annoying to remove the tails while you eat, but the tails make dipping the raw shrimp into the egg and breading mixtures so much easier.
Fine coconut is better. You can use the shredded coconut straight out of the bag if you have to, but it will stick to the shrimp better if you pulse it a few times in a food processor to make the pieces finer.
Preheat the air fryer. Just like you'd preheat your oven, you should always preheat your air fryer and put the food into a hot appliance.
Do a test run. This recipe was created using an Instant Pot air fryer. If you have a different kind, I would recommend doing a test batch with just 2-3 shrimp to see how long you need to cook them. Use the recipe as a guide, but check them often. I'd rather you burn 2-3 than a whole batch.
Don't crowd the shrimp in the air fryer basket. The shrimp should be in a single layer with space in between them, so they're not touching. This helps to make sure the air fried shrimp is crispy.
Flip the shrimp halfway through cooking. This ensures that both sides get crispy and golden brown.
Make it gluten-free by swapping the all-purpose flour for coconut flour. You might want to get some coconut flour even if you're not gluten free because it adds a subtle coconut flavor that's really nice with the shredded coconut in the breading.
Why air fry and not deep fry?
Restaurants deep fry their coconut shrimp, and they taste great. There are 3 reasons that I don't deep fry my shrimp at home.
First, I prefer a healthier meal, and the air fryer gives me "fried" coconut shrimp that tastes every bit as good as the deep fried version with a fraction of the fat and calories.
Second, deep frying makes my house stink. If I can avoid that funk, I will.
Third, deep frying requires (and wastes) a whole lot of oil. I know you can strain and reuse it, but I fry so infrequently that I never want to hold on to it for the next time.
The air fried shrimp in this recipe come out crispy and juicy, and you won't know the difference between air fried and deep fried shrimp.
How long does it take to cook shrimp in the air fryer?
If you cook in a single layer in a single basket, the extra large shrimp in this recipe is done in about 10-12 minutes. You have to flip them once halfway through.
Shrimp in general may need more or less time depending on the size.
If you have an instant read thermometer, shrimp is done at an internal temperature of 165ºF.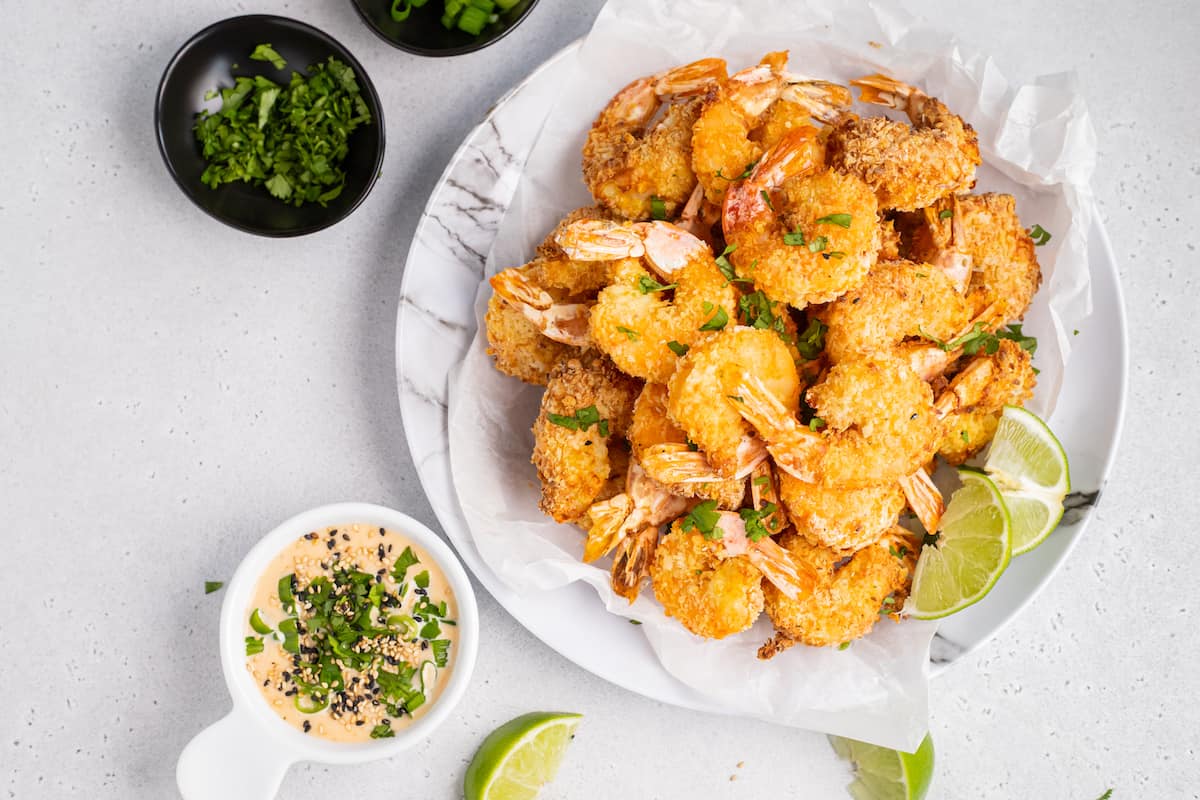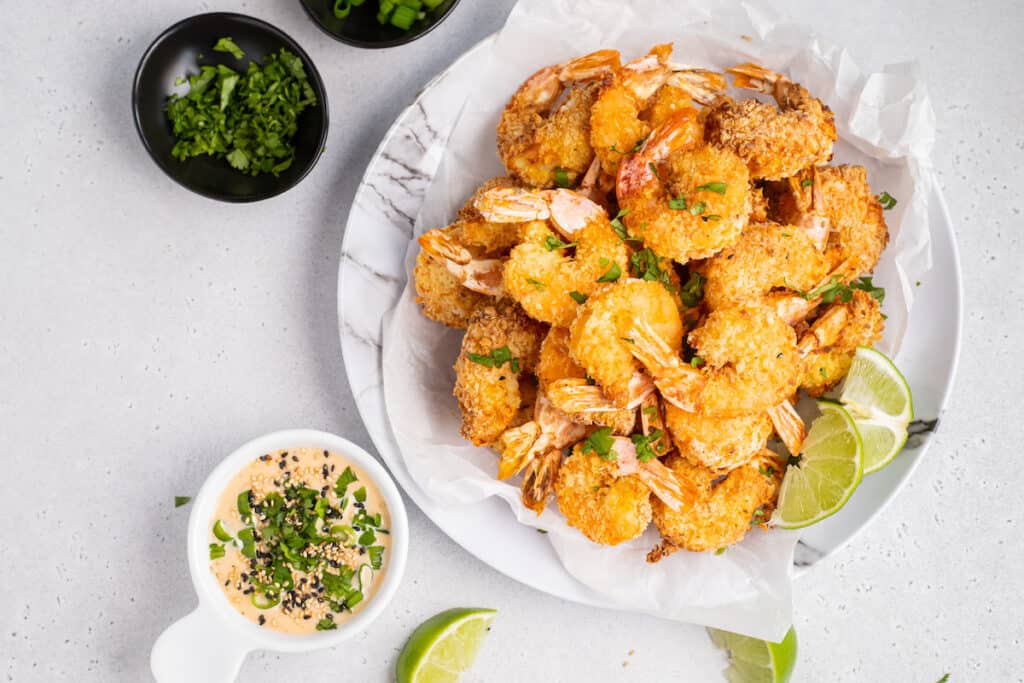 How to store leftover coconut shrimp
Store any leftovers in an airtight container in the refrigerator for up to 3 days or the freezer for up to 3 months.
To reheat, toss the shrimp back in the air fryer in a single layer for 3-4 minutes (from the fridge) or 5-6 minutes (if frozen) - or until they're warm. Your air fryer might need more or less time than mine.
Alternately, you can microwave them for 30-60 seconds, but they won't be as crispy.
What to serve with coconut shrimp
I love this coconut shrimp recipe with piña colada dipping sauce. It's the perfect pairing!
More shrimp recipes
Shrimp is one of my favorite foods, so I've shared lots of delicious shrimp recipes over the years! Here are a few:
Other air fryer recipes
Since I just got my air fryer, I don't have many other air fryer recipes - but I will shortly!
You're going to love these air fryer potato chips, and they'll go really well with your coconut shrimp, as will these air fryer mozzarella sticks. Air Fryer Prime Rib with Horseradish Rub is also a great choice.
Recipe