Cajun Shrimp Scampi with a spicy and rich cream sauce, served over healthy cauliflower rice. This is a quick and easy dinner recipe with just the right amount of kick!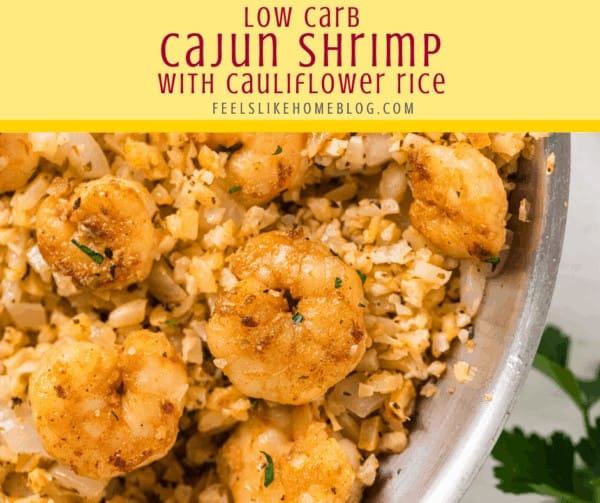 We have started cooking again after about a year of buying preplanned, precooked meals from a meal service. We got bored with the service, and the kids hated it from the very beginning and almost never ate dinner. Family meals were a thing of the past.
Joe and I decided together, with input from the girls, to start cooking regular meals again. We broke out our old recipe binder, and one or the other of us has been making a daily meal.
We're still eating low carb and low calorie meals (maybe even lower calorie than with the meal service which was low calorie to begin with), and Allie who is 9 is eager to help in the kitchen. (Check out some tips for cooking with kids.) We need meals that are relatively easy to prepare so that she can actually make a big contribution. So far, she's browned meats, heated sauces, and peeled and chopped all manner of vegetables. She loves cooking, and that is a feeling I hope to foster as she grows older.
Because both Joe and I work full-time jobs, we need quick and easy meals for weeknight dinners. 15 minutes or less is our goal, and the cajun shrimp scampi below fits the bill. It's actually done in less than 15 minutes - about 5 minutes for the rice and about 5 for the shrimp and sauce if the shrimp is fresh or maybe 2-3 minutes longer if the shrimp is frozen. Easily less than 15 at any rate.
How to Make 15 Minute Cajun Shrimp with Cauliflower Rice
Prepare the cauliflower rice. (See note below for instructions on preparing traditional rice.) Heat a medium skillet over medium heat. Add the cauliflower rice, butter, onion, and garlic. Sauté 5 minutes, until onion is tender and rice is beginning to brown, then add paprika, cayenne pepper, oregano, and basil. Toss well.


Prepare the shrimp. Rub the raw shrimp with Cajun seasoning (make it yourself with this recipe to control the flavors), salt, and pepper.

Cook the shrimp. Heat a large skillet over medium heat. Add the olive oil. When the oil is hot, add the shrimp and cook 2-3 minutes until just seared. Remove from pan.

Prepare the sauce. Add the garlic to the now shrimp-less skillet and sauté for 1 minute. Stir in the butter, white wine, lemon juice, and lemon zest. Simmer until slightly thickened.

Add the shrimp to the sauce. When the sauce has thickened slightly, turn off the heat and add the shrimp back into the skillet. Simmer until shrimp is opaque but not rubbery. Be careful not to overcook your shrimp.

Serve. To serve the cajun shrimp, top a spoonful of the spiced cauliflower rice with 3-5 ounces of cajun shrimp and a lemon wedge.

Try these other shrimp recipes while you're here:
Recipe