This classic homemade remoulade sauce recipe will become your go-to condiment! It's a deliciously creamy dip for seafood, crab cakes, fries, salads, burgers, sandwiches, and more. This easy Cajun recipe is ready in 5 minutes!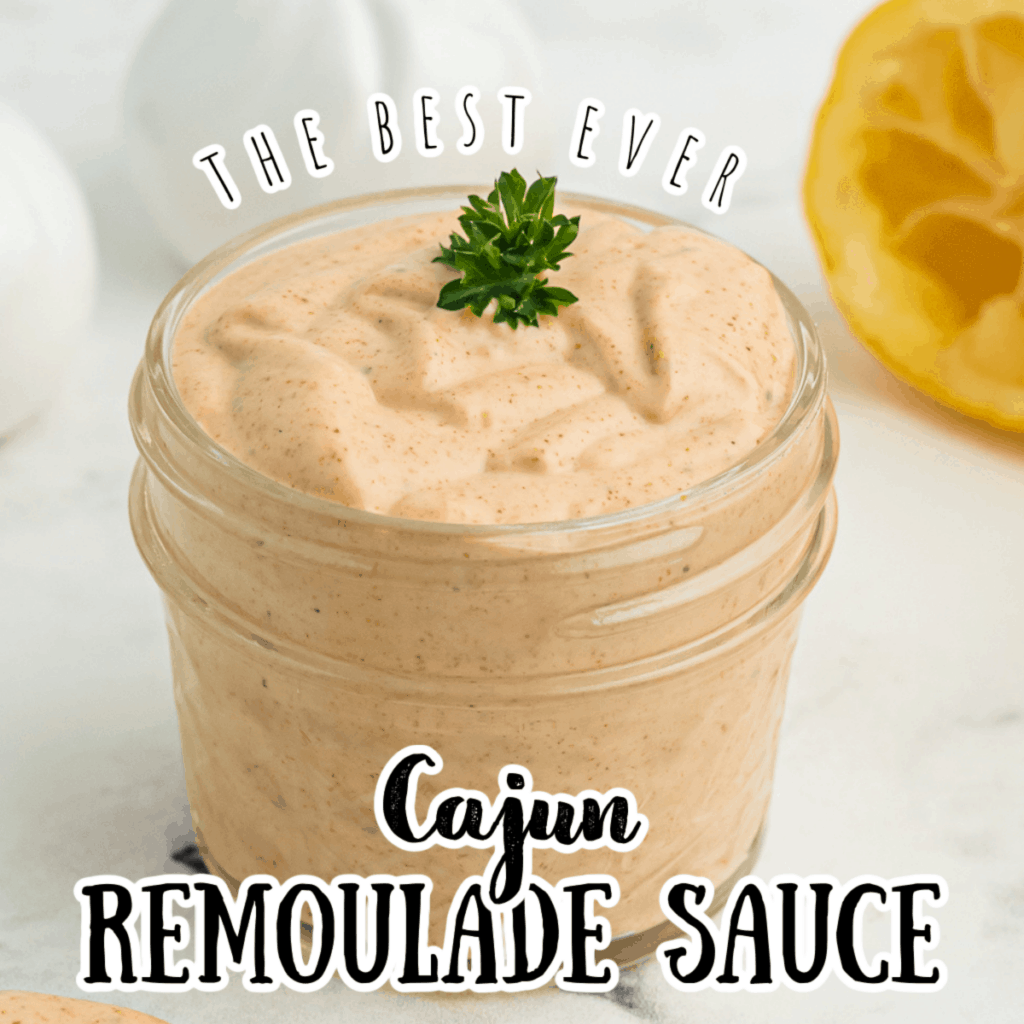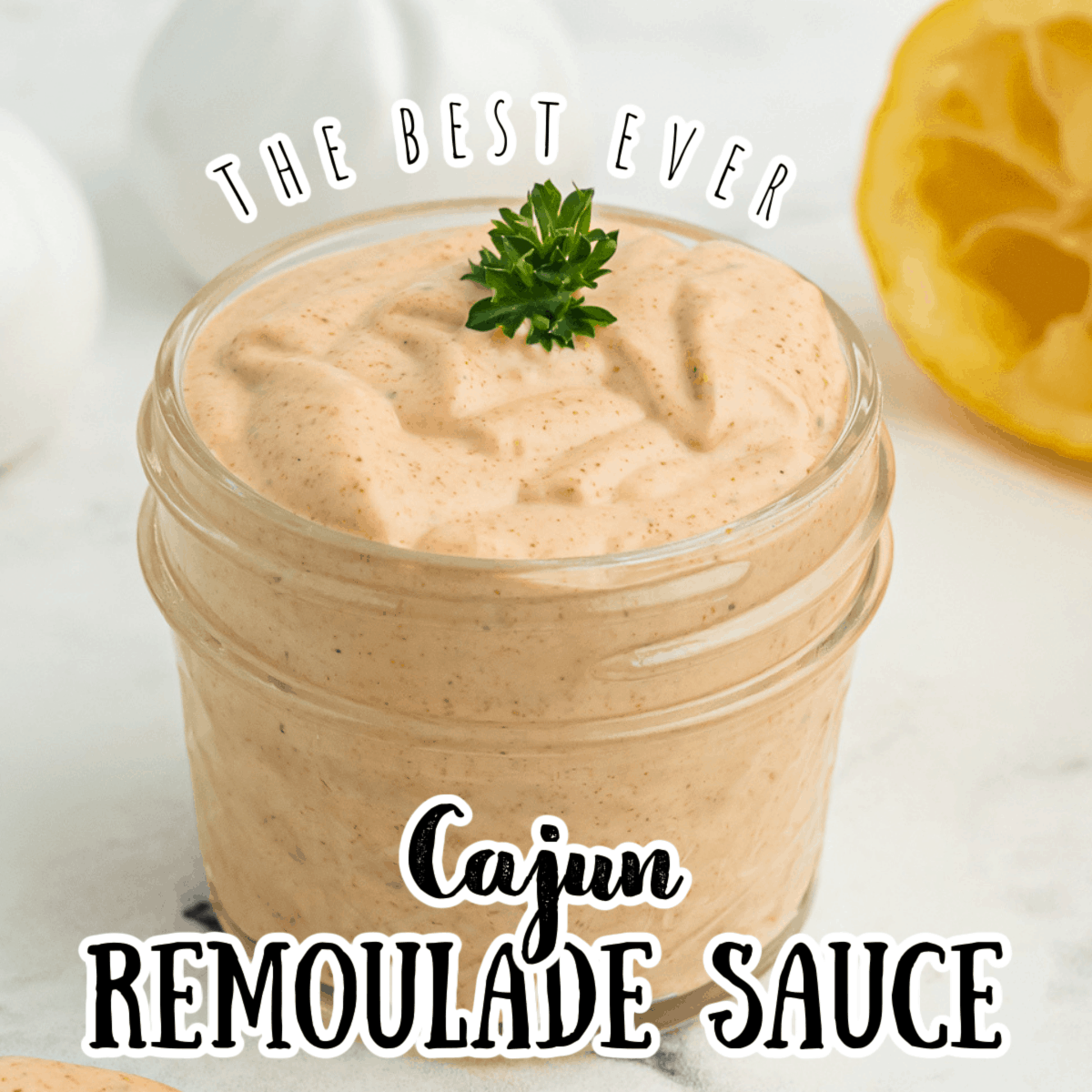 What is remoulade sauce?
This mayonnaise-based sauce originated in France in the 17th century but is used today throughout Europe and the United States. Originally used to cover up the taste of spoiled meat, it features strong flavors and acid ingredients that would have slowed the spoiling process.
Remoulade first arrived in the US in 1918 in the French Quarter of New Orleans when a wine salesman served it at his restaurant for the first time.
Remoulade is similar to a tartar sauce (and used in a lot of the same ways), but it has different spices which result in a completely different flavor profile.
When do you serve remoulade?
You can serve this homemade remoulade as a dip or spread for seafood like fish, shrimp, or crab (crab cakes - SO GOOD!), french fries, burgers, roast beef, and even chicken and turkey or as a dressing on salads. It's especially good as a drizzle over these shrimp and avocado bites, but it's also poured over hard boiled eggs for a cheap but filling meal. Remoulade sauce is a really versatile condiment used today throughout the world.
What you'll need to make the best homemade Cajun remoulade sauce recipe
Equipment
This recipe is very simple with only one step, and the materials required are minimal. I used a citrus juicer for the lemon juice, although you could probably squeeze it by hand if you're in a pinch, and I used my zester to get the lemon zest. I don't know of any way around using a zester or a microplane grater. The holes in a traditional grater are too big, and a vegetable peeler will get long strips rather than tiny pieces of the zest.
I also used my trusty garlic press which I use pretty much every day of my life. If you don't have a garlic press, you will need to mince the garlic as fine as is humanly possible. You want the garlic flavor, but no one wants a big bite of raw garlic in their dip.
Remoulade Sauce Ingredients
See printable recipe card at the bottom of the page for measurements and an estimate of nutritional information.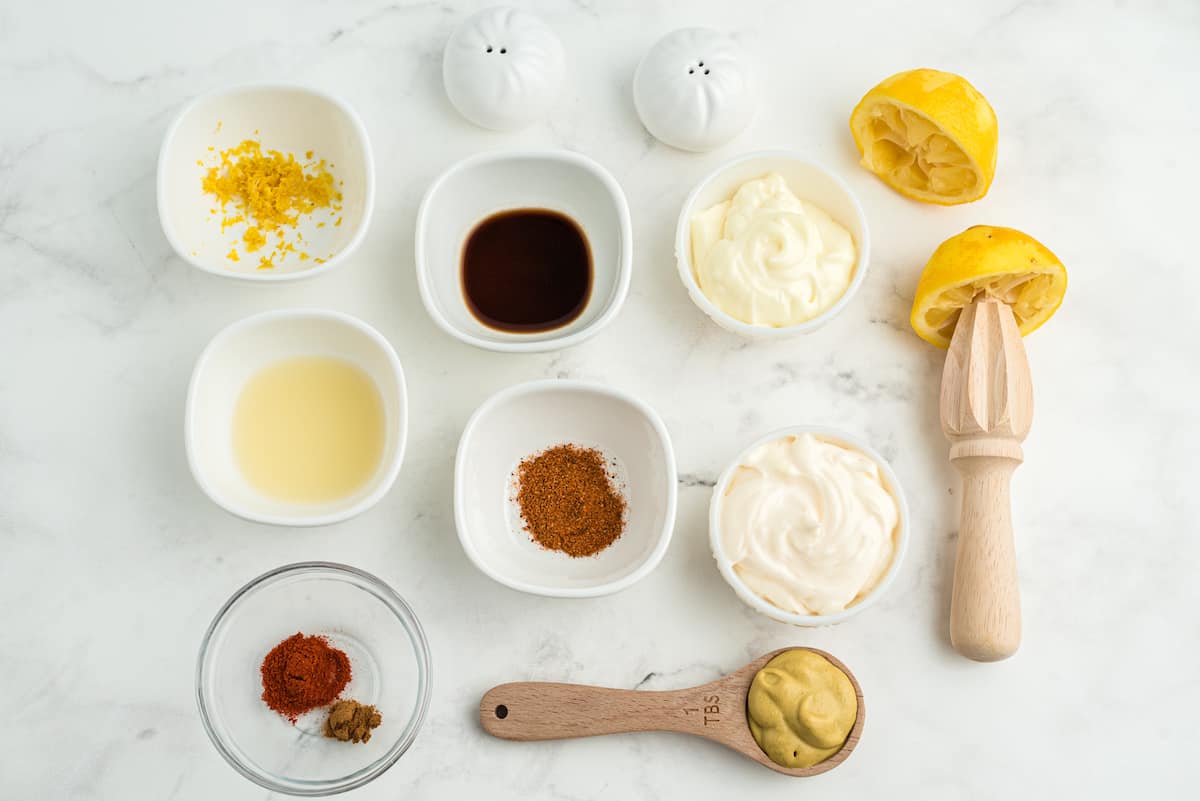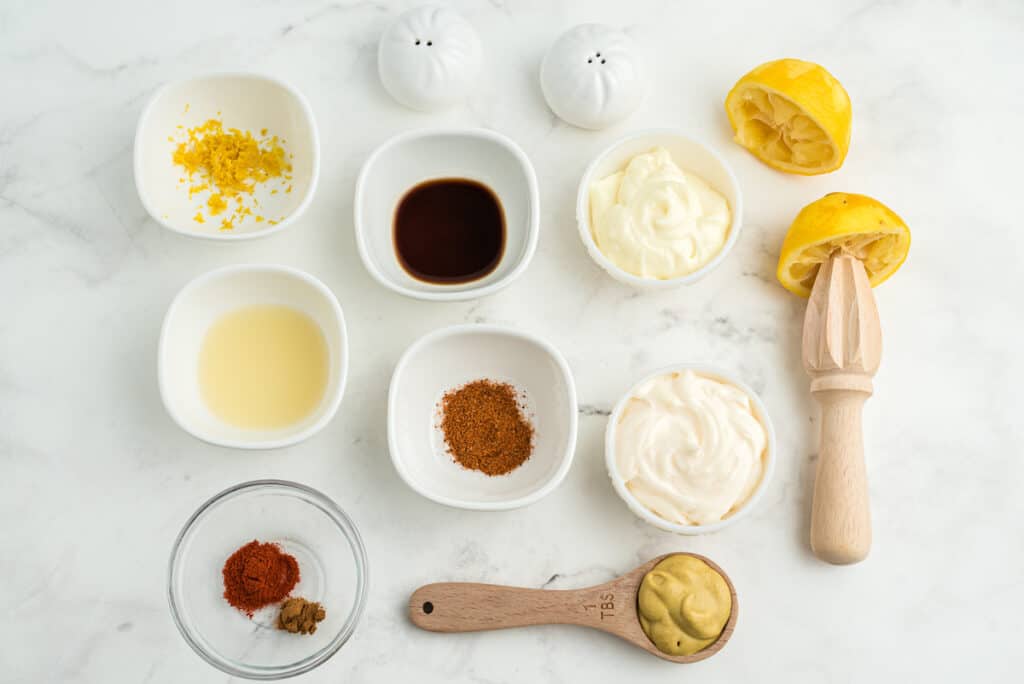 Mayonnaise, light or low fat - Yes, you need both mayo and Miracle Whip. Trust me on this.
Miracle Whip, light or regular
Dijon mustard, the smooth kind, not the seedy kind - The original recipe uses Creole mustard which is different than dijon but not readily available in most of the US (unless you order it online which is of course always an option).
Lemon juice, freshly squeezed - Could you use lemon jar from a bottle? Yes, I suppose you could. However, you will be very sad when you're done because lemon juice from a bottle doesn't taste anything like freshly squeezed, and your finished remoulade will reflect the flat plastic-y taste. Fresh lemons cost less than $1 each, and you will easily get enough juice from a single lemon to make this recipe. Splurge a little. It's worth it.
Lemon zest - Since you've already splurged on the lemon for its juice, you can go ahead and get the zest from it. Just note that you have to zest the lemon BEFORE you juice it. I mean, I guess you could do it after, but it will be much much more difficult. Zest first, then squeeze.
Garlic - As with the lemon above, fresh garlic is a must in this recipe. I mean, I suppose you could use the jarred stuff, but you will be sad. It lacks the pungent bite of fresh raw garlic that makes this recipe a zinger.
Creole or Cajun seasoning - see link for my amazing homemade seasoning blend. If you don't have the ingredients for the homemade recipe, it's okay to use a pre-packaged creole seasoning. I prefer the homemade because then I can adjust the spiciness to my family's preference (which is not very much), but the commercial stuff will work just fine.
Worcestershire sauce - Don't skip this. It adds a salty umami undertone that really makes the other flavors pop.
Smoked paprika - I like the smoky rich flavor that smoked paprika gives this sauce, but if you're in a pinch and don't have any, sweet paprika will also work (that's the regular kind that's most likely just labeled "paprika").
Cayenne pepper or crushed red pepper - Your remoulade won't be overly spicy if you stick to the ⅛ teaspoon that the recipe calls for. If you prefer spicier, add extra a tiny bit at a time, tasting often for your preferred level of heat.
Salt and pepper to taste
How to make homemade Cajun remoulade sauce
I'm not sure that this can even be called a recipe.
Blend everything except salt and pepper in a small bowl.

Pour into an airtight jar in the refrigerator for at least 30 minutes prior to serving. After resting, taste and season with salt and pepper if desired.

Store leftovers in the same jar in the fridge for up to 1 week.
Making the sauce into a dressing
If your sauce is too thick or you want it to be a pourable dressing, you can add a scant splash of milk to thin it down. Just be careful because too much milk will leave it watery and bland.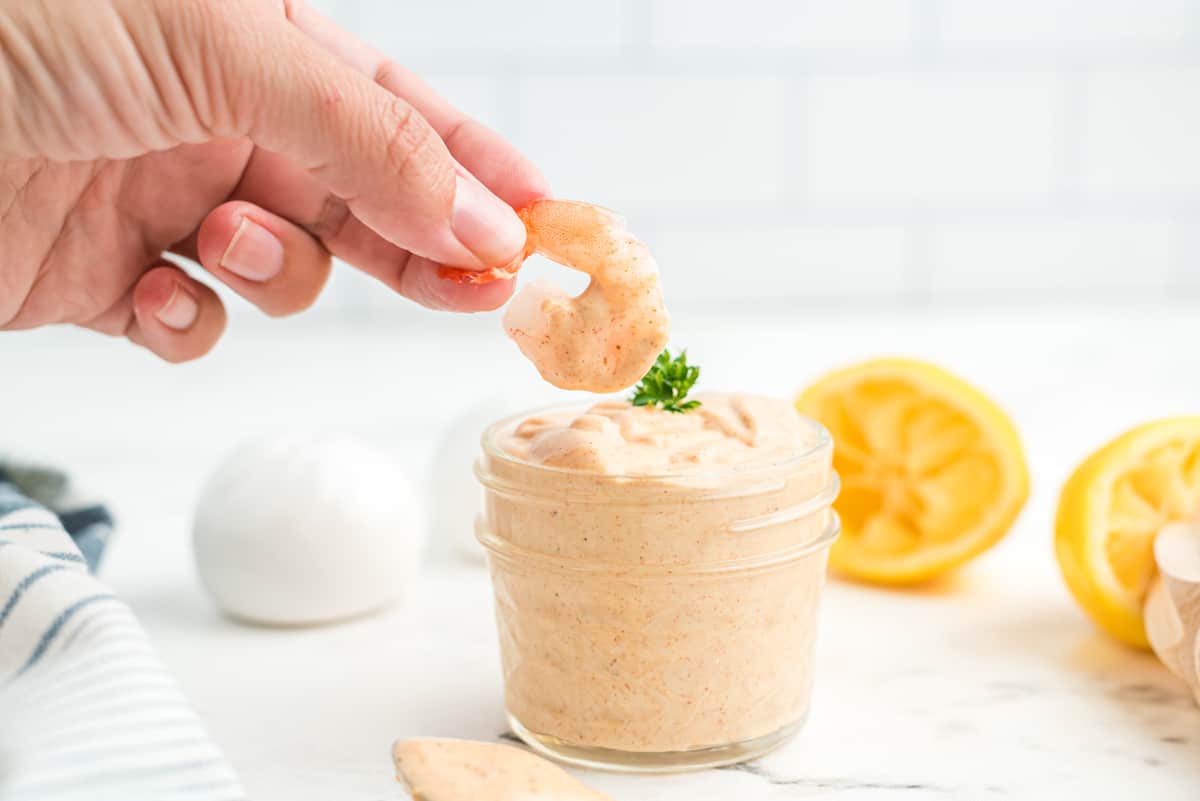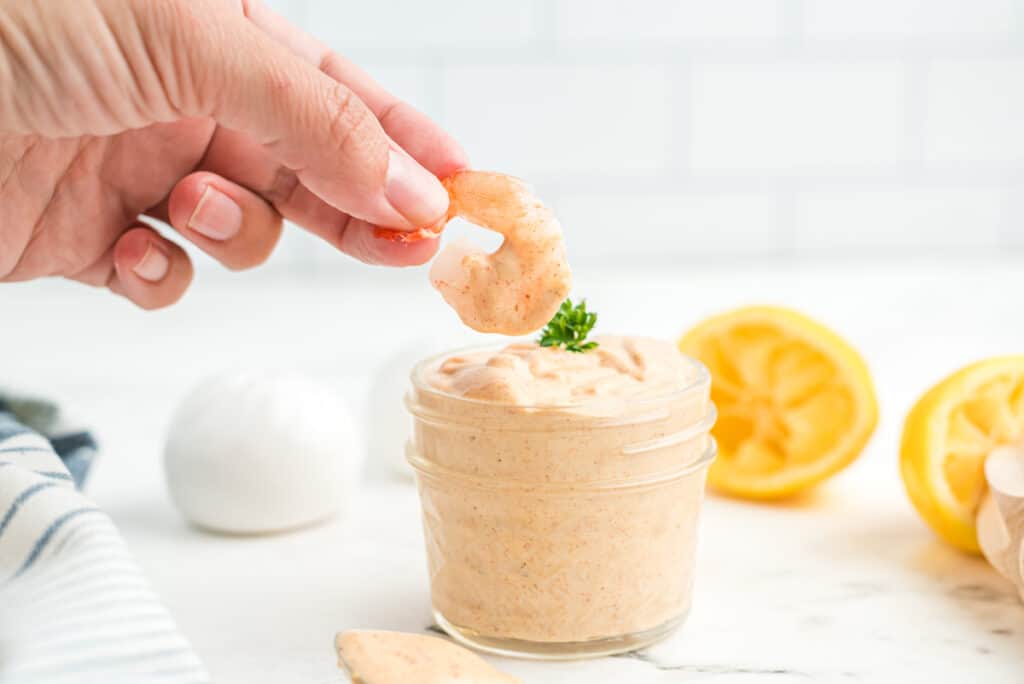 What to do with leftover remoulade
Store leftovers in an airtight jar in the fridge for up to 1 week. It may last a little longer than that thanks to the acidity of the lemon juice, but be careful with it as the mayo will eventually spoil.
Don't try to freeze remoulade because the eggs will break down and it will not be edible.
Variations of Cajun remoulade sauce
The French version is a white sauce that is similar to traditional American tartar sauce. It features mayonnaise with fresh herbs, capers, pickles, and anchovies.
The Louisiana version is pink and features mayo with ketchup or hot sauce, mustard, garlic, and sometimes horseradish and celery.
The Dutch version is yellow and features finely chopped cauliflower, cucumbers, and turmeric.
Other homemade sauces and dip recipes
Recipe