This easy Lemon Garlic Aioli is about to become your new favorite dipping sauce! Made with just 3 simple ingredients, it comes together in minutes and is perfect for topping burgers, dipping fries, and so much more. Once you try it, you'll be hooked!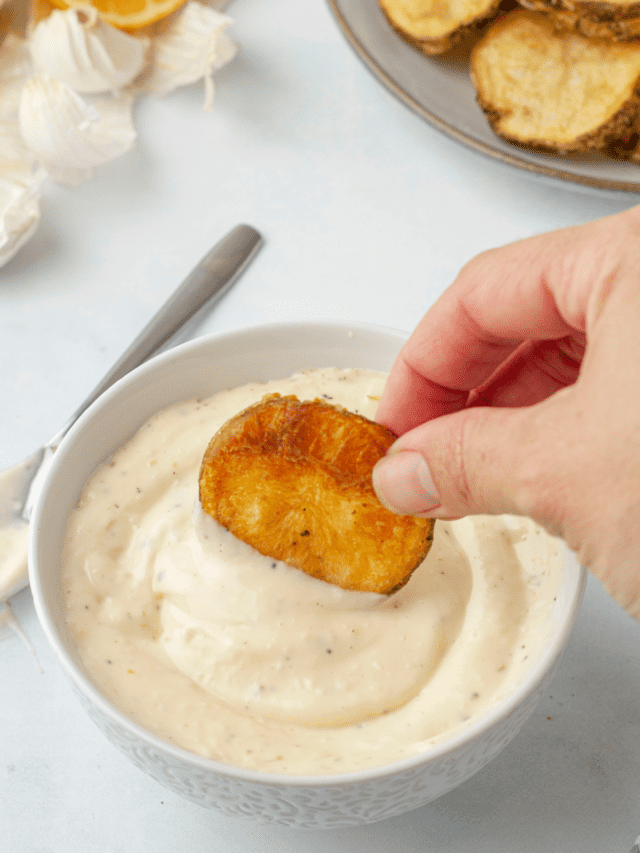 The first time I ever had aioli was at Jimmy Buffet's Cheeseburger in Paradise restaurant. It was one of my mom's favorites at the time, and it must have been at least 20 years ago.
I was totally enamored with the aioli and decided I absolutely must learn how to make it at home.
Aioli, if you've not become acquainted, is a zippy mayonnaise-based condiment that you can use in place of mayo but also as a dip for fries or veggies. It goes way above and beyond regular old mayonnaise.
I've been obsessed with putting this lemon garlic aioli on my blue cheese burgers lately. They are so amazing together, and I even use the aioli to dip my air fryer french fries in! It's like the perfect meal.
This particular aioli recipe has both lemon and fresh, raw garlic to balance and transform the strong flavor of the mayo. You can't imagine how good it is until you taste it!
What you will need to make lemon garlic aioli
You will need a citrus press to squeeze the lemon.
This is a relatively simple recipe, but it comes together best in a food processor. My second choice is a blender (but don't run it too long or the aioli will liquify). If you don't have either one, use a garlic press or a knife to make the garlic as small as humanly possible.
Ingredients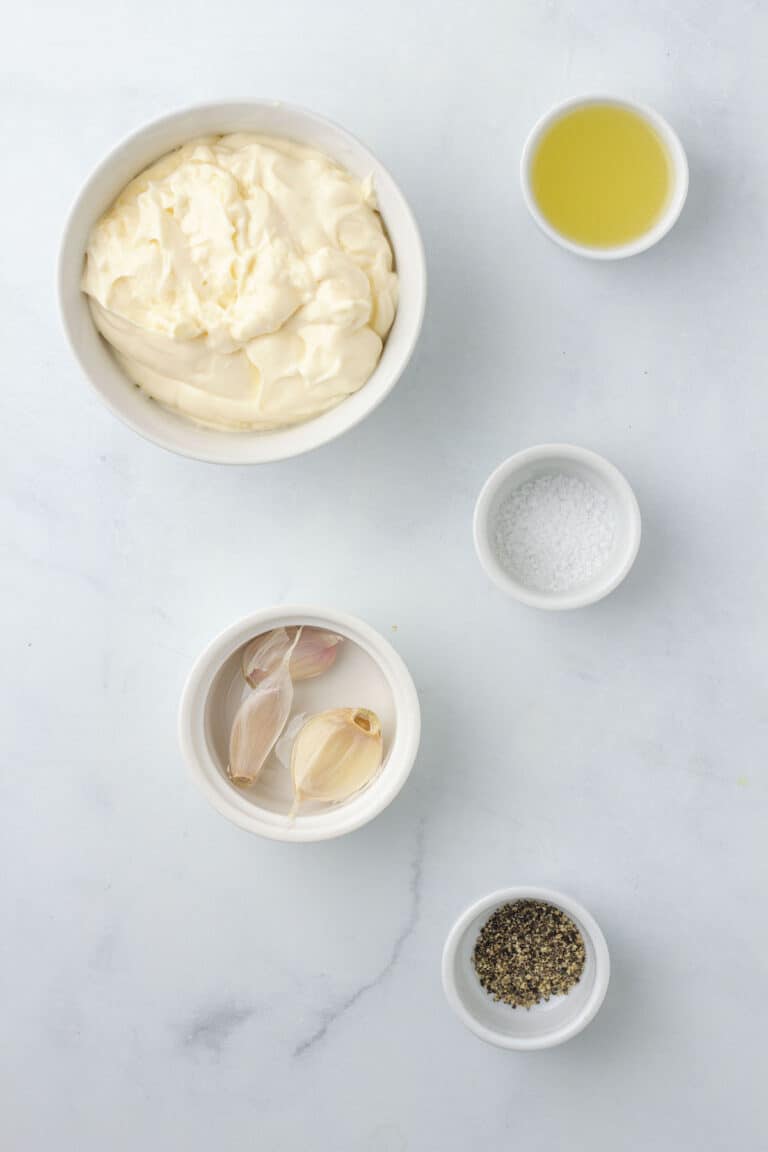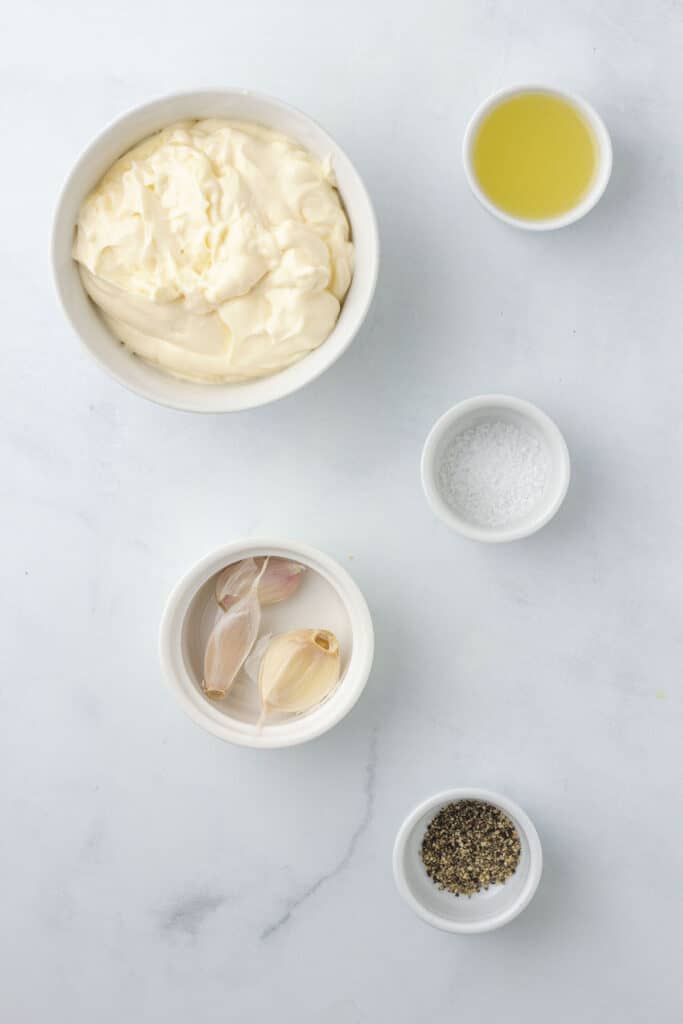 1 cup mayonnaise - I personally use low fat mayo exclusively, but you can use whatever type you normally use. The aioli will have a slightly different flavor with full fat, low fat, and fat free mayo, but it tastes great with all three.
3 cloves garlic - Always always always use fresh cloves and not the stuff in the jar!
2 tablespoons lemon juice - Again, always always always squeeze this fresh. The stuff in a bottle will make you sad. 2 tablespoons is roughly the juice of half of a large lemon. You definitely don't need more than 1 lemon, even if it's a small one.
½ teaspoon salt
½ teaspoon pepper
How to make lemon garlic aioli
Add the mayonnaise, garlic, lemon juice, salt, and pepper to a food processor or blender. Pulse the mixture a few times, until the garlic is minced and everything is well blended.

Serve with your favorite fries or on a burger or sandwich or wherever you would normally use mayonnaise. I like to put this aioli on a grilled cheese for an extra zing. Try it!
Aioli FAQ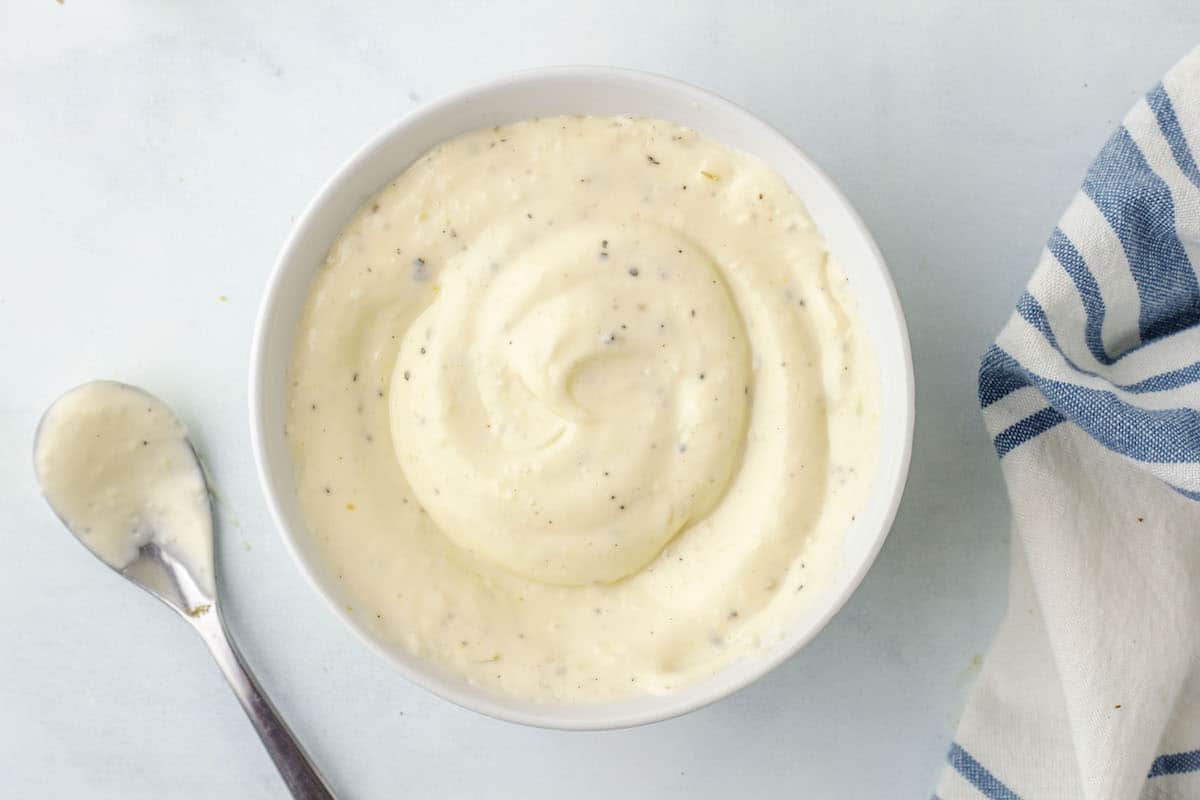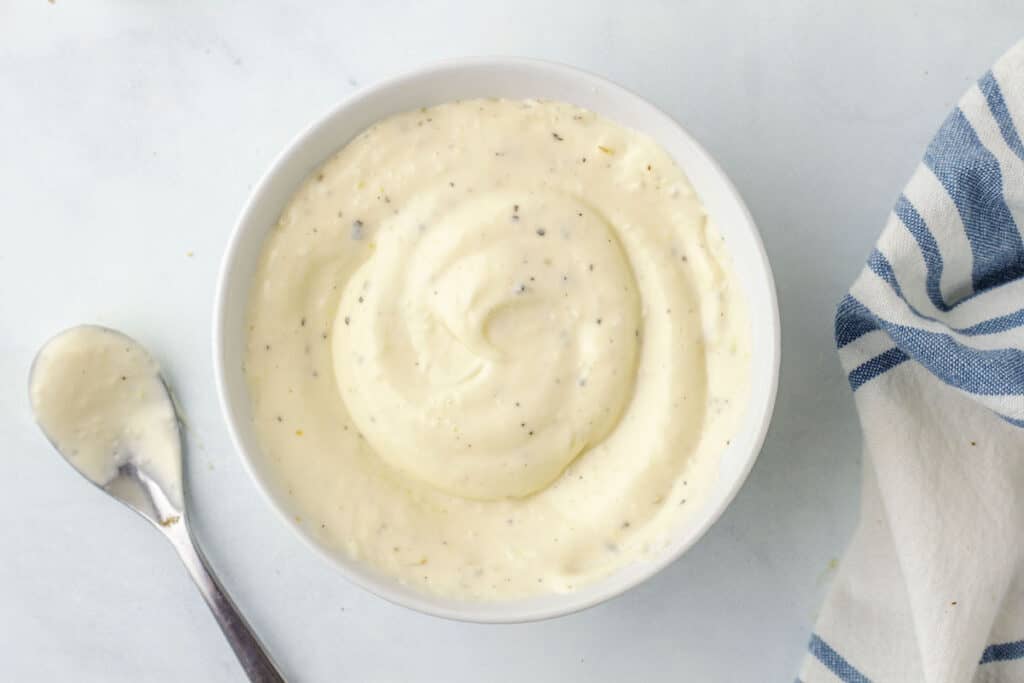 Can aioli be made vegan?
Absolutely! You can change out the regular mayonnaise for vegan mayonnaise.
Can aioli be made lighter?
Of course! Simply replace the regular mayo with light mayo or even fat free mayo. The taste will be slightly different, but if you're used to the lighter versions, you won't even notice.
That's a lot of raw garlic. Is it overpowering?
No, since mayo has such a strong flavor itself, the aioli has a balanced flavor. If you are worried about it being too garlicky, you can start by only using two cloves then tasting to see if it needs more.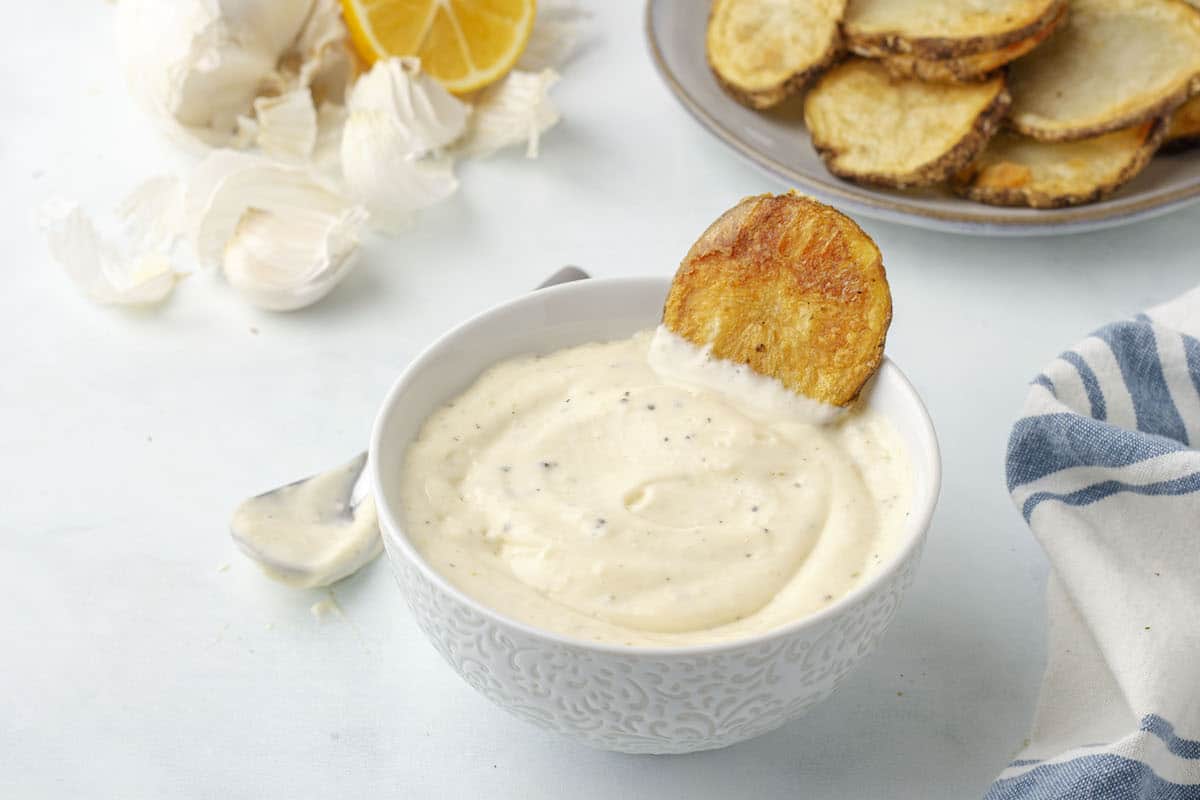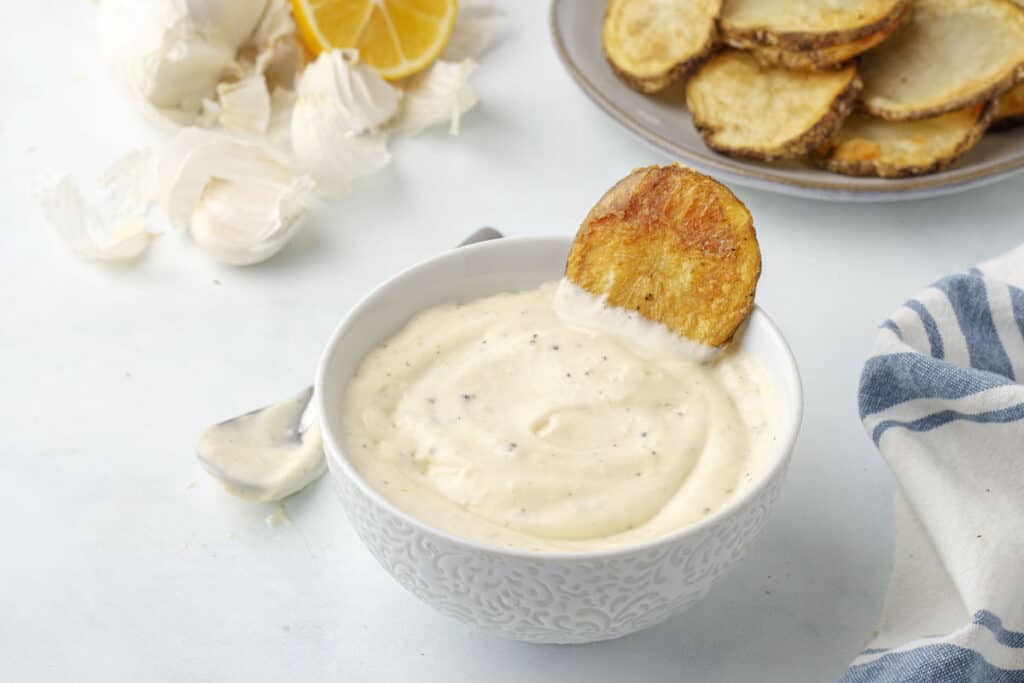 I don't own a food processor or a blender. Is there any way to make this by hand?
Yes! You will want to use a garlic press if possible or mince up the garlic with a sharp knife until it is very, very fine. You don't want anyone to end up with a big chunk of garlic! Once the garlic is as tiny as possible, stir all the ingredients together.
How to use lemon garlic aioli
My favorite way to use this delicious flavored mayo is on my Red Robin copycat black and blue burger. It is so good I could eat it every day!
Sandwich spread - Use on sandwiches like a plain old ham & cheese.
Other burgers
Veggies - Use as a tangy dipping sauce for cucumber or red pepper sticks.
French fries - This is awesome as a dip for traditional white potato fries or even sweet potato fries.
Home fries - I love to drizzle this on my tangy home fries.
Chicken - This is awesome on a grilled chicken sandwich or in place of pizza sauce on a chicken crust pizza.
Other homemade sauces and dip recipes
Recipe