Horseradish mayo is a simple recipe that is the perfect condiment for sandwiches, egg rolls, and much more. It's a dip, a sauce, a dressing, and a mayonnaise aioli, and you're going to want to put it on everything!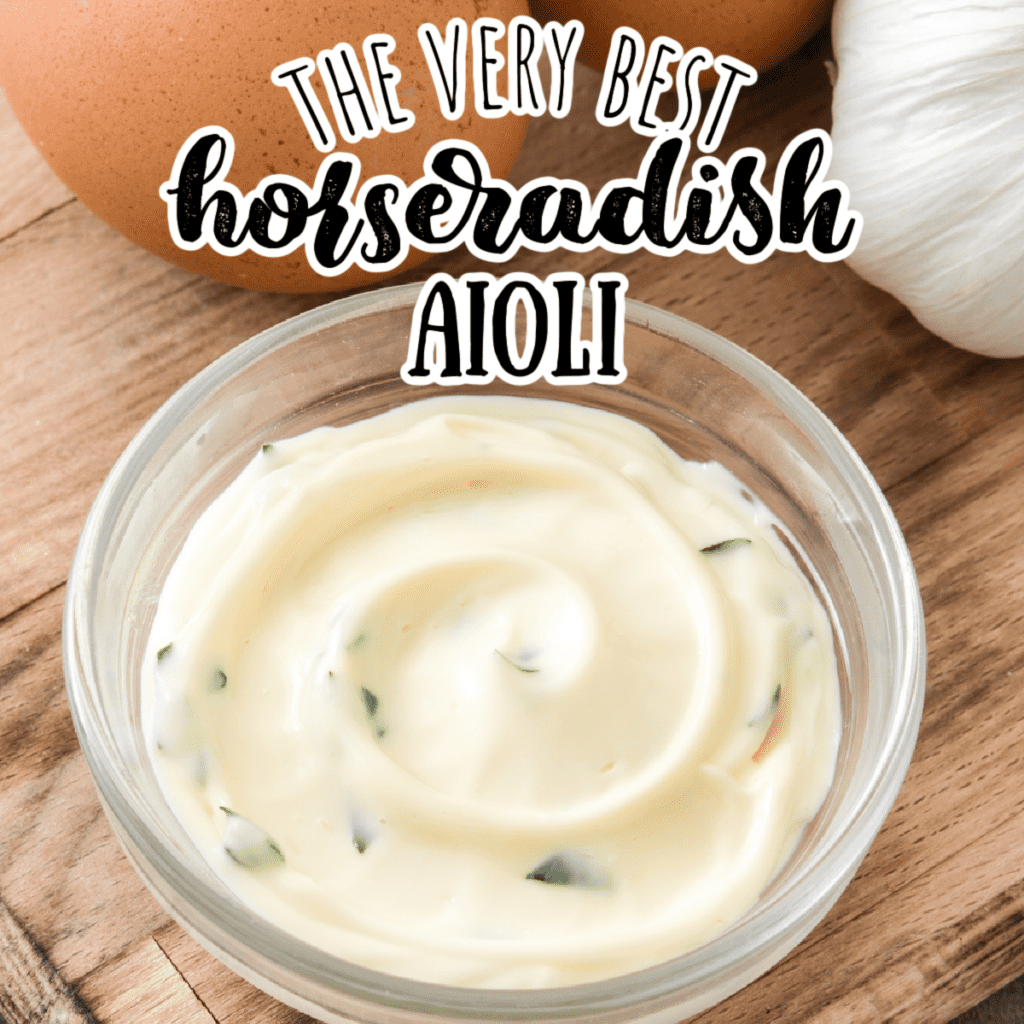 The best horseradish aioli recipe
This is the best horseradish aioli recipe because it's super simple, packs potent horseradish flavor, and goes well with all sorts of foods.
This recipe makes a creamy horseradish sauce that is customizable to include as much or as little horseradish as you like.
What you'll need to make this horseradish sauce recipe
Equipment
You will need a small bowl, measuring cups and spoons, and a spatula or large spoon to mix it all up. I also used a garlic press to squeeze the garlic. If you don't have a press, I would recommend grating it on a very fine grater such as a microplane zester.
Ingredients
Mayonnaise - I used light mayo for this recipe, but you can use whatever you have. Full fat or low fat are good. You cannot, however, use Miracle Whip. It will not work in this recipe.
Horseradish - You'll need the prepared horseradish that comes in a jar. It's a white paste. I recommend starting with one tablespoon and then adding more one teaspoon at a time until you've reached your desired level of spiciness. Horseradish is very potent and you will be sorry if you add more than your palette will tolerate. Too much horseradish will make your nose burn and you will want to die.
Garlic - Please use fresh garlic for this recipe. It is much more potent and bright than jarred or powdered garlic. Don't go overboard on the garlic though. You want horseradish aioli and not garlic aioli. (That's really good too, but it's not what this recipe is aiming for.)
Chives - I prefer fresh chives, snipped into small pieces with kitchen scissors. You could also finely chop them using a sharp knife, but I think the scissors are easier.
Lemon juice - Please don't use bottled lemon juice because it is horrible and nasty. Real, fresh lemons cost about 80¢ each, and you can squeeze one and have enough lemon juice for the whole recipe.
Salt & black pepper - Start with a small amount and add more to taste.
How to make horseradish aioli
This is almost not a recipe. The instructions are simple:
Stir it all together.
Taste and add more horseradish, lemon juice, salt, and/or pepper to taste. Be careful adding horseradish as it is very potent. Add more one teaspoon at a time until you like the aioli.
Store the horseradish mixture in an airtight container in the refrigerator.
What is prepared horseradish?
"Prepared horseradish" is a paste that you can buy in a jar at room temperature in the mayonnaise aisle in the grocery store and sometimes in the refrigerated meat department.
If you have fresh horseradish root, you can mix up some grated horseradish with some vinegar and salt and make your own "prepared horseradish" paste. It will be significantly more potent, so start with a teaspoon of paste and add more to taste.
Do you need a food processor to make horseradish aioli?
If you use prepared horseradish from a jar, there's no need to use a food processor. It will all mix up just fine with a whisk. If you feel the need, go ahead and toss everything in a food processor and pulse it a few times, but I don't bother.
Storing horseradish aioli
You can keep this creamy horseradish sauce in an airtight container in the fridge for up to a week.
I would not recommend freezing this recipe.
I like to serve this horseradish cream sauce with these foods
Traditionally, horseradish aioli is served with prime rib, beef tenderloin, and other cuts of steak as well as roast beef sandwiches.
You're going to love these other dipping sauces, too
Recipe