Tangy blue cheese, sautéed mushrooms and caramelized onions, and a tangy lemon garlic aioli make these juicy homemade hamburgers incredibly delicious. Follow this easy recipe and enjoy the flavors of a grilled Red Robin Copycat Black and Bleu Burger at home.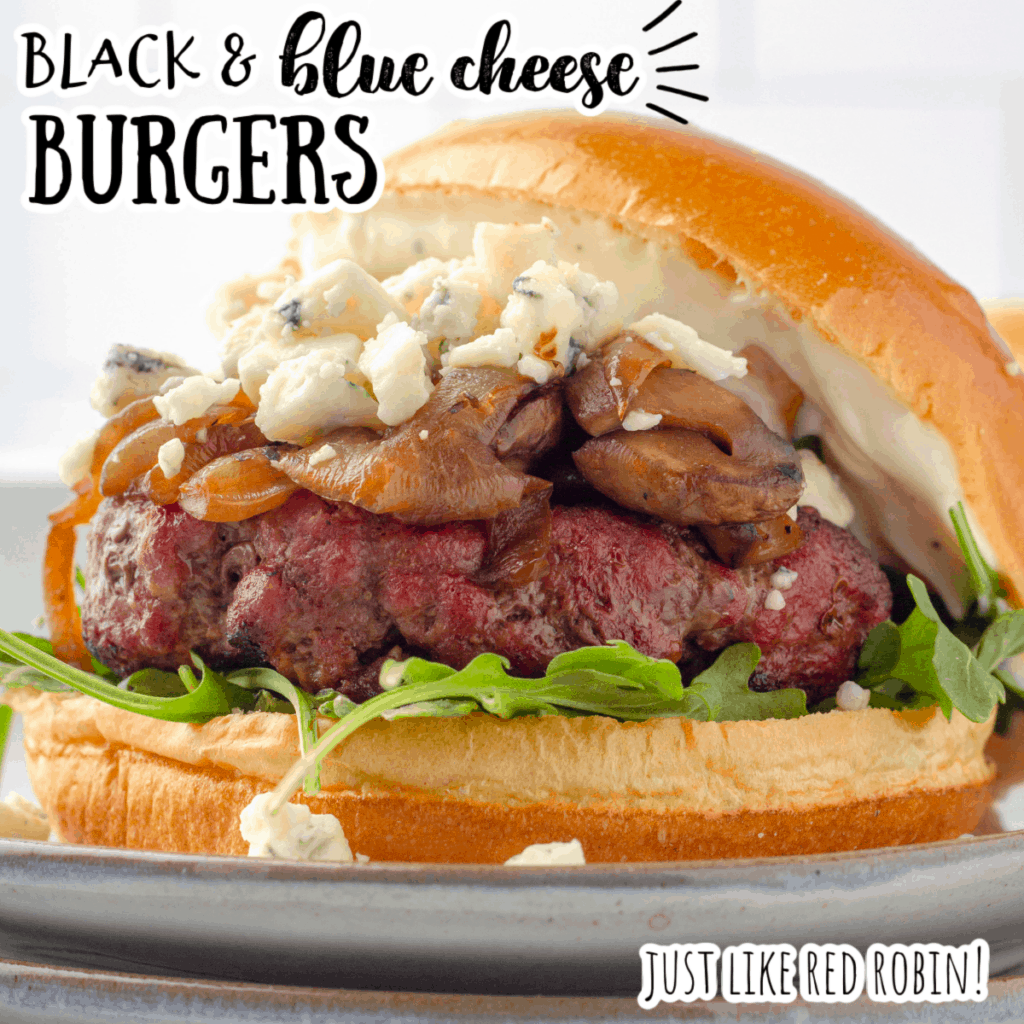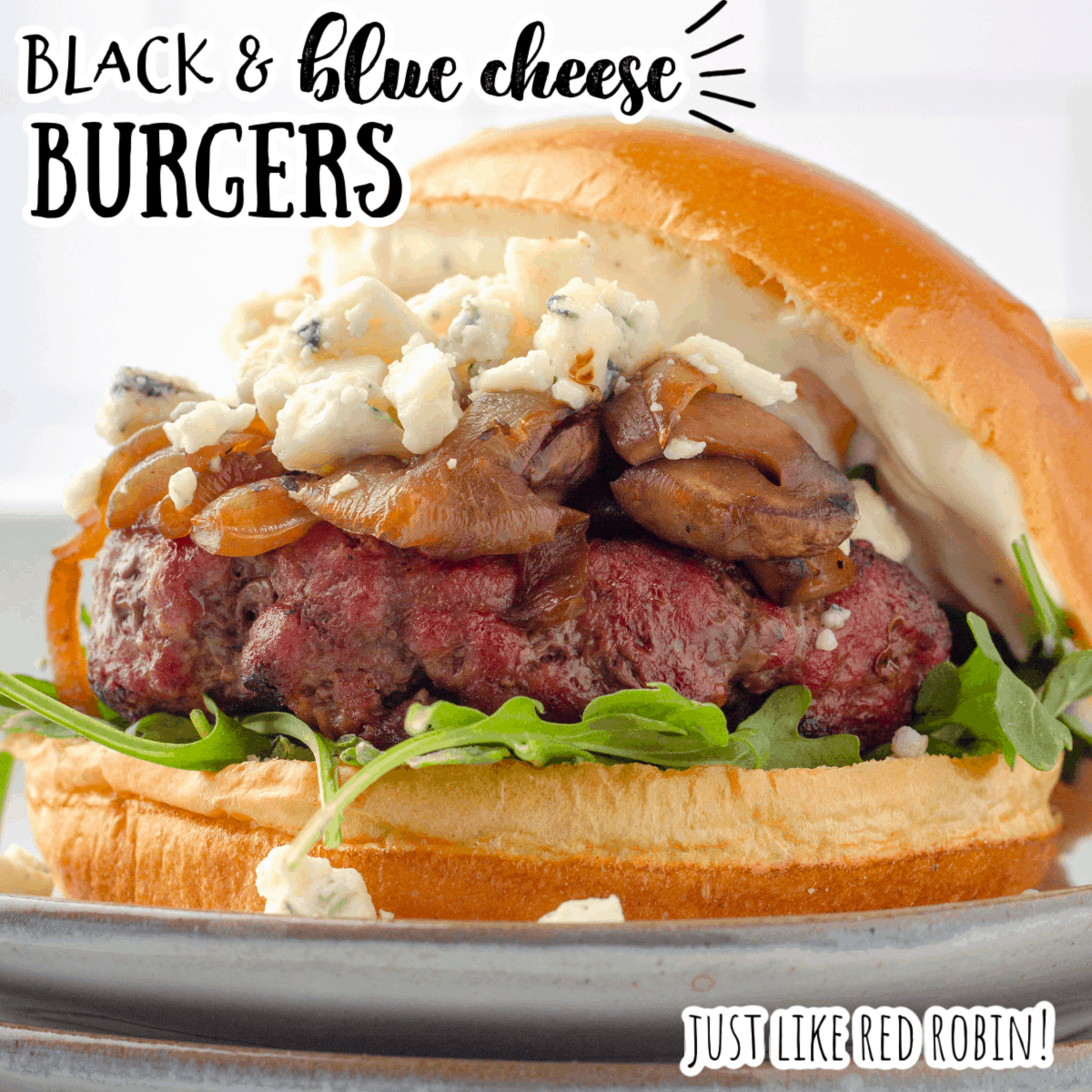 My family loves Red Robin. My kids love it because they have bottomless root beer floats (why do I even buy them meals?), but I love it because of the black and bleu burger.
The only problem with the black and bleu burger is that it is expensive. I love Red Robin, but $15 for a burger is kind of painful to me.
So I figured out how to make a black and bleu burger at home, and it is ridiculously easy. I promise that you can do it.
What you'll need to make homemade black and blue cheese burgers
Equipment
The recipe below includes instructions to make the burgers on a grill, but you can cook them on the stove instead. Heat a heavy skillet (cast iron is the best for this) over medium-high heat, add a tablespoon of butter to the pan, and then the burgers. Cook the burgers for 3 minutes per side or until the internal temperature indicates your preferred doneness.
I always use an instant read food thermometer when cooking meats so that I know they are safe to eat.
Ingredients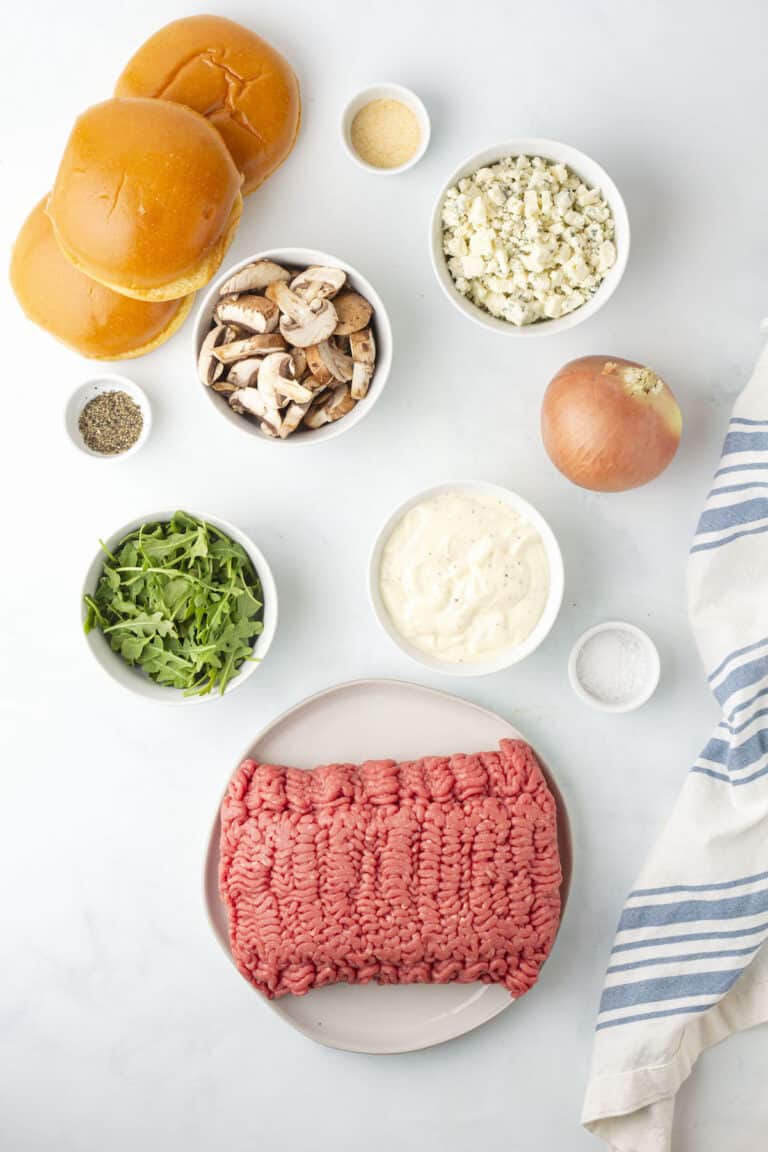 1 tablespoon olive oil - For sautéing the mushrooms and onions (could substitute butter or a different kind of oil)
1 small onion, sliced in rings - I like having rings because they stay on the burger better, but you could slice the onion any way you want.
8 ounces mushrooms, sliced
2 pounds ground beef - I use exclusively 93% lean ground beef, but you can use whatever you want. Just be aware that the higher the fat content, the more the burgers will shrink when cooking.
2 teaspoons garlic powder
1 teaspoon salt
1 teaspoon pepper
1 cup arugula - I love the slightly spicy flavor of arugula, but you could use any type of lettuce or greens.
1 cup blue cheese - don't skimp on the blue cheese!
½ cup garlic aioli - This is super easy to whip up, and it makes the burgers sing. If you can't make it, you could use plain mayonnaise.
6 hamburger buns - Potato rolls are my favorite, but you can use whatever buns you want.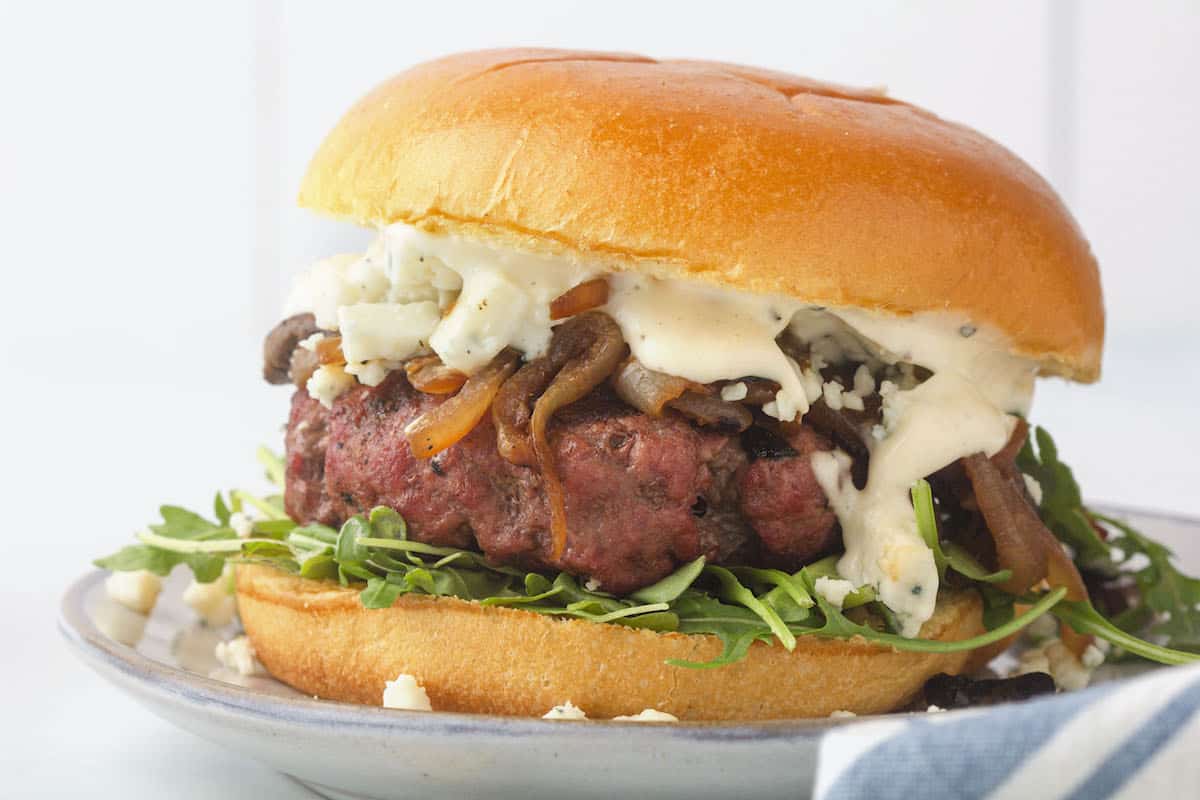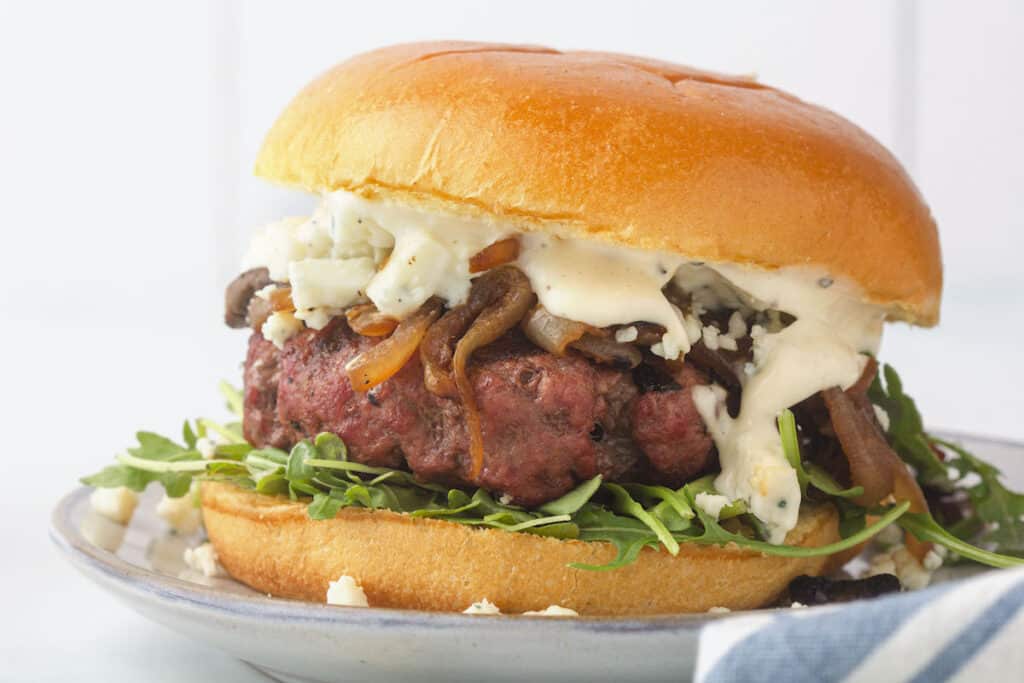 How to make homemade black and blue cheese burgers
Preheat the grill over medium-high heat.
In a large skillet over medium heat, place the oil, onions, and mushrooms. Stir occasionally to prevent them from browning too much. Once the onions have been caramelized (see note below), remove them from the heat.

Mix the ground beef, garlic powder, salt, and pepper in a large mixing bowl using your hands.

Divide the hamburger mixture evenly into six balls, press each into a patty.

Use your thumb to make an indent in the middle of the patties to allow the middle to cook more evenly.

Place the burgers on the pre-heated grill and cover. Cook for 3 minutes on each side, then remove the burgers from the grill.

Place the cooked burgers in a container with a lid for 2 minutes to allow the meat to rest and absorb its juices.
To assemble the burgers, place the arugula on the bottom of the buns, then the burgers, and top with the onion mixture and 2½ ounces of blue cheese. Spread a spoonful of garlic aioli onto the top of each bun and place it on the burger.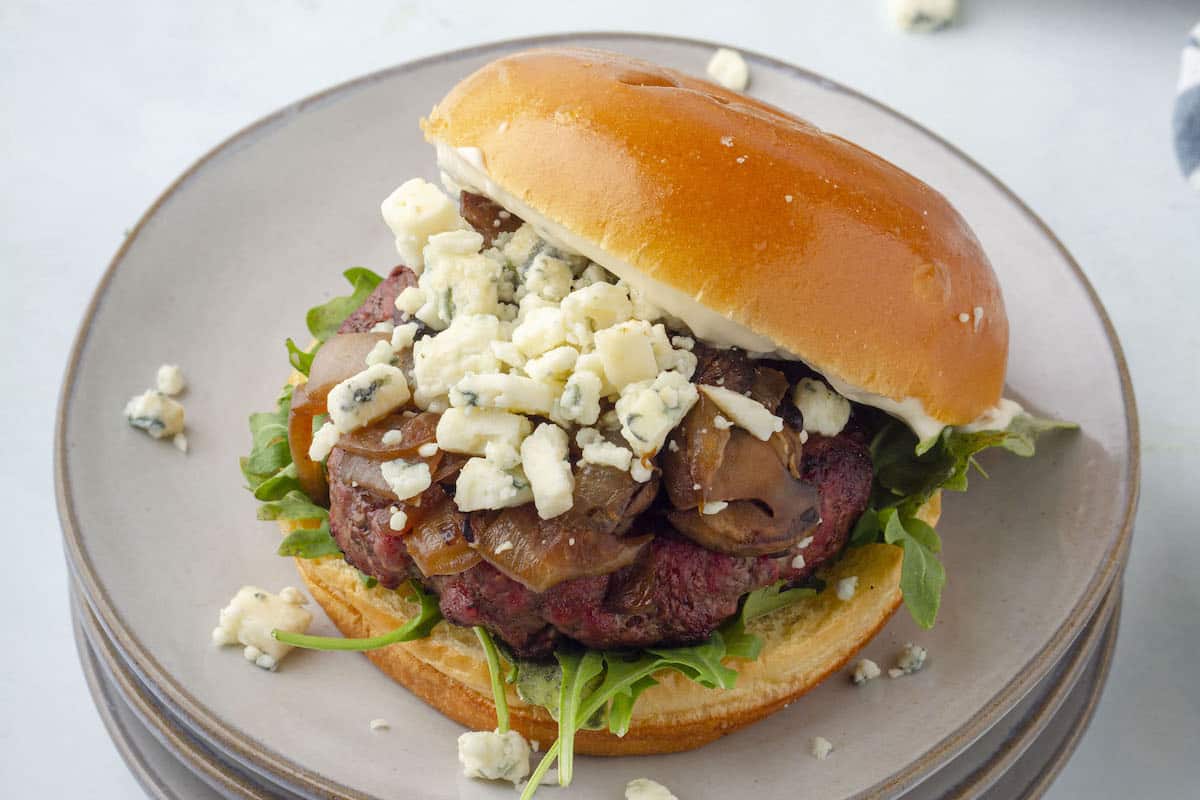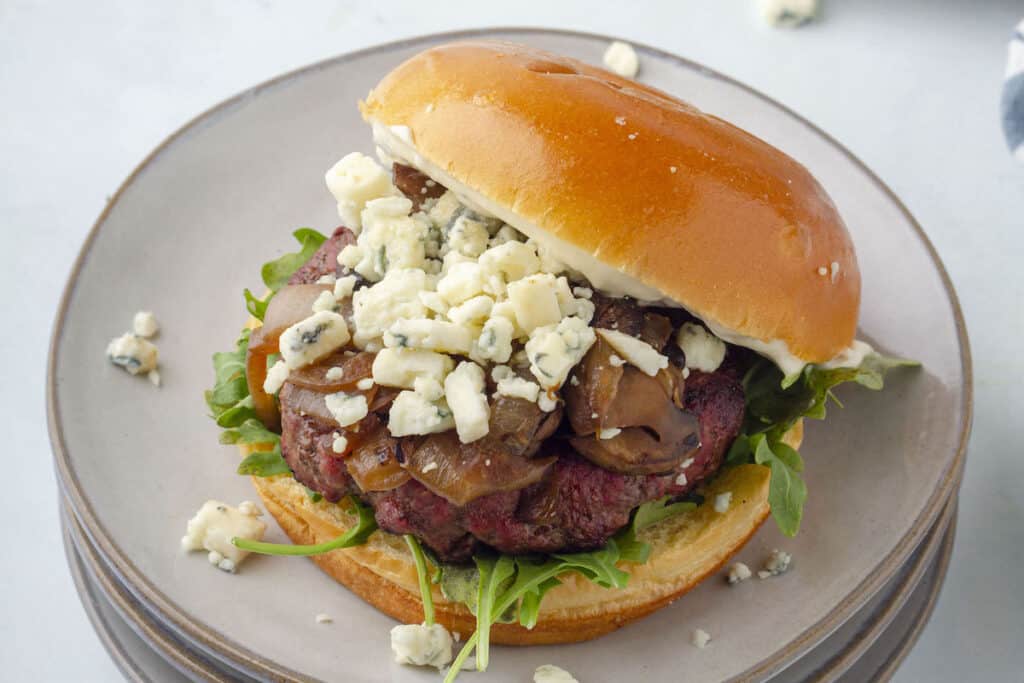 What does "caramelized onions" mean?
You will know that the onions are caramelized because they will be soft and slightly browned. If you're in a hurry, you could use the onions when they are soft and translucent, but they will be much tastier and sweeter if you cook them past that stage, until they have browned a bit.
Why did my burgers get so small once they were cooked?
All burgers will shrink during cooking because the fat cooks out of the meat.
If you use good quality lean ground beef, you can minimize the shrinkage.
Another trick I like is to make the patties slightly larger than the bun so that they'll be just right after cooking.
How will I know the burger is cooked through?
The best way to know your burger is completely cooked through is to use an instant-read meat thermometer:
medium rare – 160°F
medium – 140°F
medium well – 150°F
well done – 160°F
Recipe