How to make an easy homemade copycat recipe for Burger King's Zesty Horseradish Sauce Recipe. BK's is creamy, quick and simple to make, and you are going to love this DIY version for onion rings, french fries, and even veggies!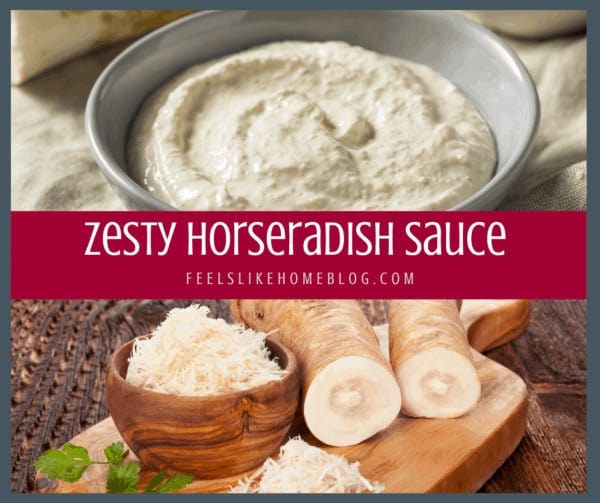 If you like Burger King's Zesty Sauce as much as I do, you are in for a treat! This recipe comes very close to the original with all of the creamy goodness you love including a burst of horseradish and the tang of a little ketchup and lemon juice. You have to give this a try with onion rings, french fries, and even on sandwiches!
I love BK's Zesty Sauce. I have spent many hours of my life in the drive thru, waiting for hot, unsalted french fries to dip into my Zesty Sauce. The problem is that french fries and the original Zesty Sauce are huge calorie bombs, and I am living a healthier lifestyle than I did back in those days.
But I didn't want to completely give up my Zesty Sauce. I can bake french fries at home, and I can make my own Zesty Sauce using low sugar and low fat ingredients, and I can come pretty darn close to the original that I love.
I recommend that you use Light Mayo in this recipe. I generally prefer Miracle Whip Light to traditional mayonnaise, but it will not work in this recipe. If you use it, I don't think you will be satisfied with your finished Zesty Sauce. You can also use low sugar ketchup to further cut calories. It won't matter to the finished sauce.
The recipe below calls for horseradish (of course) and cayenne pepper. If you don't like heat, you should add these two ingredients a little at a time and taste often to make sure the flavor isn't overpowering for you. I would hate for you to make this delicious sauce and then dump it because your palate doesn't like as much spice as mine does.
How to Make Copycat Burger King Zesty Horseradish Sauce
Combine mayonnaise (not Miracle Whip), sugar, ketchup, lemon juice, horseradish, and cayenne in a small bowl and mix well.
Cover and refrigerate for at least an hour to overnight to let the flavors mix together. It's really much better if you make it ahead.
Try these other copycat recipes:
Other homemade sauces and dip recipes
Recipe