This Carrabba's Filet Bryan copycat recipe tops grilled filet mignon with a basil lemon butter sauce, sun-dried tomatoes, and creamy goat cheese. It's just like the original at home!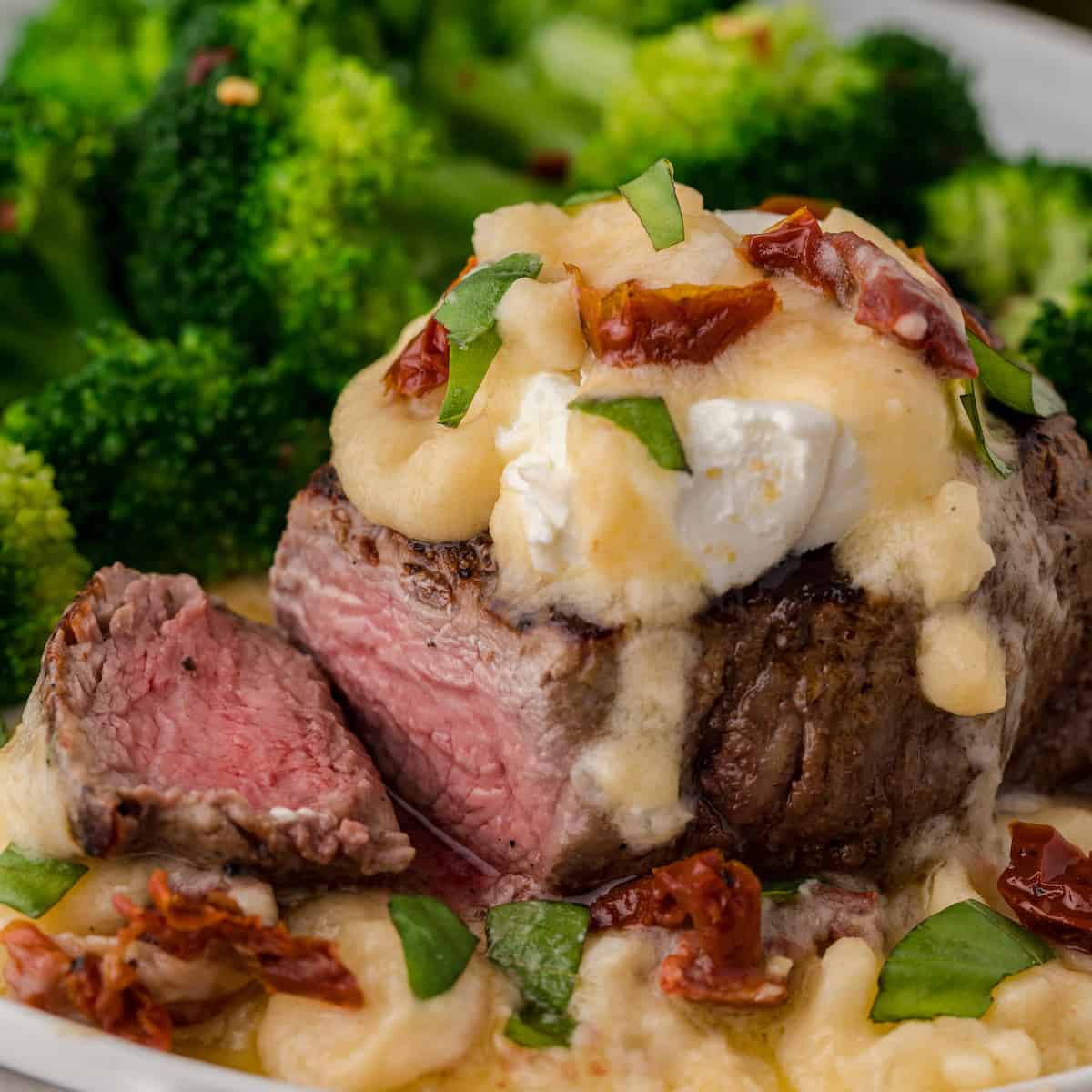 I have a lot of favorite meals and favorite restaurants, but my A-1 absolute best most favorite restaurant meal is Filet Bryan from Carrabba's. Their Chicken Bryan runs a close second, but the filet is the best. I love the sun-dried tomatoes and the lemon butter sauce and the buttery-smooth filet mignon. It's heavenly.
Let's get real for a second. Carrabba's is a pretty expensive restaurant, and we can't justify eating there outside of special occasions. And even for Carrabba's, the filet is super pricey, so I usually opt for the chicken version. If I'm going to get Filet Bryan, I'm going to have to make it at home.
So I do. It's not hard at all to make.
We have made Filet Bryan in two ways, both really excellent. Grilling the filets on the grill outside gives them a really nice, rich flavor that adds something to the dish. Realistically though, Joe would have to wade through my dining room garden, fight two cats who constantly try to escape, and then manage our old and in need of replacement sliding glass door in order to get out to the grill.
Suffice it to say that the filets get cooked under the broiler more often than not, especially during the colder months of the year (when the plants can't be outside), and the dish turns out just fine that way too.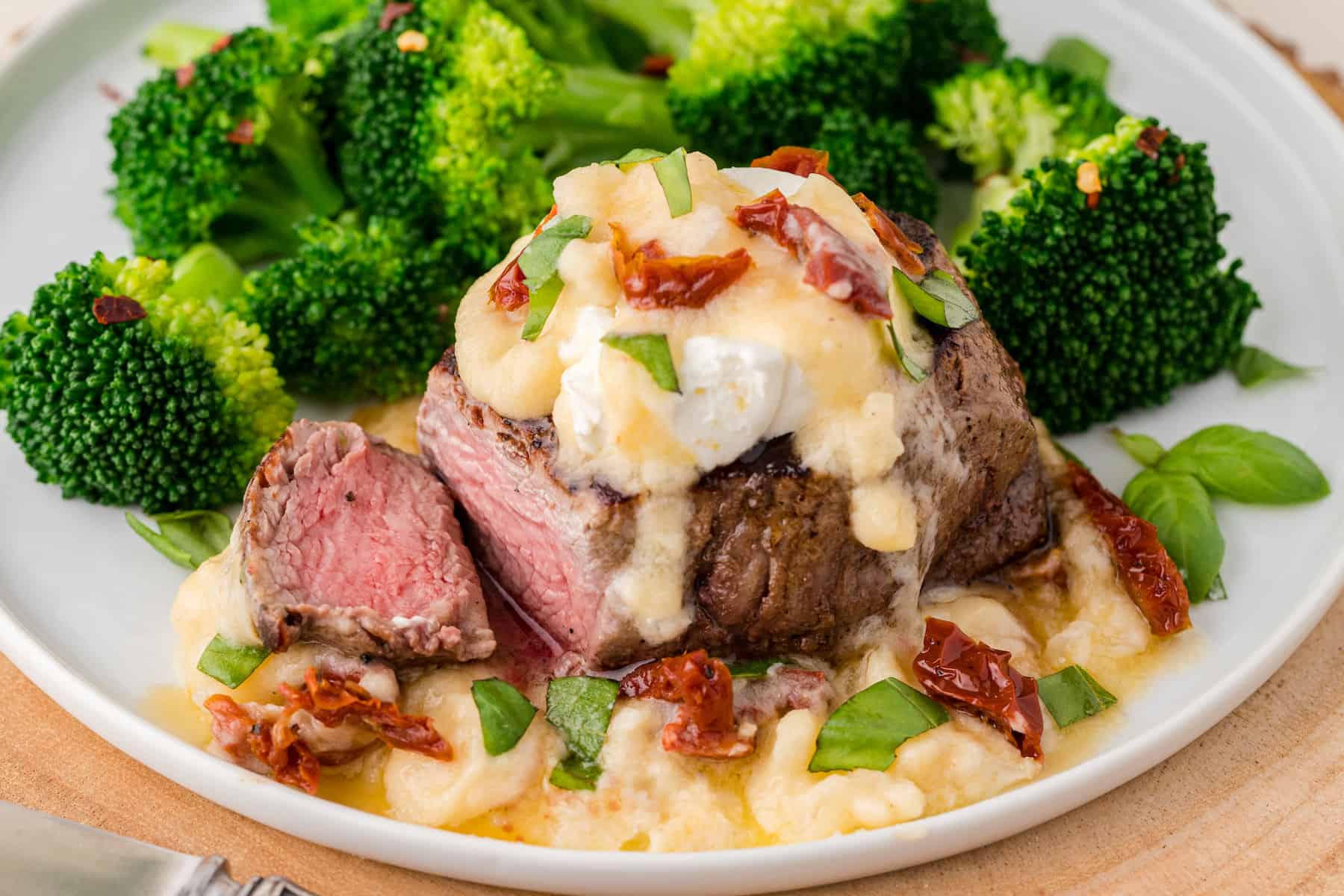 How did Filet Bryan get its name?
This recipe is a Carrabba's original, having been named by the Carrabba family after the town where they lived in Texas after immigrating to the US from Italy in 1890 (Bryan, Texas).
The first family-owned Carrabba's restaurant opened in Texas in 1986, and it quickly grew into the chain we know and love today.
Chicken Bryan is Carrabba's signature dish even today, and its cousin, Filet Bryan is just as good. You can find a copycat recipe for Chicken Bryan here, but it's essentially the sauce from the recipe below, spooned over chicken breasts instead of filet mignon.
What you'll need to make Copycat Carrabba's Filet Bryan
Equipment
Garlic press - I love fresh garlic, and a garlic press makes it really easy to use. If you don't have one, mince the garlic as small as you can get it with a sharp knife.
Broiler pan - You can broil the steaks or cook them on the stove in a cast iron skillet. You could also cook them on the grill. Do it however you prefer.
Ingredients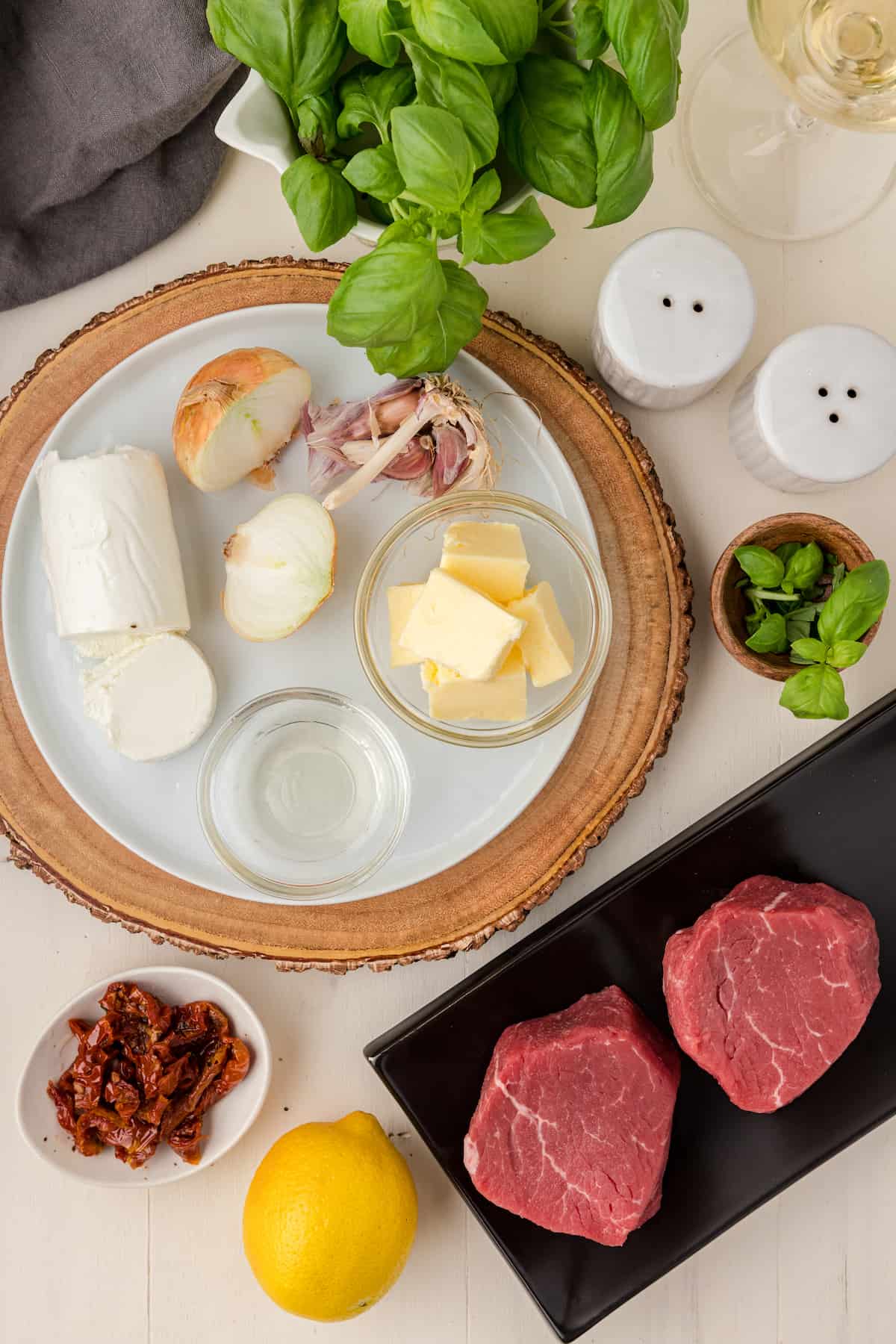 See printable recipe card at the bottom of the page for measurements.
2 filet mignon - You want these to be around 2 inches thick.
Salt and freshly ground pepper - You'll just use this to taste, to season the filets during cooking.
Olive oil - You'll use minimal oil, just enough to moisten the outside of the steaks before grilling, broiling, or searing in the skillet.
Minced onion - I almost always use a sweet Vidalia onion, but use whatever you prefer. Minced means you cut the pieces as small as you can possibly get them.
Fresh garlic - There is no substitute for the flavor of fresh garlic. If you must, you can use minced garlic from a jar, but it won't taste the same as it will with fresh garlic.
Butter - Salted or unsalted, doesn't matter.
White wine - I don't drink wine (Because I don't like it, not because of some objection to alcohol), but I do keep a carton of tiny bottles on hand for recipes like this. White wine gives the sauce an incredible flavor.
Fresh lemon juice - Please don't make this recipe with lemon juice from a plastic carton or from a plastic lemon. That stuff is not lemon juice. The sauce in Filet Bryan is made primary from 3 ingredients (butter, white wine, and lemon juice), and they need to be as fresh and real as possible. Buy a lemon and squeeze it yourself.
Sun-dried tomatoes - If you've dehydrated your own tomatoes, you can use dehydrated tomatoes in place of sun-dried. They're equally delicious and pretty much the same. It doesn't matter if you use sun-dried tomatoes that are jarred in oil or ones that are packed dry.
Fresh basil leaves - You can't use dried basil. It doesn't taste the same. You need some fresh basil leaves.
Goat cheese - I never ate goat cheese before having Chicken Bryan at Carrabba's. It is some magical stuff. It gets really soft, almost like pudding, and it has a tangy almost cream cheesy flavor. It's so good, and it really shines in Filet Bryan.
How to Make Copycat Carrabba's Filet Bryan
Cook the steaks. Brush the steaks with olive oil and season with salt and freshly ground pepper.

Turn on the broiler and place a broiler pan or cast iron skillet in the oven to heat up. Place the prepared steaks on the pan and broil for 6 minutes per side if they are more than 2" thick or 4 minutes per side if they're on the thinner side.

Remove from the oven and wrap in foil while you prepare the rest of the dish.

Prepare the aromatics. While the steaks broil, prepare the sauce. In a medium sauce pot over medium heat, sauté onion and garlic in 2 tablespoons butter until soft and fragrant.

Prepare the sauce. Add white wine and lemon juice to the onions and garlic. Reduce heat to medium-low and simmer 10 minutes. (Simmer means to cook over medium-low or low heat so that small bubbles form but the liquid is not boiling.)

Add the remaining 6 tablespoons butter a little at a time until the butter melts and the mixture is emulsified. (Emulsified means that two liquids which don't usually combine are combined.)

Add sun-dried tomatoes and basil and stir until just hot. If you overcook the sauce, it may break, meaning that the two liquids will separate and you won't be able to emulsify them again.

Assemble the Filet Bryan. Slice thick coins of goat cheese and lay on top of each filet. Warm until cheese is the consistency of sour cream.

Spoon lemon butter sauce with sun-dried tomatoes over the goat cheese.

Serve. Serve with regular or gluten-free pasta or zoodles. Pour the extra sauce and tomatoes over the pasta and sprinkle the whole thing with some additional chopped fresh basil and a bit of Parmesan Romano cheese.

Cook's tips for the best Filet Bryan
Lemon butter sauce will break if you heat it too much. Whisk or stir it often while you're cooking it, never go above the low heat, and take it off the heat as soon as it's warmed through.
If the sauce does break, serve it anyway. It'll just be more like a salad dressing consistency with lemon juice and melted butter separated. It still tastes good.
You can serve this sauce over almost any cut of beef. I love filets (who doesn't?!) but you could serve it over burgers and it would still taste amazing.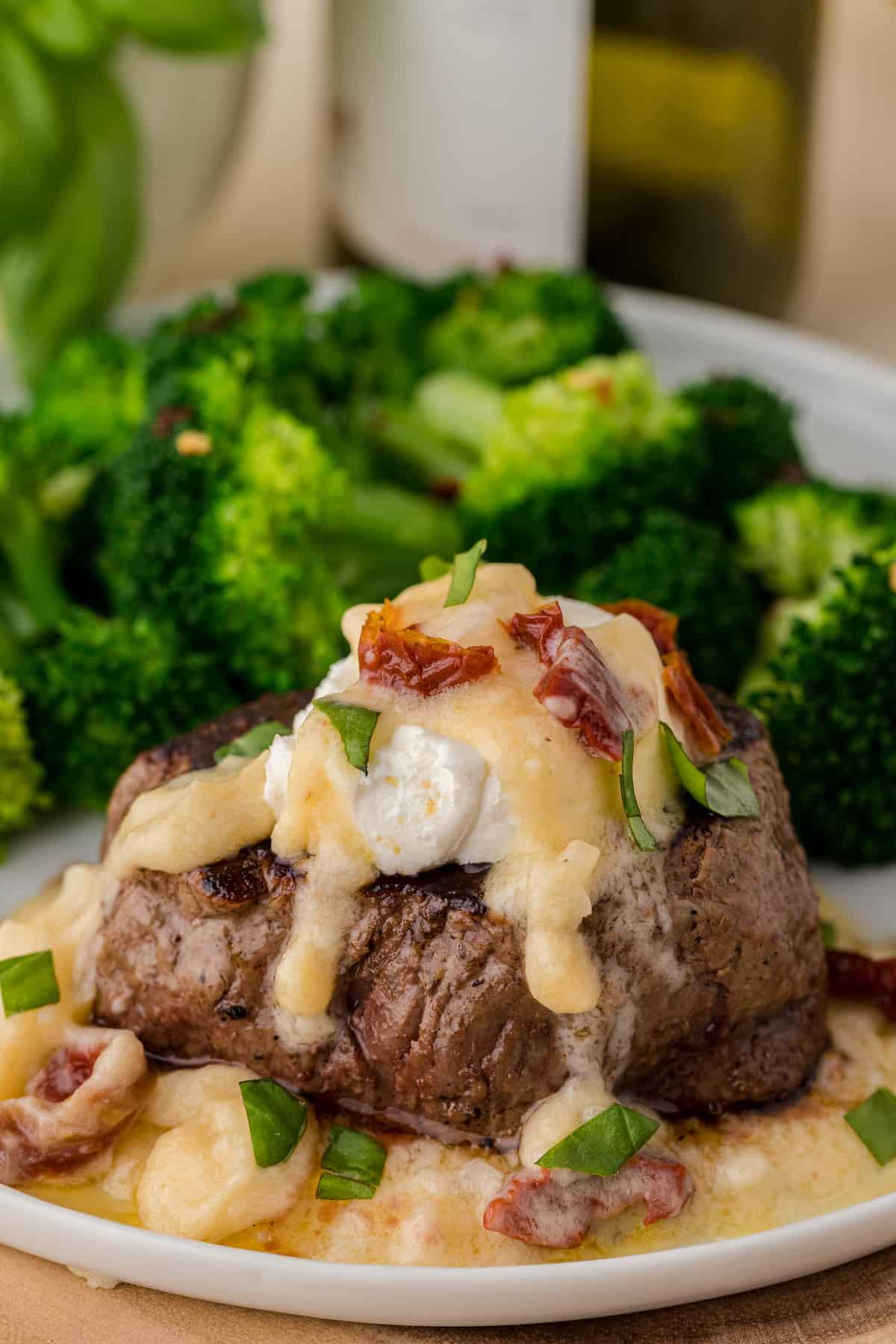 What do you serve with filet Bryan?
I like to serve Filet Bryan with some pasta or zoodles (zucchini noodles) smothered in the extra lemon butter sauce or in homemade spaghetti sauce. I've also served it with steamed broccoli (pour the lemon butter over top of the broccoli!) or Parmesan roasted carrots. My kids eat those Parmesan carrots like they're candy, so we serve them with a lot of things.
I've heard of people serving Filet Bryan with crockpot mashed potatoes and spooning the sauce over those, but I've not been brave enough to try it. It's probably delicious because this sauce is to die for.
How to store leftover Filet Bryan
This recipe only makes 2 filets, so unless you're cooking just for yourself, there won't be leftovers. But there could be leftover sauce, and it's amazing over noodles, zoodles, or steamed vegetables.
You can store cooked steak in the refrigerator in a zippered plastic bag or an airtight container for up for 3-4 days. The best way to reheat it is in a 250º oven for 20 minutes. Never microwave steak! It will get rubbery and taste awful. Take the extra time to heat it slowly in the oven, and you'll be glad you did.
The sauce can be reheated in the microwave, but do it gently in bursts of 20 seconds, stirring between each burst. If you overheat the sauce, it will break (separate), but you can still eat it if that happens.
Try these other delicious copycat recipes:
Recipe