This simple and easy zoodles instructions will show you how to make the zucchini noodles as well as how to cook them so that they stay al dente and don't get mushy. The recipe is for garlic, lemon, and Parmesan zoodles with a light sauce and a sprinkle of cheese.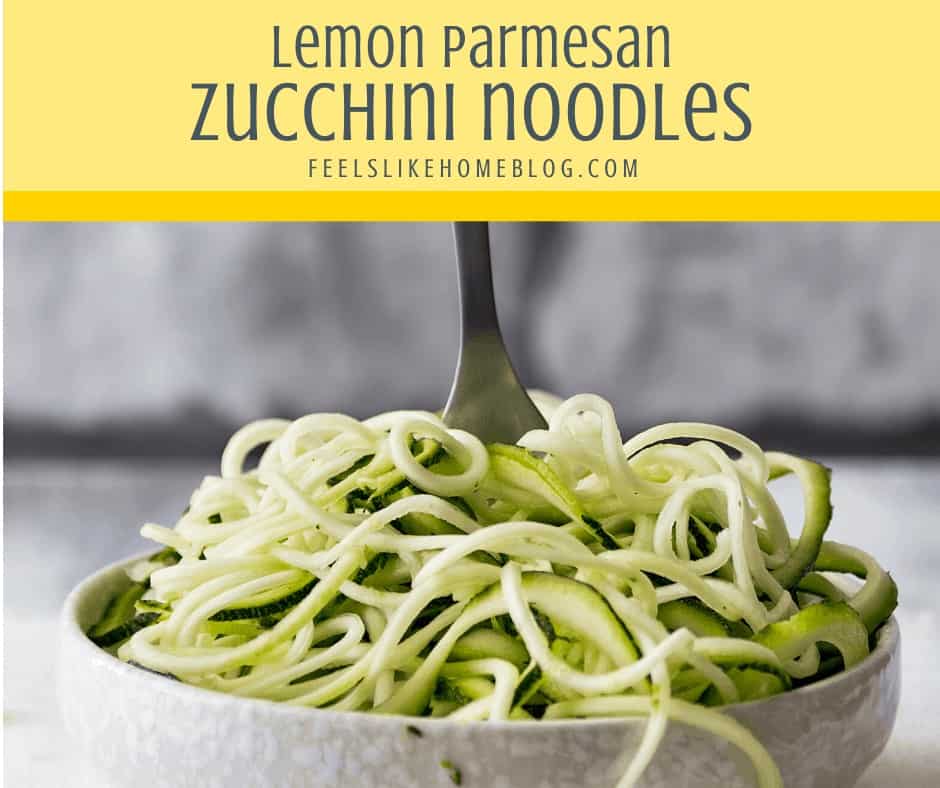 What are zoodles?
Zoodles or zucchini noodles are long, spaghetti-shaped pieces of zucchini, usually cut with a spiralizer. Through trial and error, I found the best spiralizer (a relatively cheap one from Wonder Veg available on Amazon), and a method for using it.
We initially bought a spiralizer from The Pampered Chef, thinking it would be the best. It left a huge amount of waste instead of cutting the entire zucchini so, after using it a few times, we sent it back and got the Wonder Veg which cost about a third of the price. The Wonder Veg cuts almost the entire squash, leaving just a sliver of waste that we usually cut up a bit and throw into the pot to cook with the zoodles.
Apparently, you can spiralize any firm vegetable, and we have talked about making beet and/or carrot noodles, but we've never gotten around to it given that we like zucchini noodles so much.
How do you make zucchini noodles?
All you have to do to make zucchini noodles is cut the end off the zucchini to make it flat, push it onto the prongs of the spiralizer, and turn the handle. The spiralizer does all the work and will spit out the zoodles. It's really very easy.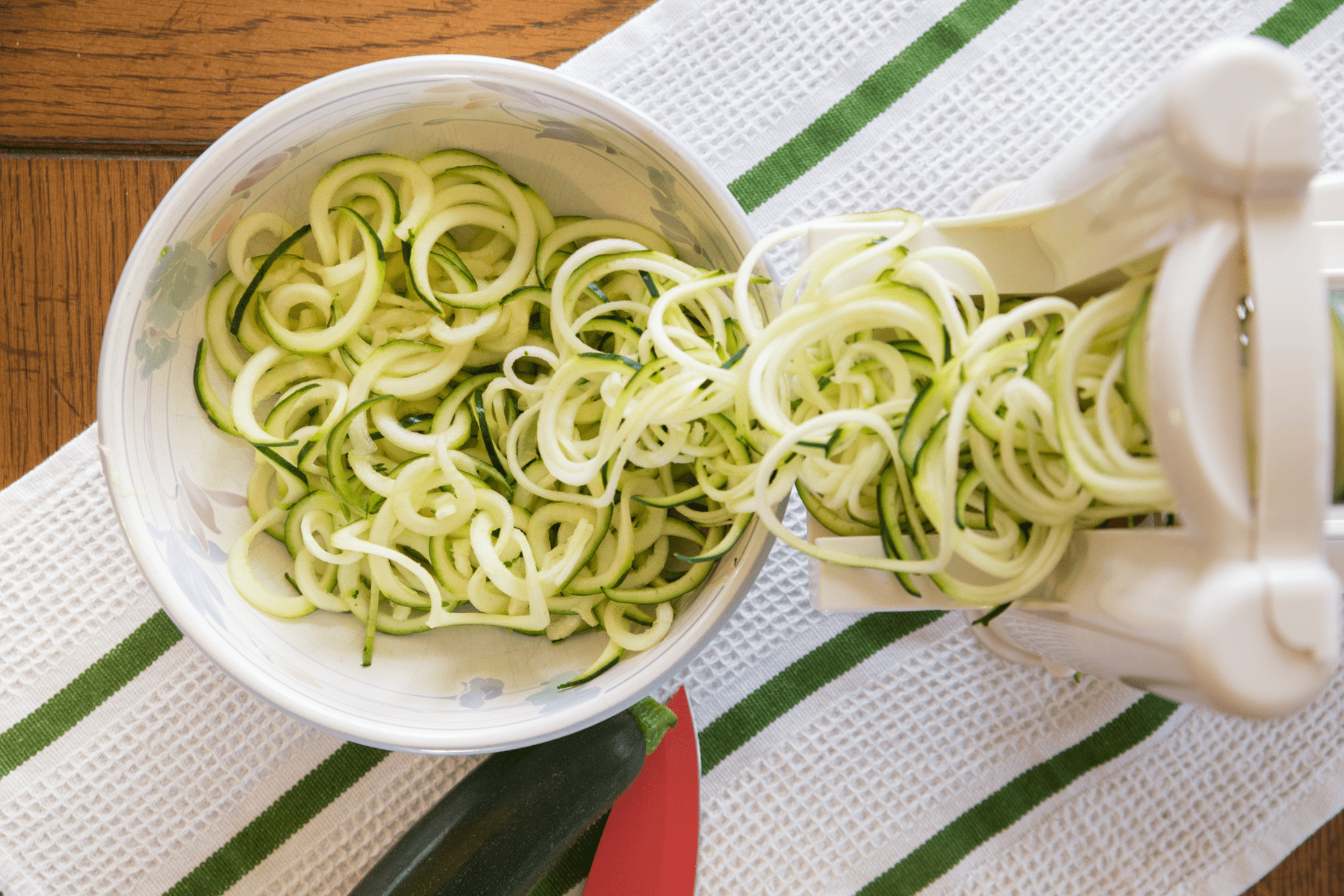 How do you cook zucchini noodles?
This is the tricky part until you understand that you CANNOT cook zoodles like you would cook traditional pasta. If you boil them, they will get waterlogged, mushy, and disgusting.
Instead of boiling, the best way to cook zucchini noodles is to heat some olive oil or butter in a skillet and sauté them for 3 to 4 minutes until they begin to soften. You don't want them to be completely cooked and soft because you don't want mushy noodles. Al dente is best.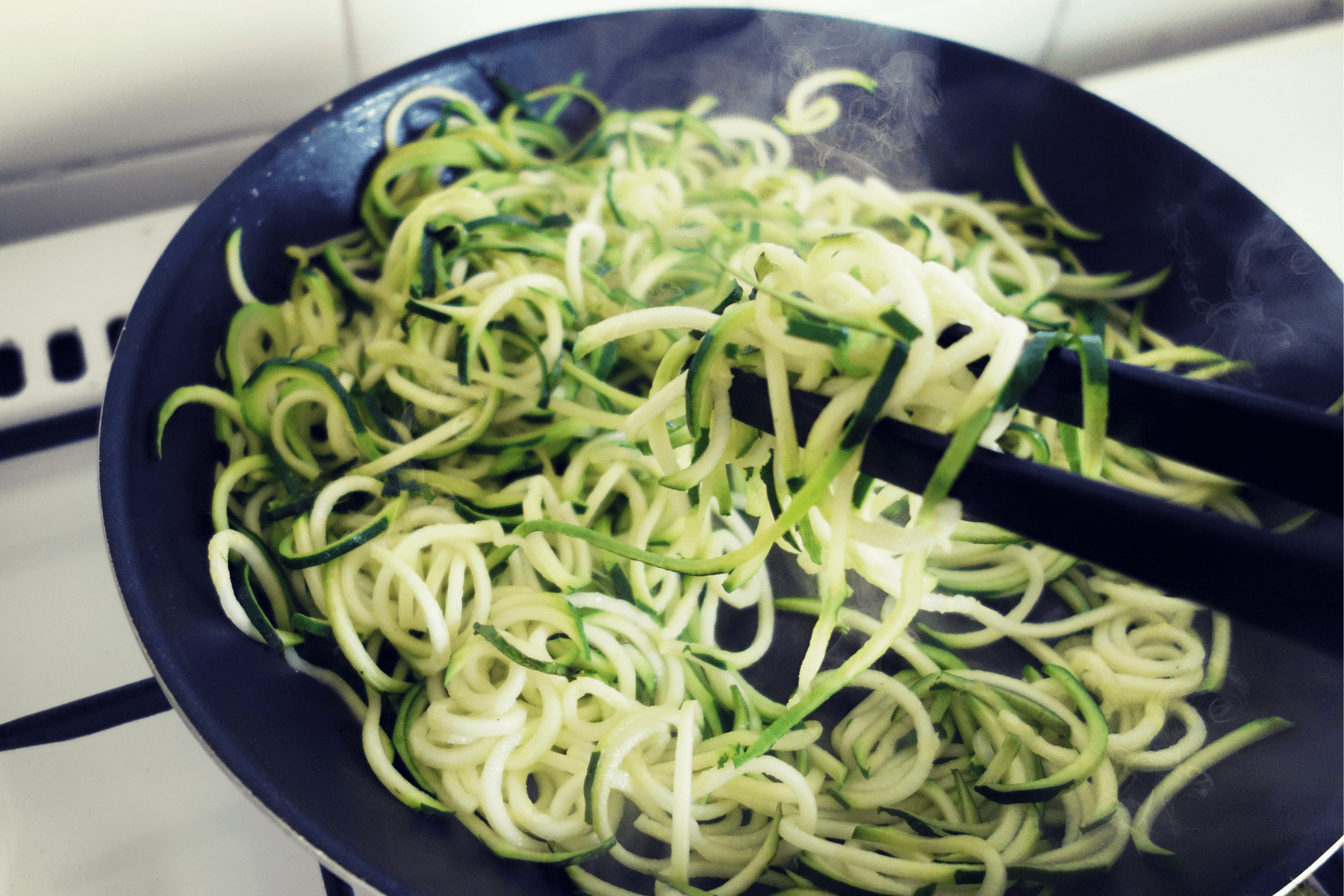 How to serve zucchini noodles
Because zucchini is a mild vegetable (or is it a fruit?), it has very little flavor on its own and pairs well with nearly any sauce. You can serve it with spaghetti sauce, alfredo, or the garlic and lemon olive oil sauce in the recipe below. Any olive oil based sauce with spices will be nice with your zoodles.
Take a look at these other zucchini recipes:
Recipe