This crustless zucchini quiche recipe is super quick and easy, low carb, and gluten-free. It uses eggs and lots of veggies (including zucchini and yellow summer squash) and cheese, and you are going to love it for breakfast, brunch, lunch, or even dinner!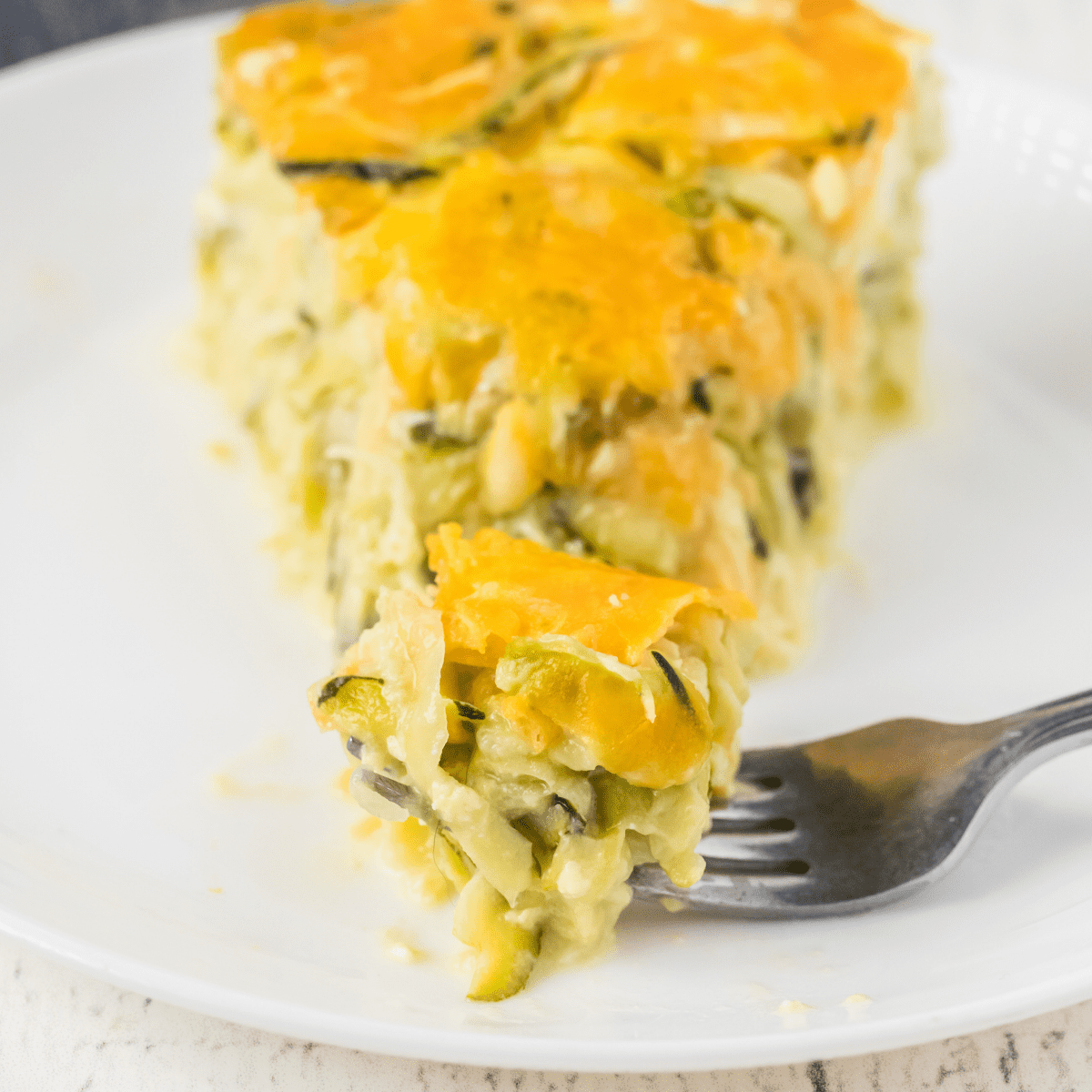 We are at the point in our gardening and CSA seasons where we are swimming in zucchini.
We are getting a half dozen zucchini in our farm box each week, and our own zucchini plants are producing baseball bat-sized fruits almost daily.
It's a good thing that we love zucchini in all its incarnations.
Well, two of the four of us do anyway. Allie declared that she hates it just yesterday, and Grace won't eat anything green. (Where did I get these kids from?!)
My all-time favorite way to eat zucchini is stuffed with cream cheese, but I also really like it grilled, too.
We have also been eating a lot of ratatouille and zucchini parmesan, too.
And Joe made a chocolate zucchini bread today that I'll share if it turns out well.
This particular recipe was borne of a glut of zucchini and the love of an old, lost recipe.
When my friend Angela came to visit about thirteen years ago, I made a quiche for her and her mother. It had a crust, and the filling was primarily onions and green chiles.
I know what cookbook the recipe came from, but I can't find it anywhere. I think I even know the name of the recipe, but googling that yields no relevant results. I'm stuck.
I put the pieces of the recipe that I could remember together, threw in a bunch of zucchini, and came up with this.
It actually tastes nothing at all like the quiche I was going for, but it is really delicious in its own right.
I'll have to keep working on the green chiles recipe.
What you'll need to make baked zucchini quiche
See printable recipe card at the bottom of the page for all measurements and nutritional information.
How to make crustless zucchini quiche
Preheat the oven to 350º.

Grate the onion and zucchini in a food processor.
In a large skillet, sauté the zucchini, onion, and green chiles until the veggies are soft. Remove from heat, drain off any liquid, and set aside.


Whisk together the eggs, milk, cream cheese, salt, baking powder, and flour.

Add the cheese and cooked vegetables and pour it into a round baking dish. Note that it will not fit into a pie plate, not even a deep dish pie plate.

Sprinkle additional cheddar cheese over the top if desired.
Bake for about an hour or until the eggs are set. Depending on the size and depth of your baking dish, this could be as little as 40 minutes (for a wider, shallower dish) to an hour and 10 minutes (for a narrower, deeper dish).

Let stand for 15 minutes before cutting. If you cut it sooner, the eggs will have a pudding-like consistency. They are done at this stage, but the quiche be firm until it cools a bit.

Try these other delicious egg recipes while you're here:
Recipe