Make omelettes super simple with this baked omelet recipe! This delicious family-style oven omelette with garden veggies requires little prep. Extremely versatile and healthy. This keto, paleo, low carb, gluten-free, bariatric recipe works with almost any combination of veggies. Perfect for crowds and large family meals - breakfast, lunch, dinner, or even holiday brunches.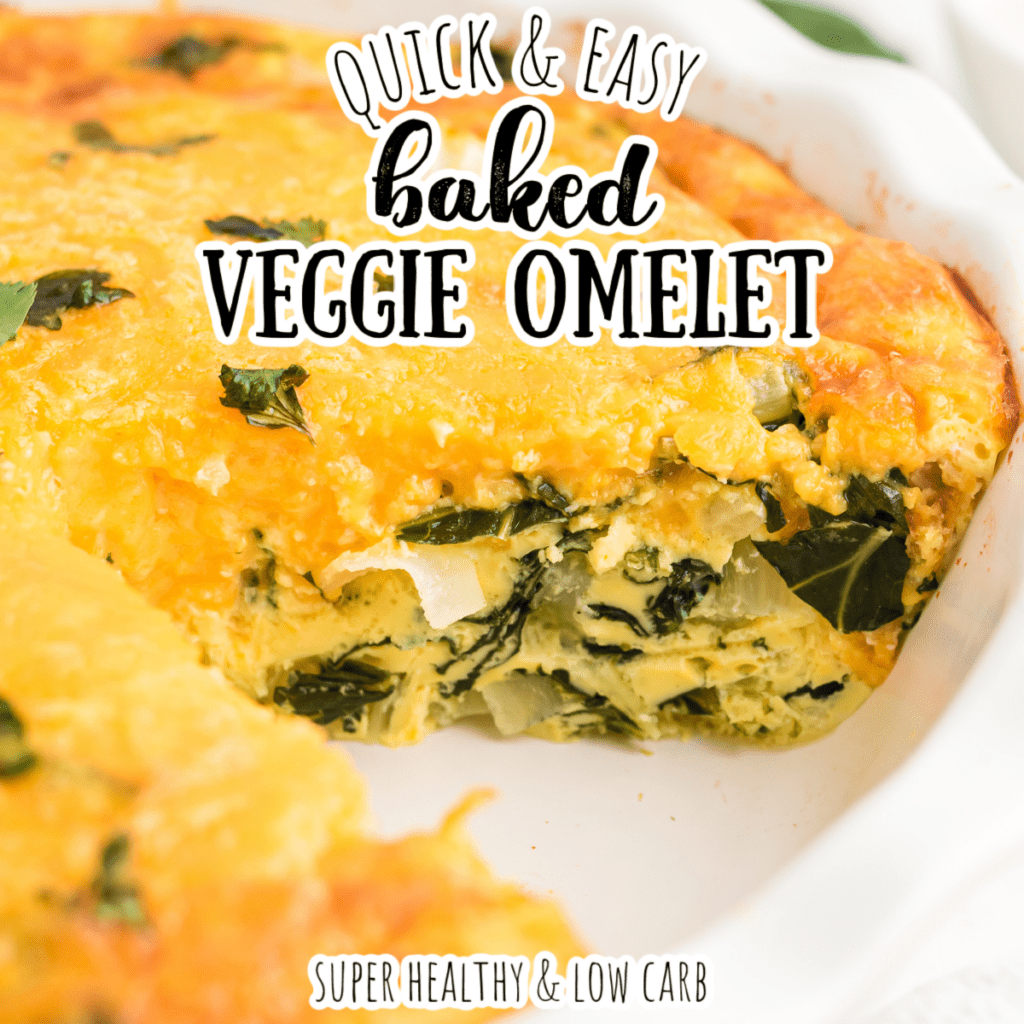 Because it's made from chopped veggies, eggs, and cheese, an oven omelet is extremely versatile. Unlike most breakfast casseroles, this baked omelet is bread and potato free, perfect for bariatric patients and people who follow low carb or keto diets. The carbs in most casseroles act as a filler, and you just don't need them!
The greens are wilted in a skillet and then everything is dumped into a baking dish and baked in the oven for a half hour. Easy peasy.
This oven omelet is beautiful because it works with almost any combination of veggies. I've even made it with an onion and a can of green chili peppers. You can use fresh, frozen (thaw and drain), or canned (drain) veggies.
The very best thing about this baked omelet is that you don't have to babysit it. I don't know about you, but I personally hate standing at the stove for 20 minutes trying to cook an omelet in a skillet - and then the stupid thing usually falls apart on me anyway, and I turn scrambled eggs out onto a plate. Oven omelets always work, and you don't have to stand there and make sure they don't burn.
What you'll need to make this baked omelette recipe
Equipment
This recipe requires mostly standard kitchen equipment including measuring cups, a sharp knife and cutting board, and a large skillet.
You'll need a garlic press. If you don't have one, you could use a sharp knife and finely mince the garlic, but the pieces will be smaller and more even if you use the press.
Finally, you'll need a round baking dish or a deep dish pie plate, and you'll need a server to get the slices out of the dish.
Ingredients
Butter - This can be salted or unsalted. You'll use it to sauté the onions and veggies, so if you wanted to, you could substitute a cooking oil like olive oil or avocado oil. You could also substitute a nonstick cooking spray.
Chopped onion - The recipe calls for 1 cup of chopped onion, but I typically just chop up a medium onion and use however much that makes.
Chopped bok choy, separated into greens and whites - Bok choy is also called Chinese cabbage. I like the crunch that the white part gives the omelet, and the green parts sort of have the consistency of spinach but with an entirely different flavor. You could replace this with swiss chard.
Pressed garlic - Please don't use canned garlic which is an abomination. Buy a bulb of garlic for $1 and press or mince the fresh cloves. Fresh garlic makes a huge difference in the finished dish.
Chopped spinach - You can use any greens. I like spinach, but kale, collard greens, beet greens, or cabbage will work nicely. You want to wilt the greens but not turn them to paste, so adjust the sautéing time accordingly. Kale, beet greens, and cabbage will take a lot longer than spinach or collard greens.
Large eggs - You can't have an omelet without a bunch of eggs.
Milk - I use 1% cow's milk, but any unflavored dairy or non-dairy milk will work just fine.
Shredded cheese - I use sharp cheddar cheese because I like it. You can use gruyere, pepper jack, colby jack, or just about any other shredded cheese. You could also use a combination of multiple types.
Fresh cilantro leaves, snipped - Cooking cilantro can make it sort of bland, so don't put this in the skillet when you sauté the greens. You'll add it into the egg mixture just before putting the omelet in the oven.
Salsa - You can serve this with whatever you want, but I think it's really nice with some sour cream and salsa.
Greek yogurt or sour cream - Greek yogurt tastes just like sour cream but with fewer calories and more protein. I use them interchangeably.
How to make a baked veggie omelet
Preheat the oven to 350ºF.
Melt the butter in a large skillet. Sauté onion and white parts of the bok choy until they are just beginning to soften.
Add the garlic, green parts of the bok choy, and spinach and stir. Cook another minute or two longer, until the onions are crisp-tender, the garlic is fragrant, and the greens are just starting to wilt. Don't overcook the greens or they will get mushy.
In a large bowl, whisk eggs, milk, and half of the shredded cheese.
Pour the vegetables into a round baking pan. Pour eggs over the veggies.
Sprinkle with the rest of the cheese and most of the cilantro (reserve some for garnish).
Bake at 350ºF for 30 to 35 minutes, until the eggs are set.
Serve with salsa, hot sauce, and sour cream.
Tips for a better baked omelette
If you want a lighter and fluffier omelette, you can beat the eggs with an electric mixer for 2-3 minutes before adding them to the other ingredients.
If you're short on time, cut the veggies very small so that they'll cook faster. It's not strictly necessary because you pre-cook them, but it will go faster if they're small.
Allow the omelet to cool for 5-10 minutes before cutting and serving. This dish is better served warm than piping hot.
You can double this recipe if you need to feed a crowd. Bake it in a 9x13 pan and add 10 minutes to the cooking time.
Oven omelet variations
One of the things I love most about oven omelets is that they are so versatile. Below are some fillings that I love. I may add some of the things on the list below in addition to the greens or I may replace that greens with these items. It all depends on my mood and what I have in the refrigerator.
Crumbled bacon - Always cook it first.
Crumbled sausage - Always cook it first.
Diced ham - Ham can be used cold because it's already cooked.
Diced green chilies - This is one of my favorite variations. I add 8 ounces of diced green chilies and two chopped medium onions and leave out the greens. The omelet is sweet and spicy and so very delicious.
Diced bell peppers
Sliced green onions
Diced tomatoes (fresh or canned, be sure to drain first)
Sliced mushrooms
Chopped broccoli
Sliced zucchini (here's a zucchini quiche recipe that's also amazing)
Diced avocado
Sliced black olives
Sun dried tomatoes
Artichokes
You are only limited by your imagination. You can put almost anything into this omelet.
And, as mentioned above, you can use different varieties of cheese for a completely different flavor.
Storing oven omelet leftovers
I like to slice the omelette into wedges before storing. Put them in an airtight container or zippered plastic bag in the fridge for up the 3-4 days.
To reheat, put a wedge on a heat safe plate and microwave until hot.
You can also store the wedges in a zippered freezer bag in the freezer for up to 3 months. I would recommend thawing in the fridge overnight before heating in the microwave.
Can a baked omelet be made ahead?
Yes, this is a great make ahead meal because it reheats really nicely. I recommend making the entire omelet, allowing it to cool to room temperature, and then covering it tightly with plastic wrap and then aluminum foil. Store the whole thing in the refrigerator for up to 3 days.
When it is time to serve, preheat the oven to 325ºF and remove the foil and plastic wrap from the baking dish. Heat the omelet for 10-15 minutes or until the center is warm.
Omelet or omelette - Is there a difference?
Not really. Omelet and omelette are two different spellings of the exact same word.
Omelet is the American spelling.
Omelette is the French spelling that is also used in British English.
It's like color and colour. Same thing, different spelling.
Love breakfast? Here are some other delicious breakfast dishes!
Recipe