How to make the best healthy hash brown casserole - This simple and easy recipe is perfect for breakfast or brunch, or even for dinner. Use shredded or cubed frozen hashbrowns for quick prep. From a Weight Watchers recipe.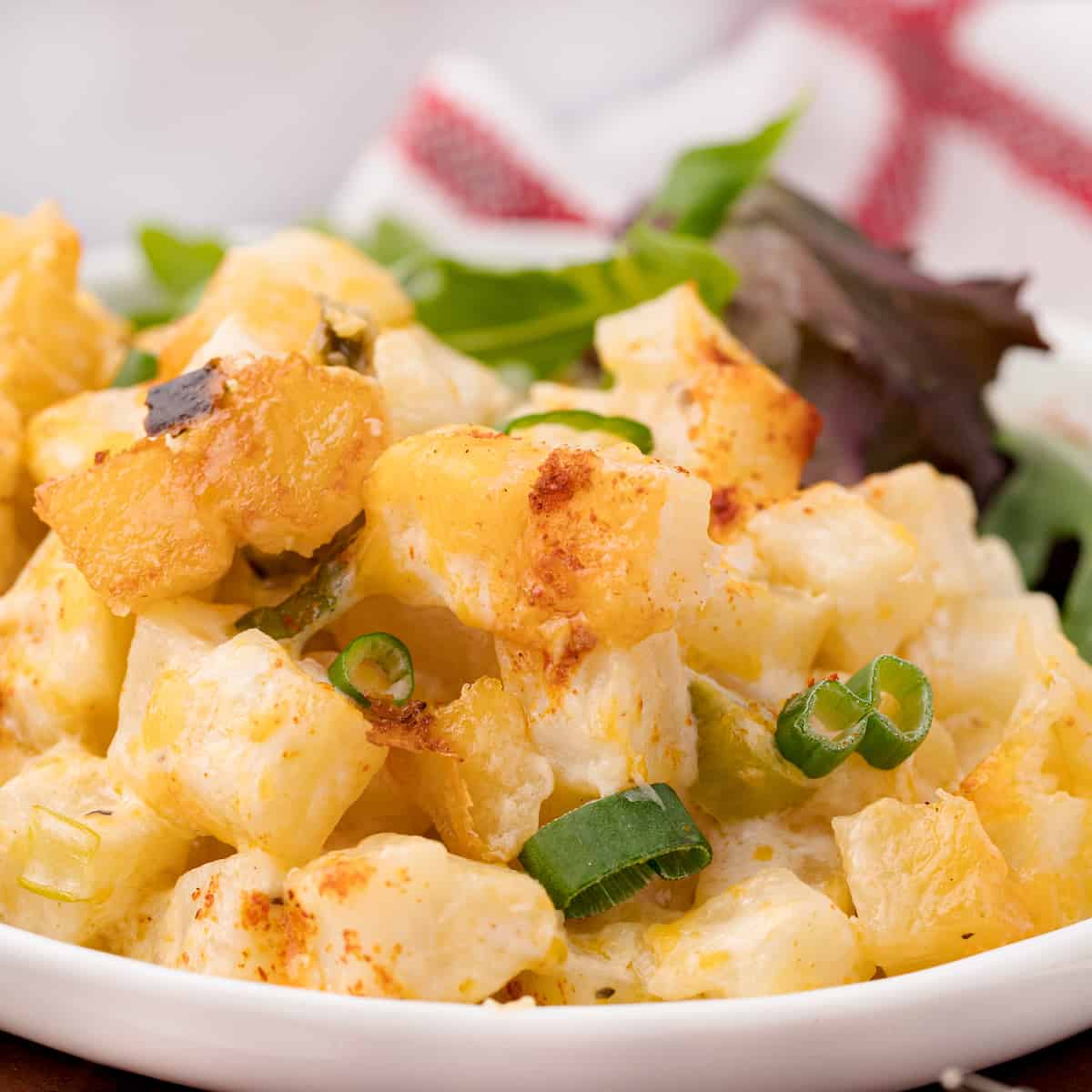 Weight loss is difficult. I've made pervasive changes though, and I'm seeing parts of the process in everything that I do. I'm seeing progress; the number on the scale is moving, and that buoys me and helps me to stick to the changes I've been working on.
Weight loss is also uncomfortable because my body is crying out for certain foods that I'm not willing to give it. I've especially been craving some comfort food.
Badly.
The greasier and cheesier, the better.
This Healthy Hash Brown Casserole from Weight Watchers' Cream of the Crop magazine (no longer available online) is a healthier, lower fat version of the comfort food I've been craving, but you would never know because it tastes just as good as the original.
Why this is the best healthy cheesy hash brown casserole
This recipe makes a healthy breakfast, brunch, lunch, or even dinner when paired with a lean protein like eggs or ham.
This hashbrown breakfast casserole is a one-dish recipe requiring no skillet and no frying prior to baking.
You can use frozen pre-cut hashbrown potatoes to make prep super quick and easy.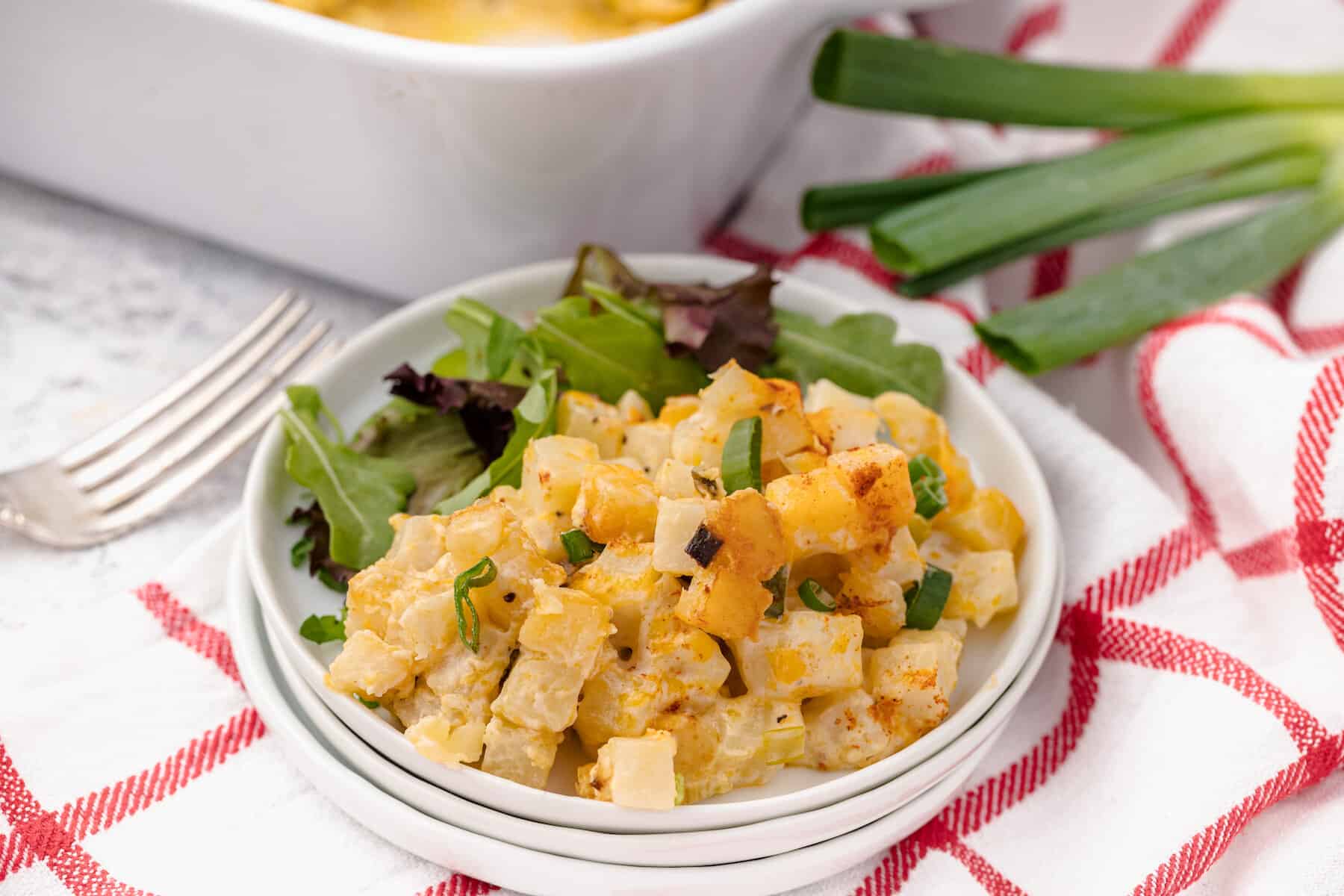 What you'll need to make the best healthy hash brown casserole
Equipment
You'll need a garlic press and a deep 9x13 casserole dish to make this recipe, in addition to standard measuring cups and spoons.
Ingredients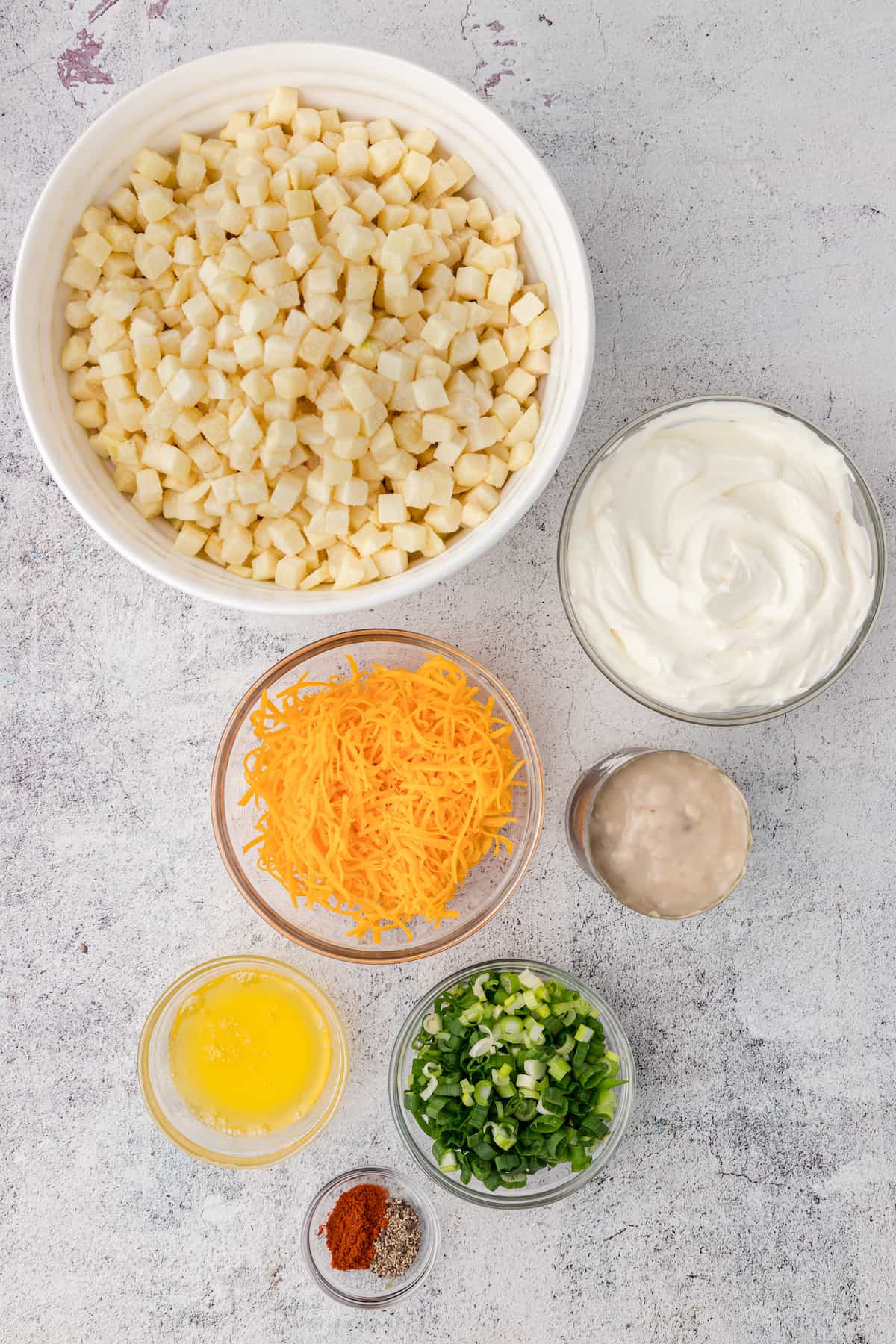 Thinly sliced green onions
Fresh garlic
Reduced-fat sharp cheddar cheese - This needs to be shredded. I buy pre-shredded (because it's easy) but have known for years that it melts better and makes a creamier breakfast casserole if you shred your own.
Melted butter (or reduced fat margarine) - I know we're going for a healthy casserole, but I prefer to use butter in favor of reduced fat spread made from oil. It's just a weird thing I have.
Ground black pepper
Fat free Greek yogurt - Plain, unflavored and unsweetened Greek yogurt tastes just like sour cream. A traditional hash brown casserole contains sour cream, but you can get exactly the same flavor and texture by using low fat or even fat free Greek yogurt.
Reduced-fat reduced-salt condensed cream of mushroom soup - Do not dilute this. Use it straight out of the can. You can substitute cream of chicken soup if you prefer.
Frozen hash brown potatoes - You'll want to pre-thaw the potatoes so that they cook more evenly and more quickly when the casserole is assembled. I usually just throw them in the fridge the night before I make the casserole, and they're perfectly thawed in the morning. I have used cubed hashbrown potatoes in this photos below, but you could just as easily use shredded hash browns with a great result. The texture would be more smooth and almost mashed potato-like.
Cooking spray
How to make healthy hashbrown casserole
Preheat oven to 350º F. Spray a 9x13 pan with cooking spray.
Combine green onions, pressed garlic, ¾ cup of cheddar cheese, butter, black pepper, potatoes, Greek yogurt, and cream of mushroom soup in a large bowl. Add potatoes and mix well.

Pour potato mixture into the prepared baking dish and use a spoon to smooth it into an even layer.

Sprinkle remaining ¼ cheddar cheese over the top of the hash brown mixture, and sprinkle paprika over the cheese.

Bake at 350ºF for 1 hour or until bubbly.

Casserole variations
If you want to up the nutritional content of this recipe, try adding any of the following:
Sautéed veggies such as diced onion, bell-pepper, or zucchini (I would sauté them ahead of time because if you don't, they will be crunchy in the casserole. I don't like crunchy veggies in my casseroles. If you don't mind that, you could just throw them in raw.)
A couple handfuls of shredded spinach
Raw vegetables like sliced mushrooms (These will cook as the potatoes bake.)
A teaspoon or so of hot sauce - You could also serve this on the side and let guests add it or not, as they prefer.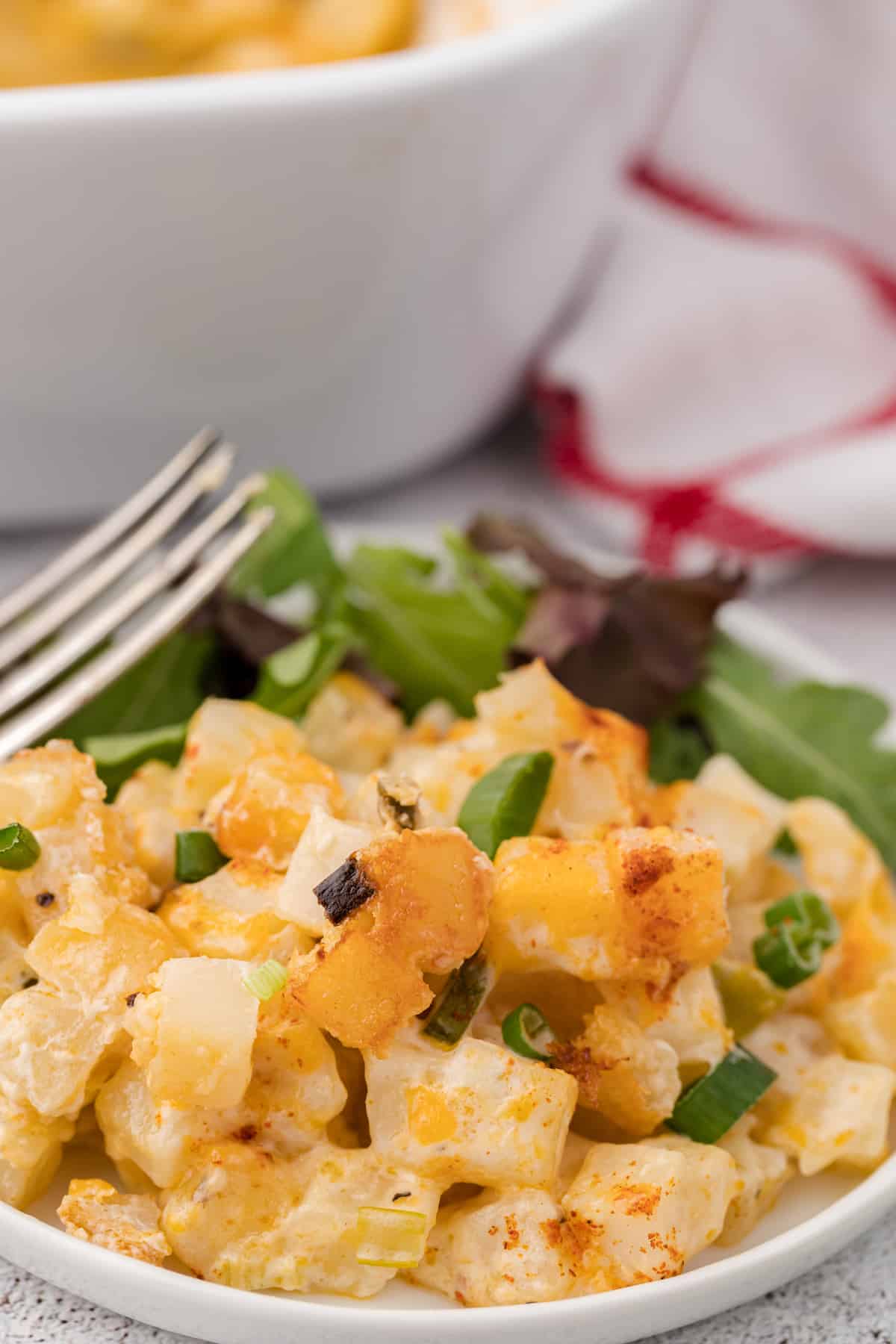 How do you store leftover hash brown casserole?
Transfer any leftovers to an airtight container and keep in the fridge for up to 5 days. To reheat, microwave for 30-60 seconds or until hot.
Can I make hash brown casserole ahead?
You sure can! Do everything up to baking, then cover tightly with plastic wrap and put it in the fridge. When you're ready to bake, simply remove the plastic wrap and pop it in the oven. It may take an extra 5-10 minutes to bake from a chilled state.
Here are a few more brunch and breakfast recipes you might be interested in:
Whether you go for this healthy hash brown casserole or the full fat one I linked above, it is rich comfort food at its finest. Your whole family is going to love it!
Recipe