How to make the best healthy hashbrown cassserole - This simple and easy recipe is perfect for breakfast or brunch, or even for dinner. Use shredded frozen hash browns for quick prep. From a Weight Watchers recipe.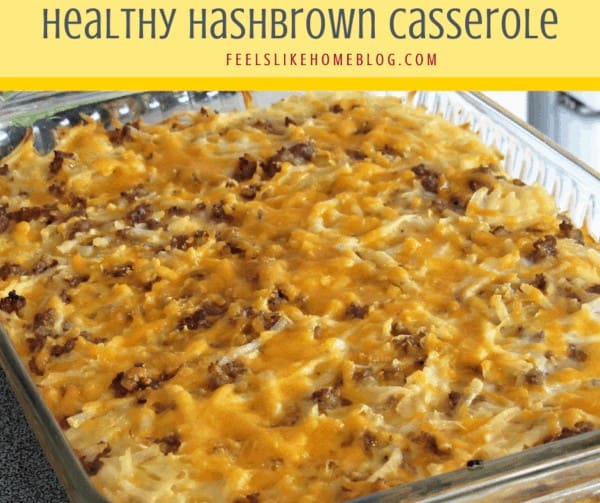 Weight loss is difficult. I've made pervasive changes though, and I'm seeing parts of the process in everything that I do. I'm seeing progress; the number on the scale is moving, and that buoys me and helps me to stick to the changes I've been working on.
Weight loss is also uncomfortable because my body is crying out for certain foods that I'm not willing to give it. I've especially been craving some comfort food.
Badly.
The greasier and cheesier, the better.
This Healthy Hash Brown Casserole from Weight Watchers' Cream of the Crop magazine (no longer available online) is a healthier, lower fat version of the comfort food I've been craving, but you would never know because it tastes just as good as the original.
Give this recipe a try and let me know how you like it.
How to make healthy hash brown casserole
Preheat oven to 350º. Spray a 9x13 pan with cooking spray.
Combine green onions, cheddar cheese, butter, black pepper, potatoes, Greek yogurt, and cream of mushroom soup in a large bowl. Add potatoes and mix well.
Spoon potato mixture into the prepared baking dish. Sprinkle paprika over the top.
Bake at 350º for 1 hour or until bubbly.
Here are a few more brunch recipes you might be interested in:
Whether you go for this healthy hash brown casserole or the full fat one I linked above, it is rich comfort food at its finest. Your whole family is going to love it!