This recipe for apple ring pancakes is delicious, quick, and easy and makes light and fluffy pancakes with an apple center. The perfect meal for breakfast, brunch, or even dinner!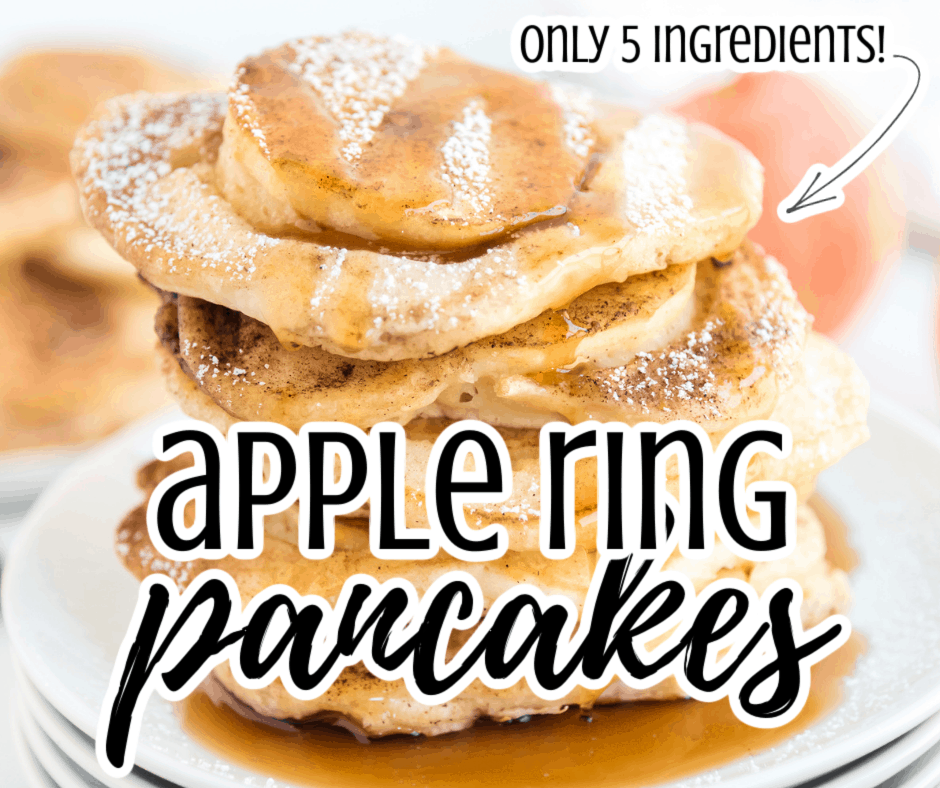 Breakfast for dinner is comfort food, don't you think? I do.
This particular recipe includes fruit, making it a wee bit healthier than plain old pancakes.
That might be wishful thinking.
I like to serve these pancakes with an omelet roll or sausage patties and a dish of fried apples.
They are delicious, and pairing them with protein and cooked apples makes a perfect dinner.
This recipe is very easy to make gluten-free by substituting Pamela's Gluten-Free Baking and Pancake Mix for the regular pancake mix or even Bisquick. We love Pamela's and have used it for years!
How to Make Apple Ring Pancakes
Prepare the apples. Peel and core the apples and cut them into ½" slices.

Prepare the batter. Pour ¾ cup of water and 1 teaspoon of vanilla into a medium mixing bowl. Add 1 cup of pancake mix and whisk until smooth. I like my pancakes to be a little more flat than thick, so I use more water. If you prefer thicker pancakes, you should use less water.


Cook the pancakes. Heat 1 tablespoon of butter in a large skillet or griddle. When it is hot, place one apple slice topped with approximately ¼ cup of pancake batter on the pan (just enough batter to completely cover the apple slice). Repeat until the skillet is full.
Flip the pancakes. When bubbles start to form and the edges are browning, flip the pancakes. Sprinkle with cinnamon and cook another minute or two, to finish browning the bottom.
Serve. Serve the pancakes with more butter and syrup.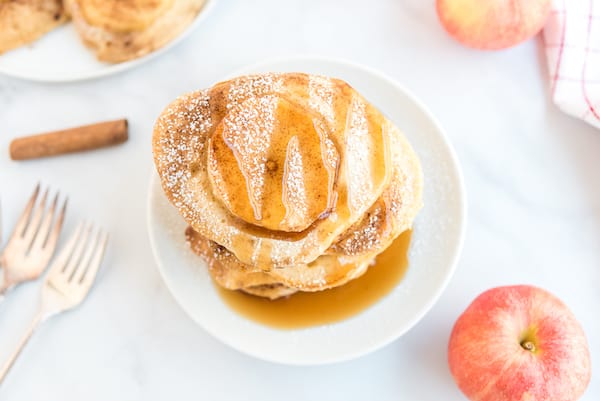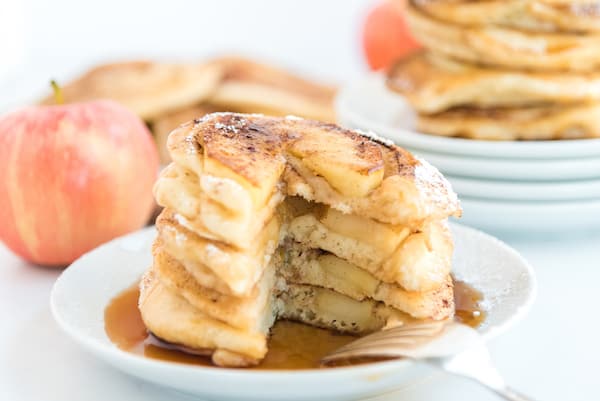 It is important to keep the pan well oiled with butter, so if it starts to look dry or your pancakes stick, add more butter and allow it to melt before cooking more pancakes.
I like to serve these pancakes with the following protein dishes:
Recipe