Copycat Cracker Barrel fried apples make a delicious side dish for any brunch, breakfast, or dinner or a rich dessert over ice cream or custard. This is a simple & easy recipe that can be prepared in under an hour.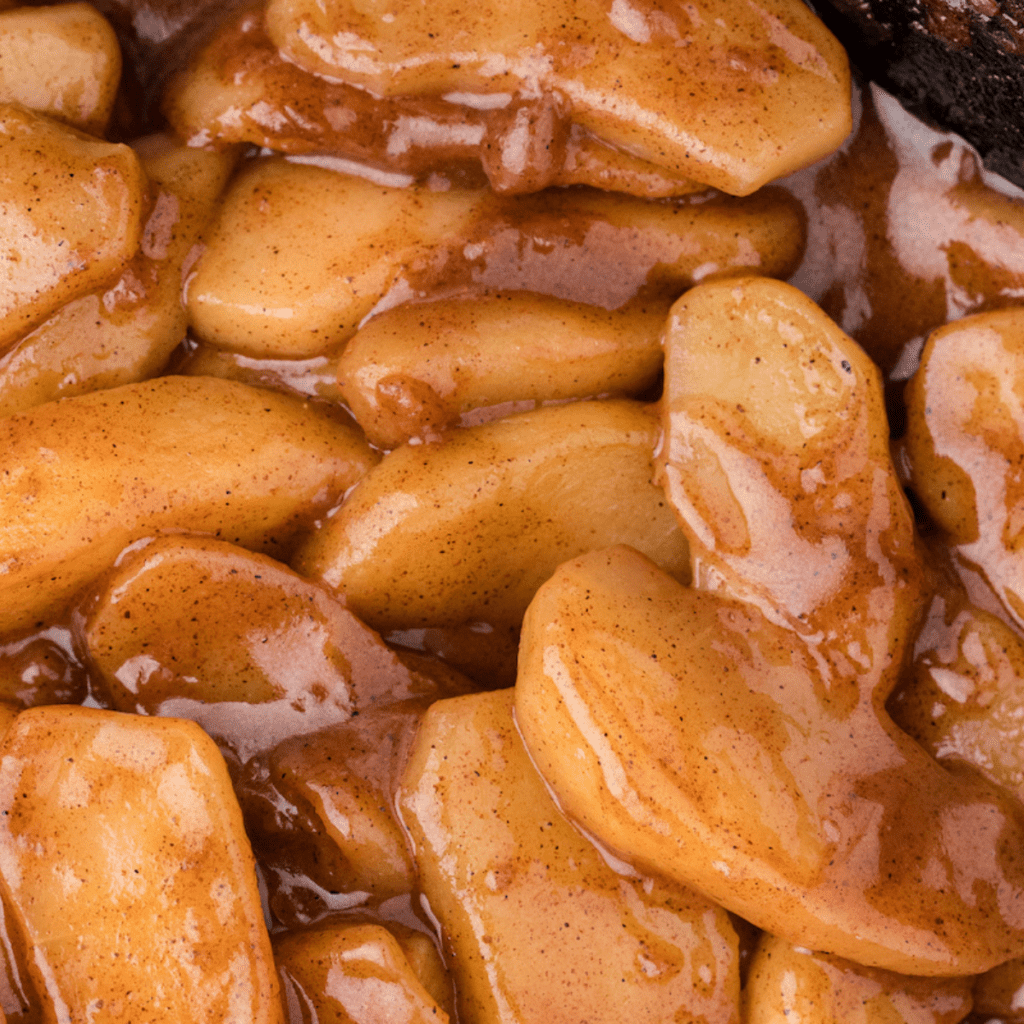 On the way home from church last week, Grace said, You know those apples we get when we're at a restaurant?
"No, what apples?" I asked.
You know, those apples with the sauce? And they're thick like apple pie?
"Oh, right. Yes, I know those apples," I said.
Can we have those for supper tonight?
I knew there was a bag full of apples on the kitchen table, so I said "Yes, of course," before I even considered that I didn't know how to make said apples.
When we got home, I tried to Google said apples, but I didn't even know what to call them. Cooked apples? Baked apples? Fried apples?
Instead of spending an hour surfing the web, I asked on Twitter. Fortunately, my friends Lisa and JessieLeigh came to my rescue and told me they're called Fried Apples and explained how to make them.
I have trouble with calling them Fried Apples since they are not batter-dipped and fried, but I'm trying to get over that. I guess that's what they're called since you cook them in butter in a skillet.
The apples were delicious, and my kids ate every morsel of the tender, saucy apples over the next couple of days. Both of them requested the leftovers at every meal until they were all gone.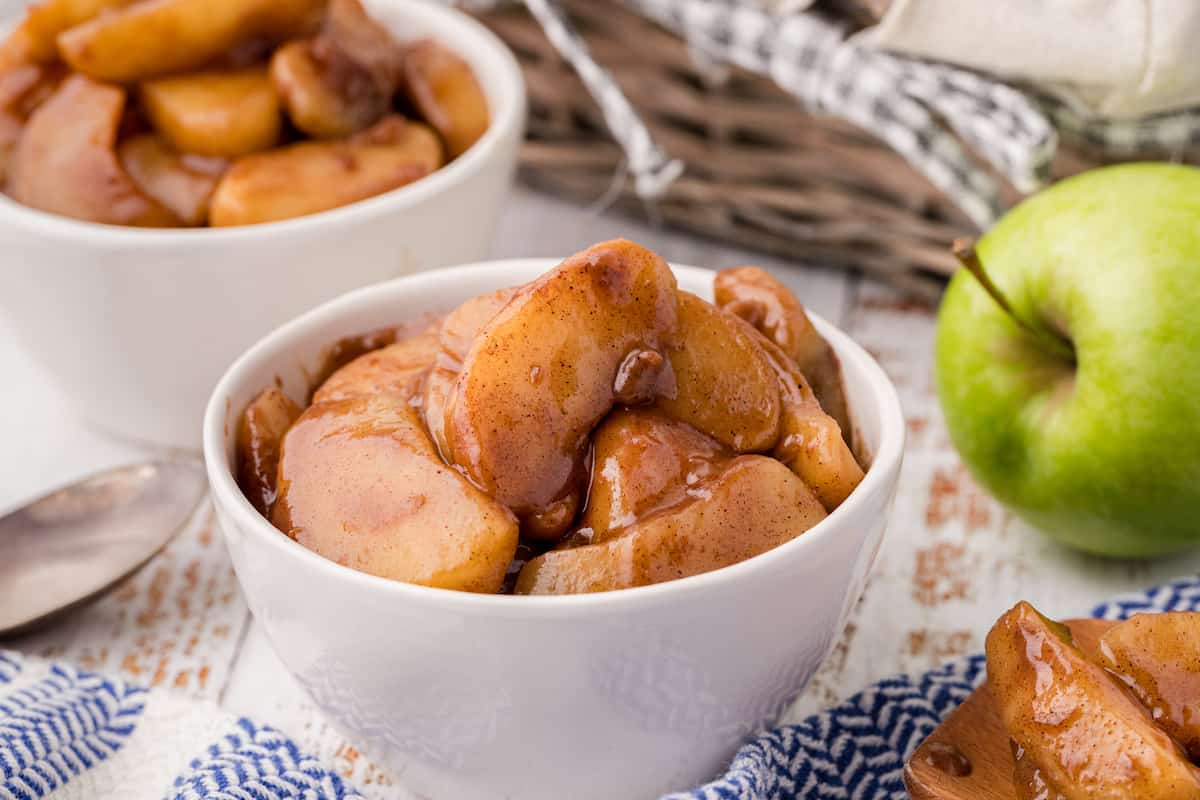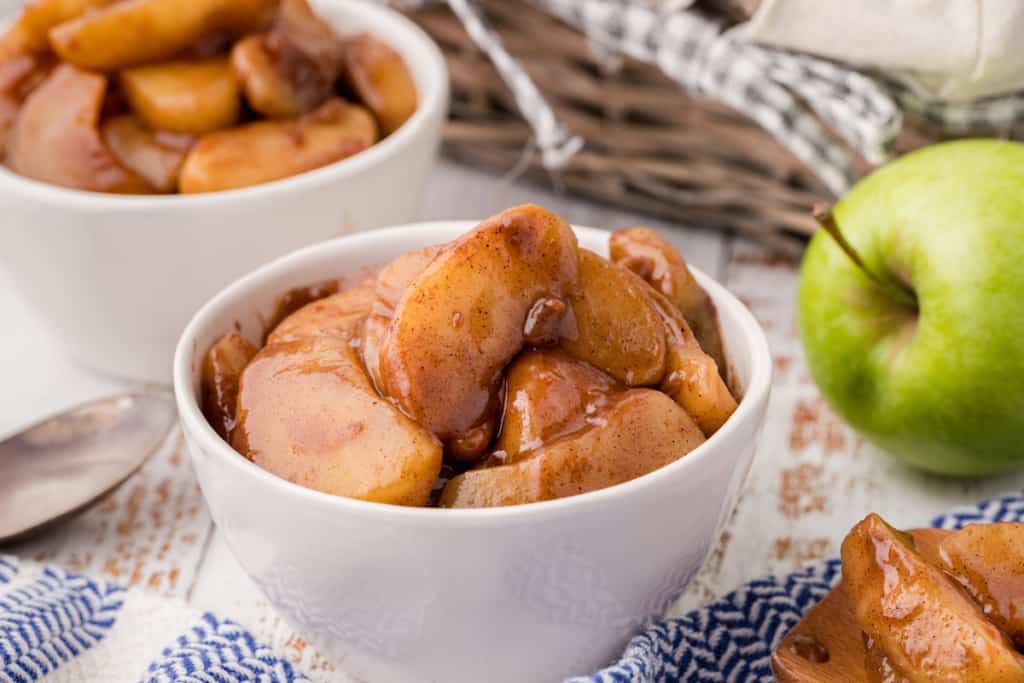 What you'll need to make this Cracker Barrel fried apples recipe
Equipment
If you want your fried apples to be like Cracker Barrel's, you will need to peel them. I suppose you could use a paring knife if you were really talented, but more than likely, you'll need a vegetable peeler for that task. You'll probably also want an apple wedger to core and slice the apples, although you will still have to slice those wedges in half or thirds as the wedges are too big to cook quickly. Alternately, an apple slicer (everyone should have an apple slicer - they're so handy!) or an apple corer and paring knife will also do the trick.
Incidentally, as my kids have grown up, I think our apple wedger is one of our most often used kitchen tools. It's so easy for the girls to core and cut their own apples with this handy tool.
You'll also need a very large skillet, like a 12-inch cast iron skillet. I like cast iron because it's heavy and distributes the heat evenly across the whole surface.
Ingredients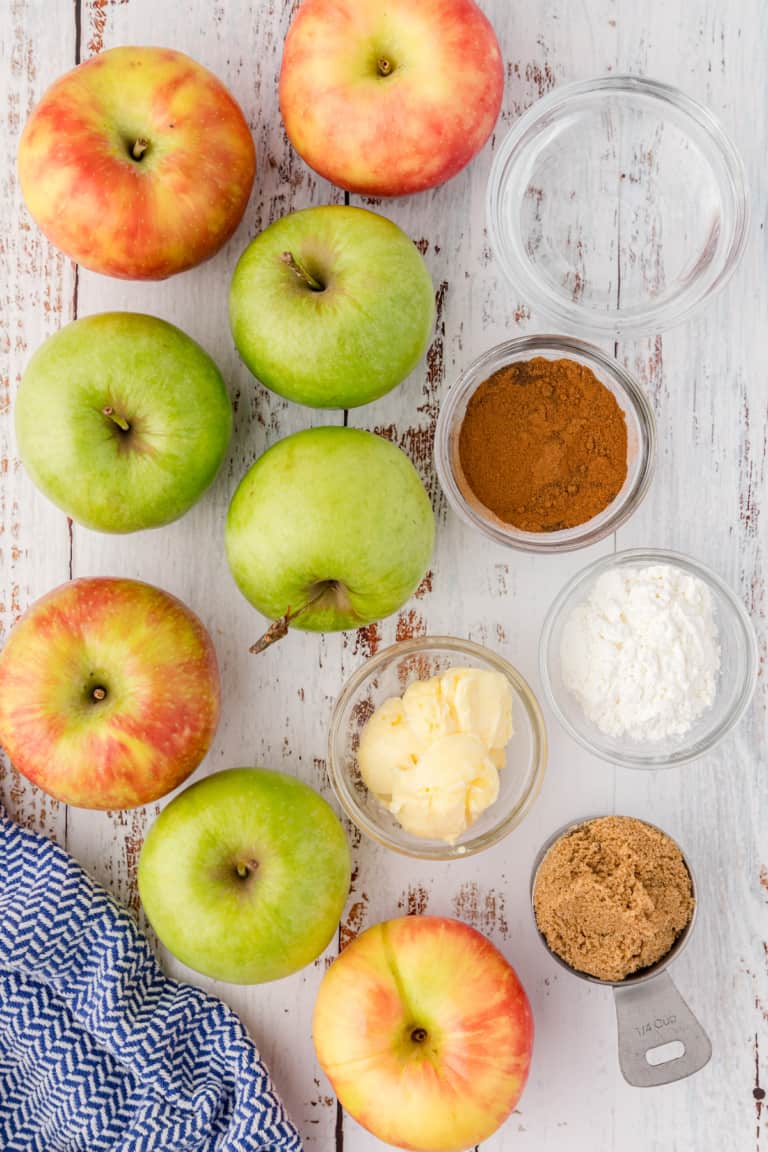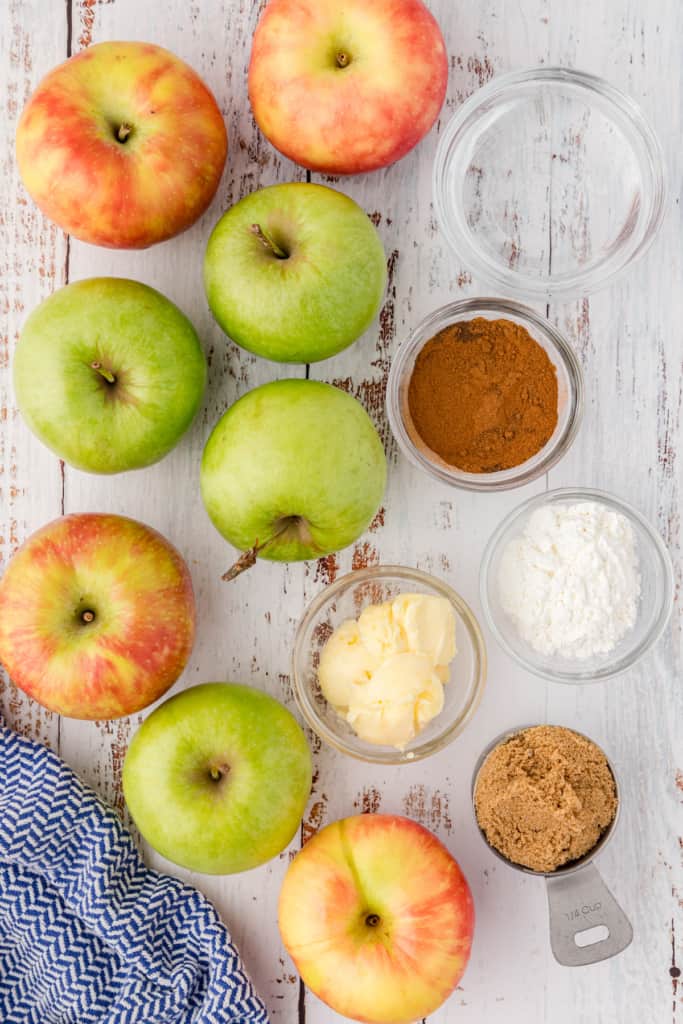 8 large apples - This is about 12 cups once they're cored and sliced into thin wedges. I have found the best apples for this recipe are baking apples, including Granny Smith apples, Jonagold apples, honeycrisp apples, pink lady apples, and/or golden delicious apples. My personal preference is to use a blend of 2-3 different varieties. I think this makes the best overall flavor.
4 tablespoons butter - This is half of a stick.
¼ cup packed brown sugar
1 tablespoon cinnamon - If you prefer, you can use 1½ tablespoons of apple pie spice in place of the cinnamon, nutmeg, allspice, and cardamom.
¾ teaspoon ground nutmeg
½ teaspoon ground allspice
½ teaspoon ground cardamom
2 tablespoons corn starch
3 tablespoons water
Apple juice or water as needed
How to make Cracker Barrel fried apples on the stove
Peel, core, and slice apples. I peel them first, use an apple wedger, and then slice the wedges in half or thirds. Easy peasy.

Melt butter and brown sugar in a very large skillet or sauce pot over medium heat.

Reduce heat to medium-low. Add the apples to the skillet and toss to coat evenly with sugar mixture. Place lid on the skillet and cook for a few minutes.

Stir the apples so that the top ones go to the bottom and the bottom ones come to the top.

After 5-10 minutes, sprinkle seasonings over the apples and stir again.

Simmer apples on medium-low or low heat for 20 to 30 minutes, stirring every 4 to 6 minutes to ensure even cooking and no burned apples.

When the apples are starting to get soft, mix the water and cornstarch into a slurry and add to the pan. This will thicken the sauce. You can leave it out but your apples will be more like apples in juice than saucy apples.

Continue to cook apples until they reach your desired softness. Mine took 40 minutes total.

If your sauce thickens too much, thin it with apple juice or water. Mix well so that the sauce is the consistency you desire.
How to make Cracker Barrel fried apples in the Crockpot
Peel, core, and slice apples. I peel them first, use an apple wedger, and then slice the wedges in half or thirds. Easy peasy.
Place apples and cornstarch to the slow cooker. Stir to coat all the slices. (You will leave out the water in the recipe.)
In a small bowl, whisk together the brown sugar and spices, ensuring no lumps and stirring to mix well. Pour into the Crockpot.
Cut the butter into small cubes and sprinkle those overtop of the apples.
Cover and cook on high for 2 hours or until fork-tender.
Stir to redistribute the spices and sauce. Serve hot.
Should you peel the apples?
The fried apples you get at Cracker Barrel are peeled, so I included those instructions in my recipe here.
However. I do not peel the apples when I make fried apples at home. For one thing, unpeeled apples are quicker and easier. For another thing, apple peels are the healthiest part of the apple (provided they're organic and have been cleaned properly).
So you can peel your apples or not. If you have picky eaters who might object to peels, then peel the apples. If you don't, try leaving them on once and see if anyone complains.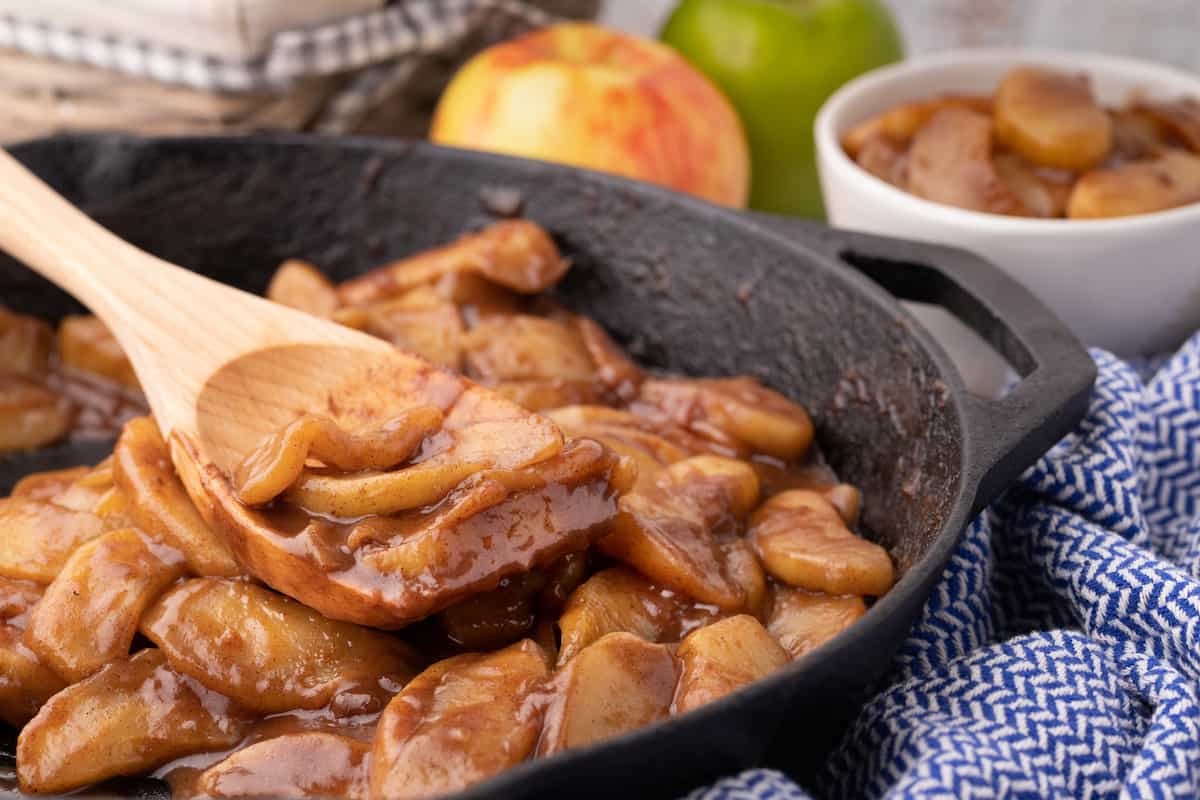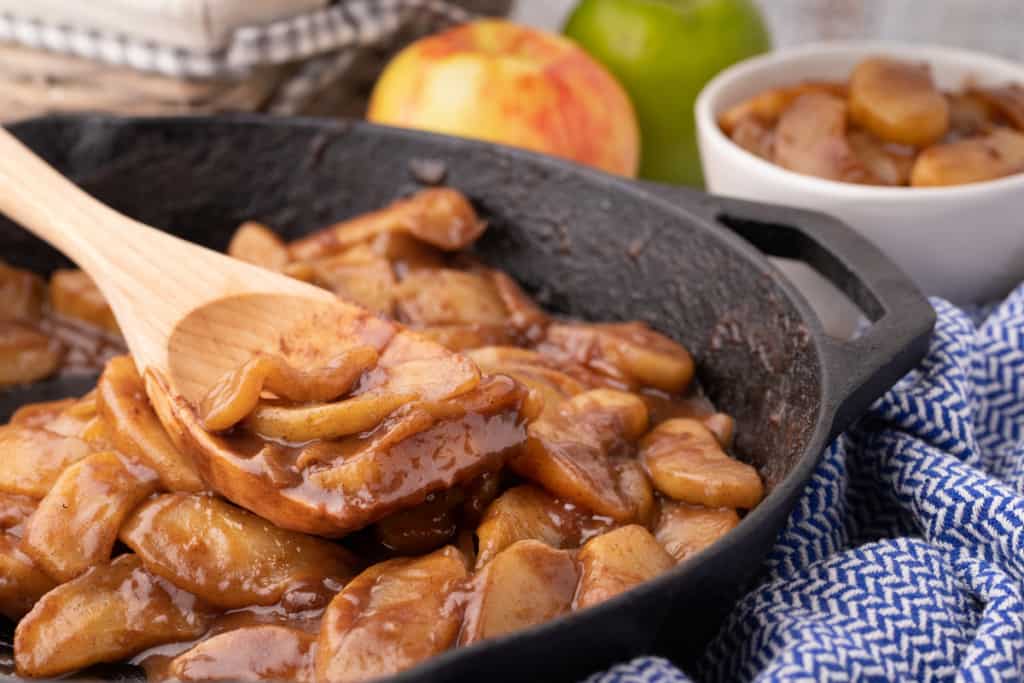 Fried apple variations
I don't know why you'd want to mess with the original recipe, but here are a couple of variations that you could try:
Add 2 teaspoons of vanilla bean paste with the butter
Add 2 teaspoons of lemon juice while cooking
Leave out the apple pie spice and just use straight ground cinnamon
How to serve Cracker Barrel fried apples
These fried apples are excellent no matter how you serve them, but here are a few of our favorite ways:
As a side dish! No adjustments needed, just spoon the apples into a bowl.
Over top of a scoop of vanilla ice cream or vanilla custard.
Over top of pancakes or waffles, in place of or in addition to maple syrup. Don't forget the whipped cream!
Spooned over pork chops.
On top of Greek yogurt.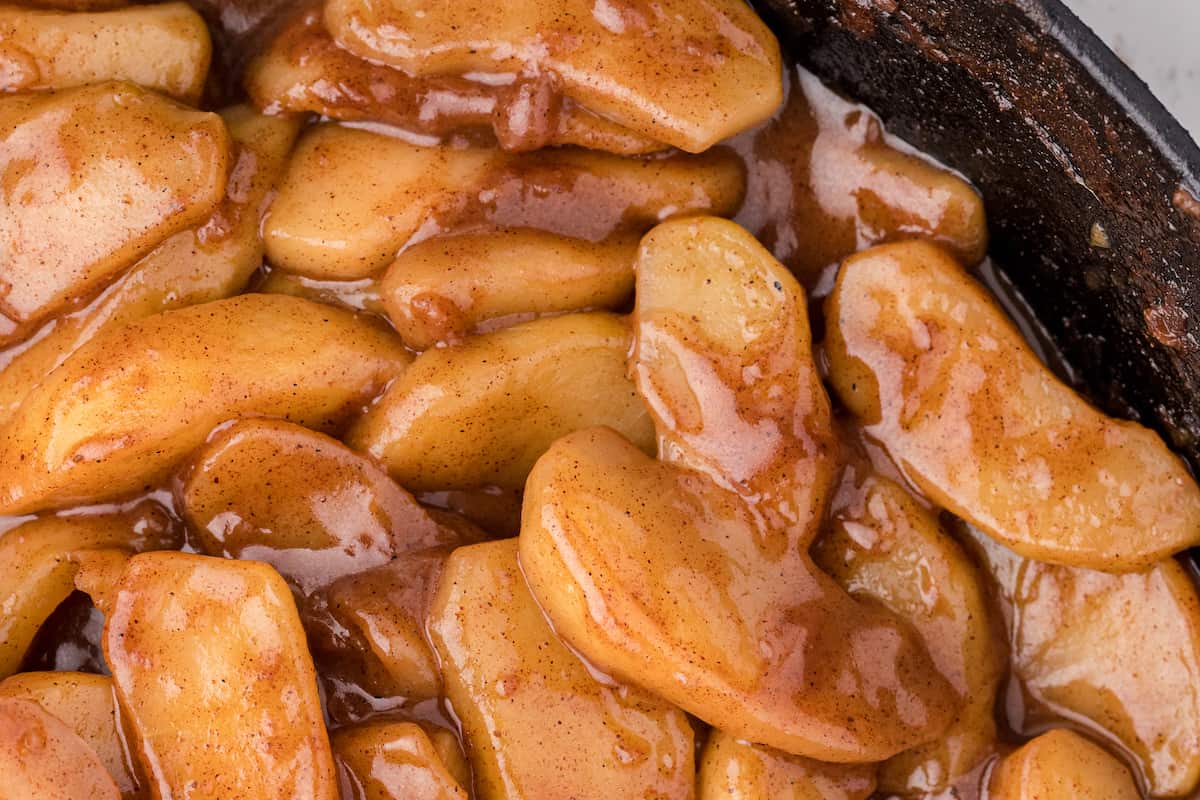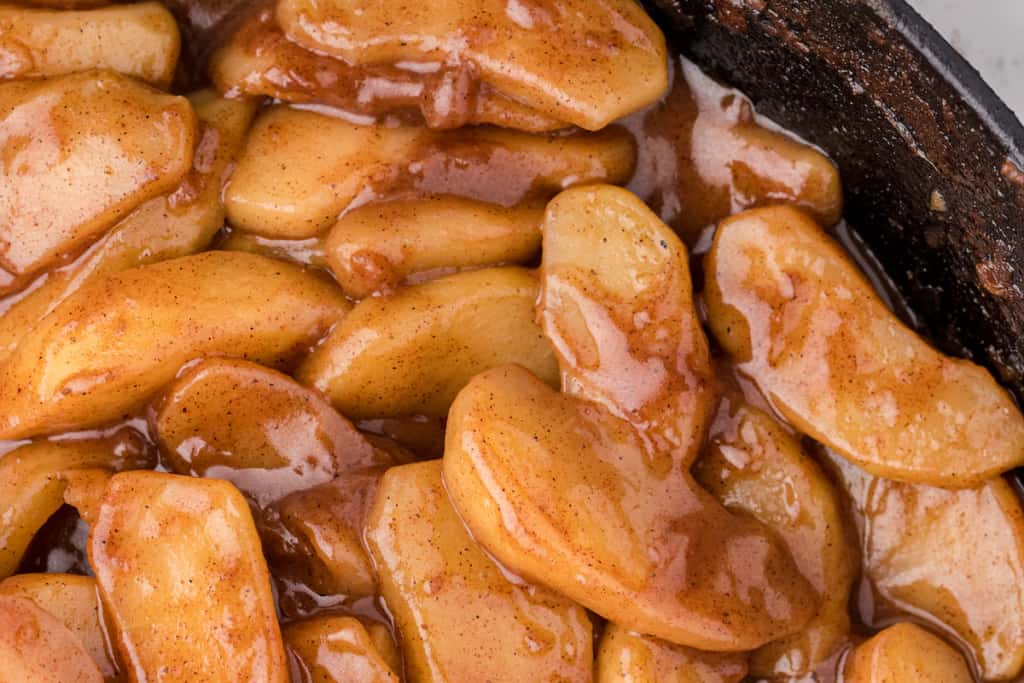 How to store fried apples
These apples will keep for about 5 days in an airtight container in the refrigerator. To serve, simply reheat in the microwave.
You can also freeze fried apples in an airtight container for up to 3 months, but I personally don't care for the texture of the apples after they've thawed. You'll have to try them for yourself and see if you like them.
Here are a few more easy apple recipes that my family loves:
And here are a few more other copycat recipes:
These skillet fried apples are just like the ones from Cracker Barrel, so they were an instant hit with my family. I'm willing to bet that your family or guests will love them, too!
Recipe