This easy apple crisp with is the best recipe you'll ever eat! With its rich cake mix topping and no oats plus a secret ingredient, you'll never make another apple crisp recipe again!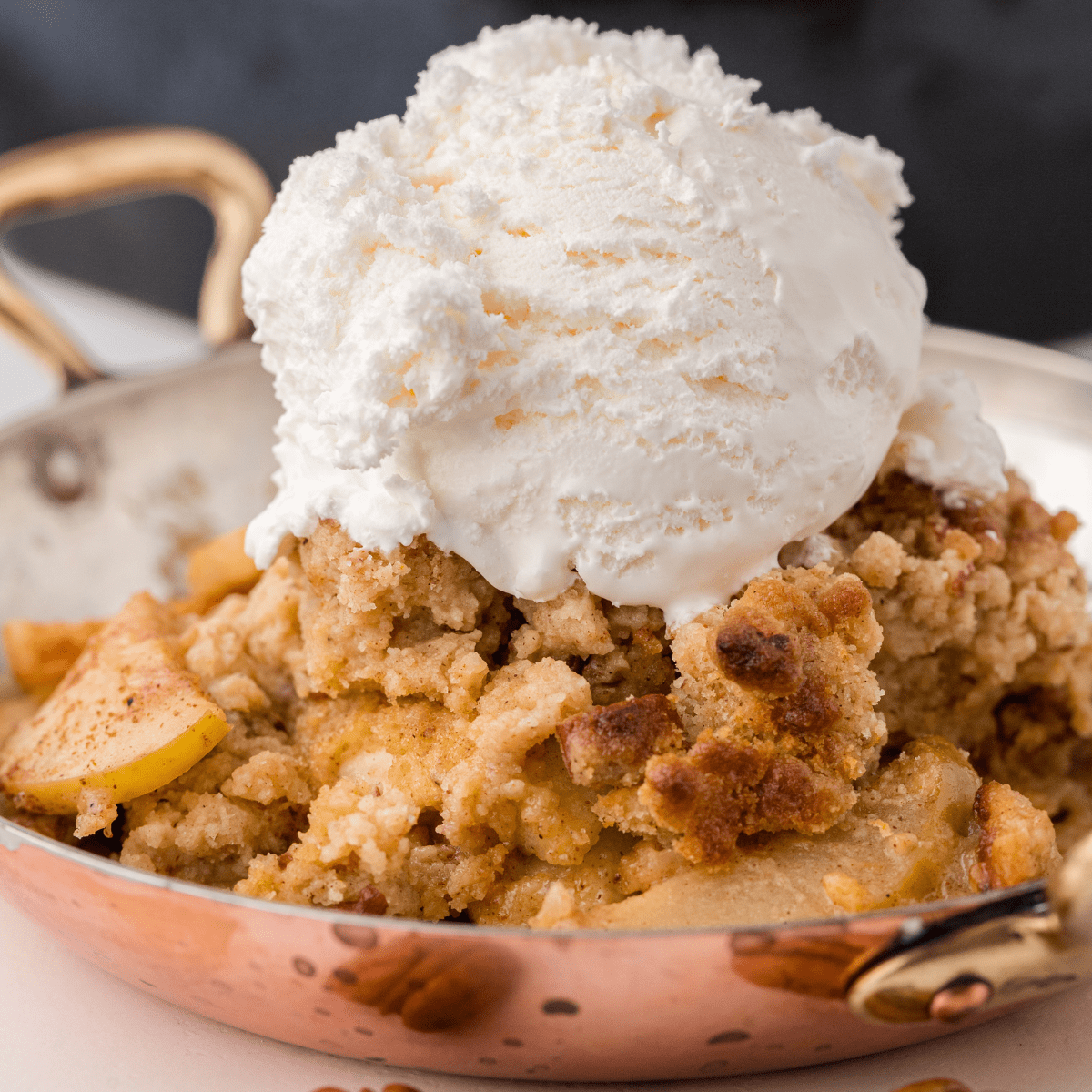 Apple crisp is such a pleasing and easy dessert to make. Over the years, I've posted quite a few different apple crisp recipes.
I always have to dig through all of them in order to find this particular one.
This one is, by far, my favorite, coming out perfectly every single time I make it. In fact, I've completely stopped using my other recipes; this one is just too good.
I've made this crisp with pears, with peaches, and with apples, and it's always perfect and delicious. The crisp topping is rich and creamy without being too moist, and the fruit underneath makes a sweet syrup while baking.
This year, we picked ten pounds of sour cherries at the local orchard and made cherry crisp with this recipe. That's my favorite, I think, because the cherries are slightly tart even after you cook them, combined with the sweetness of the cake-y topping makes a phenomenal dessert.
I was a Pampered Chef Kitchen Consultant for a couple of years immediately after moving out of my parents' house. It was The Pampered Chef that taught me to cook.
This recipe comes from my old PC days, although I have made a few modifications over the years. The current iteration is my favorite, of course, and I can bet it will be your favorite too.
What you'll need to make the best apple crisp with cake mix
EQUIPMENT
INGREDIENTS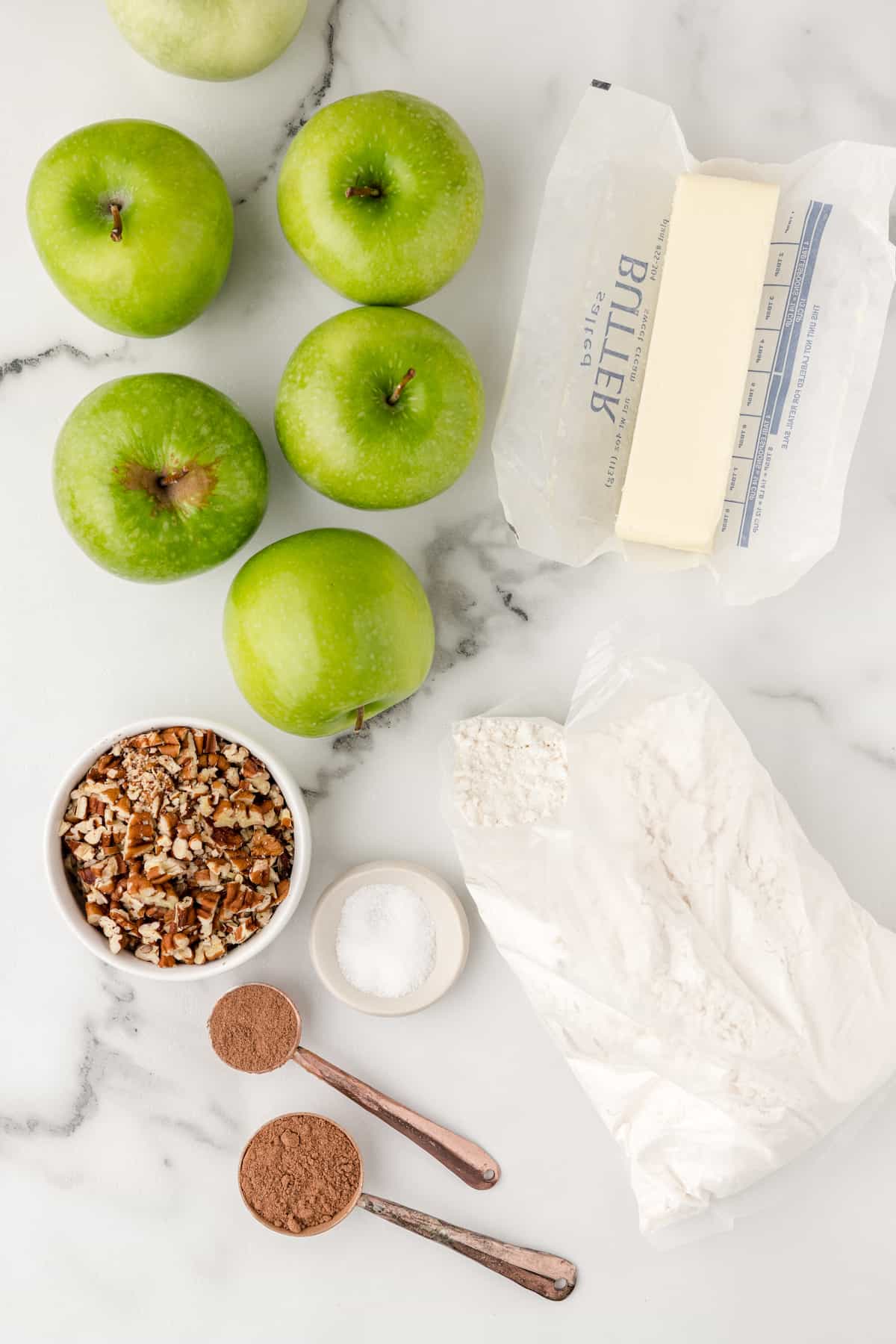 See printable recipe card at the bottom of the page for all measurements and more information.
Large apples - You will need to peel, core, and slice the apples into ½-1" thick slices. I have used Granny Smiths in the photos below because they're my favorite cooking apple, but honeycrisps are also very nice. If you have to peel the apples in advance, toss them with a tiny bit of lemon juice so that they don't get brown.
Melted butter - This is how you make the crumb topping that goes over the apples.
Chopped pecans or walnuts - These are optional but give the finished crisp a lovely crunch.
Yellow cake mix - Together with the melted butter, this is the foundation of the crisp crust. Using a cake mix makes it so easy because you don't have to measure anything else. You can substitute a white cake mix or a spice cake mix if that's all you have, but I think yellow has the best flavor.
White sugar - I don't know why you add a tiny bit of sugar to the cake mix, but it was in the original Pampered Chef recipe, so I kept it. You could also use brown sugar if you prefer.
Cinnamon or pumpkin pie spice - This gives the apples a wonderful, sweet flavor. I usually use pumpkin pie spice but plain cinnamon will also work really well.
How to make the best cake mix apple cobbler
Arrange the granny smith apples slices in a baking dish. Depending on how many pears you've used, anything from a 9x9 to 9x13, round, or oval dish will work or even a similarly sized cast-iron skillet.

Sprinkle 1 teaspoon of spice over the apple slices and toss to coat.

In a medium bowl, combine nuts, cake mix, sugar, and remaining cinnamon. Then pour melted butter in, stirring until well mixed.

Mix well, until crumbly.

Sprinkle crust mixture evenly over the apple slices.

Bake in the oven at 350 for 40 minutes or until crumb is toasty and golden brown.

We like our apple crisp served hot with a scoop of vanilla ice cream.

A few tips for the best easy apple cobbler:
Grace currently has braces and thus cannot eat nuts, so we have to leave them out right now. It's a bummer because I love them.
If you need a gluten-free recipe, you can easily use a gluten-free cake mix and it should come out just fine.
As I said above, this recipe works beautifully with any kind of fruit. Just fill your pan about ½ way with the uncooked fruit of your choice and top with the crisp topping. Cook until the topping is golden brown and starting to get crispy.
Use the cinnamon only if your fruit choice makes sense with it. I use cinnamon or apple pie spice with apples of course, but I also use one or the other with pears. I do not use any spices with peaches, and I use sprinkle a teaspoon or so of almond extract over my cherries.
What to do with leftover apple crisp
Storage can be a bit tricky.
You can store leftovers in an airtight container in the fridge for 3-5 days, however the crust will get soggy.
If you want the crust to stay crispy, you'll want to keep the crisp in the original baking dish and cover it with foil or plastic wrap. Store in the refrigerator and heat up in a 300ºF oven for 10-15 minutes when you want to serve.
What's the difference between apple dump cake and apple crisp?
Typically, for a dump cake, you use a can of apple pie filling and sprinkle the unadulterated cake mix on top, then pour the melted butter over the whole thing. But in truth, there's not a whole lot of difference. I call this recipe apple crisp, but I'm sure there are other people who call it (or something very similar) an apple dump cake.
Try these other delicious fall dessert recipes while you're here:
Recipe