Baked to a golden crisp, cherry pineapple dump cake is a tasty and delicious homemade dessert you'll crave. This simple and easy dump cake requires 4 ingredients and is ready to go in the oven in under 5 minutes. Layers of pineapple, cherry pie filling, cake mix, and butter create the best dessert recipe.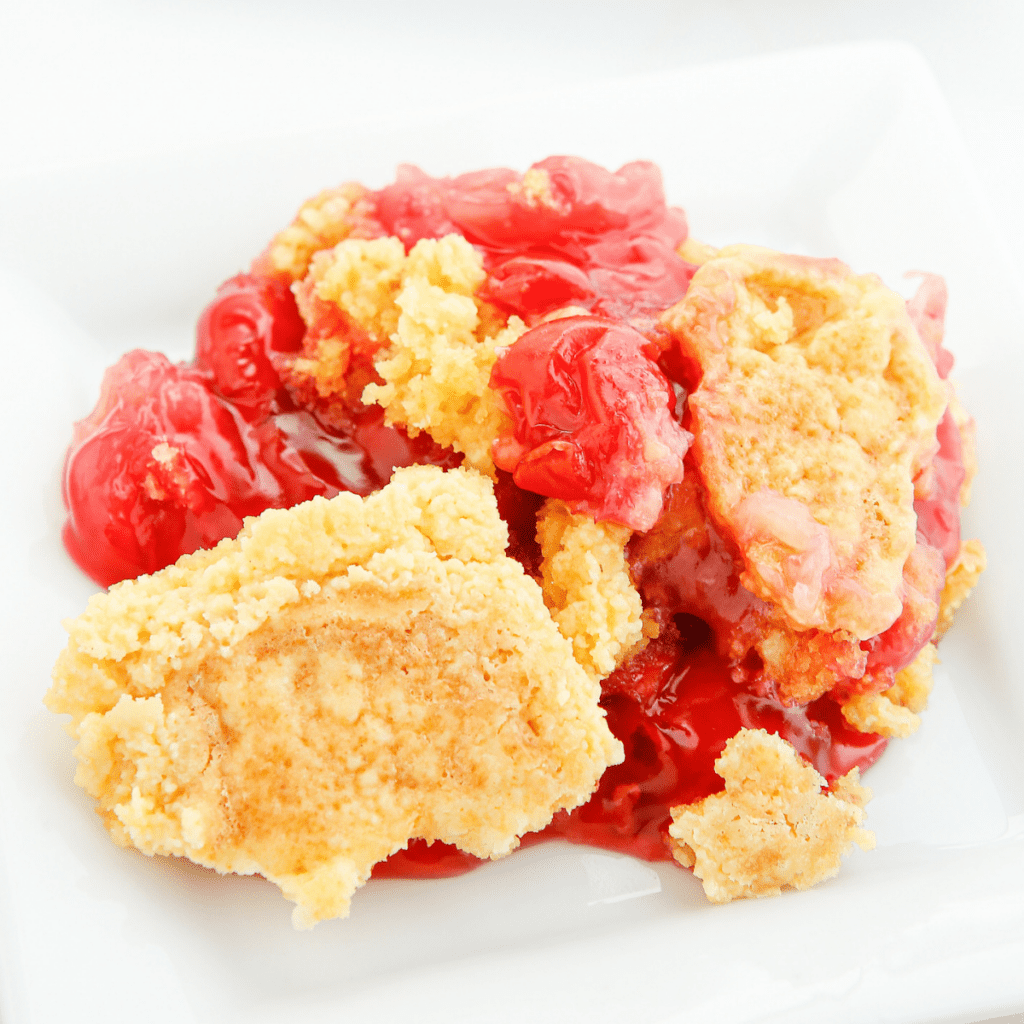 I first fell in love with dump cakes after I discovered my pumpkin dump cake. Before I made it, I couldn't believe that I could sprinkle a dry cake mix on top of a creamy pumpkin filling and put it in the oven. But I did, and it was amazing!
Given the wild success of that cake, I knew I'd have to try other flavors and ingredients, starting with cherry pineapple.
A friend suggested that I make this super easy cake - 4 ingredients, 4 layers, bake - and I was excited to share it with my kids. I baked the cake and let it cool, and then I took a bite.
EVERY BITE BROUGHT BACK A MEMORY OF MY MOM.
My mom died in 2013, and I have virtually none of her recipes. But when I put the first bite of this cake in my mouth, I knew instantly that my mom had made me this cake many times when I was a kid.
So then of course, I had to eat the whole thing over a few days, and every single bite made me think of her. Safe to say, I'll be making this cake over and over and over.
I added a scoop of vanilla ice cream before I handed a serving over to my kids. They love it with ice cream. I prefer mine the way my mom served it - room temperature with nothing on top.
What is a dump cake?
A dump cake is usually made with fruit filling topped with a dry cake mix which is sprinkled on top.
The cake layer absorbs moisture from the fruit layer below and makes a sort of crush that's like a combination of a cake, a crisp, and a crumble.
Why this is the best cherry pineapple dump cake recipe
I love dump cakes because they're such easy dessert recipes, and this recipe could not be any easier. Spread the fruit, sprinkle the cake mix, and top with butter. That's it!
This cake tastes amazing, takes 5 minutes to prep, and only has 4 ingredients!
If you like the sweet and tart flavors of pineapple upside down cake, you're going to love this much easier cousin.
What you'll need to make cherry pineapple dump cake
Equipment
Ingredients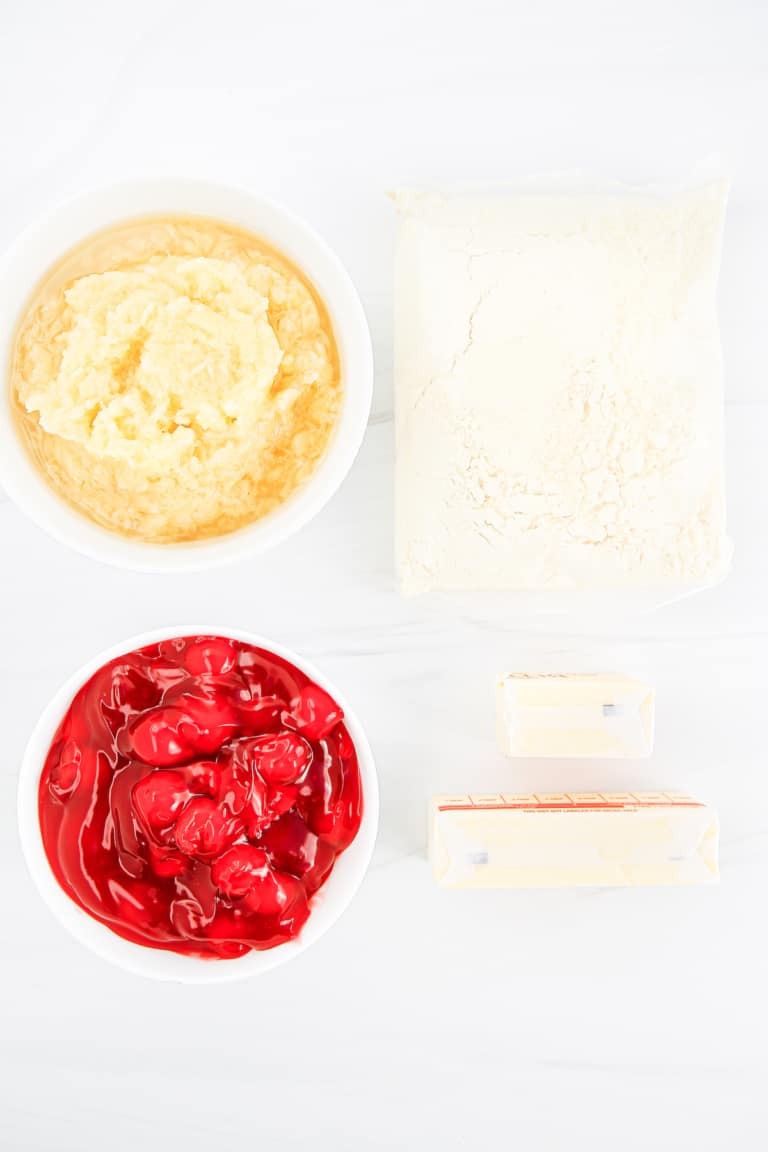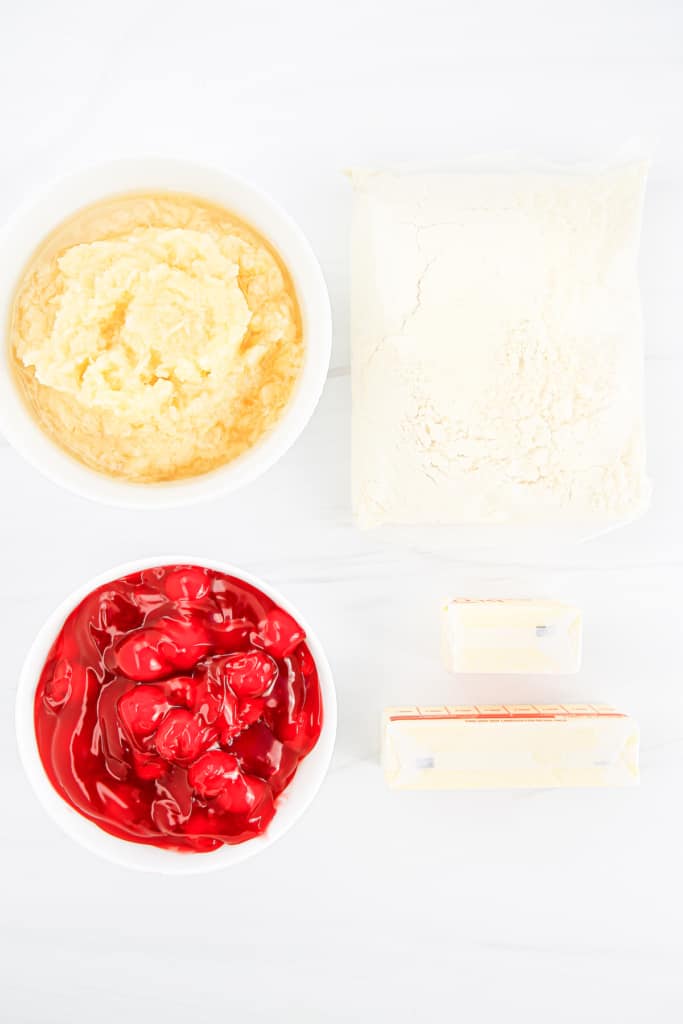 Cooking spray butter-flavored
Crushed pineapple - Don't drain the pineapple. I don't recommend using slices because they'll make the cake harder to cut. You could use chunks or tidbits, but they won't work as well as crushed.
Cherry pie filling - A can of cherry pie filling works really nicely in this recipe because it has a lot of liquid. You could probably use fresh or frozen cherries, but you'd want to cut them in half, cook them, and make a little sauce. I don't have a recipe for that because I always just use a can of pie filling.
1 box yellow cake mix - You don't need any of the ingredients to make the cake. You're going to use the dry cake mix just out of the box. You can use a white cake mix instead if you prefer.
Salted or unsalted butter - You'll need to slice the butter into ½ tablespoon pats.
Whipped cream, optional, for garnish
How to make pineapple cherry dump cake
Preheat oven to 350ºF.
Grease a 9x13 baking dish with butter-flavored cooking spray or melted butter.
Spread the crushed pineapple with its juices into the bottom of the baking pan.

Spread the cherry pie filling across the top of the crushed pineapple layer.


Sprinkle the dry cake mix evenly across the top of the cherry pie filling.


Lay the 24 pats of butter in a grid on top of the cake mix.

Bake for 45-55 minutes or until the cake is bubbly and the top cake layer is slightly golden brown. If the top of the cake jiggles, it's not done.

Allow the cake to cool slightly before serving. Enjoy!

Variations of cherry pineapple dump cake
Add chopped pecans, walnuts, slivered almonds, or sweetened shredded coconut flakes - You can sprinkle the cake with chopped pecans, walnuts, slivered almonds, or shredded coconut, and the results are amazing. My daughter has braces, so I don't usually add the nuts (you can't have nuts when you have braces). But when we're all done with braces, I'll be back to adding chopped pecans because I think they're amazing.
If you want to avoid the squares that pats of butter make on the top of the cake, you can melt the 12 tablespoons of butter and drizzle them over the top of the cake mix.
You can replace the cherry pie filling with another flavor of pie filling. I prefer cherry, but you could try raspberry or blueberry.
Can you make dump cake ahead?
You can. Just cover it tightly and store in the refrigerator for up to 7 days. When you're ready to serve, you can heat individual slices in the microwave or pop the whole thing back in the oven at 350ºF for 10 minutes or until it's heated through.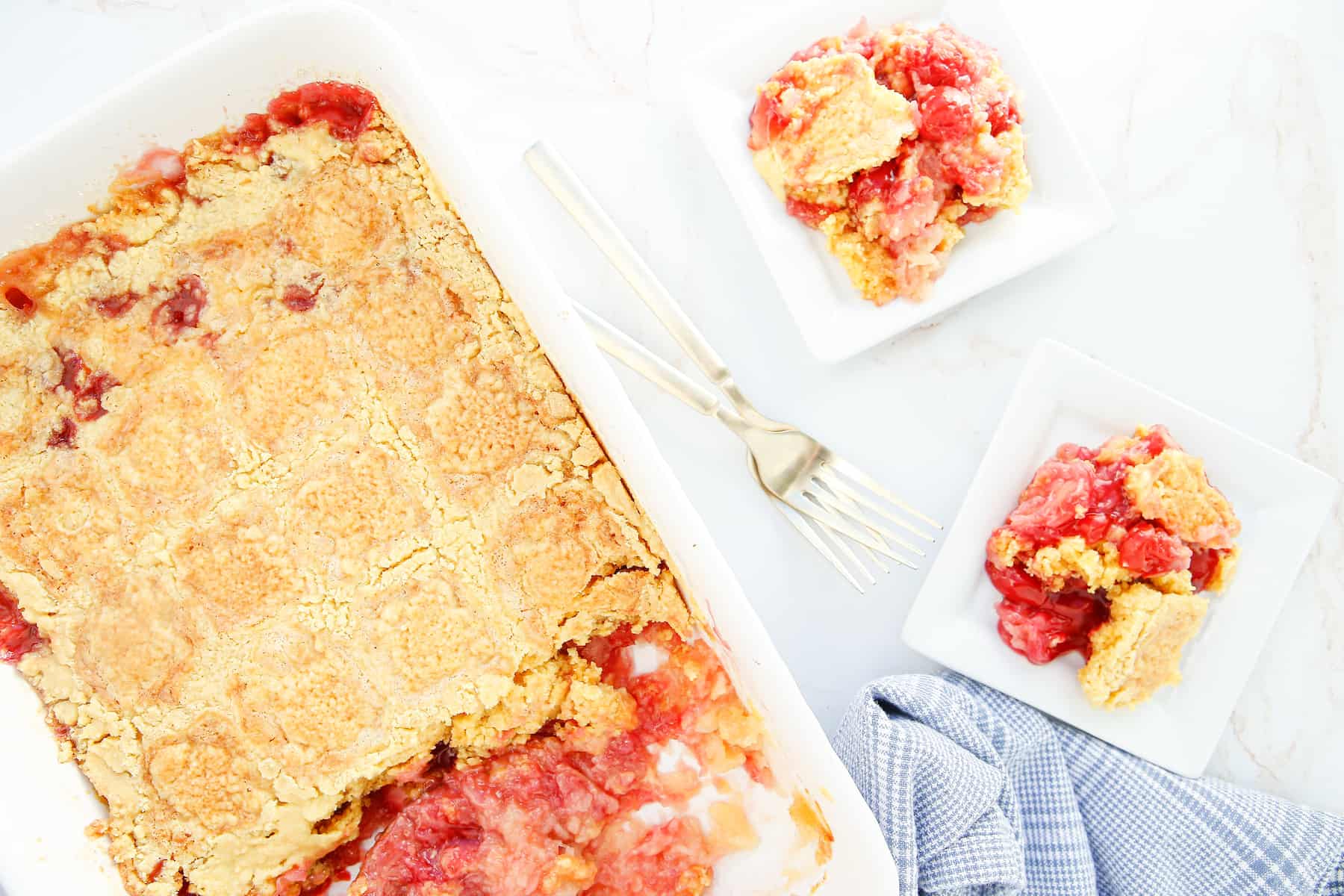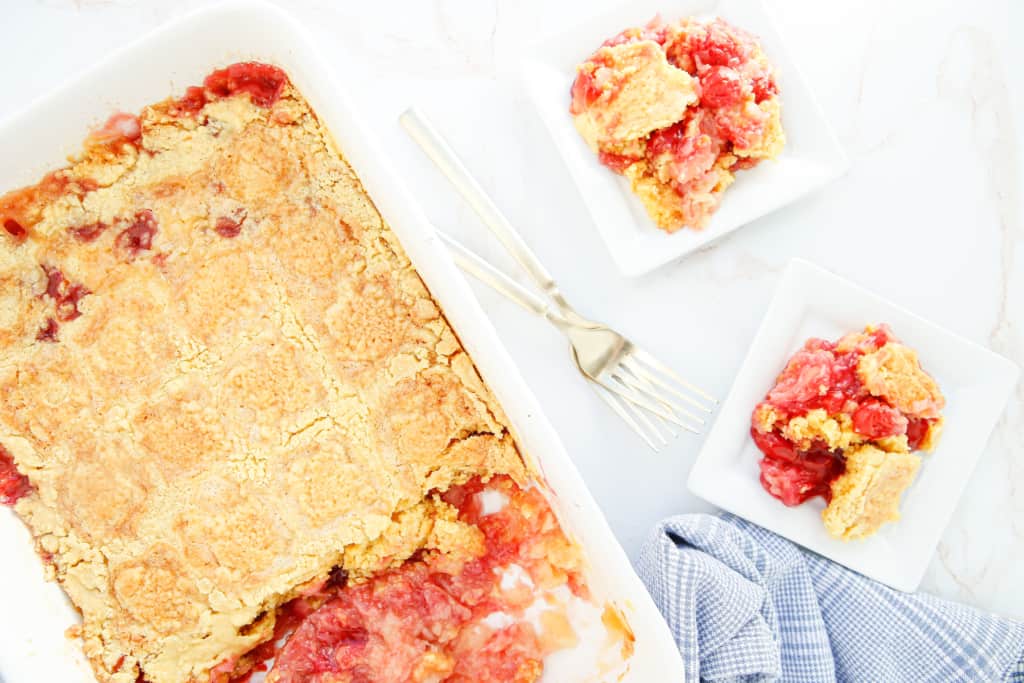 Can I make dump cake with other types of fruit?
Yes. You can keep the pineapple layer and replace the cherry pie filling with raspberry or blueberry. You can leave out the pineapple and use apple, blueberry, blackberry, peach, or strawberry pie filling.
Can I make dump cake in the Crockpot?
This is an easy recipe to make in the slow cooker. Simply layer the ingredients in the Crockpot and cook on high for 2 hours or low for 4 hours.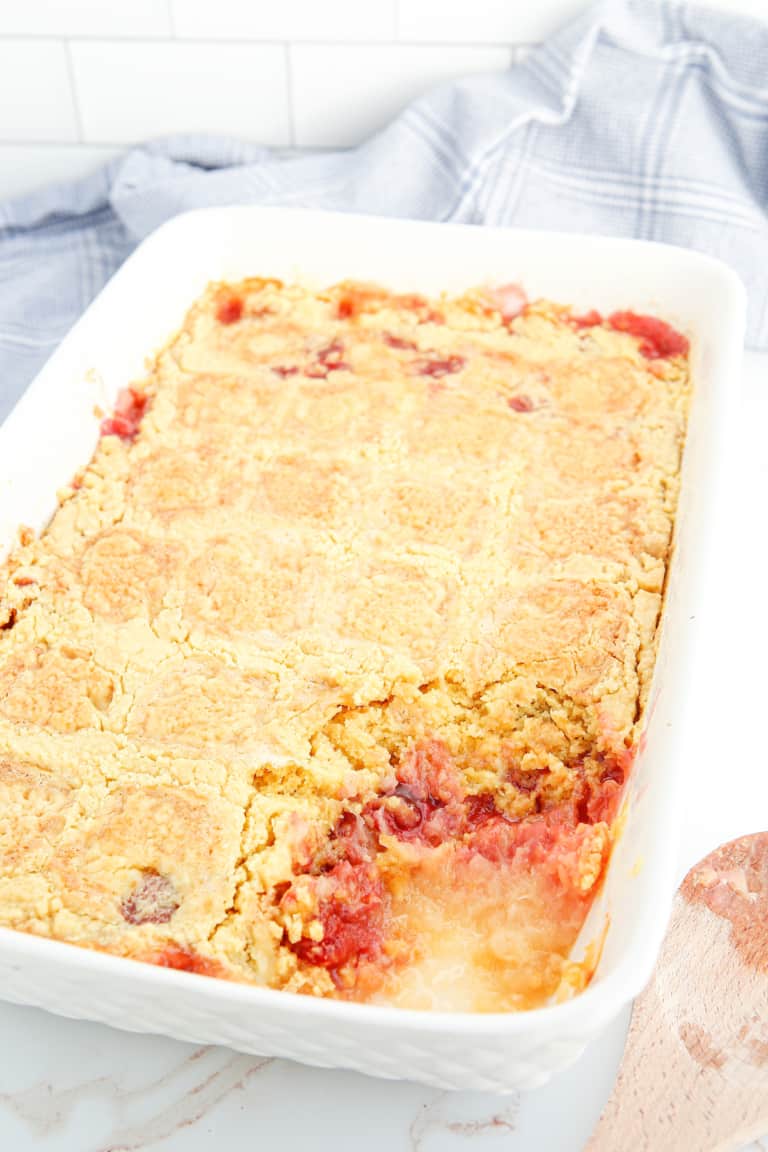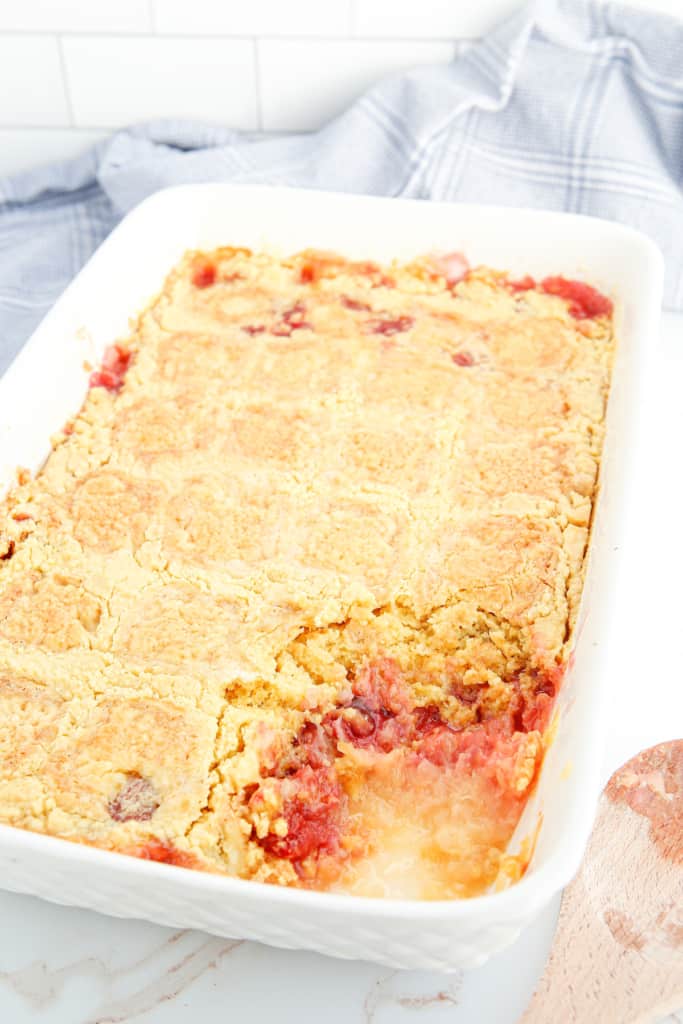 How to store leftover cherry dump cake
Store leftovers in an airtight container in the fridge for up to 5 days. I like to zap a spoonful in the microwave for 20-30 seconds to take the chill off prior to eating it.
If you want to keep it longer, you can store cherry pineapple dump cake in an airtight container in the freezer for up to 3 months. Thaw in the refrigerator overnight and then reheat it in the microwave or a 350ºF oven.
Check out these other delicious dessert and cake recipes:
Recipe