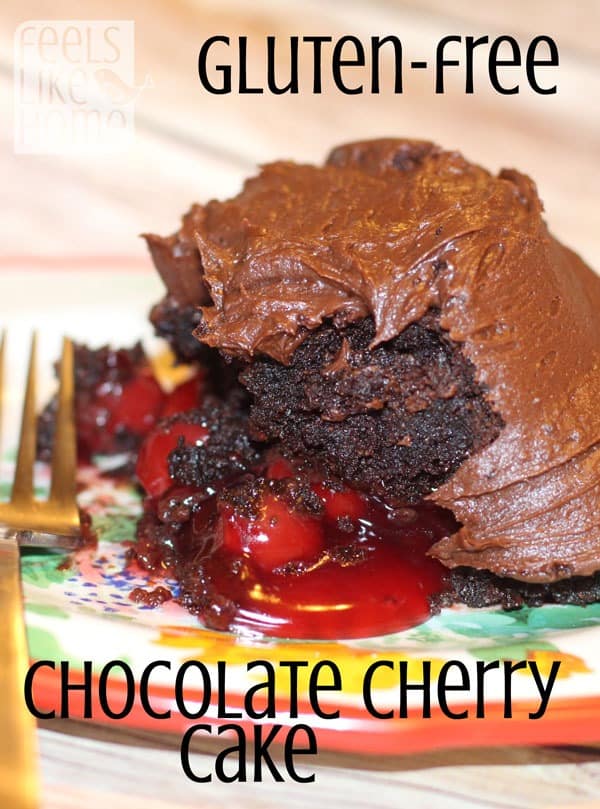 This chocolate cherry cake or Black Forest Cake is made from scratch with gluten-free or wheat flour, so it is moist, rich, and delicious.
I almost didn't post this amazing recipe, my friend.
My gluten-free chocolate cherry cake sounds delicious (and is!) but looks ugly. I mean, truly hideous. It's so bad that I didn't even take a picture of the whole thing. What I have above is as good as it gets.
As usual, my foibles make good learning experiences for you. I did some research after my regrettable mistake and found a way for you to make this cake Pinterest-worthy.
I have included those instructions in the recipe below.
Now, on with the post I wrote as the cake was baking (thus, before I learned how to prevent the cake from sticking):
Have you seen this? It's making its way around Facebook: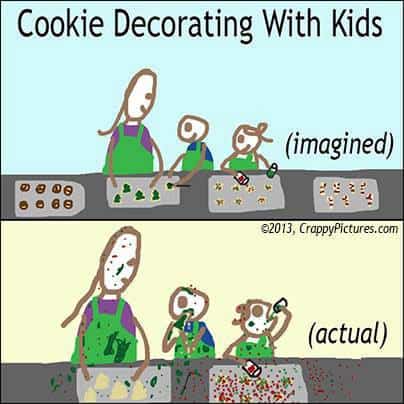 I rolled the first time I saw it because it is oh so very true.
Even with the mess and inconvenience, I love baking with my kids.
By that, I mean that I make excuses to bake with my kids. I beg them to come into the kitchen and cook with me.
Allie still goes for my tricks; she likes to bake with me, too. She likes to stick her fingers in the batter and lick them off and stick them back in again, and she likes that I pretend not to notice. (We're just feeding the family here. I guess I wouldn't let her stick them back in the batter if we were feeding other people. But maybe I would, and that's why nobody comes over.)
Grace has aged out of the baking fun and would prefer to read or watch Ruff Ruffman on the iPad.
But Allie still appeases me, and we have great fun baking together.
Like we did this weekend as we made this amazing gluten-free chocolate cherry cake. Allie was naked, freshly out of the bathtub, and she whisked and measured and I just stood alongside her and took pictures, trying to preserve her modesty as much as possible.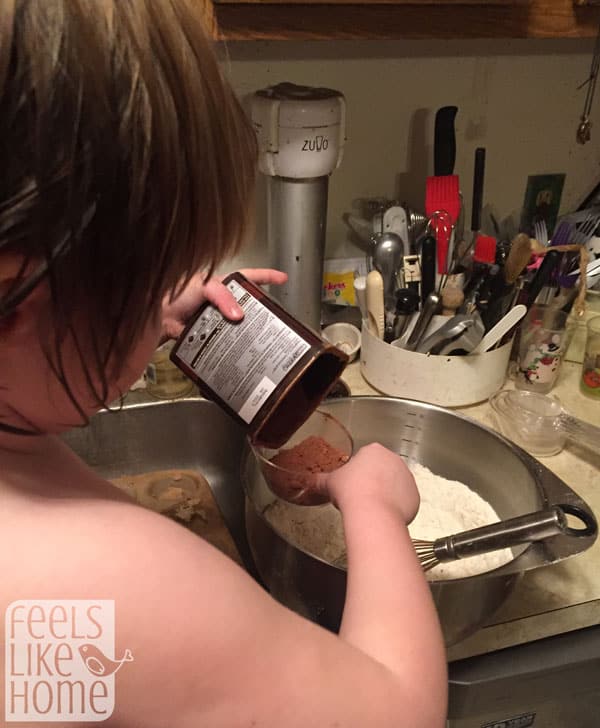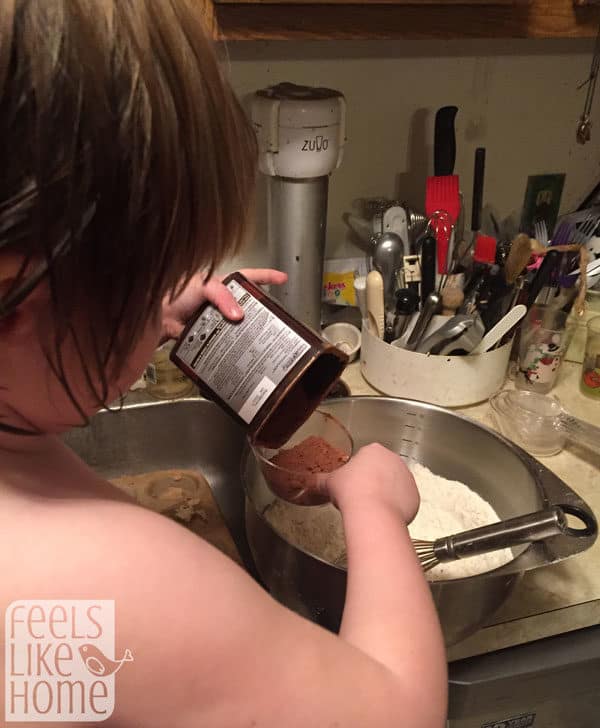 Anyway, this recipe is so easy that a 4-year-old can make it. You will have this put together in less than ten minutes, and you can spend the rest of your evening looking at poorly drawn cartoons on Facebook or reading through my cooking archives because your cake will be finished.
I learned the hard way that the gluten-free version of this cake is super moist and sticky. It makes for a superlative eating experience, but if you don't prepare for it ahead of time, that rich, dense goodness is going to stick to the pan.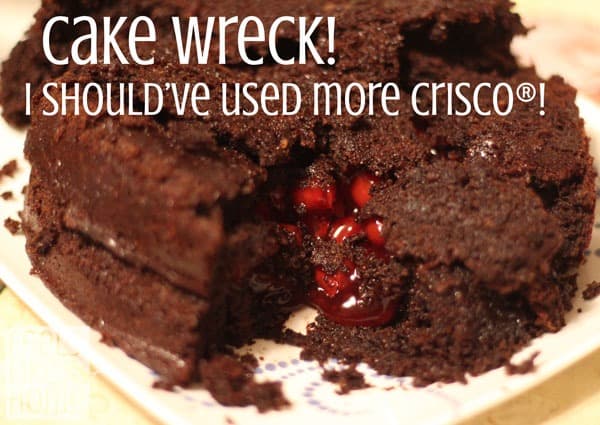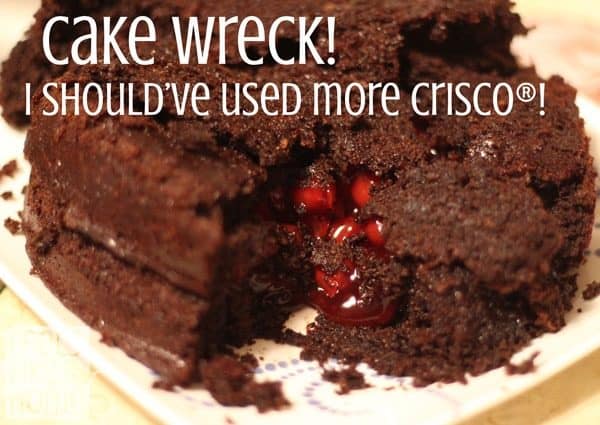 So do this:
Cut a round of parchment paper to fit each cake pan.
Spray the pans thoroughly with cooking spray.
Lay the parchment on top of the spray, then spray the parchment again.
It sounds like you're using a lot of oil, but it will prevent your cakes from sticking to the pans which is an absolute must in this recipe.
When the cakes come out of the oven, let them cool, then invert on a platter.
Peel the parchment off the top of the cake layer, and proceed with the instructions.
Simple, right?
How to make a chocolate cherry (Black Forest) cake
For the chocolate cake:
Prepare the pans. As I said above, you need to spray 2 or 3 8-inch round baking pans with cooking spray and then cut a circle of parchment equal to the bottom of each pan and then spray that with cooking spray. Otherwise, this cake is going to stick and make you sad.
Prepare to make the batter. In a large mixing bowl, whisk together the sugar, flour, cocoa, baking powder, baking soda, and salt. In a second, slightly smaller mixing bowl, whisk the eggs, milk, oil, vanilla, almond extract, and water together.
Make the batter. Pour the wet ingredients into the dry ingredients and whisk until smooth. The batter will be very thin and runny, but don't worry. It's supposed to be that way.
Pour the batter into the pans. Distribute the batter between the cake pans. Bake 2 cakes for 30 minutes or until a tester inserted in the center of the cakes comes out clean. If you're using 3 pans, check them after 20 or 25 minutes; they will cook more quickly than 2 pans.
For the homemade chocolate frosting:
Prepare the powdered sugar. Sift the powdered sugar. This is necessary so that it's light and fluffy and not compacted at all.
Make the frosting. Pour the melted butter into the cocoa powder and whisk until well blended. Add a scoop of the sifted sugar and whisk. Then add some milk and whisk. Alternate adding sugar and milk while mixing until the frosting is smooth and spreadable. You might want to use your mixer for this as it can take awhile. If your frosting seems too thick to be spread, add a little extra milk. If it seems too runny, add extra powdered sugar. Stir in the vanilla extract and almond extract.
To assemble the finished cake:
Stack the layers. Place one of the cakes on a platter. Top with a generous layer of cherry pie filling. Add a second cake layer and more cherry pie filling. Top with the third cake layer. Always end with a plain cake layer; don't put cherries on top of the stack.
Frost the cake.
If you're not into cherries but like a rich chocolate cake with homemade chocolate frosting, check out triple chocolate cake.
If you are into cherries, don't miss my chocolate cherry cheesecake with chocolate ganache. It's amazing.
Recipe