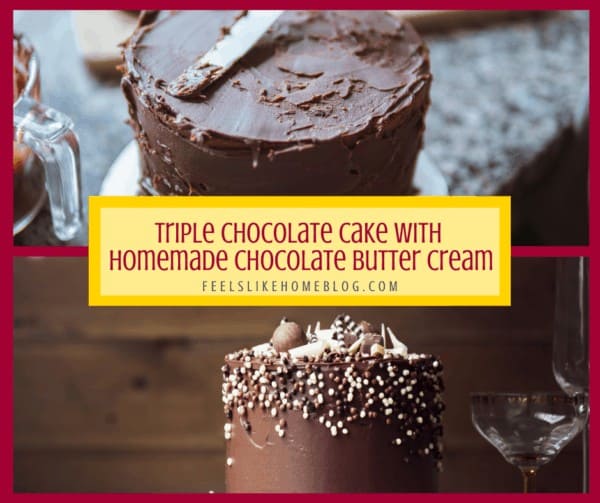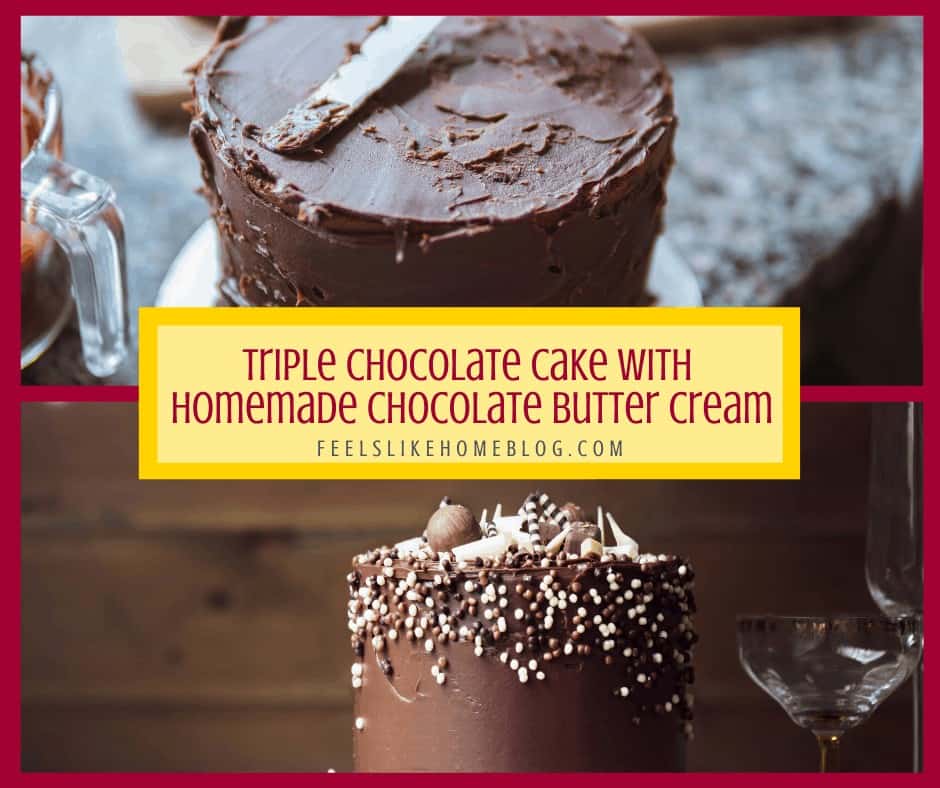 This triple chocolate cake with homemade chocolate butter cream frosting is the cure for any chocolate craving. With cake mix, pudding, and chocolate chips, it's the perfect cake to make for any special occasion.
Is your mouth watering? It should be.
I turned a plain old cake mix and a few humble add-ins into a moist and decadent chocolate masterpiece for my dad's birthday. I felt like Jesus, feeding the masses with a couple of loaves.
Well, except that this cake didn't feed the masses. It was so good that everyone wanted a second slice, and every crumb was gone before the sun set on my dad's birthday.
So I guess it wasn't much like Jesus after all. You'll love it anyway.
How to make a triple chocolate cake
Prepare the cake batter. Whisk the dry cake mix and dry pudding together in a large bowl. I used my big stand mixer for this next part, but you could do it by hand or with a handheld mixer if you are so inclined. Add sour cream, vegetable oil, eggs, and water. Mix well. The finished batter will be very stiff, like brownie batter. Stir in the chocolate chips and pecans to distribute throughout the batter.
Prepare the pan. Grease a bundt pan by spraying with butter-flavor cooking spray or putting some Crisco on a paper towel and rubbing it over the pan.
Bake the cake. Pour the batter into the pan and bake at 350 for 50 to 60 minutes. Be careful because this cake can be testy. I checked it at 50 minutes, and it was gelatinous, hardly set up at all. I put Allie to bed and came back at 60 minutes, and the edges were beginning to blacken and the top was slightly burned. Once the amazing frosting was on it, you couldn't taste the burned parts, but I knew they were there. So you might want to check every 3-5 minutes starting at 50.
Cool the cake. Allow the cake to cool in the bundt pan for about a half hour, then turn it out onto a cake plate or platter. Cool completely before frosting.
How to make homemade chocolate butter cream frosting
As above, you will most likely need a stand mixer or electric handheld mixer to make the frosting. I understand that women made buttercream a hundred years ago with electric mixers, but let's get real. You don't want to have to do that.
Soften the butter. You don't want melted butter. You want slightly softened butter. So you can leave it out all day on the counter, or you can put it in the microwave for 10-15 seconds at a time, until it is soft but not liquid. Liquid will not work.
Make the frosting. The first step is to cream the butter. This means that you will beat the softened butter with a whisk until it is smooth and creamy, sort of like the consistency of sour cream. Slowly add the powdered sugar, cocoa, and vanilla to the creamed butter.
Adjust the consistency. The recipe calls for ½ cup of milk, but don't use that much at first. Add milk a little at a time until the frosting is thin enough to spread easily. You may add more or less than ½ cup.
Taste the frosting. The first batch I made was too bitter, so I had to add more powdered sugar to the frosting. Mix well and add more powdered sugar and milk as needed.
When the cake is fully cooled, you can frost it and serve.
Recipe
You should check out these other chocolate desserts while you're here: