These delicious chocolate mini bundt cakes couldn't be any easier! Combining a brownie mix and a chocolate cake mix gives you a moist, rich chocolate cake with the perfect crumb. Drizzle it with velvety chocolate ganache for a quick but impressive dessert. It's the perfect recipe for Valentine's Day, birthdays, or any holiday!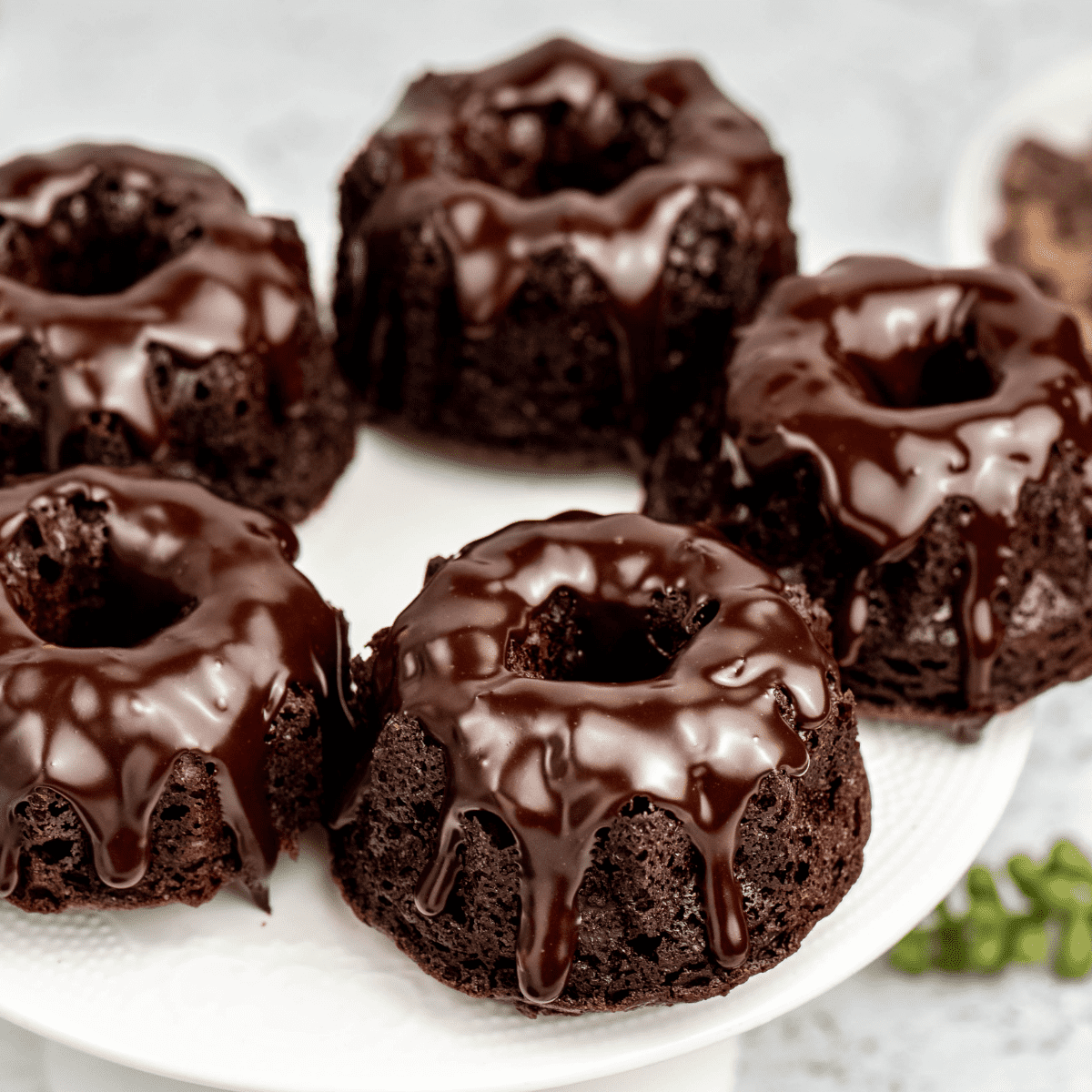 Why this is the best chocolate bundt cake recipe
It's easy! Seriously, two box mixes, plus oil, water, and eggs. There's almost no measuring. You just mix it together (no mixer required!), and pipe it into the wells of a mini bundt pan. It's ready to go into the oven in five minutes!
Using a mini bundt pan gives the cake a fancy look before you add any topping at all. Again, so easy!
This cake comes out perfectly every single time. Because you're using two box mixes, there's almost no way to mess it up. Bake for the prescribed time, and you should have perfect mini bundt cakes time and time again.
These cakes taste like brownies. I'm not a huge fan of cake, even when it's a nice, moist cake. But these cakes are so rich and decadent that even I'm a fan!
Because the brownie mix has chocolate chips in it, every bit has some sweet pockets of melty chocolate. It's heaven!
What you'll need to make mini chocolate bundt cakes
Equipment
You'll need two large mixing bowls, measuring cups, and rubber or silicone spatulas. You'll also need piping bags and either metal or silicone mini bundt pans.
Ingredients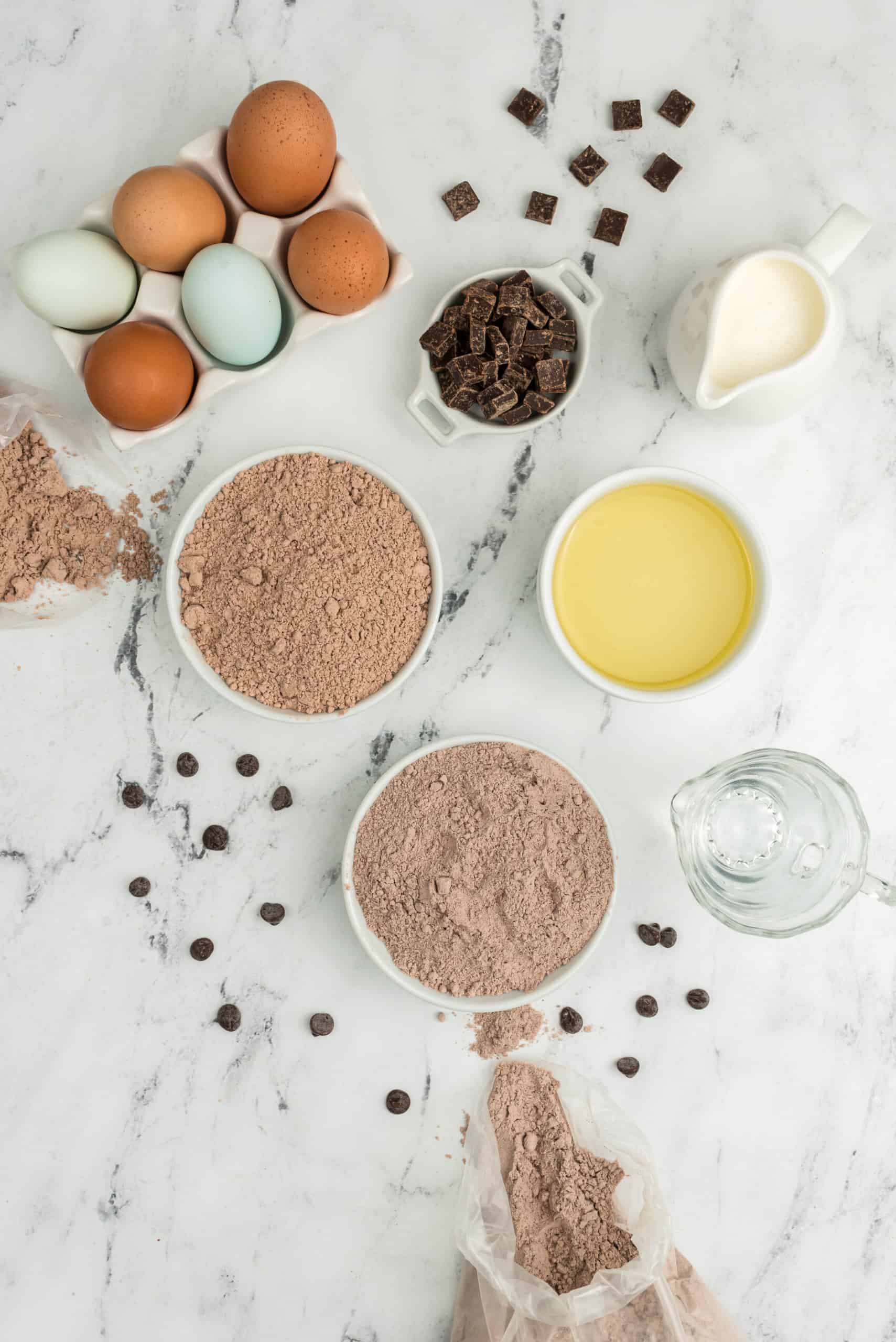 1 chocolate cake mix
1 fudge brownie mix, preferably with chocolate chips
4 large eggs
1¼ cup water
1 cup canola oil - alternately, you could use 1 cup (2 sticks) of melted butter.
How to make mini chocolate brownie bundt cakes
Preheat oven to 350℉ and position rack in middle of oven.
If using metal mini bundt pans, spread 'cake goop' inside wells with a pastry brush (see below for cake goop recipe). If using silicone mini bundt pans, generously spray wells with non-stick cooking spray and place prepared silicone pans on a large sheet pan for stability.
Combine all ingredients in a large bowl. (Yes, wet ingredients and dry ingredients - all at the same time!) Whisk until just combined. Do not over mix!

Pour cake batter mixture into a plastic piping bag or zippered plastic bag and snip off the corner, just big enough for a chocolate chip to fit through.

Pipe the batter into the prepared bundt pans, filling about ⅔ full.

Wipe excess batter drips from center and edges of molds.

Bake for 18-20 minutes, or until a toothpick inserted in center of cake comes out clean.

Cool in the pans for 10 minutes, then carefully remove from pan to a wire rack to cool completely.

Drizzle with chocolate ganache and serve.

How to make "Cake Goop" to grease the cake pan
To make your own non-stick cake goop spread: Mix 1 cup flour, 1 cup vegetable shortening, and 1 cup oil with a whisk until smooth and creamy. Store in an airtight container in the fridge. Brush bundt pans evenly with cake goop for a perfect release from the pan.
Chef's tips for the best chocolate bundt cake
Because you're using quite a few eggs, I recommend cracking them into a bowl and whisking a bit before adding them into the cake mix. You don't have to do this (and I didn't in the photo above), but it does prevent any errant shell pieces from getting into the cake, and it also makes it a little easier to mix the eggs into the cake batter.
Bundt pans are notorious for sticking. If you're using silicone pan, you can turn the wells inside out and pop the cakes out. That makes it easy. But if you're using a stoneware or metal pan, obviously, you can't do that. That's where the cake goop comes in. It will ensure that your cakes release without sticking in the pan.
Chocolate ganache is an easy and impressive way to finish these mini bundt cakes. Check out the detailed instructions for making it over at this post. (Seriously, 2 ingredients and a couple of steps. Simple 5-minute recipe!)
Overmixing cake batter makes the cake dry and tough. That's why you don't need a mixer. Mix with a wisk or spatula until the batter is just barely blended and you're sure there's no more pockets of dry mix.
Always tap a bundt pan on the counter a few times to ensure that the batter has gotten into all the crevices at the bottom of the wells. You don't want an air bubble under the batter to ruin the tops of your cakes.
Using room temperature eggs helps the cake batter to come together more easily.
Be careful not to over bake the cakes. They will dry out if they're overcooked.
Don't try to dump the cakes out too soon. If they're too hot, they will fall apart instead of releasing cleanly. Also, don't leave the cakes in the pan too long. If it sits too long, condensation will form between the cakes and the pan, and the cakes will stick. Just 10-15 minutes is perfect.
What to do if you overfill the bundt pan
If you have overfilled the wells of your bundt pans and would like the center hole to be exposed, take a sharp serrated knife and level the cakes before turning out to cool. I personally like to leave the mini cakes with no hole on the bottom, and fill up the center with ganache!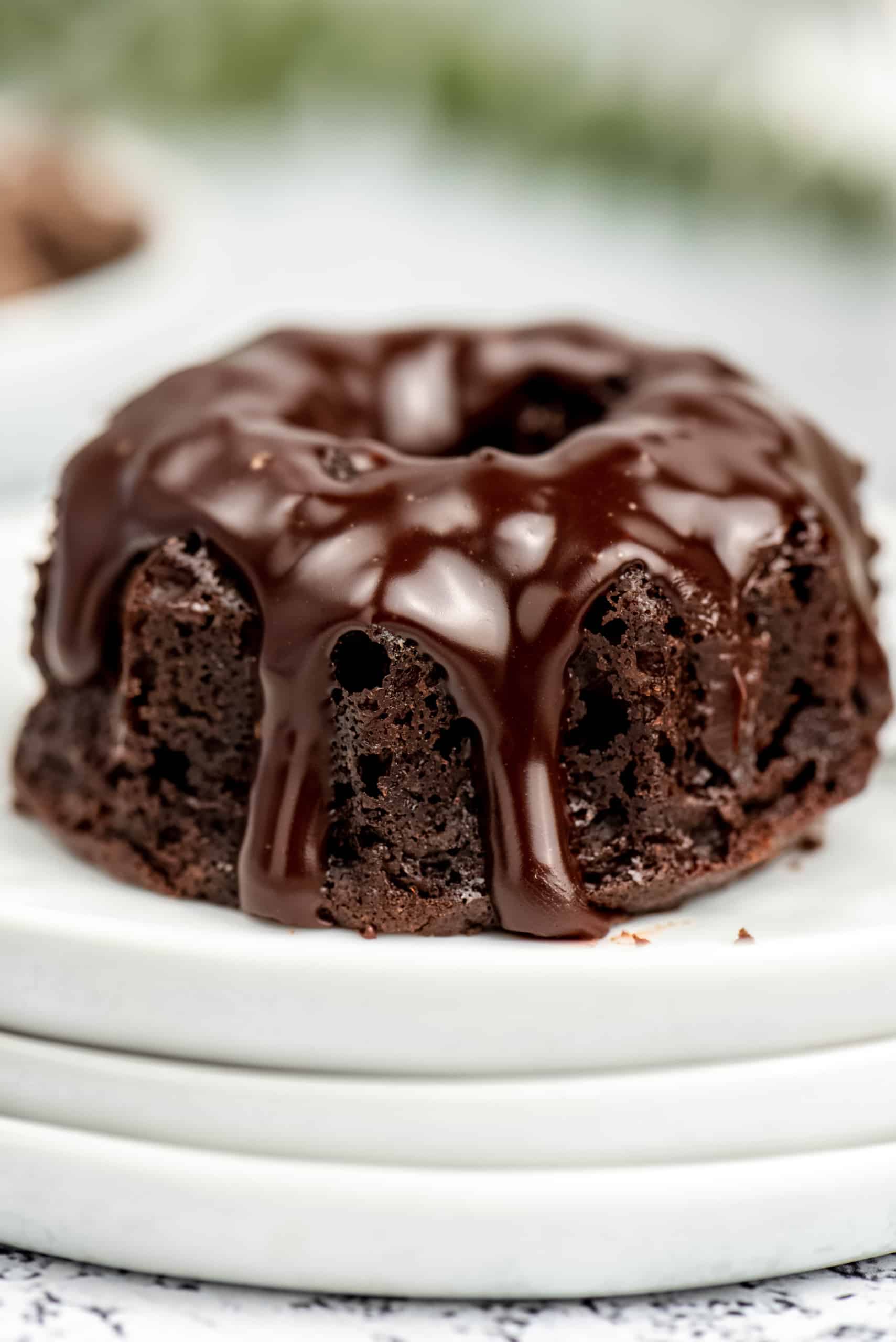 How to finish the mini bundt cakes
I prefer to drizzle these chocolate brownie cakes with fresh, homemade chocolate ganache. You can also whip ganache using a stand mixer (or hand mixer, although that is more difficult) until it's a light chocolate frosting, and spread that on the bundt cakes.
My kids have braces, so I can't add nuts to things, but when the braces come off, we'll be sprinkling the ganache with chopped pecans or walnuts while it's still warm. (They won't stick after it cools.)
If you prefer, you can also prepare a vanilla glaze to drizzle over your bundt cakes. Here's a simple recipe:
If you prefer a flavored glaze, you could substitute coffee, orange juice, apple juice, real maple syrup (not pancake syrup), or even a liqueur for the milk/vanilla.
Or, perhaps my second favorite (after ganache) is to melt some peanut butter in the microwave and drizzle that over the cakes. It's heavenly.
Variations of this chocolate brownie bundt cake recipe
To intensify the chocolate flavor of the cake, add 1 teaspoon of instant espresso powder to the mix.
Add extra chocolate chips to the batter. (I almost always do this because chocolate!)
Add chopped candies like M&Ms or chopped nuts to the batter. Be careful to make the hole in the piping bag big enough for the pieces to pass through.
As I said above, you can sprinkle the ganache with chopped nuts while it's still warm.
You can bake these mini chocolate cakes in a large bundt pan (cook time will be dramatically increased, likely to an hour or maybe even more), regular cake pan (cook time around 40 minutes), or even in two large loaves (cook time around 45 minutes) or mini loaves (similar cook time to mini bundt pan). As always, check the cake with a toothpick or cake tester, and remove from the oven when it comes out clean or with just a few crumbs. Remember that over baking makes cakes dry, so check it every 5 minutes after the specified time, and take it out as soon as possible.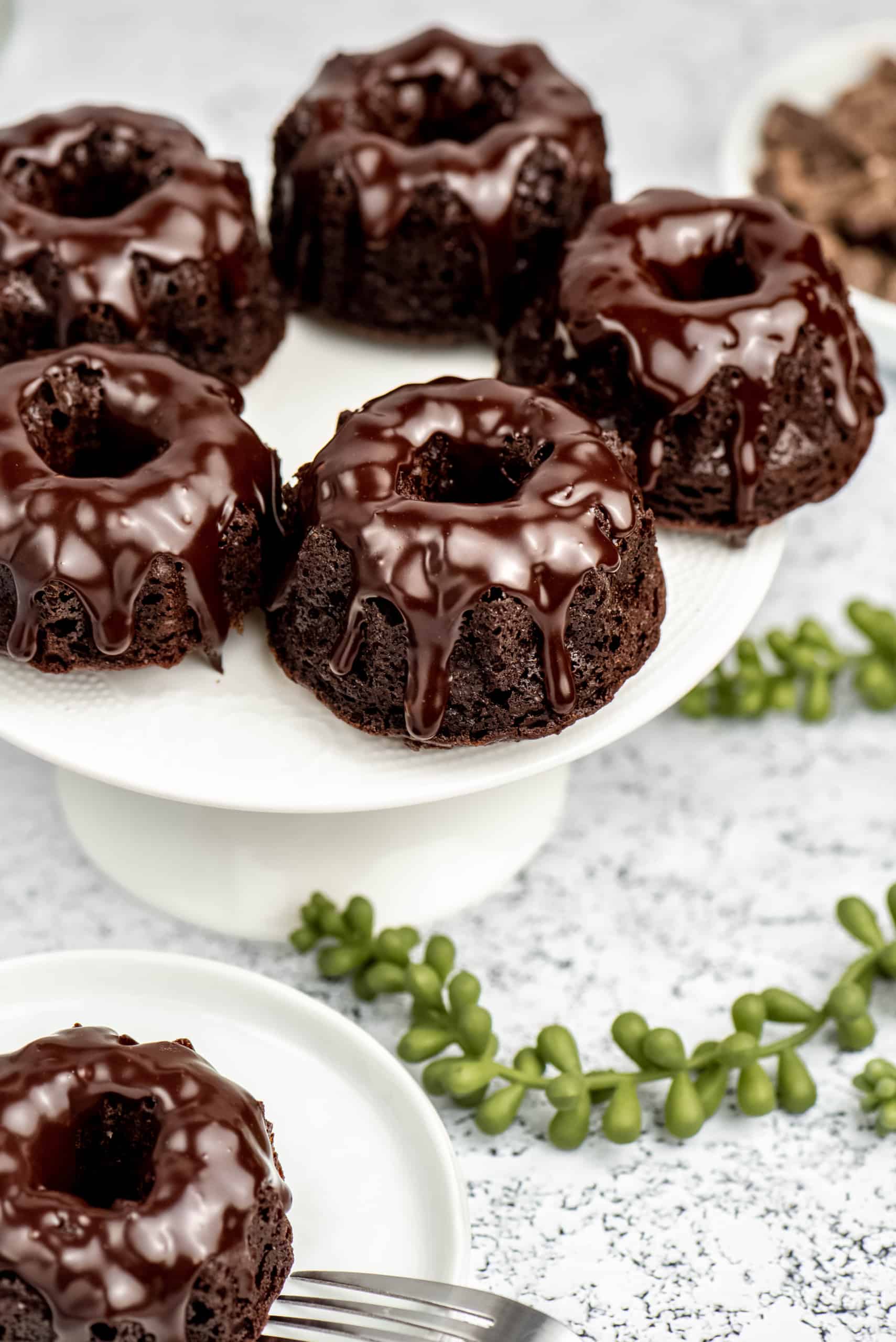 Can I make chocolate bundt cake ahead?
Yes. You can make these cute little cakes up to 3 days ahead. Simply store them at room temperature in an airtight container (so the cake part doesn't dry out).
How to store mini chocolate bundt cakes
Store cooled cakes in an airtight container at room temperature for up to 3-4 days.
Mini bundt cakes can also be frozen, although they freeze best if they don't have ganache or frosting on them already. Wrap tightly with plastic wrap then foil, and freeze for up to 3 months.
Thaw frozen cakes in microwave or at room temperature, then glaze with ganache before serving.
Check out these other delicious dessert recipes while you're here:
Recipe