These delicious double chocolate donuts are decadent and rich even though they are baked in the oven and not fried. The moist devil's food cake donuts are packed with chocolate flavor and loaded with a chocolate ganache frosting and a smattering of sprinkles. Yum!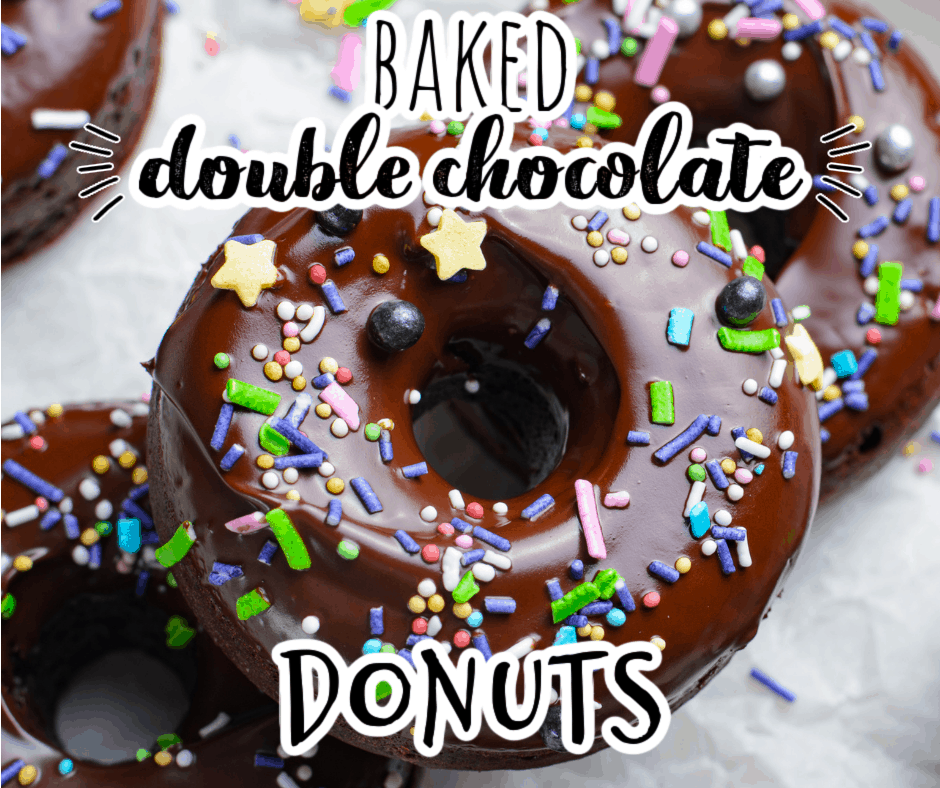 Donuts are one of my favorite desserts. Cooked well and topped with chocolate ganache glaze, donuts are moist and even better than cake. They are rich and dense and chewy and not quite as sweet as cake which makes them just all around better in my opinion.
A few weeks ago, I shared a recipe for Easter donuts which were double chocolate donuts, baked not fried, and they had chocolate eggs chopped up in the batter. They were so good, but my kids don't always want crunchy donuts, know what I mean? Especially my youngest who just got braces three weeks ago. She just can't handle anything crunchy. She says it makes her teeth hurt.
Chocolate donuts... YUM!
These donuts are so good because they have two different forms of chocolate in them: cocoa powder in the donut batter and semi-sweet chocolate chips in the ganache frosting. Together, they make a rich treat that kids and adults will devour.
I like this particular recipe because it goes really well with a glass of milk as an after dinner dessert, as a light and sweet breakfast, or even as an afternoon snack.
I won't claim that chocolate covered donuts are a healthy food, but they are much healthier than their deep fried cousins, so there's that. You can feel better about giving these to your kids.
How to make baked double chocolate donuts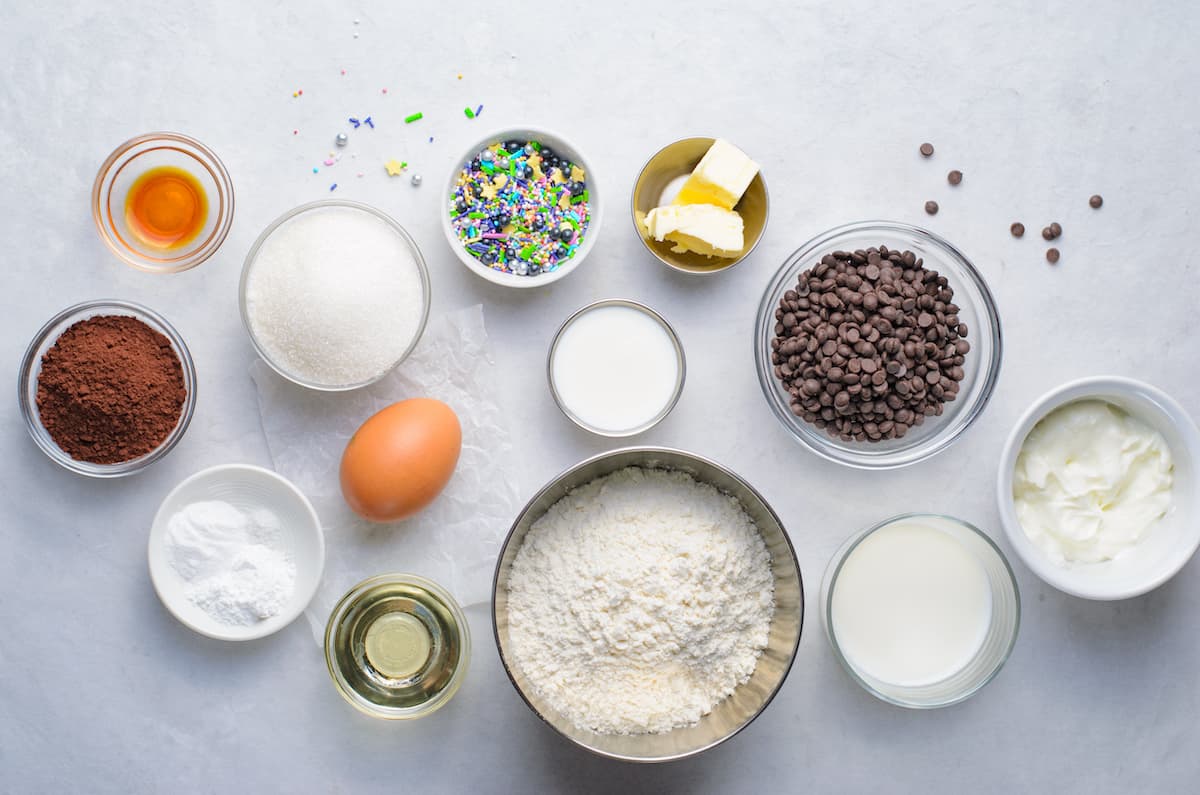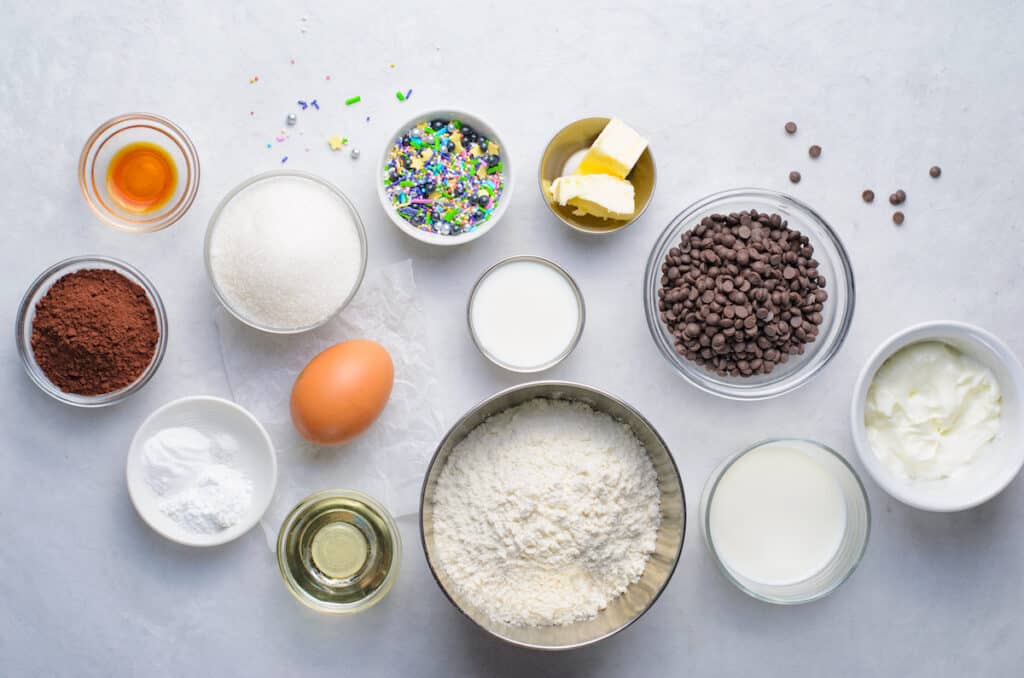 For the baked chocolate donuts
Preheat oven to 350ºF.
Prepare the donut pans with a generous amount of cooking spray (my preference), butter (best flavor), or shortening. Dust with cocoa powder. If using butter or shortening, turn the pan upside down over the sink and tap gently to knock any excess cocoa loose. (If you do this with cooking spray, it will run out into the sink and make a big mess.)
In a large bowl, whisk the flour, baking powder, baking soda, cocoa, and salt.

In a medium bowl, use a hand mixer to beat the egg with sugar.

Add yogurt, melted butter, milk, and vanilla extract and mix until combined.

Pour the wet ingredients into the dry ingredients. Mix until just combined. Do not overwork the batter.
.
Use a spoon or piping bag to fill donut cavities with batter ¾ way full.

Bake for approximately 10-12 minutes or until a toothpick comes out clean or with just a few crumbs. Allow donuts to cool for 10 minutes before flipping the pans upside down over a wire rack.

Cool completely before frosting. You can't frost a hot donut because the frosting will melt, run all over, and make a giant mess.
For the chocolate ganache glaze
While the donuts are cooling, prepare the chocolate ganache. Add heavy cream, butter, and chocolate chips to a microwave safe bowl and heat at full power in 20 second increments. After each increment, stir thoroughly for at least 30-45 seconds.
Allie and I learned that chocolate chips never lose their shape even when completely melted, so in order to get smooth melted chocolate, you have to stir stir stir. It should only take 3-4 rounds of 20 seconds in order to melt your chocolate completely. When the chocolate is smooth and creamy with no lumps, it is ready to frost the donuts.
Note – if the chocolate softens a bit but then gets hard or grainy, you have burned it. There is no way to recover burned chocolate, so you will have to trash it and start over.
Hold a donut upside down and dip in the ganache glaze.

Garnish as desired with sprinkles.

Return decorated donut to the cooling rack to set. Continue until all donuts are frosted and garnished, and allow chocolate ganache glaze to set before serving.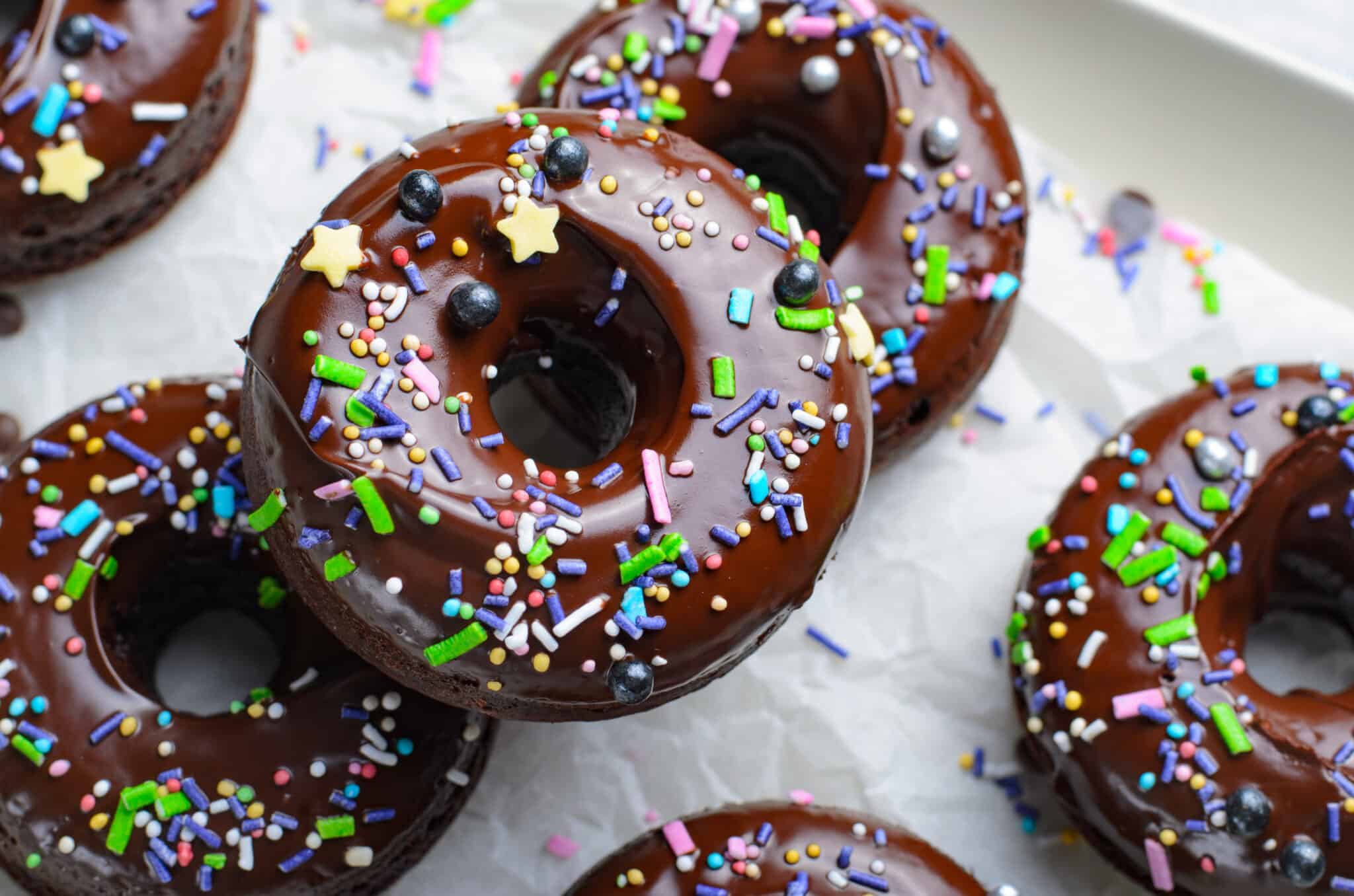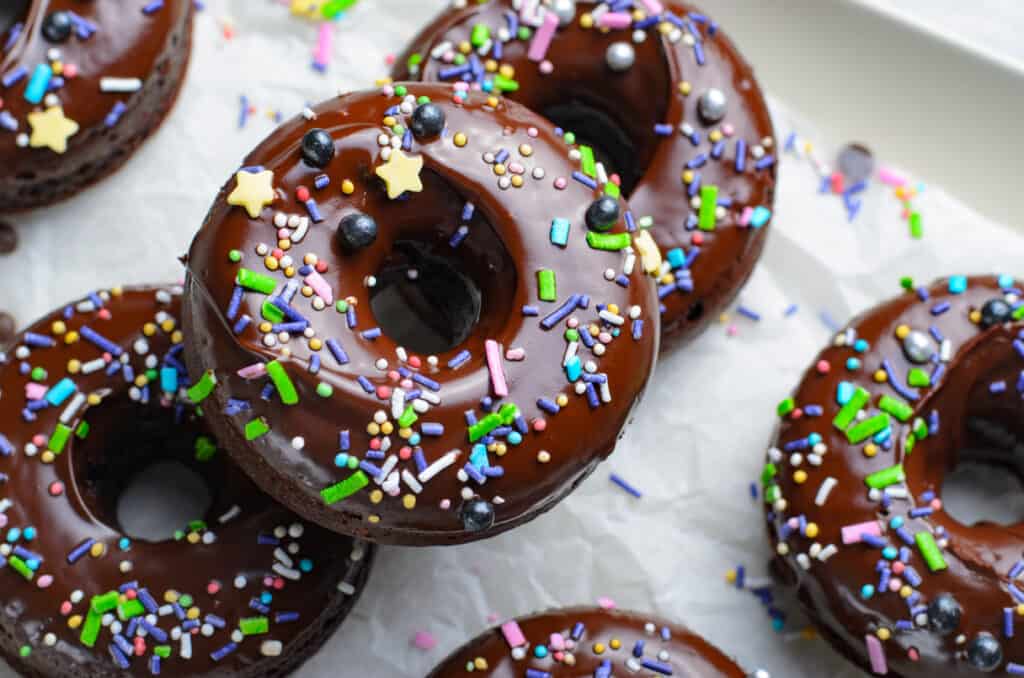 You will need a couple of donut pans for this recipe!
This recipe is super easy to prepare, but you do need some kind of donut pan. I have both a set of regular 3-inch donut pans from Wilton via Amazon and a set of mini donut pans from Pampered Chef, and they both work really nicely for this recipe. It just depends on whether you want regular size 3-inch donuts or itty bitty 2-inch donuts. They're all tasty.
Be sure to prepare your donut pan well to prevent donuts from sticking. I think most people would use flour to prepare the pan, but this will leave your chocolate donuts with white flecks all over them. I prefer to dust with cocoa powder when I am making chocolate baked goods. Cocoa powder can be a little bitter if you use too much, but you can always brush off any excess when you frost the donuts.
A piping bag makes it really handy and mess-free to fill the donut pans. No tip is needed if you use disposable bags; simply cut the tip of the bag a little higher than you normally would to leave a nice big opening to squeeze the thick batter down into the wells of the donut pan. No tip required unless you are using a reusable piping bag.
Tips for garnishing double chocolate baked donuts
Garnish donuts with sprinkles as soon as possible after frosting as the sprinkles will not adhere once the ganache is set.
You can add chocolate chips or any chopped candy to the batter or as a garnish. Any flavor of M&Ms, Reese's Pieces, even toffee bits or peanut butter chips would be nice. There are no limits on the variations you could use!
Storing homemade baked chocolate donuts
Store leftover donuts on the counter in an airtight container for 2-3 days – if they last that long!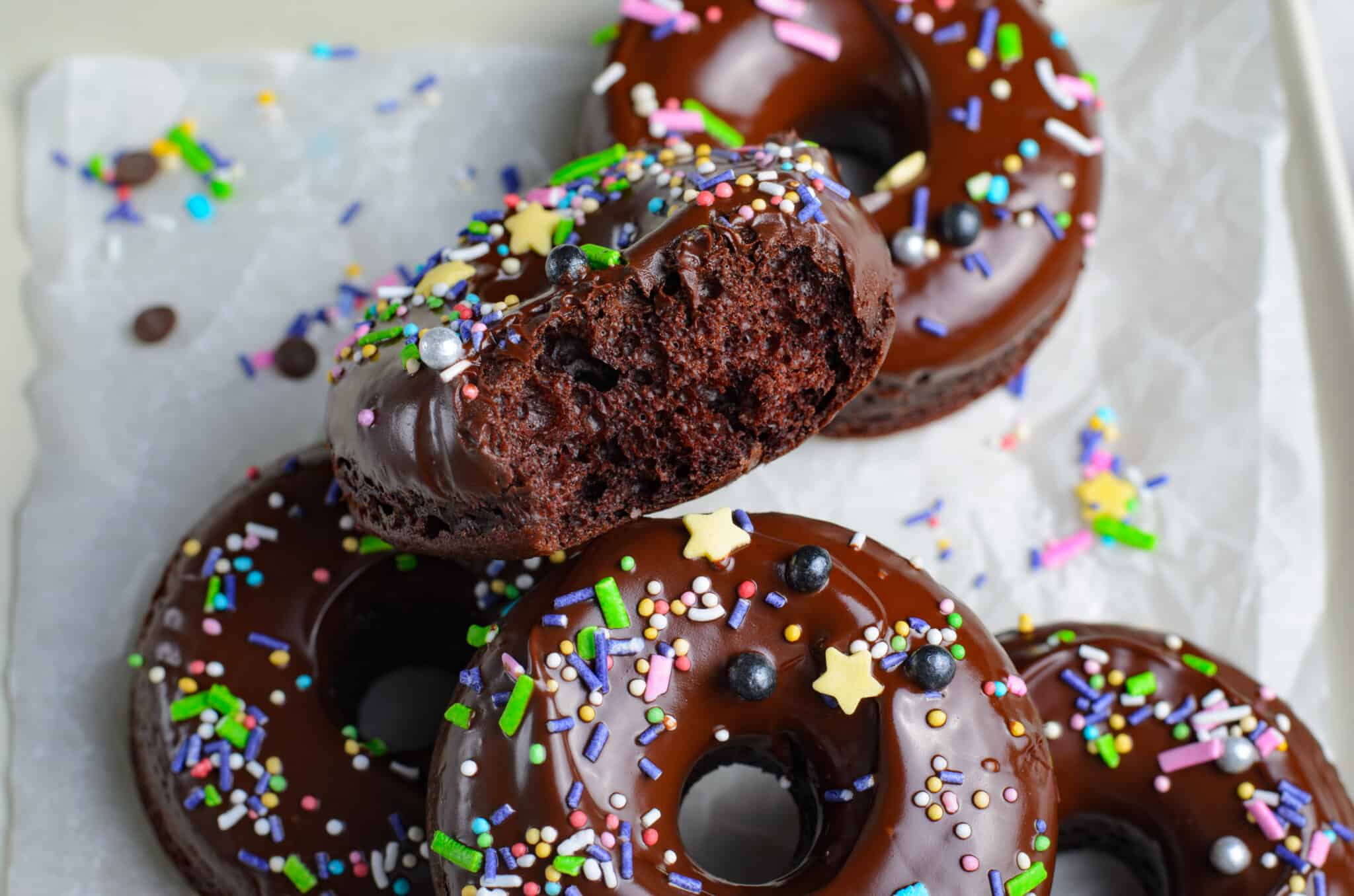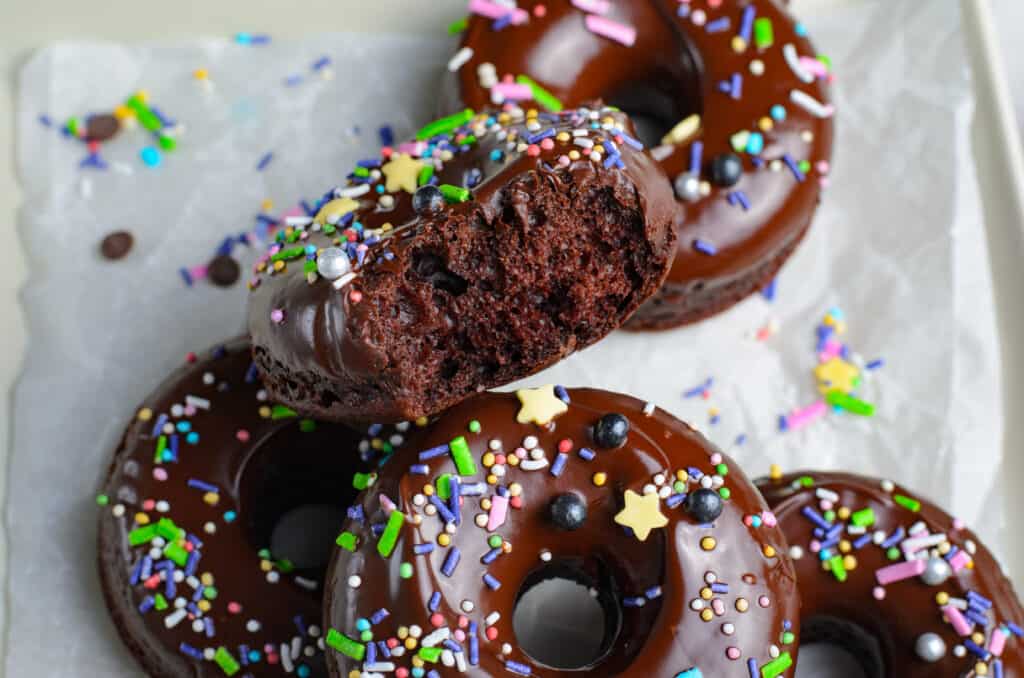 More donut goodness
Recipe