Learn how to make the best gluten-free glazed donuts with almond flour with this simple and easy recipe! Cake donuts can be delicious without frying; they can be baked in the oven for a healthier dessert. This is the best baked almond flour donut recipe and takes less than an hour to prepare in a special donut baking pan.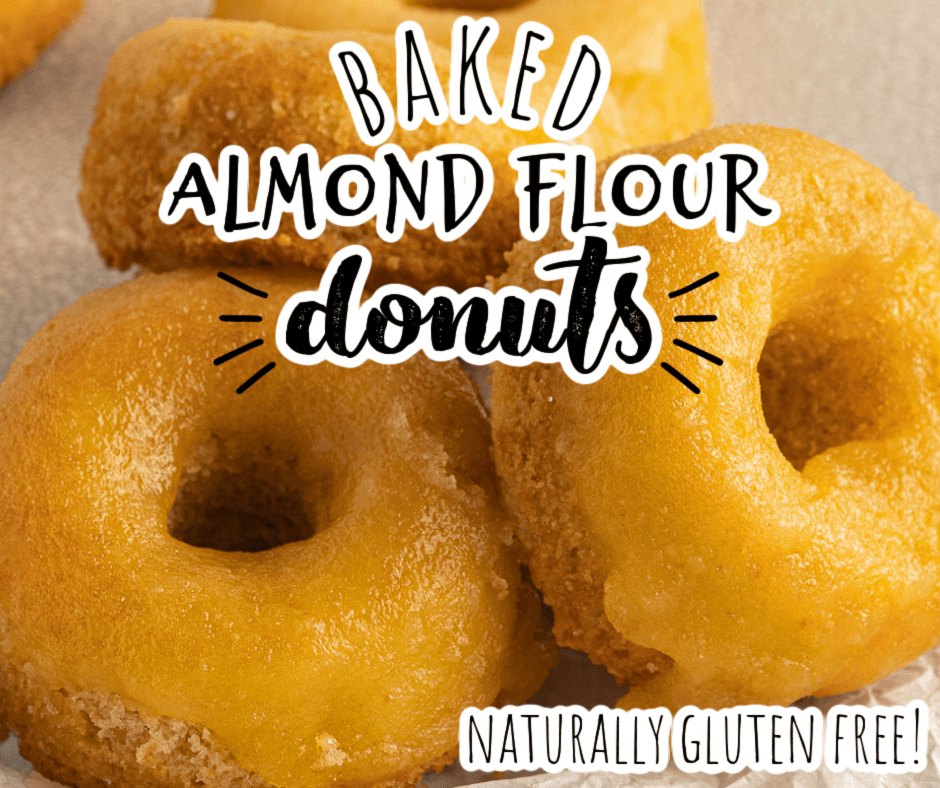 I have been sharing a lot of donut recipes lately because I love donuts. I know they aren't part of my high protein low carb diet plan, but sometimes I eat them anyway. They're just so darn tasty!
Donuts from the donut shop near my house are amazing, but they are also deep fried in grease which makes the carbs even worse. So I make my own donuts when I have the craving, and I bake my treats in the oven.
This particular donut recipe is made with almond flour instead of wheat flour. The almond flour makes the donuts completely gluten-free, but even more important than that, it gives the finished donuts a sweet, almost nutty flavor (being made of powdered almonds, this is not a surprise). Almond flour is a little more dense than wheat flour, so the finished donuts are heavier and also more dense, but they are really moist too, so the overall texture is really nice.
I will admit that these donuts aren't nearly as pretty as the double chocolate and vanilla donuts I have shared recently, but don't let that fool you. They are every bit as delicious!
In addition to looking a little different, these donuts are a little more fragile than wheat flour donuts. Gluten is sticky and makes baked goods hold together really nicely. Almonds are not as sticky and, though the donuts will hold their shape and not fall apart when you eat them, if you aren't careful, you can break them more easily than you can break wheat flour donuts. Be careful, and you will be fine.
Special Equipment Needed for Baked Donuts
Donut Pans
To make any baked donuts, you are going to need a couple of donut pans. There are typically 6 3-inch donuts to a pan, and most donut recipes make 12 donuts, so it is best to buy a 2-pan set right off the bat. Otherwise, you will spend half your life waiting for donuts to bake and cool so that you can bake the other half of the recipe.
I have both traditional 3-inch donut pans and mini donut pans, and they all work really well and make awesome donuts. I bought like 6 of the mini pans because they hold so little batter, and I hate waiting. I also have a double oven (life changer!), so take my excess with a grain of salt.
You can buy metal donut pans and silicone donut pans on Amazon. I highly recommend the metal ones for several reasons. It might seem that the silicone pans would be best because you can more easily peel the pan away from the donut, and that is true, but they aren't better.
First, non-stick metal pans, if well greased with butter or cooking spray, release very easily. I have never had to pry donuts out; they always just fall out when I turn over my pan. Second and more importantly, metal pans hold in the moisture and prevent dry donuts. Last, most recipes call for metal pans, and you will have to adjust the cooking times to get properly cooked donuts using silicone pans (which cook more quickly because they are thinner material). Just remember that, like cake, overcooked donuts are dry and not that pleasant, so use the heaviest metal pans you can afford and keep an eye on them.
Piping Bags
You can make this recipe without piping bags for sure. You could simply spoon the batter into the wells of the donut pan and smooth it out with a spoon. This method is messier and leads to donuts that don't have perfectly even tops, but they will still taste good. If you want perfectly round and smooth tops to your donuts, a piping bag (sometimes called a pastry bag) is a must.
I also suggest using a piping bag for icing the donuts, but this is purely personal preference. In my double chocolate donut recipe, I suggest dipping donuts upside down into the frosting. That method will work here as well, although it is messier than the piping bag method because your hands always end up in the frosting. Do whatever works for you.
To fill a piping bag, roll and gather the top part, turning it partly inside out as you go, as if you were putting on pantyhose. Place the tip of the bag down inside a tall glass and roll the inside out part down over the outside of the glass. The piping bag should have a nice, wide opening now with the point down inside the glass. You can spoon, pour, or scoop the batter and icing down inside the piping bag, and it won't make a giant mess.
Once you have the piping bag filled, put a mini Twixit clip over the top to prevent the batter/icing from leaking out the opening. Then, if you have to store the contents of the piping bag (for instance, if you got interrupted while icing the donuts and had to stop and come back later), simply put a second mini Twixit clip over the opening at the tip of the bag. The icing inside will stay nice and moist, because the Twixit clips will keep the whole thing airtight. I buy Twixit clips in bulk and don't know how anyone can cook without them.
I use a disposable piping bag because when I am done, I can throw the whole thing in the trash and not have to try to clean the bag.
Gluten-free donut ingredients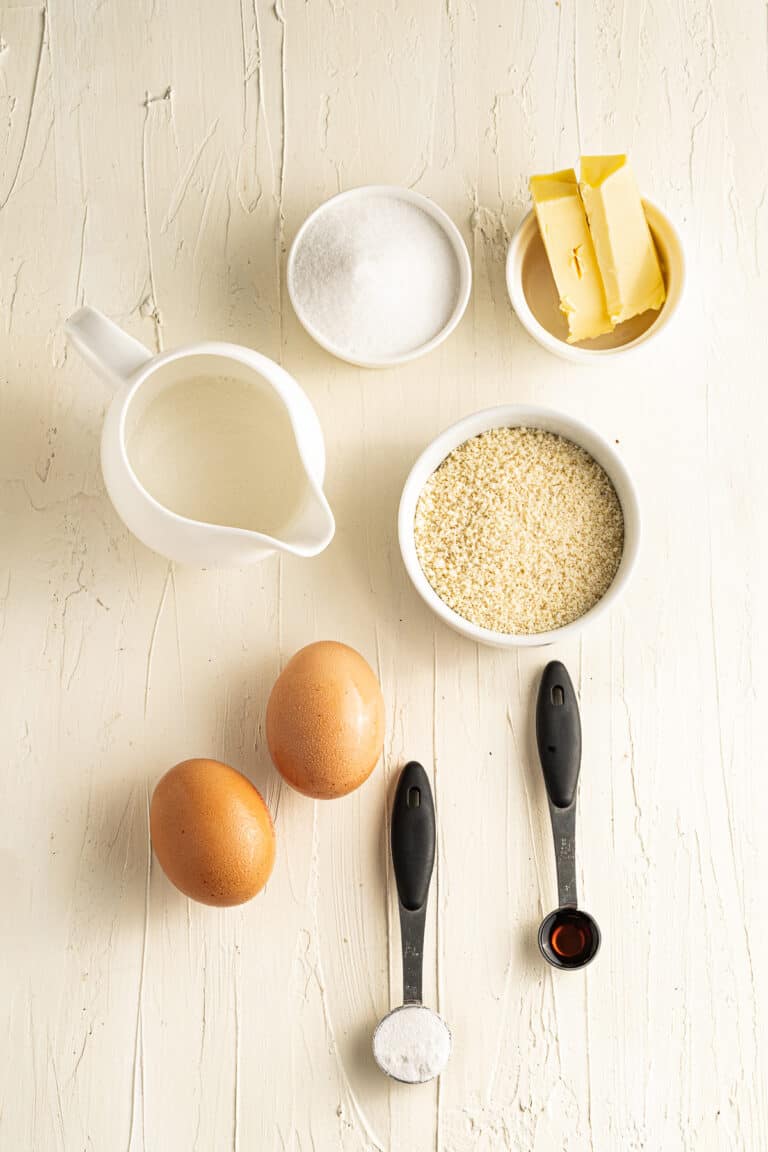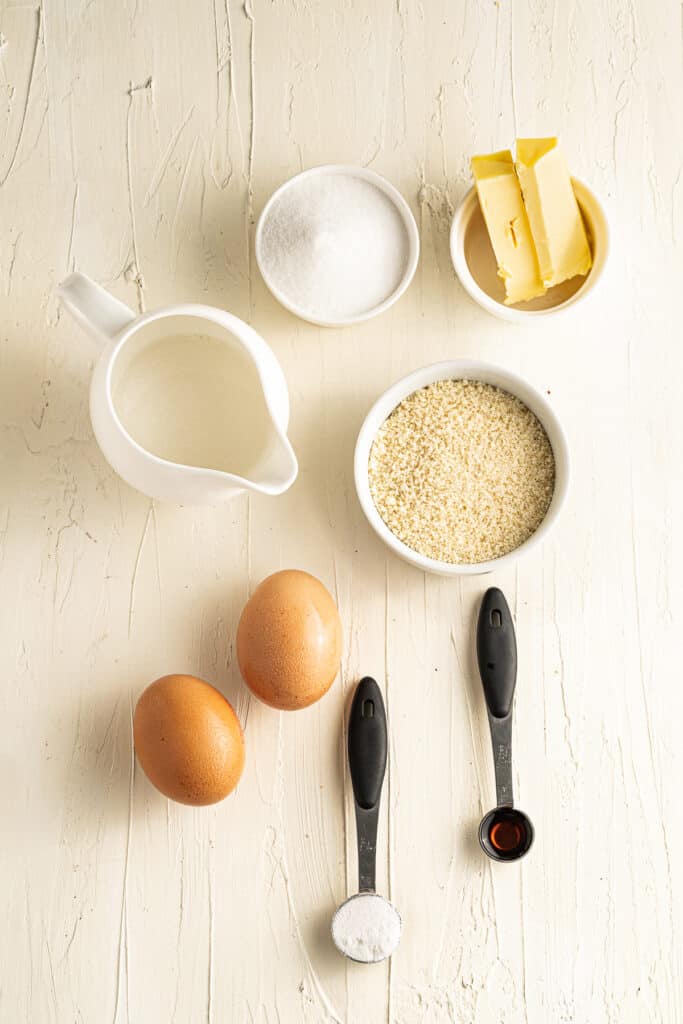 For the donuts
Almond flour - I love almond flour. I was first turned on to it when I was gluten-free for a couple of years, and I have loved it ever since. It gives baked goods a rich, dense, nutty flavor. Note that a different gluten free flour or gluten-free flour blend will give the donuts a very different flavor. I recommend sticking to almond and coconut flour in this recipe.
Sugar or monk fruit - Really, you could use any sweetener here. I use sugar.
Baking powder
Melted butter
Milk or milk substitute - This recipe is easy to make dairy-free. You can use almond milk, coconut milk, lactose-free milk, or any milk in a carton or jug, not a can
Eggs
Pure vanilla extract - I prefer vanilla from Mexico or Madagascar, but any real, pure vanilla is fine.
For the glaze
More melted butter
More sugar or monk fruit
More vanilla extract
Shredded sweetened coconut, optional
Shaved chocolate, optional
How to make gluten-free baked donuts with almond flour
For the donuts
Preheat oven to 350ºF.
Prepare the donut pans by spraying each well generously with cooking spray.
Use an electric mixer to beat the eggs in a large bowl. Add melted butter, sugar, vanilla, milk, and baking powder and blend in until combined.
Add almond and coconut flours and mix on low. Alternately, you can fold the flours into the dough with a spatula.
Fill a piping bag with batter (see note below for a tip). Fill each donut well about ¾ full.

Bake donuts for 20-25 minutes or until golden brown on top. Let them cool completely before removing from the pan.

Almond flour donuts tend to be a little more fragile than wheat flour donuts, so you have to be careful not to break them as you remove them from the pan. (That's why you leave them in the pan to cool completely; baked goods are more likely to break and crumble when they are hot or even warm.) A helpful trick is to use a very thin plastic scraper to lift each donut, tracing and lifting all the way around the well. (Definitely use only plastic if your donut pan is nonstick like mine.)
For the glaze
Add butter, sugar, and vanilla to a small saucepan over low heat. Stir until melted, about 2 minutes. If necessary, whisk to combine all the ingredients.
Working very carefully, hold each donut by the bottom and dip into the glaze. You can submerge it if you want or just dip the tops. Remove from the glaze, let the excess drain off, and immediately sprinkle with shredded coconut, powdered sugar, or shaved chocolate if desired. Set on a wire rack for the glaze to cool and set for a few minutes before serving.
Delicious gluten free doughnuts variations
Add 1 cup chopped candies like M&Ms to the batter before piping into the donut pan
Add 1 cup Fruity Pebbles to the batter before piping into the donut pan
Add 1 cup chopped nuts to the batter before piping into the donut pan
Add 1 cup chocolate chips to the batter before piping into the donut pan
Add 1 cup blueberries or raspberries to the batter before piping into the donut pan
Add 1 cup chopped apples, peaches, or pears to the batter before piping into the donut pan, and add ¼ teaspoon of cinnamon or apple pie spice to the dry ingredients as well
Add some spice – You could add pumpkin pie spice, apple pie spice, nutmeg, cinnamon, cardamom, ginger, or cloves (though not all at the same time!).
Add an extract – I love almond extract and add it to a lot of baked recipes. I would still add the vanilla and just make this an addition.
Finish with the chocolate ganache glaze from the double chocolate donuts recipe or the vanilla glaze from the vanilla cake donut recipe.
Melt ¼ cup of dark chocolate chips with the other glaze ingredients for a chocolate coating.
Instead of glazing the donuts, brush them with melted butter and immediately dip into a shallow pan of cinnamon sugar (1 cup sugar to 1 tablespoon cinnamon)
How to store this gluten-free donut recipe
You can store these in an airtight container in the refrigerator for up to 5 days. They will get stale quicker in the fridge, but it will also prevent them from getting moldy.
I have some shallow rectangular containers from Tupperware that are perfect for donuts because you have to store them in a single layer to prevent the glaze from getting messed up.
More donut goodness
Recipe