No one will know these are vegan donuts! They are so soft and cake-y and perfect - and they are made with normal ingredients from the grocery store! The perfect chocolate donut base for any topping, these are delicious with chocolate ganache glaze.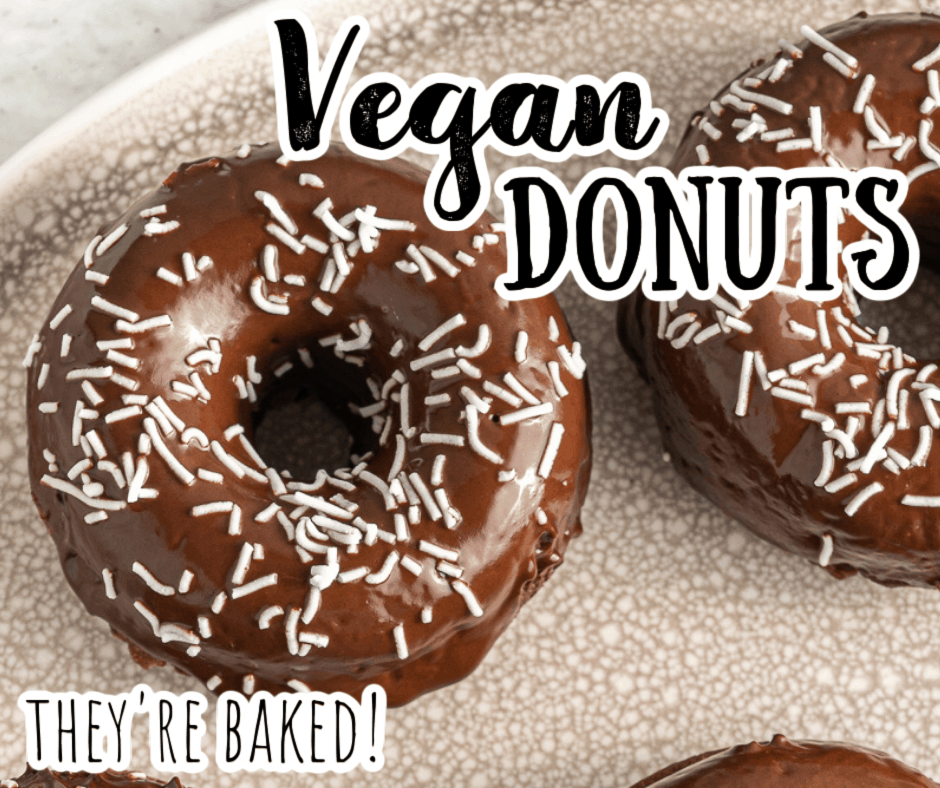 These donuts are so good, and you will not believe they're vegan. They have a soft, cake-like consistency almost like a brownie, and they are moist and dipped in smooth dark chocolate.
These donuts are baked instead of fried which makes them lower in fat. They're also dairy free, egg free, and packed with flavor!
I know some people think it's an abomination to bake donuts instead of frying them, but with the right tricks and a rich chocolaty glaze, you'll love this healthier version!
I'm pretty sure you'll also love these candy-filled chocolate donuts, vanilla donuts, coffee cake donuts, and yeast donuts. They are all baked and all delicious. You should check them out.
What you need to make baked vegan donuts
You'll need some kind of donut pan or mini donut pan to make these. I have used both silicone and metal pans and prefer the metal ones. But the silicone ones are okay and will work as well.
If you don't have a donut pan and don't want to buy one, you could make muffins with this batter. Vegan chocolate muffins are just as good as vegan chocolate donuts, right?
Ingredients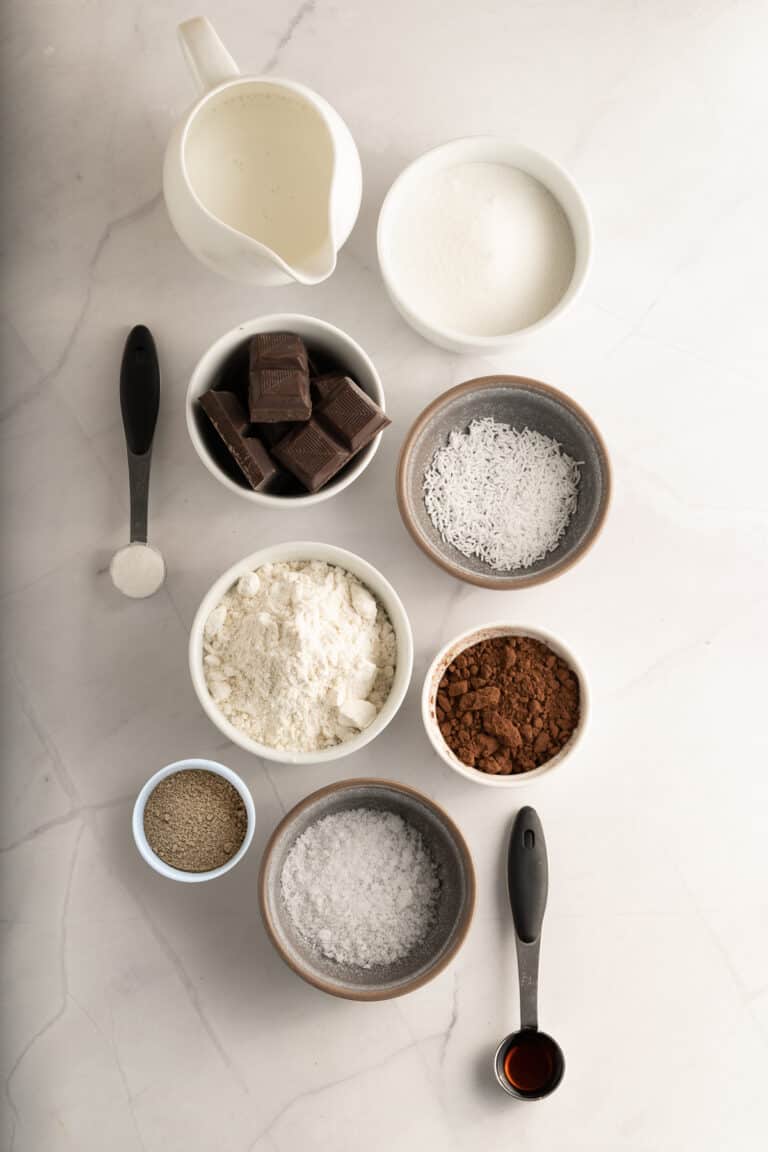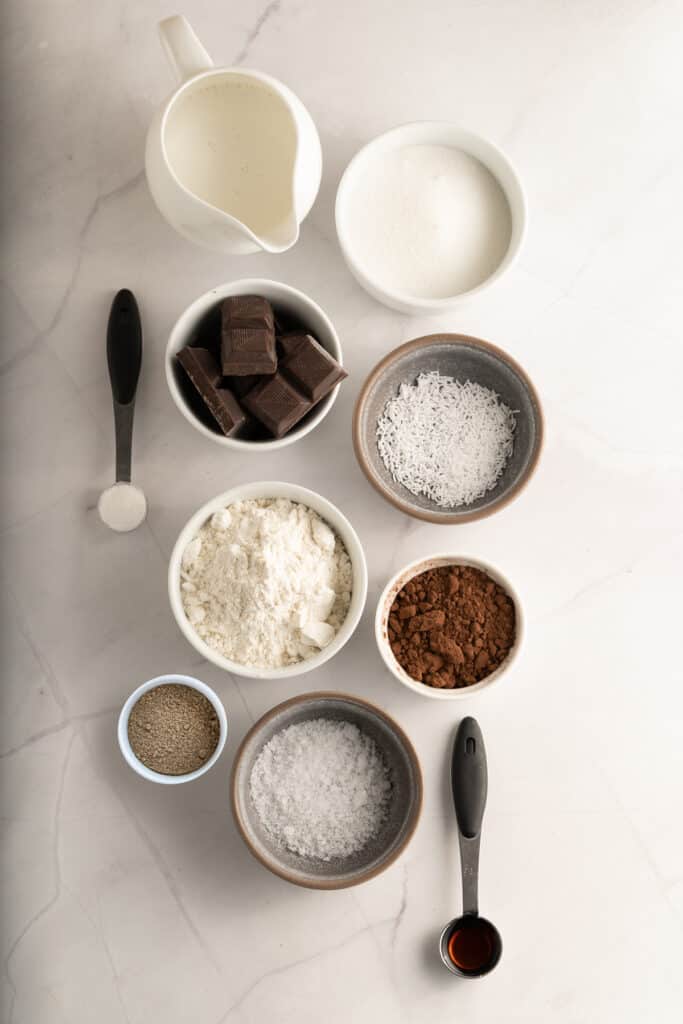 For the donuts
Flaxseed meal
Water at room temperature
Vegan butter
Almond milk - sweetened or unsweetened will work equally well
Vanilla bean paste - I have started using vanilla paste a lot of the time, and I love it way better than vanilla extract. The paste actually has little flecks of vanilla beans in it, and it has a richer, more robust and sweet vanilla flavor. If you don't want to use paste, you can use an equal amount of vanilla extract.
Baking powder
White sugar
All purpose flour
Salt
For the chocolate glaze
Dark chocolate chips
Coconut oil - The solid, heart-healthy kind.
Sprinkles - These are optional. You could also use peanuts, shredded coconut, or shaved chocolate in place of sprinkles.
INSTRUCTIONS
Preheat the oven to 350ºF.
Mix the flaxseed meal with water and let it sit for five minutes.
Place melted butter, almond milk, vanilla extract, baking powder, and sugar in a medium bowl. Whisk well.
Whisk together cocoa powder, flour, and salt in a small bowl.
Add dry ingredients and flaxseed mixture to wet ingredients. Stir to combine.

Grease donut molds with cooking spray or melted vegan butter. Add batter to donut wells until ¾ full.

Bake for 15 minutes or until a toothpick comes out clean.

Let donuts cool completely before removing from the donut pans. They are fragile when warm and break very easily. When the donuts are cool, use a thin plastic knife to loosen the edges of each donut.
Add the chocolate and coconut oil to a microwave safe bowl and heat in 20-second increments, stirring for at least 30 seconds after each burst, until mixture is smooth.

Hold each donut by the top, dipping into the melted chocolate. Top with sprinkles immediately, before the chocolate sets. Let chocolate set for a few minutes before serving.

How to store vegan donuts
These donuts are a little more fragile than traditional donuts. Store them in an airtight container in the refrigerator for up to 5 days or in the freezer for up to 2 months.
Variations
These are delicious sprinkled with chopped peanuts, shredded coconut, or chocolate shavings on top.
More donut goodness
Recipe