This is the best yeast donut recipe ever! You will get perfect doughnuts every time with this easy step by step recipe. Includes instructions for how to make baked yeast donuts and yeast donuts that are fried in oil.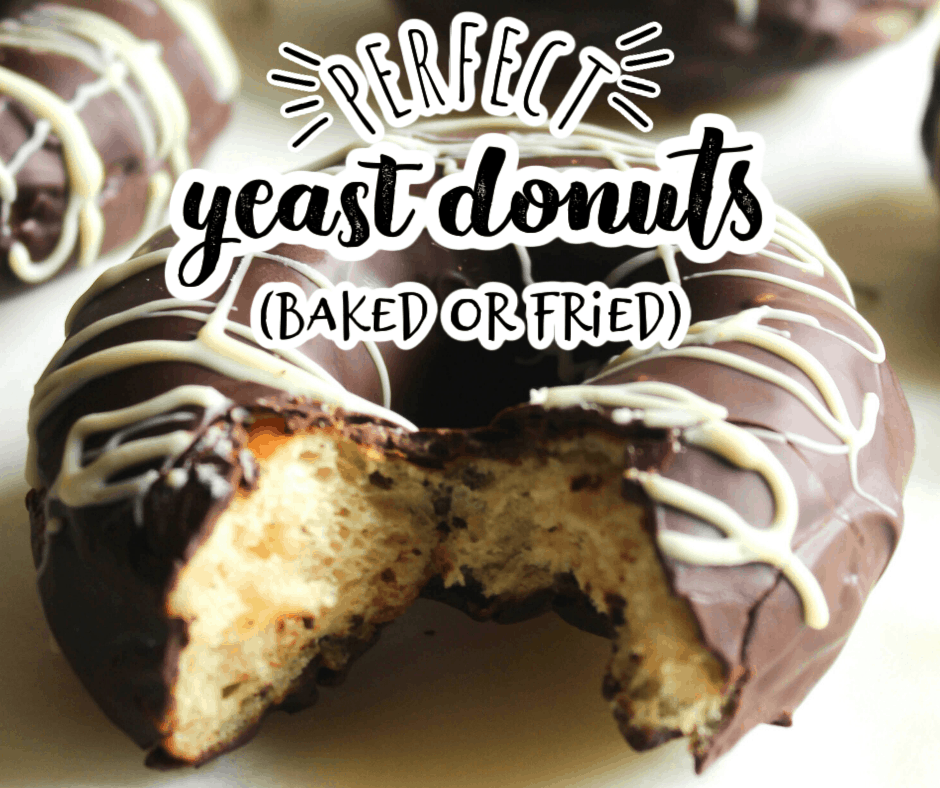 I am so excited to be continuing my donut series with perhaps the most ubiquitous donut of all: the yeast donut.
This is the base donut that is often glazed with a sugar glaze and served plain, but I kicked it up a notch and dipped it in chocolate for a giant version of the Tastycake chocolate covered donuts we have in our grocery stores in central Pennsylvania. (Are Tastycake donuts available outside of this area? I'm not sure.)
Anyway, zebra donuts are apparently a thing, so I went ahead and added some white chocolate strips to the donuts to make them a little fancier. But they are completely optional, and the donuts would be just as good without them (although not quite as pretty).
What you'll need to make yeast donuts
This recipe is pretty easy, so don't be intimidated by all the steps. You can do it!
Equipment
Ingredients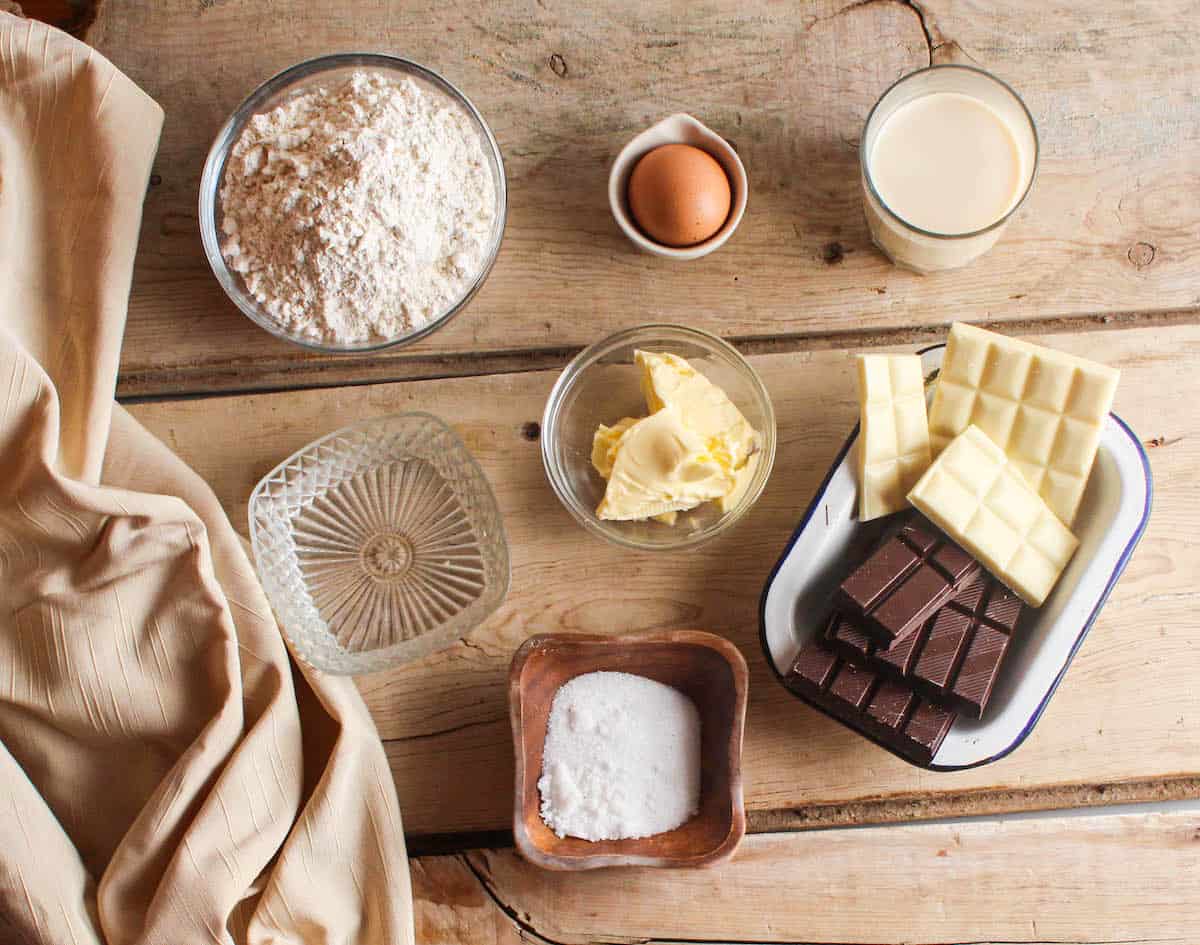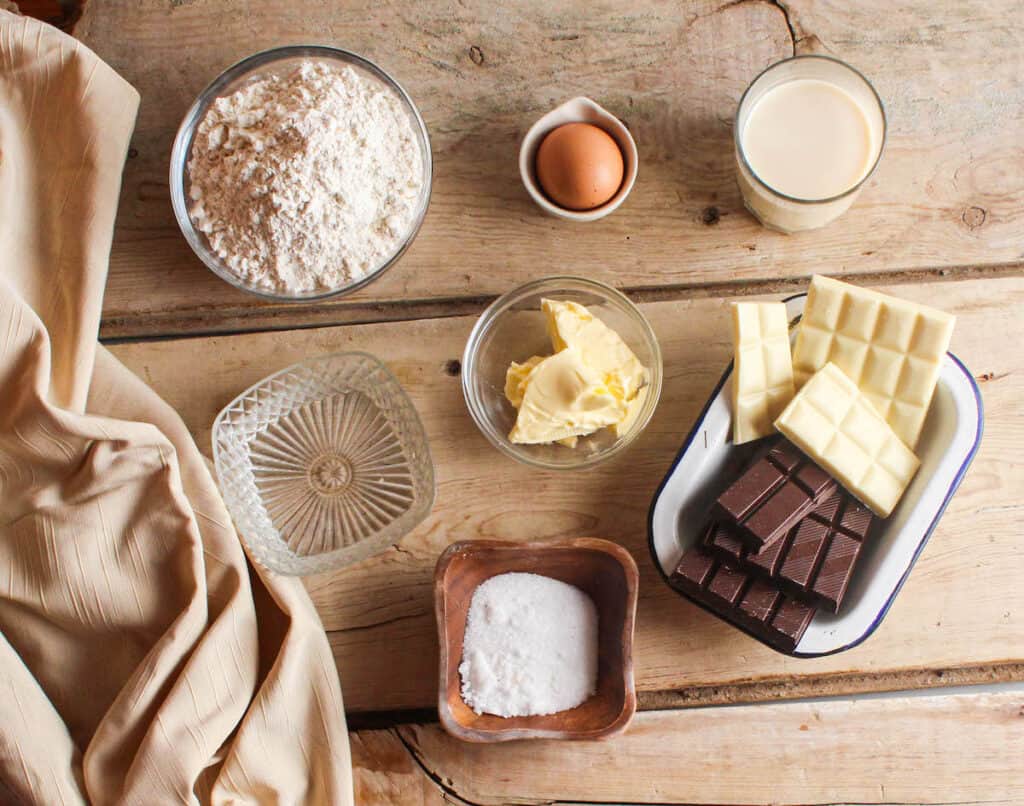 For the donuts
4 cups flour - All purpose flour is fine.
5 tablespoons sugar
1 tablespoon instant dry yeast - This is more than 1 packet, but less than 2 packets. You'll have to measure.
3 tablespoons butter - It doesn't matter whether it's salted or unsalted.
1 large egg
10 tablespoons milk or non-dairy milk as desired - This is ½ cup + 2 tablespoons.
½ cup water
½ teaspoon salt
For the chocolate glaze
14 ounces dark chocolate - Chocolate chips are best, but you could also use chocolate wafers or almond bark. If you're using a block or brick of chocolate, be sure to break or cut it into 1-inch chunks. Otherwise, it will burn before it melts.
3 ounces white chocolate - Same as above.
How to make the donuts
For the donuts
Measure & mix the dry ingredients. Add the flour, sugar, and dry yeast to a medium bowl and whisk together by hand.
Measure & mix the wet ingredients. Add the butter, egg, milk, water, and salt to the bowl of a stand mixer and combine using the paddle attachment.
Add the dry ingredients to the wet ingredients and mix well with the paddle.
Knead the dough until it is no longer sticky. Using the dough hook attachment, knead the dough for 10 minutes.If you don't have a stand mixer with a dough hook, knead by hand until the dough is firm and no longer sticky. This will take at least 10 minutes, possibly longer. To knead by hand, you should flour the surface, your hands, and the dough, then push the dough down and away from you then fold it in half. Repeat this process over and over, adding flour as needed to prevent sticking, until the dough is firm and no longer needs flour to prevent stickiness.
Proof the dough. As soon as the dough is ready, shape it into a ball and place it in a bowl at least twice its size (it will double in size during the next two hours). Cover the dough with plastic wrap or a damp, clean kitchen towel. (Covering is very important so that the dough doesn't dry out.)

Roll the dough into a thin sheet. After the dough has doubled in size, turn it out on a floured surface and roll with a rolling pin until it is ½-inch thick.
Cut out the donuts. Use a 3-inch round biscuit cutter to cut as many donuts as possible from the dough. Use a 1-inch cutter to remove the center hole from the middle of each donut.

Use the dough scraps. Smash the remaining dough and donut holes together and re-roll to a ½-inch thickness. Continue cutting donuts from the scraps until all the dough has been used.
Let the dough rest & rise again. Once you have cut all the donuts, lay them on parchment paper and cover with plastic wrap or a damp kitchen towel. Leave them to rise for 30 minutes to an hour. After they have doubled in size again, they are ready to cook. Don't let them sit for longer than an hour because they will start to dry out and won't rise properly during cooking.

Cook the donuts. At this point, you can either bake or fry the donuts. Frying in hot oil will make the donuts light and fluffy, similar to donuts you would buy in a donut shop or bakery. Baking will make the donuts a little more dense and cake-like, and they will be more like sweet rolls in texture and flavor. Both are delicious, but there are definitely differences.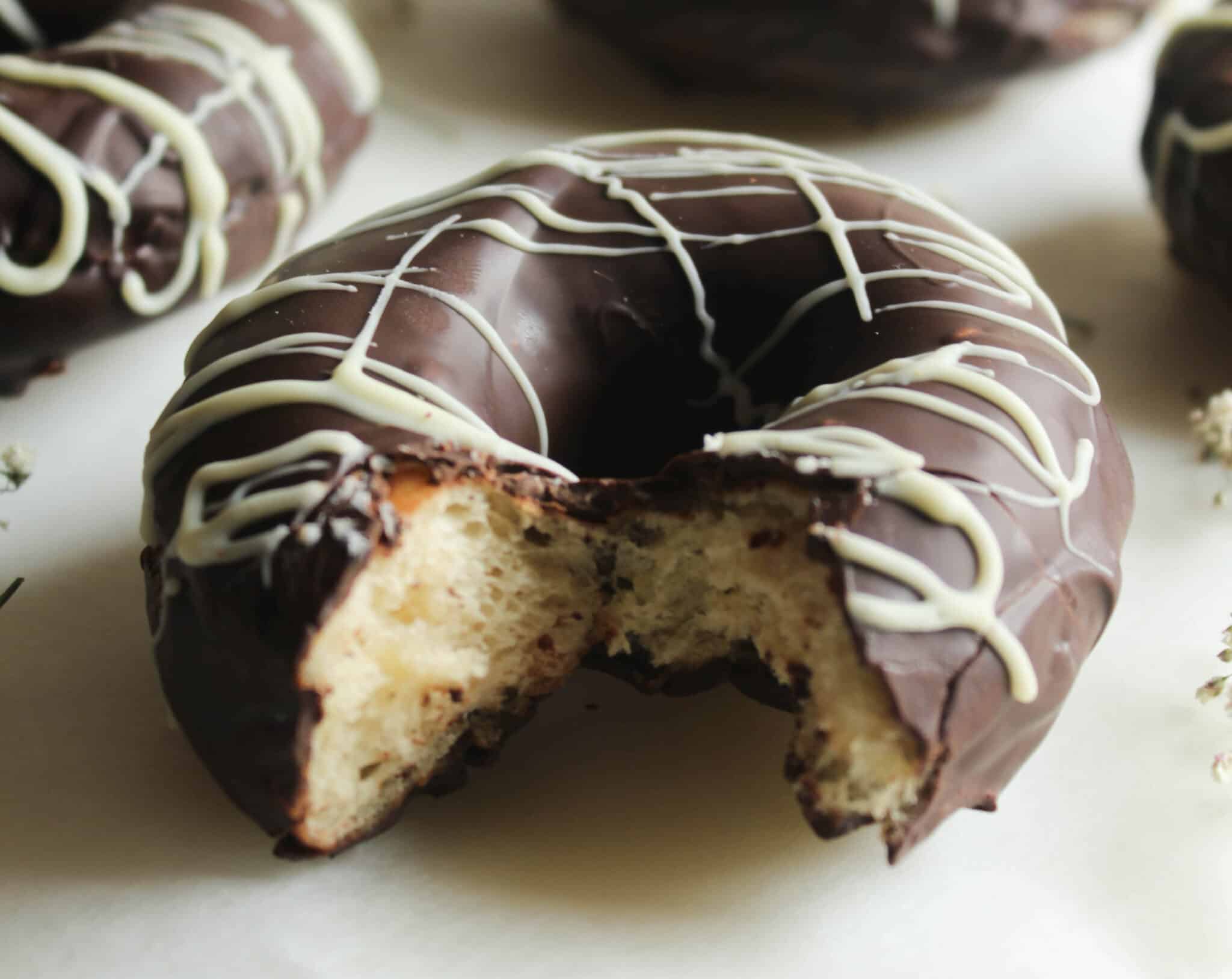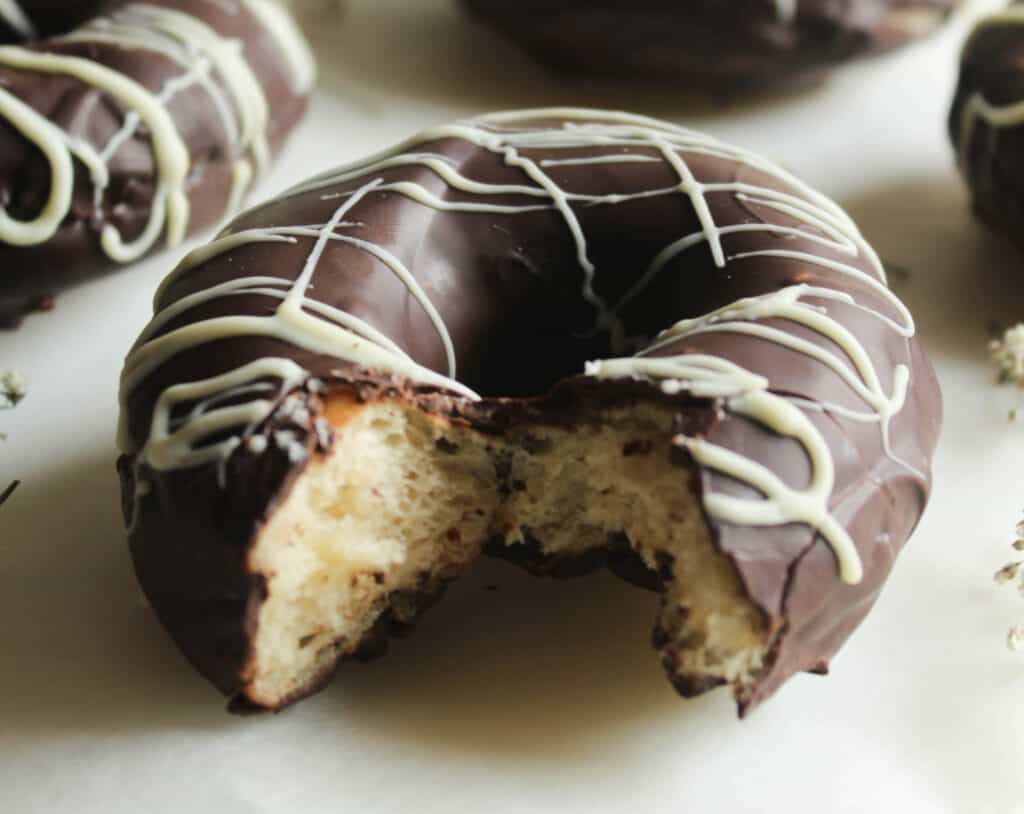 To fry the donuts
Heat 2 cups of oil heat in a medium skillet over medium-low. There should be enough room in the skillet for 2 donuts to fry at the same time, taking into account that the donuts will grow in the oil.
Test the oil by dropping a pea-sized bit of dough in. If it immediately bubbles, the oil is ready.
Fry the donuts for 1-2 minutes on each side or until evenly golden brown.
To bake the donuts
For a healthier version of the donut, bake in the oven instead of frying.
Pre-heat the oven to 400ºF.
Line a baking sheet with parchment paper and place the donuts in rows, remembering that they will double in size while baking.
Bake for 10 to 15 minutes, turning halfway through, until they are evenly golden brown.
After the donuts have cooked, you will have to let them cool to room temperature.
You can glaze the donuts with a traditional clear sugar glaze if you want, but they are also delicious with a chocolate glaze.
For the chocolate glaze
If using a block of chocolate, break or cut it up into 1-inch pieces. Place the dark chocolate in a microwave-safe bowl larger than the donuts. Heat in the microwave in 20-second increments, stirring for at least 30 seconds after each time. When the chocolate is completely smooth, you are ready to move on to the next step.
Dip each donut in the melted chocolate. Place donut on parchment paper to cool and harden. If you're in a hurry, you can line a wire rack or baking sheet with parchment and then transfer the donuts to the fridge to harden the chocolate faster.
If desired, after the chocolate on the tops has hardened, you can dip the bottoms of the donut in the chocolate glaze as well. If the chocolate in the bowl has become too thick, you may need to reheat it in 20 second increments to get it liquid again. Don't forget to stir very well in between heating bursts.
Melt the white chocolate in the same way you melted the dark chocolate. Add melted white chocolate to a piping bag, cut off the tip, and drizzle over the hardened dark chocolate donuts. Allow to cool and harden before serving. (Again, this can be done on the counter or in the refrigerator.)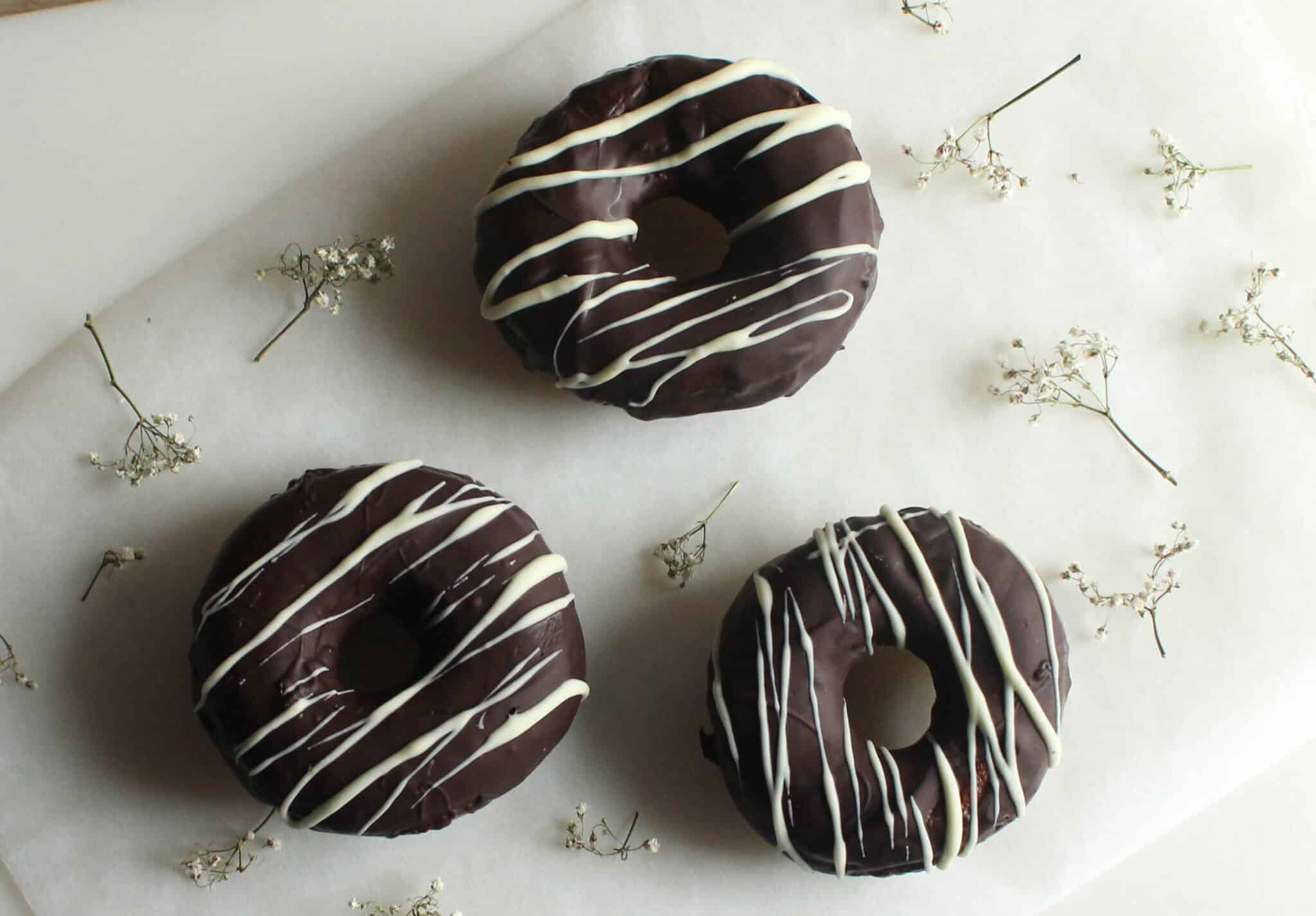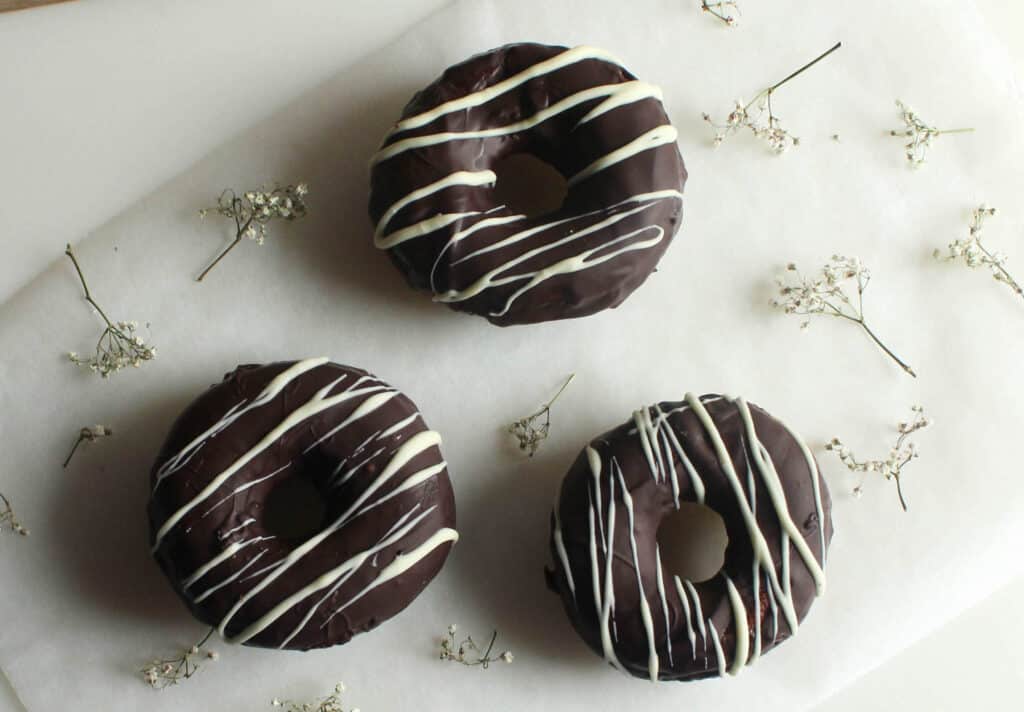 More donut goodness
Recipe