Learn how to make the best vanilla cake donuts with this simple and easy recipe! Donuts can be delicious without frying; they can be baked in the oven for a healthier dessert. This is the best baked donut recipe and takes less than an hour to prepare in a special donut baking pan.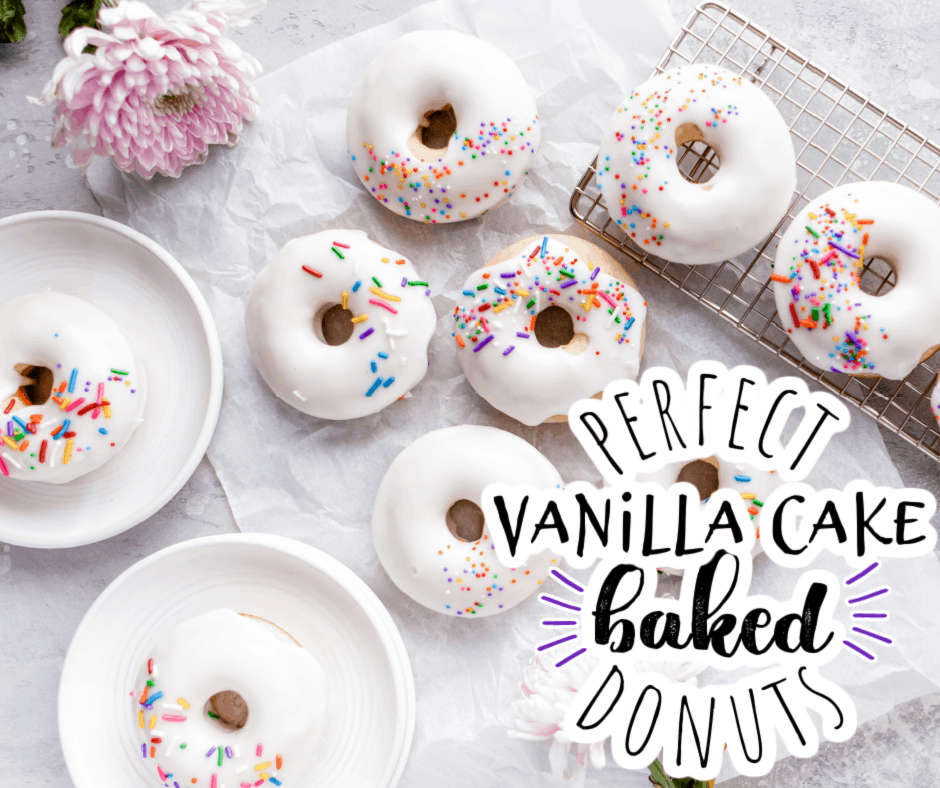 My family loves donuts, and we have been experimenting with many different kinds of donuts, both baked in the oven and fried in oil, though we seem to prefer the baked ones. I mean, don't get me wrong - the fried ones are amazing, but the baked ones are almost as good with a cake-like texture and are so much healthier and less guilt-inducing.
This recipe is for vanilla cake donuts with vanilla glaze, but I've also shared baked double chocolate donuts and baked candy-filled donuts. Both of those are delicious, so take a look. They definitely give the donut shop a run for their money.
Special equipment needed for any baked donuts
Donut pans
To make any baked donuts, you are going to need a couple of donut pans. There are typically 6 3-inch donuts to a pan, and most donut recipes make 12 donuts, so it is best to buy a 2-pan set right off the bat. Otherwise, you will spend half your life waiting for donuts to bake and cool so that you can bake the other half of the recipe.
I have both traditional 3-inch donut pans and mini donut pans, and they all work really well and make awesome donuts. I bought like 6 of the mini pans because they hold so little batter, and I hate waiting. I also have a double oven (life changer!), so take my excess with a grain of salt.
You can buy metal donut pans and silicone donut pans on Amazon. I highly recommend the metal ones for several reasons. It might seem that the silicone pans would be best because you can more easily peel the pan away from the donut, and that is true, but they aren't better.
First, non-stick metal pans, if well greased with butter or cooking spray, release very easily. I have never had to pry donuts out; they always just fall out when I turn over my pan. Second and more importantly, metal pans hold in the moisture and prevent dry donuts. Last, most recipes call for metal pans, and you will have to adjust the cooking times to get properly cooked donuts using silicone pans (which cook more quickly because they are thinner material). Just remember that, like cake, overcooked donuts are dry and not that pleasant, so use the heaviest metal pans you can afford and keep an eye on them.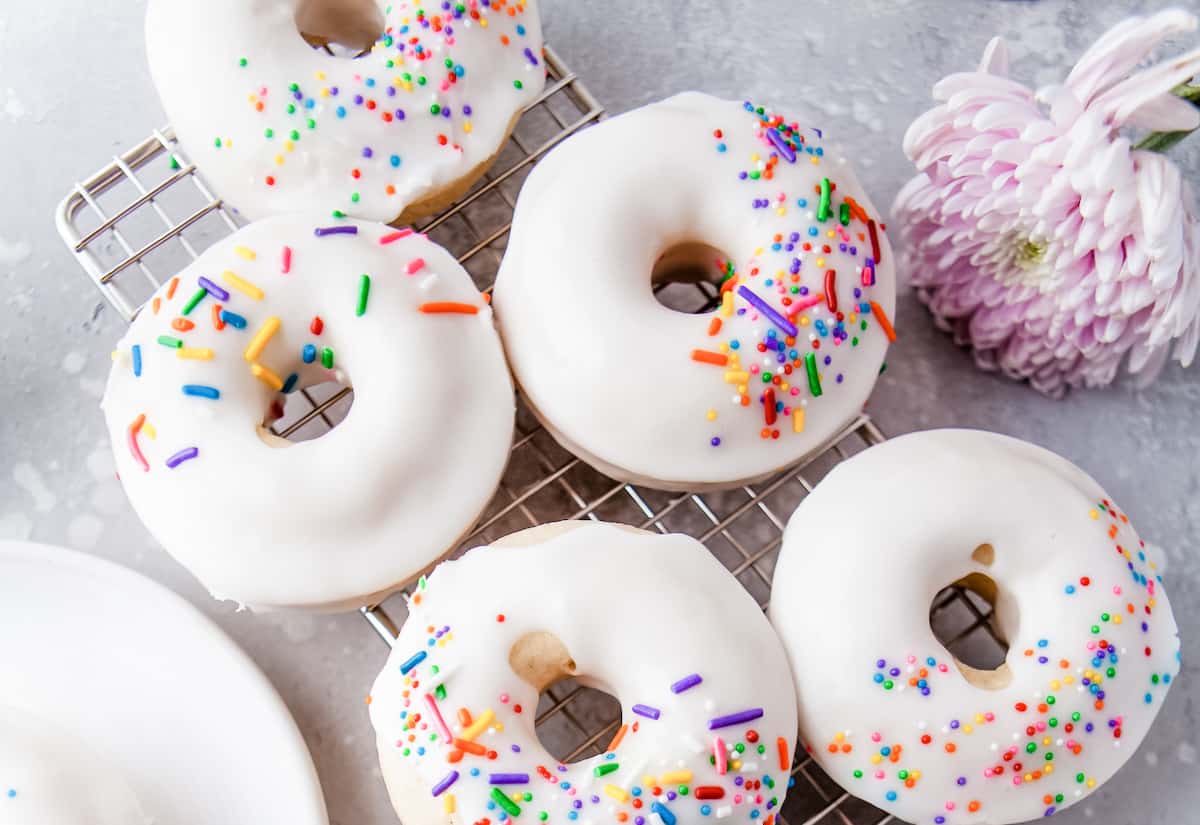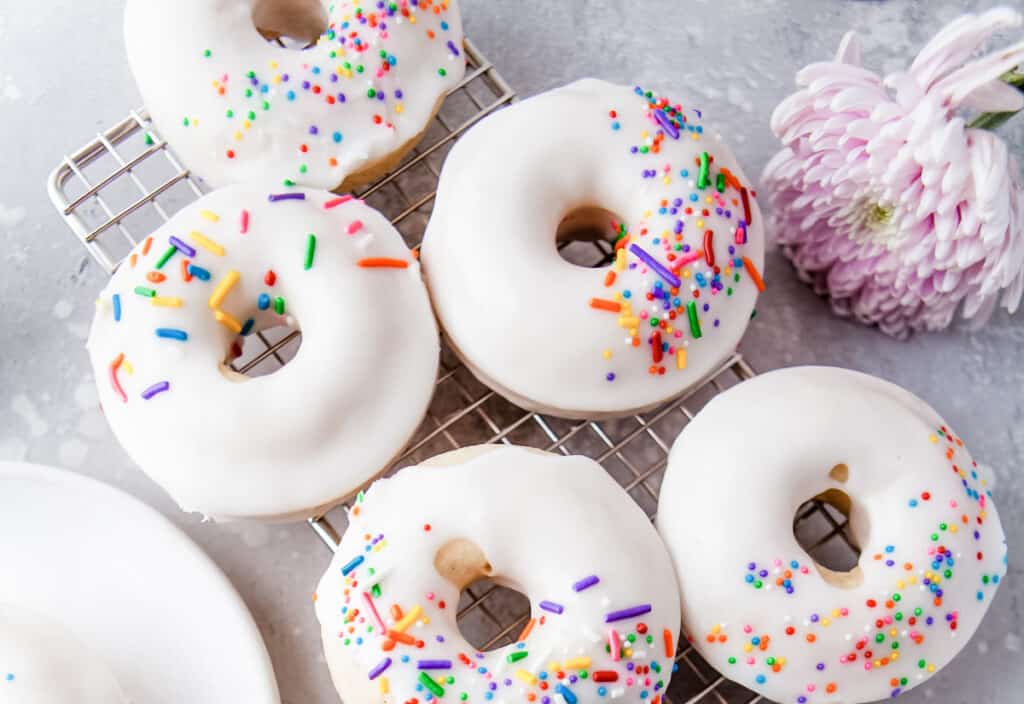 Piping bags
You can make this recipe without piping bags for sure. You could simply spoon the batter into the wells of the donut pan and smooth it out with a spoon. This method is messier and leads to donuts that don't have perfectly even tops, but they will still taste good. If you want perfectly round and smooth tops to your donuts, a piping bag (sometimes called a pastry bag) is a must.
I also suggest using a piping bag for icing the donuts, but this is purely personal preference. In my double chocolate donut recipe, I suggest dipping donuts upside down into the frosting. That method will work here as well, although it is messier than the piping bag method because your hands always end up in the frosting. Do whatever works for you.
To fill a piping bag, roll and gather the top part, turning it partly inside out as you go, as if you were putting on pantyhose. Place the tip of the bag down inside a tall glass and roll the inside out part down over the outside of the glass. The piping bag should have a nice, wide opening now with the point down inside the glass. You can spoon, pour, or scoop the batter and icing down inside the piping bag, and it won't make a giant mess.Once you have the piping bag filled, put a mini Twixit clip over the top to prevent the batter/icing from leaking out the opening. Then, if you have to store the contents of the piping bag (for instance, if you got interrupted while icing the donuts and had to stop and come back later), simply put a second mini Twixit clip over the opening at the tip of the bag. The icing inside will stay nice and moist, because the Twixit clips will keep the whole thing airtight. I buy Twixit clips in bulk and don't know how anyone can cook without them.I use a disposable piping bag because when I am done, I can throw the whole thing in the trash and not have to try to clean the bag.
Mixer
I suggest you use either a stand mixer or an electric hand mixer to make the donut batter. Yes, your grandmother, if she made donuts, probably made them without a mixer, but in 2021, there is absolutely no reason to kill yourself like that. I have both a stand mixer and an electric hand mixer, and I use the hand held one so much that I never put it away. The stand mixer is nice, and I do use it when a recipe requires, but my husband has stuffed it behind his coffee maker, and it is a pain to get out. So most of the time, I make do with my hand mixer, and it works just fine.
Baked donuts ingredients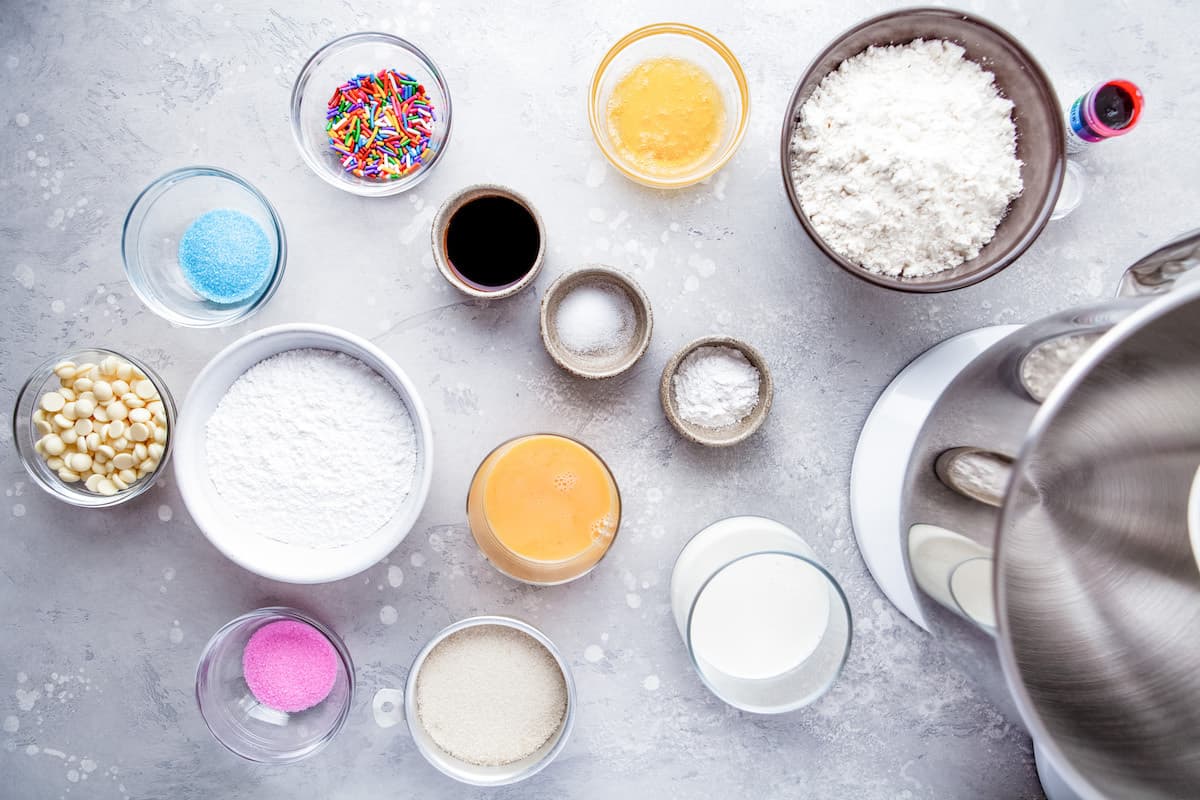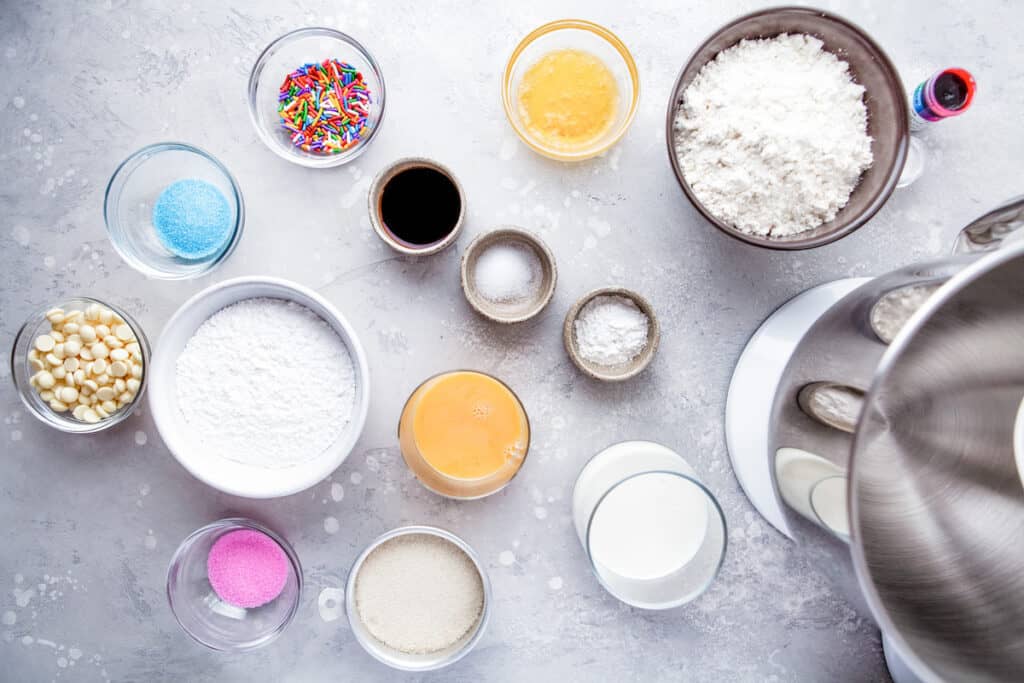 For the donuts
Sifted flour - Sifting removes the lumps and makes the flour fluffier which leads to lighter and less dense donuts.
Baking powder - This is what makes the donuts rise and get fluffy.
Salt
¾ cup buttermilk - You can buy buttermilk in the dairy aisle of the grocery store, but you don't have to because it is easy to make at home. All you have to do is mix 1 tablespoon of lemon juice or white vinegar per cup of plain 2% or whole milk. This recipe requires ¾ cup of buttermilk, so put ¾ tablespoon of lemon juice or white vinegar into a measuring cup and fill the rest of the way up to ¾ cup with milk. Allow to thicken for 10 minutes and then it's good to use in the recipe.
Sugar
Lightly beaten eggs - Just whisk them with a fork until the yolks are broken and distributed. No need to go crazy.
Melted butter
Vanilla extract - Get the best you can afford. I prefer it to be imported from Mexico or Madagascar. Good vanilla is expensive.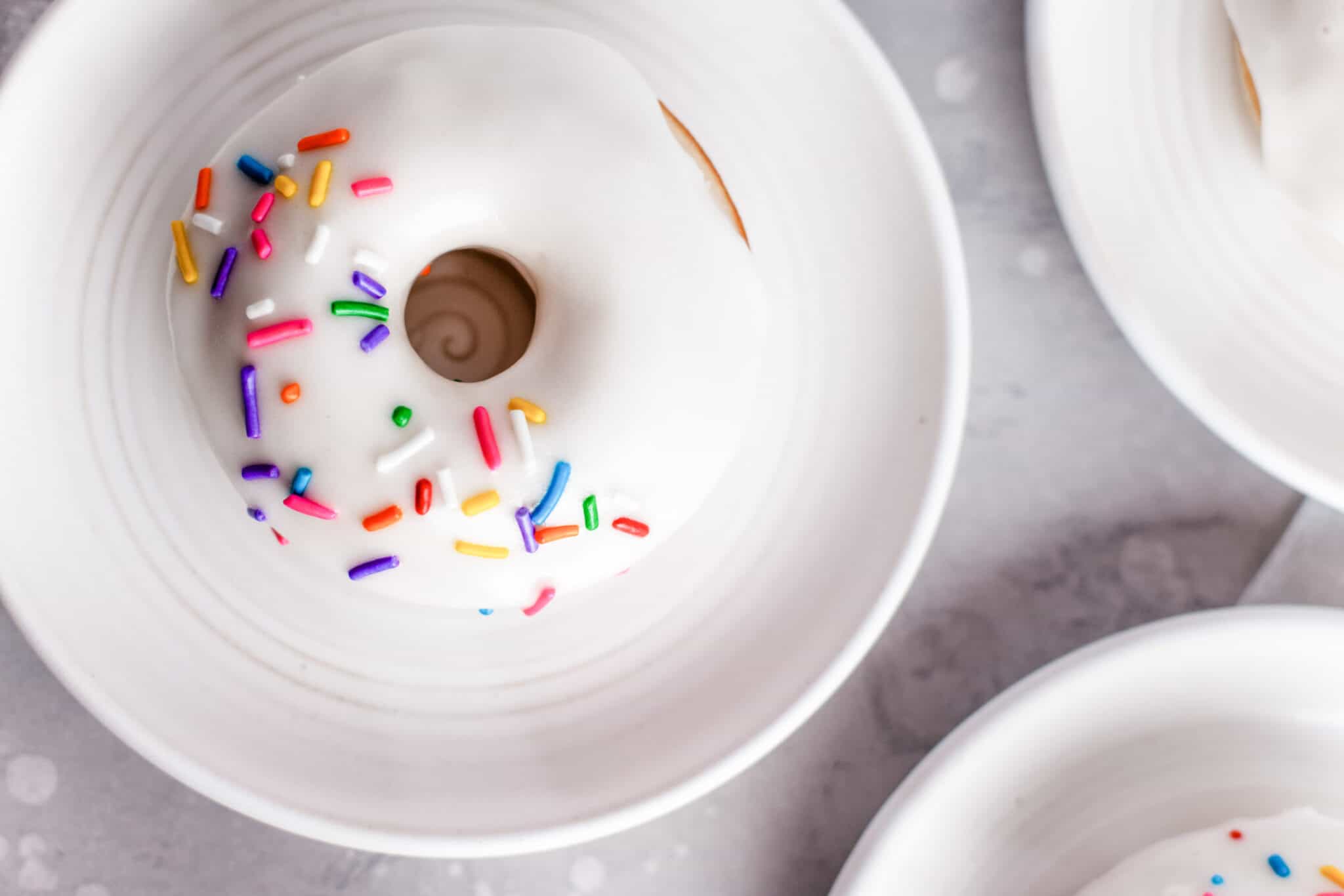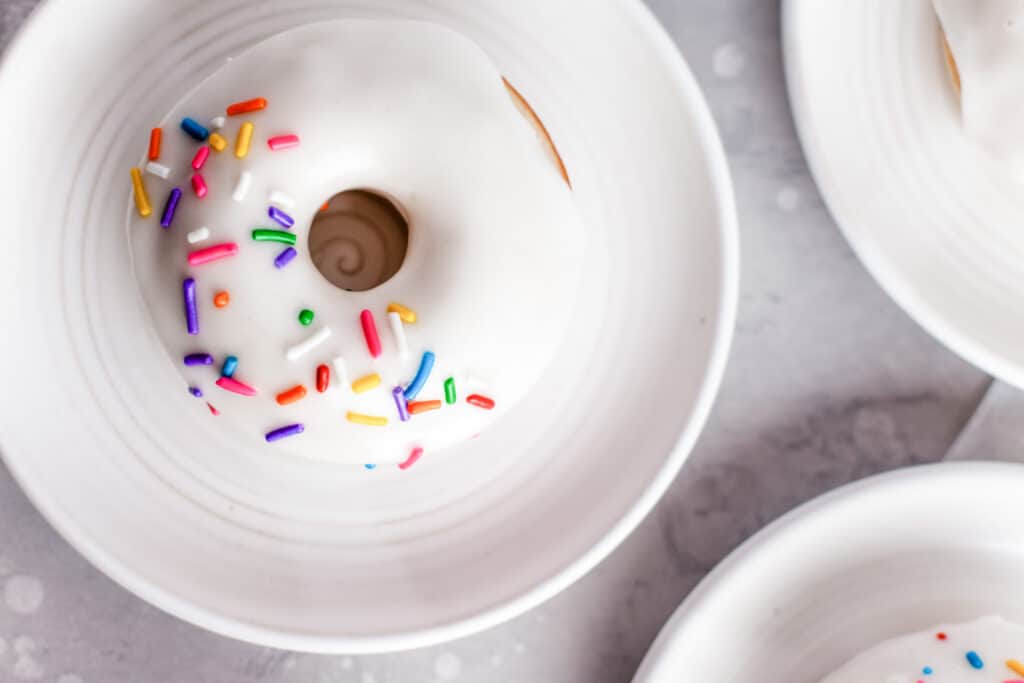 For the icing
Vanilla extract- Get the best you can afford. I prefer it to be imported from Mexico or Madagascar. Good vanilla is expensive.
Milk - Any milk in a carton or jug will work. Canned milk, not so much although if it's all you have, give it a try.
Gel food color - We buy this stuff on a subscribe & save order because Grace uses so much of it. Gel food color is much better than liquid food color in almost every baking circumstance. Liquid food color (the kind you buy in the grocery store) adds too much liquid to frosting and baked goods and can end up ruining the batter/frosting before it reaches your desired color. Gel food color is more like a paste, concentrated with very little liquid. You can get deeper, more vibrant colors with much less liquid added to your recipe. This is especially important in frosting/icing.
For decorating (optional - not in my photos)
Edible glitter - Because it is fun! This link will take you to a page with about 24 different colors. I tried to find a color assortment, but it seems like you have to buy it in individual pots which can get pretty expensive. Maybe just try 2-3 to start?
Pastel sprinkles - Also fun
White chocolate melts - Chocolate melts are not actually chocolate; they are flavored oil. While this may sound gross, it is actually a benefit because real chocolate burns very quickly if overcooked in the microwave. White chocolate or even milk chocolate melts tolerate heating a lot better. For this recipe, it is not necessary to drizzle with chocolate, but if you want to, it certainly adds a nice flair to the donuts. You can either color the white chocolate (again, with gel food color not liquid) or you can buy colored candy melts. Wilton (the brand I linked here) makes at least a dozen different color melts. You can get them at Walmart in the party supplies or at any craft store with a baking aisle or on Amazon.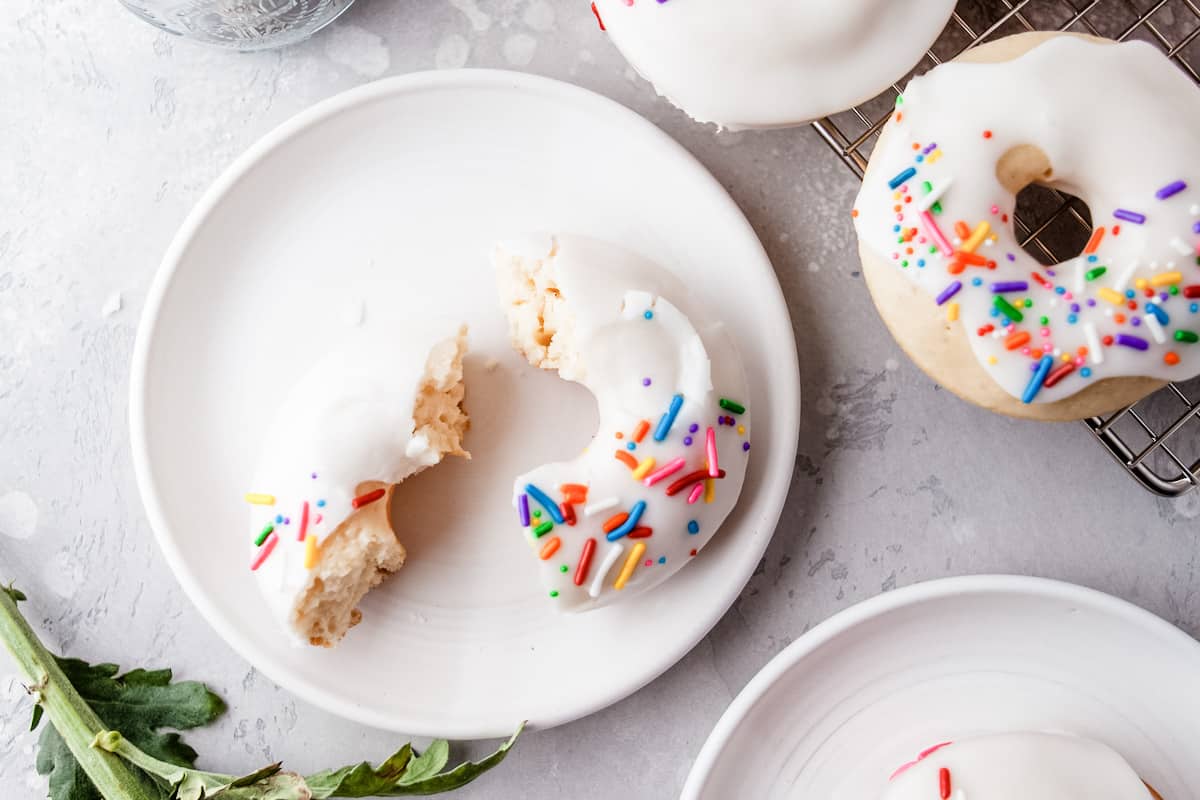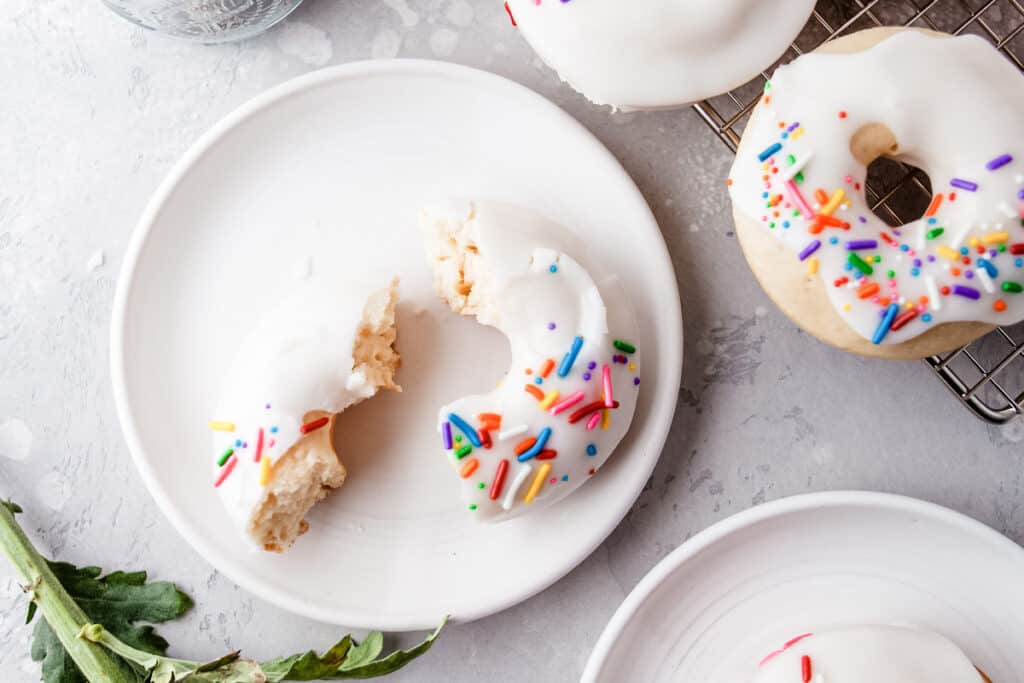 How to make vanilla baked donuts
This recipe looks like it has a lot of steps, but it is super easy.
For the donuts
Preheat oven to 350ºF.
Grease the pans by spraying each well individually with nonstick cooking spray. You can also sprinkle flour in on top of the spray, but you don't have to. If you do, do so very lightly so there are no clumps.
In a large bowl, combine the flour, baking powder, and salt. Whisk until well blended.
In the bowl of a stand mixer, combine buttermilk (see note about making this), sugar, eggs, melted butter, and vanilla. Beat until well mixed.
Add the dry ingredients to the wet, ⅓ at a time. Beat until just combined. Do not over beat the batter or your donuts will be dry and tough.
Fill a piping bag with batter (see equipment note above for a tip). Fill each donut cavity only about ⅔ full so they don't overflow as they rise.

Bake for 8 to 10 minutes or until the tops of the donuts bounce back when you touch them and a cake tester comes out clean or with just a few crumbs. Let them cool in the pan for 5 to 10 minutes before turning out on wire racks. Cool on the rack completely before frosting.
For the icing
Stir the powdered sugar and vanilla with a whisk in a medium bowl. Add food coloring (if using) and then add the milk a few drops at a time. The icing should be thick enough that it doesn't drip off the donuts but not as thick as paste. It should be a thick liquid almost like pudding.
Fill a piping bag with icing (see equipment note above for a tip), and cut off the end of the bag. Pipe the icing onto the cooled donuts as shown in the photos and immediately add the sprinkles of your choice before the icing sets. Once the icing sets, nothing else will stick, so it is necessary to frost and sprinkle just 2 or 3 at a time before moving on to the next batch.

For decorating (optional - not in my photos)
Melt the chocolate in a small bowl in 20 second bursts in the microwave. Chocolate, even chocolate melts, hold their shape even when melted, so it is necessary to stir, stir, stir, for at least 30 seconds after each heating burst. Once melted, add a few drops of gel food color and mix well.
Once the icing has set on the cooled donuts, place them on parchment paper and drizzle melted chocolate over them in the pattern of your choice. I like to go back and forth over the top of the donuts to make fine straight lines.
While the chocolate is still tacky, add sprinkles and/or edible glitter to your drizzled donuts.
Tips for perfect baked donuts
Don't overfill the donut pans. You will only want them to be about ⅔ to ¾ full. If you overfill the wells, the donuts will rise way up above the pan and they will be irregular when you turn them out onto the cooling rack.
Using a piping bag to fill the doughnut wells makes that process so much quicker, easier, and cleaner that you will never go back to doing it with a spoon or spatula.
Be sure to grease the doughnut pans. The pans are non-stick, but the donuts will more than likely stick if you don't grease the wells really really well.
Don't have a donut pan? I highly recommend a donut pan, but if you really can't get one, you could pour the batter into a muffin pan and make muffins or into a mini muffin pan and make donut holes.
Delicious donut variations
Add 1 cup chopped candies like M&Ms to the batter before piping into the donut pan
Add 1 cup chopped or crushed Oreos to the batter before piping into the donut pan
Add 1 cup chopped nuts to the batter before piping into the donut pan
Add 1 cup chocolate chips to the batter before piping into the donut pan
Add 1 cup blueberries or raspberries to the batter before piping into the donut pan
Add 1 cup chopped apples, peaches, or pears to the batter before piping into the donut pan, and add ¼ teaspoon of cinnamon or apple pie spice to the dry ingredients as well
Add 2 mashed bananas to the batter. Be careful when you mix it up; you may need to add additional flour to get the right batter consistency. See photos above as a guide.
Add some spice - You could add pumpkin pie spice, apple pie spice, nutmeg, cinnamon, cardamom, ginger, or cloves (though not all at the same time!).
Add an extract - I love almond extract and add it to a lot of baked recipes. You could also try lemon, orange, mint, or caramel. In all of these cases, I would still add the vanilla and just make this an addition.
Finish with the chocolate ganache glaze from the double chocolate donuts recipe
Instead of glazing the donuts, brush them with melted butter and immediately dip into a shallow pan of cinnamon sugar (1 cup sugar to 1 tablespoon cinnamon)
How to store baked glazed donuts
You can store these in an airtight container at room temperature for 2-3 days or in the refrigerator for about a week. They will get stale quicker in the fridge, but it will also prevent them from getting moldy.
I have some shallow rectangular containers from Tupperware that are perfect for donuts because you have to store them in a single layer to prevent the glaze from getting messed up.
You can also freeze these donuts with pretty good success. Freeze them before frosting them, and if they are in an airtight container like a zippered freezer bag, they should stay fresh for about 3 months.
More donut goodness
Recipe