This easy milk chocolate ganache recipe is perfect a cake or cheesecake frosting or filling, or use slightly melted as a delicious glaze! You can also whip the cooled ganache, for a delicious whipped chocolate frosting. For the best tasting ganache, I recommend using milk chocolate, but you can also try semi-sweet or dark chocolate for a different flavor.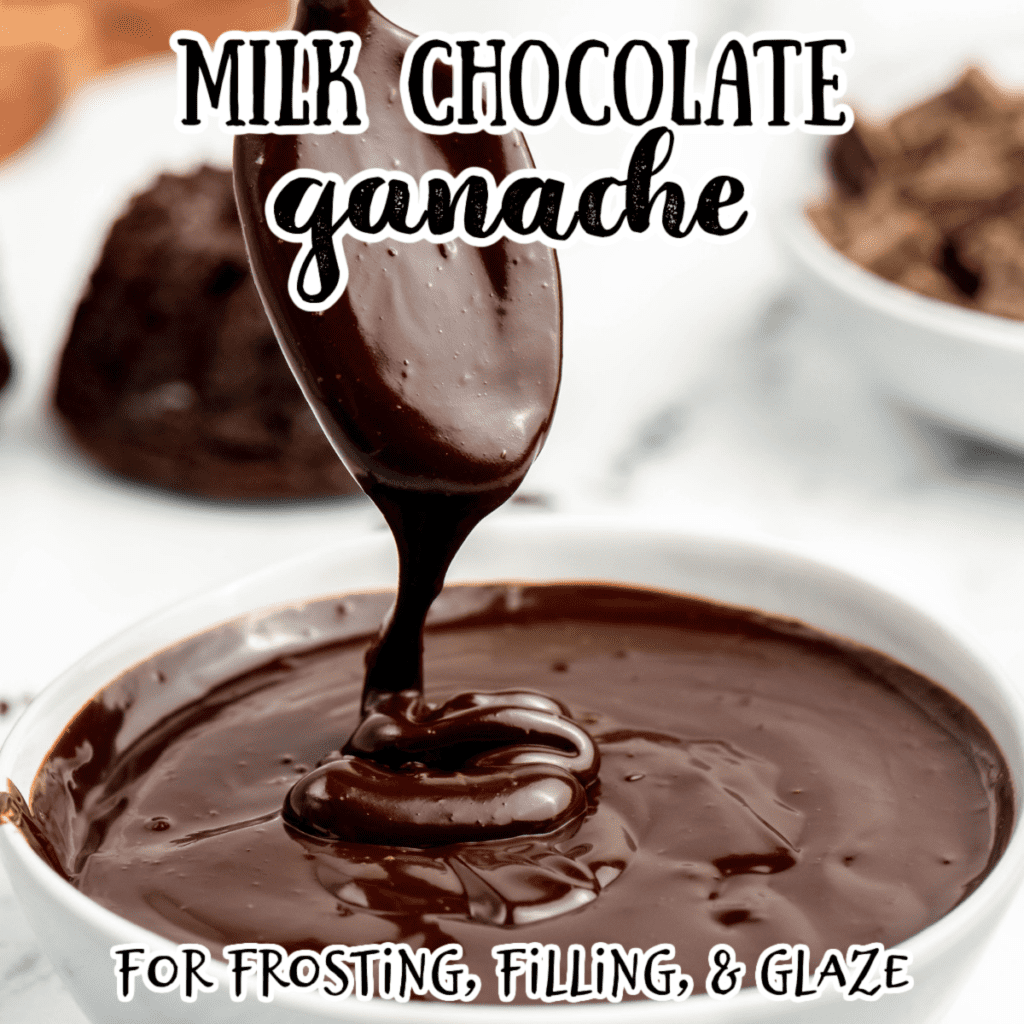 I put chocolate ganache on pretty much every dessert I make.
Do you know what ganache (guh-nosh) is? It's a rich, creamy melted chocolate that you can pour on top of cheesecake (hides the cracks), cakes (it's tastier and less sweet than traditional frosting), cookies (because, why not?), tarts, and your fingers. It's smooth when it's warm, pours for a nice drizzle effect, but when it cools, it gets crispy if thin and fudgy hard when it's thick.
Ganache is amazingly easy, too, so I whip it up every time I put baked goods in the oven.
In less than three minutes, I have made a small batch of ganache that will add some amazing to the deliciousness soon to come.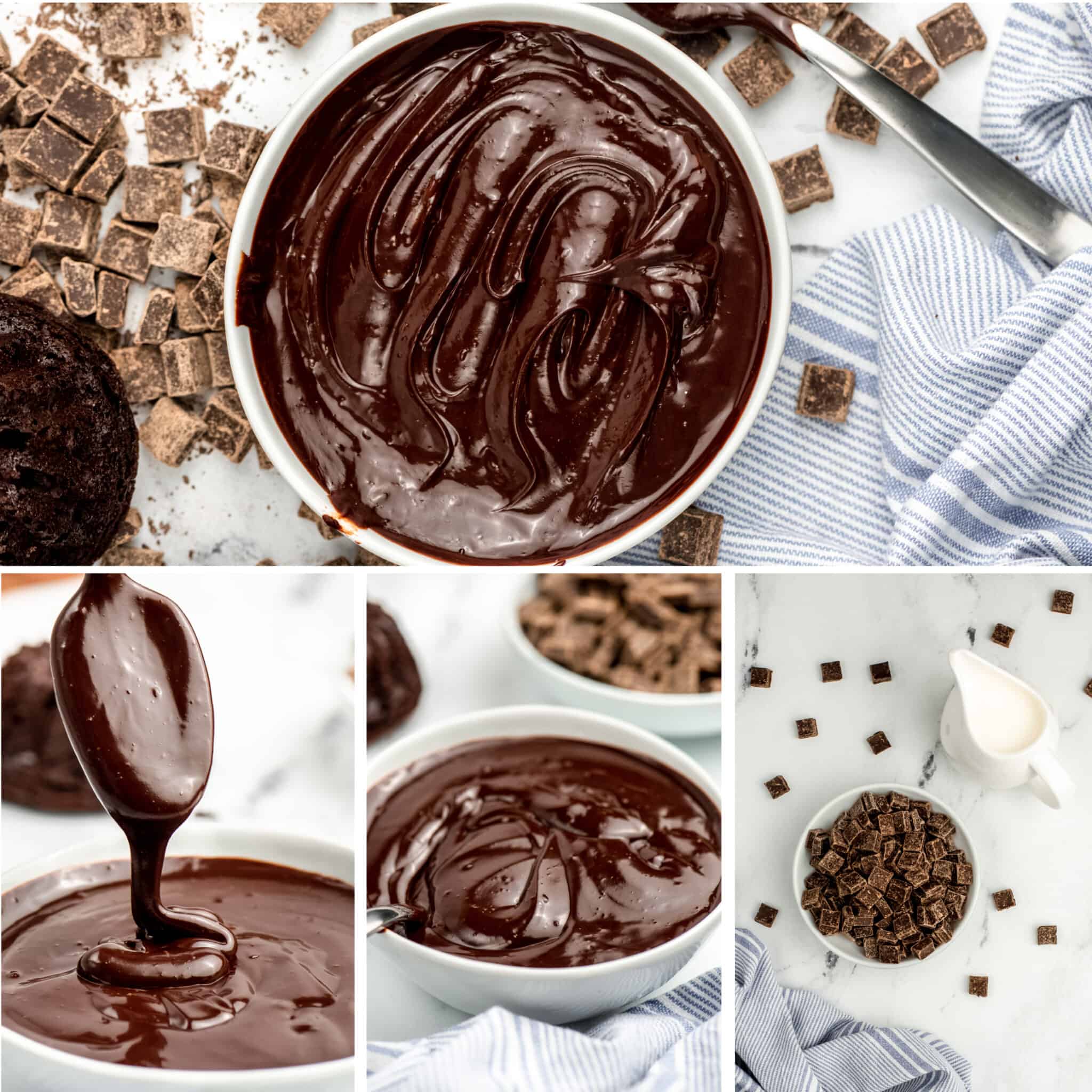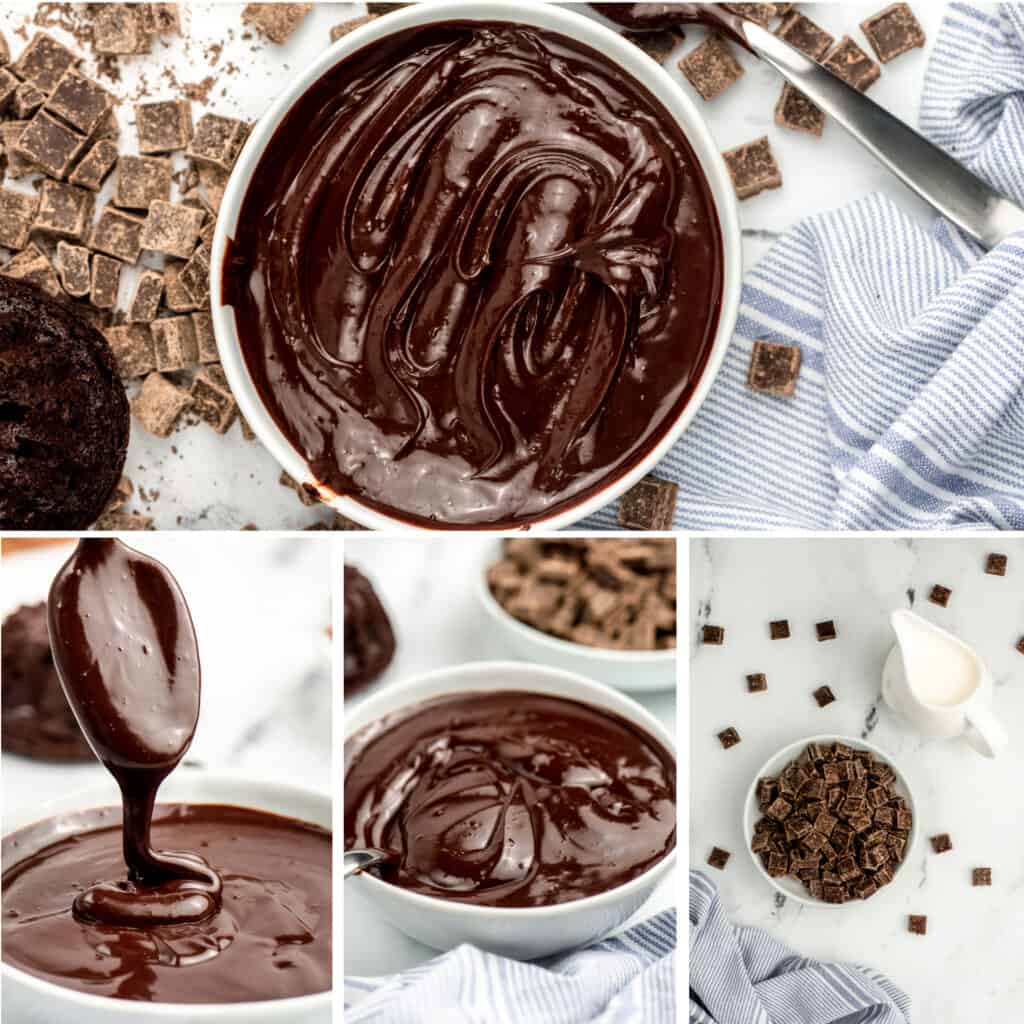 What you'll need to make milk chocolate ganache
Equipment
You will need measuring cups for this recipe. If you're making the ganache in the microwave, you'll also need a glass or ceramic bowl big enough to hold the chocolate and the cream.
If you're making ganache on the stovetop, you'll need a small saucepan and a heat-safe bowl.
Ingredients
8 ounces of milk chocolate - It's best to use a chocolate bar intended for baking but you can use semi-sweet chocolate chips if you're in a pinch.
1 cup heavy whipping cream OR ¾ cup heavy cream plus ¼ cup liqueur - A lot of people like to stir flavored liqueur into their ganache, and it is really quite good that way (although I don't usually use it personally). Either way, you'll want to have ½ cup of liquid, so if you are using liqueur, you'll need to reduce the amount of cream in order to have the correct consistency at the end. - Do not attempt to use any other milk product besides heavy cream. You can't use whole milk or half and half. You can't use non-dairy milk. It must be heavy cream.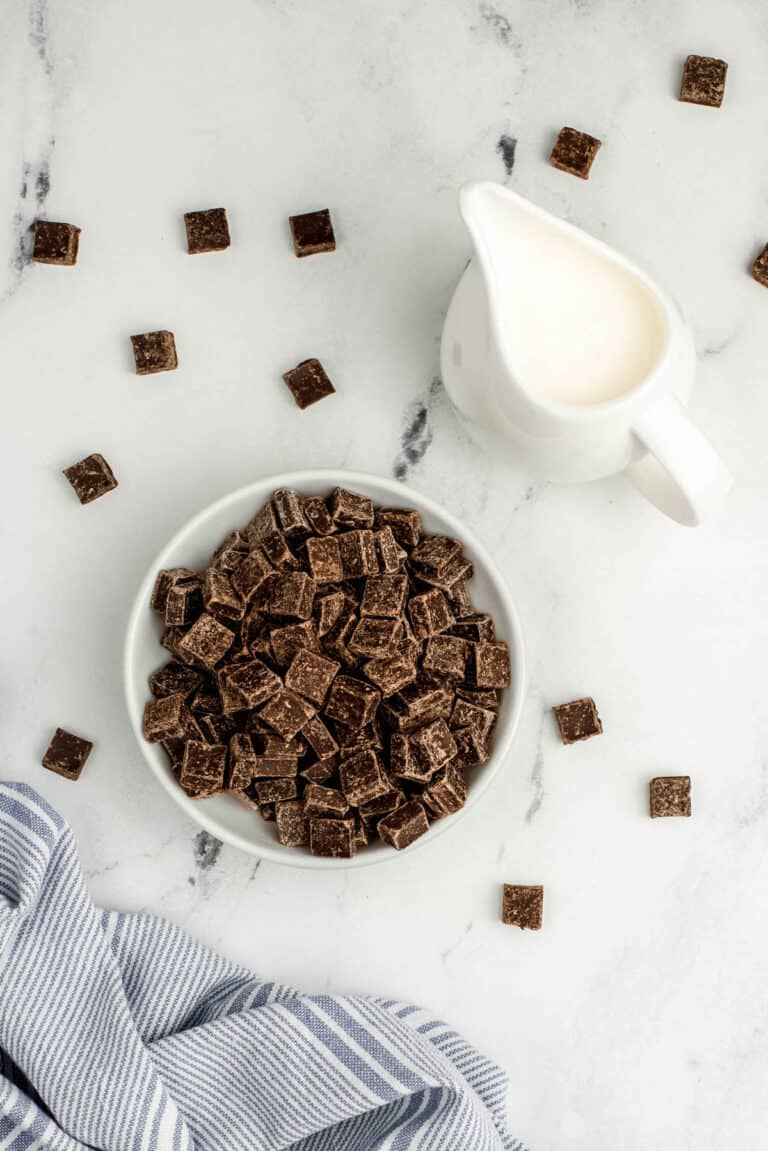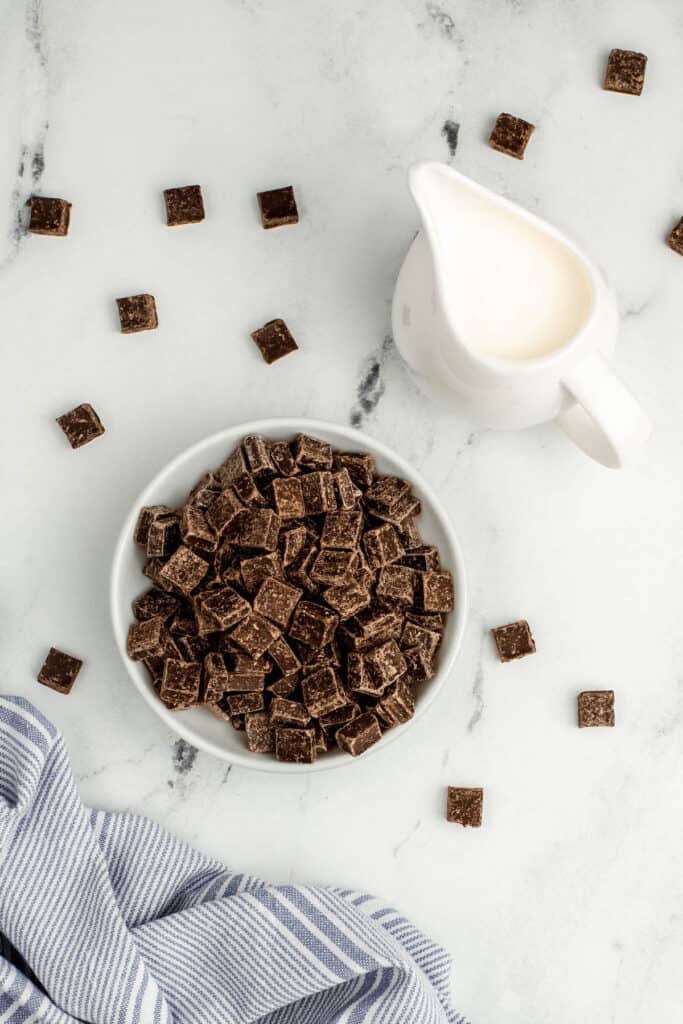 How to make the best microwave chocolate ganache in the microwave
Finely chop the chocolate.
Add the chocolate and heavy cream to a small, microwave safe bowl. Microwave it for 20-30 seconds, then remove from the microwave and stir well. It won't be melted at first but stir it anyway.
Continue heating the warm cream and chocolate mixture in increments of 20-30 seconds, stirring thoroughly after each burst.

The mixture will eventually become smooth and creamy. It may initially have some lumps from the chocolate. If that is the case, microwave it one last time for only 20 seconds, then stir again. It should be all smooth now.

Stir in the liqueur if you're using it.
How to make the best milk chocolate ganache on the stovetop
Finely chop the chocolate and place in a medium heat-safe bowl.
In a small saucepan over medium-low heat, heat the cream until it just begins to create small bubbles around the edges of the pan and steams when stirred, about 2 minutes. Do not boil the cream! This step is called scalding the cream.
Pour hot cream over the chopped chocolate, cover with plastic wrap, and let it sit for 2 minutes.

After 2 minutes, gently stir the chocolate and cream together with a fork until smooth.

Stir in the liqueur if you're using it.

How to use milk chocolate ganache
If you are using the ganache as a drizzle, use it right away, while it is still hot and fully liquid.
If you are going to dip fruit, cookies, or cake pops into the ganache, use it right away while it's still hot and fully liquid.
If you are using the ganache as a chocolate layer on top of a cheesecake, tart, or cupcakes, you will want it to thicken a bit. You can put it in the fridge for 10-15 minutes or let it sit on the counter for about a half hour. That will make it thick enough to spread without having all of it flow right off the top.
If you want to make truffles, you can let the ganache cool completely and roll tablespoon-sized balls in melted chocolate. Try sprinkling the still wet truffles with chopped nuts, tiny marshmallows, or toffee bits to your truffles.
To make whipped ganache frosting, let the chocolate cool completely, and then beat it using a stand mixer or hand-held electric mixer for 5-6 minutes or until it has reached a whipped cream consistency and has lightened in color. Use this as you would any frosting.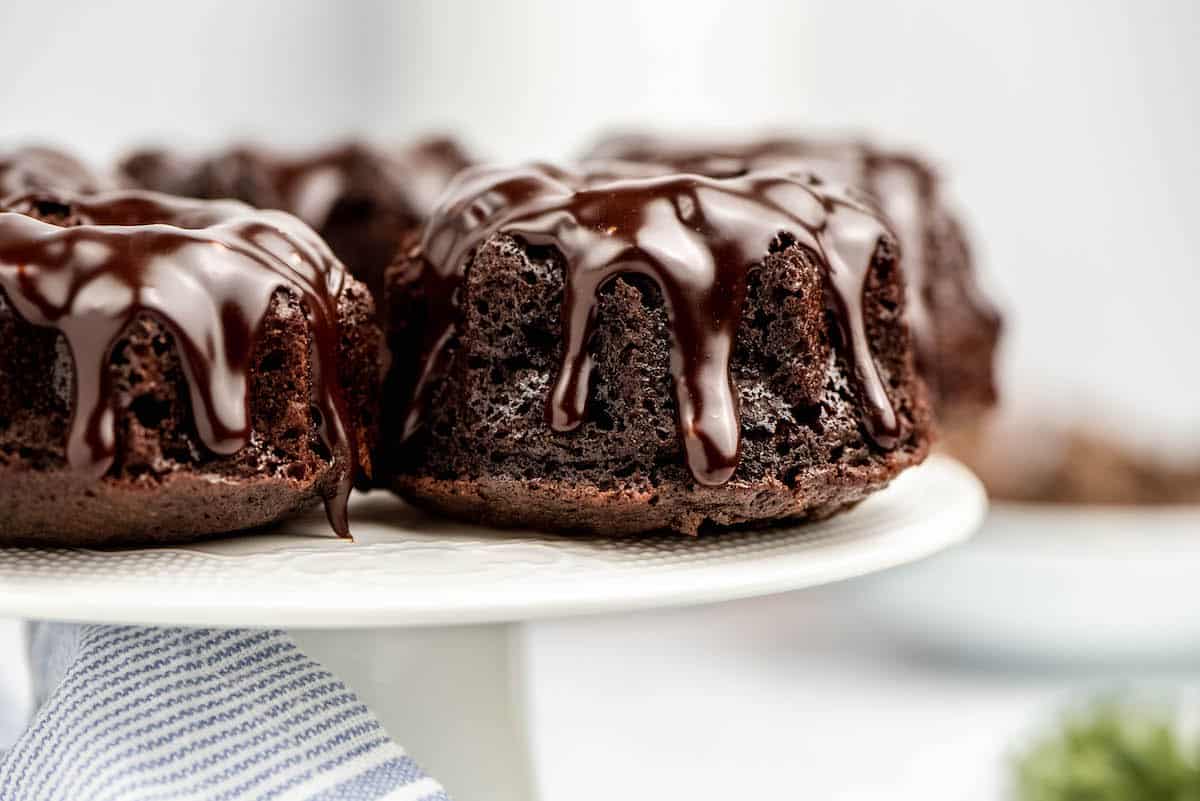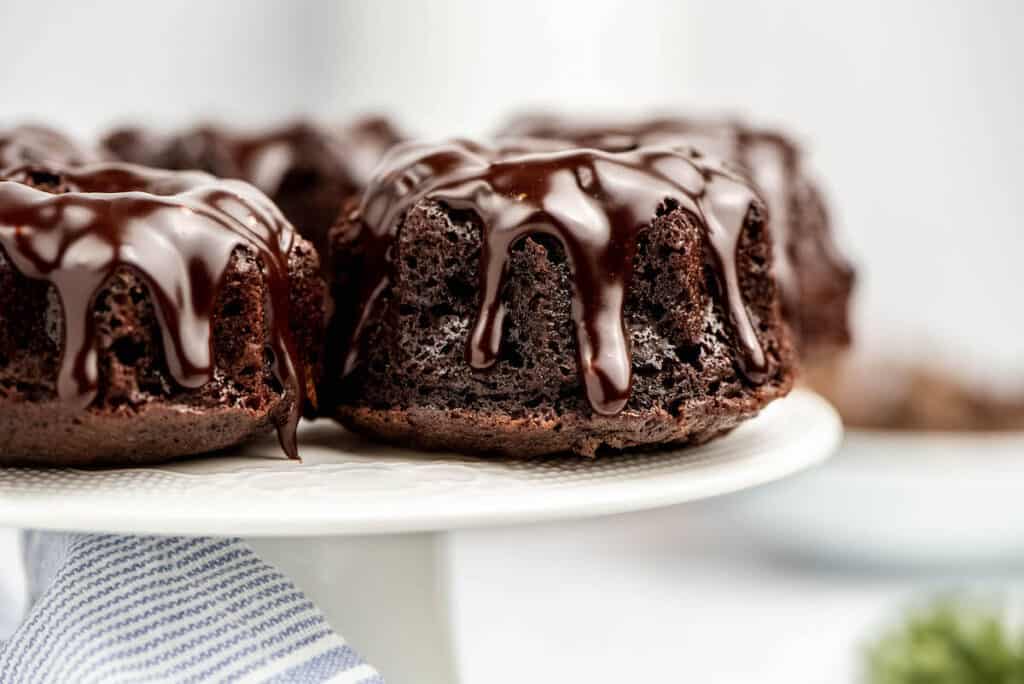 Tips for the best chocolate ganache:
The chocolate matters - Use the best quality chocolate you can find, chocolate bars for baking are best. I like Ghirardelli. Chips are loaded with filler ingredients which can affect the final texture and sheen of your ganache, but they'll work in a pinch. Before I became a chocolate snob, I used chocolate chips exclusively, and my ganache was always awesome.
Chop the chocolate as fine as possible - One of the keys to ganache is that the chocolate melts quickly. Chopping the chocolate practically into dust helps this to happen more easily.
Heat carefully & in small bits - First and most importantly, It is VITAL that you NOT overheat the chocolate. Chocolate is very sensitive and is easy to ruin if you're not careful.
Be sure to heat in tiny increments of time, no more than 20-30 seconds at a time if using the microwave.
If your ganache becomes gritty or grainy or it softens and then gets hard again, you have burned it. You'll have to throw it out and start over. There's no recovering grainy chocolate.
Make sure there's no water - Any little drop of water will ruin your chocolate and cause it to become grainy. Make sure that the bowl you heat the chocolate in is absolutely positively 100% bone dry.
If you're using a double boiler to melt the chocolate, but very careful to not get any water into the chocolate.
Heat in glass or ceramic - In the microwave, it is best to melt chocolate in a glass or ceramic bowl. If you're using the stovetop method, you can use metal, glass, or ceramic.
Stay away from plastic to melt chocolate. Sometimes the chocolate can melt the plastic and sometimes the plastic can make the chocolate weird.
To reheat the ganache - If your ganache gets too firm while working, put it in the microwave for 10 seconds, stir, and microwave another 10 seconds if need be.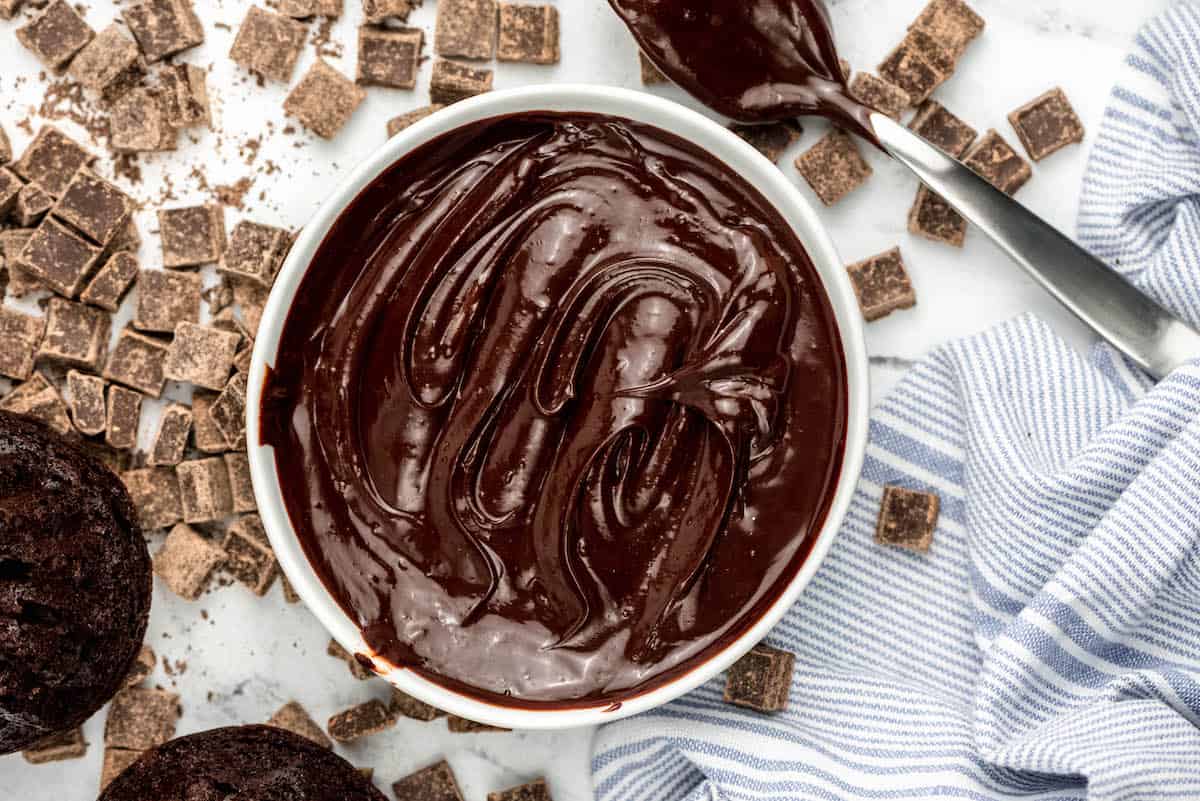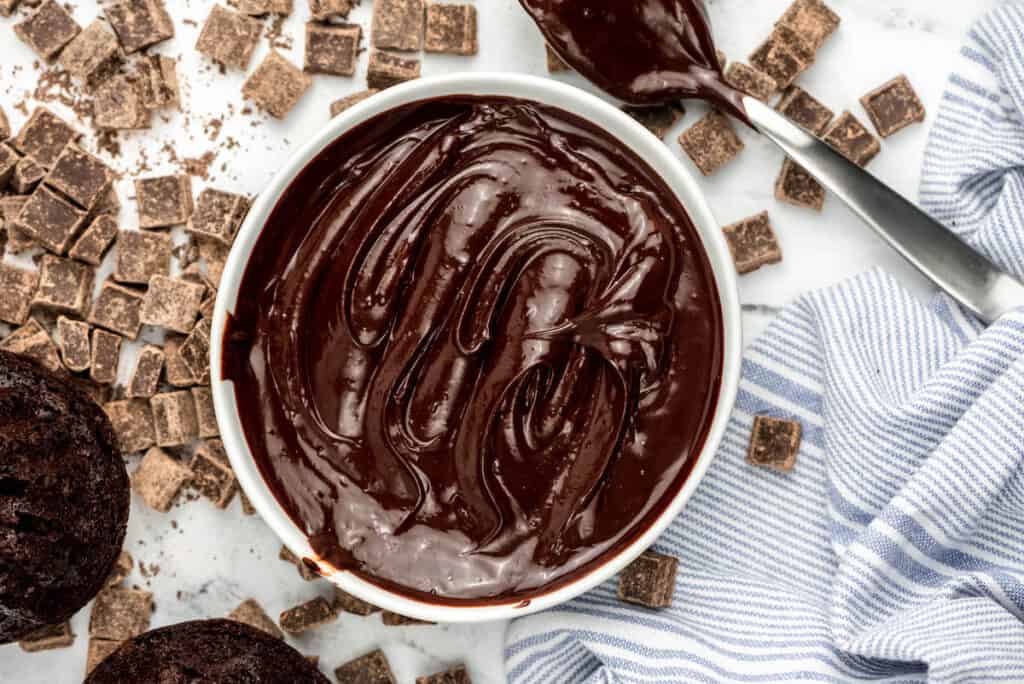 Chocolate ganache variations
I prefer milk chocolate ganache, but you can of course use semi-sweet or dark chocolate instead.
You can use white chocolate.
Some people like to add flavored liqueur to ganache, and that does make it tasty. If you decide to go that route, use about 3 tablespoons of liqueur and reduce the heavy cream to 5 tablespoons. Don't heat the liqueur in the microwave; add it at the end when you're stirring to melt the chocolate.
How to store chocolate ganache
Always store ganache in an airtight container or zippered plastic bag. It sets up pretty firm at room temperature and nearly rock-hard in the fridge or freezer, so be prepared to bring it to room temperature when you are going to use it.
You can store ganache at room temperature for 2-3 days.
You can store it in the refrigerator for 2 weeks.
You can freeze it for up to 3 months.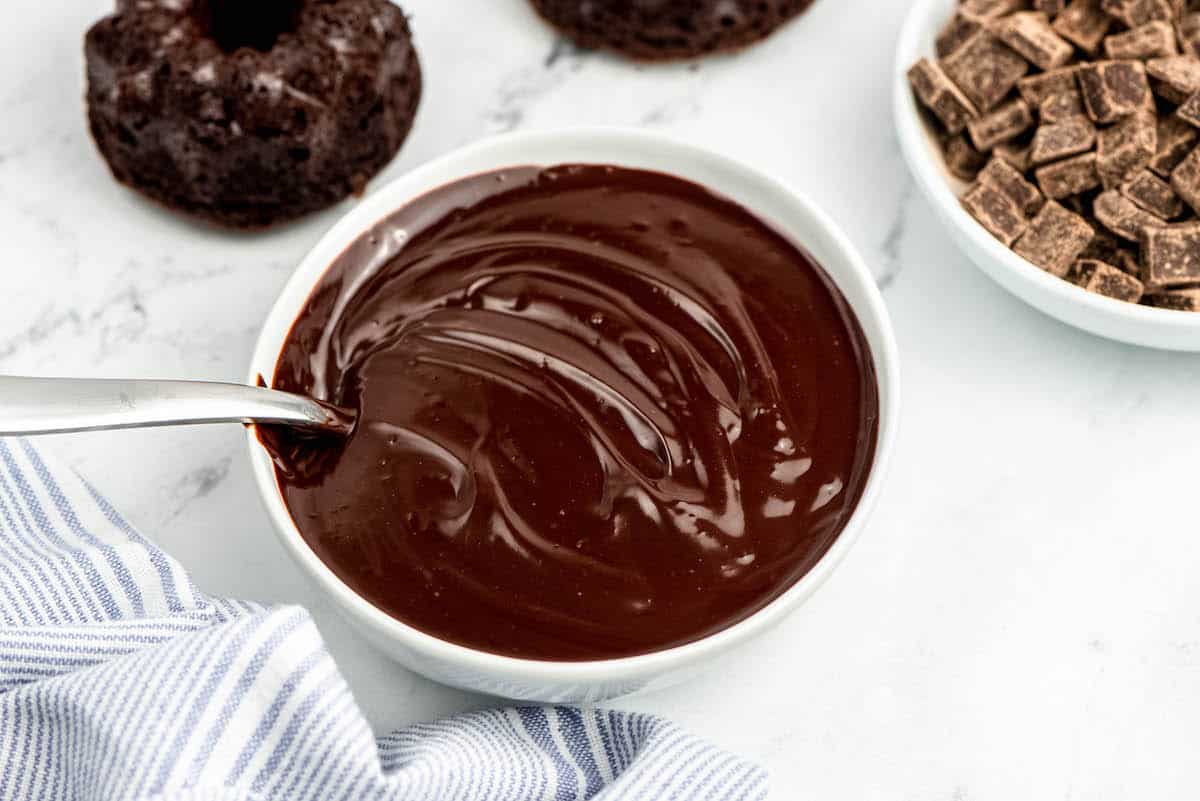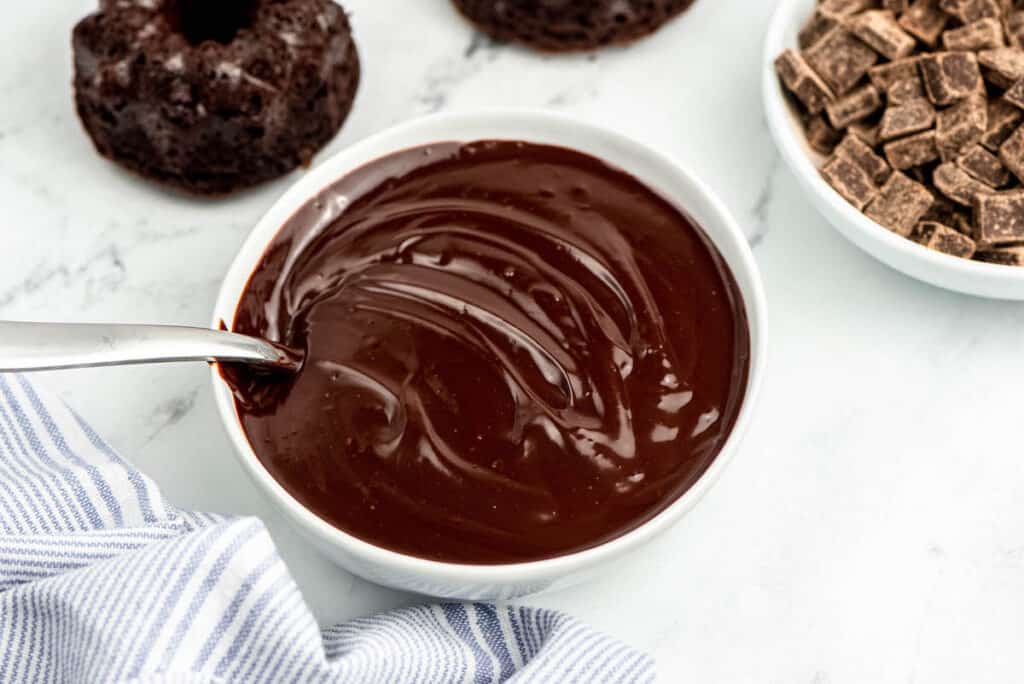 Milk chocolate ganache FAQ
Why is my ganache too soft?
You used too much liquid or not enough chocolate. Gently remelt the ganache using the microwave method above and add extra chocolate.
Why is my ganache too hard?
You didn't use enough cream. Gently remelt the ganache using the microwave method above and add extra cream.
I like to serve my ganache on top of the following delicious recipes:
Recipe