How to make the best gluten-free cheesecake with a pecan crust. This classic simple and easy recipe is rich and creamy and can be smothered by a thick chocolate ganache or served plain.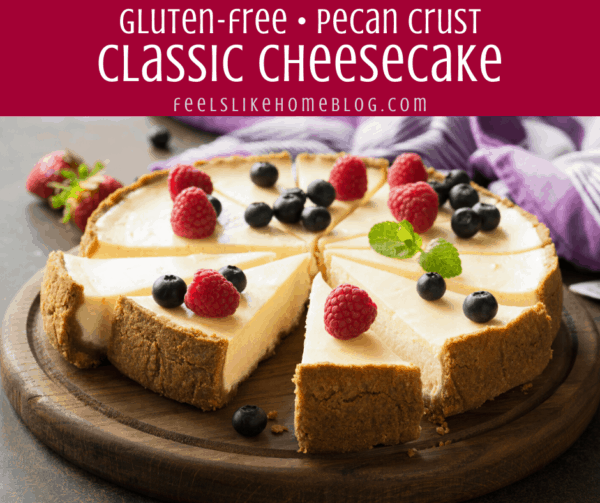 Joe and I dated over cheesecake. It's the one dessert he really enjoys, and I often ordered a slice when we went out to dinner and shared it with him.
Now that we're married, I make him order his own.
Today is our wedding anniversary, so I wanted to share our new favorite cheesecake recipe. I love cheesecake, but I am not very good at making it.
In fact, the cheesecake above was the first one I ever made that didn't crack on top.
I don't know why this particular one didn't crack when all the others I've ever made did crack.
We had to update our old cheesecake recipe; it uses cookies. Cookies have gluten.
I love that this one uses pecans in place of cookies. I can delude myself and call this healthy. It is, after all, basically just nuts and cheese. ha.
How to make the best gluten-free cheesecake
Preheat the oven to 350º.
Brush your springform pan with a little melted butter to ensure the cheesecake doesn't stick. (This melted butter is not included in the ½ cup required by the recipe.)
Whisk the brown sugar and baking mix together in a medium bowl.
Chop the butter into small pieces and use a pastry blender to mix them with the flour mixture until it is crumbly. If you don't have a pastry blender, a fork or wooden spoon will work, but it will take a lot more effort. (Do yourself a favor and buy the pastry blender. It is cheap.)
Stir in the nuts.
Press the crust mixture into the springform pan to the depth you prefer. Try to get it in an even layer. Set aside.
Microwave the cream cheese, one block at a time, for 30-60 seconds until it is softened but not cooked.
Using an electric mixer, combine the cream cheese, sugar, eggs, vanilla, and almond extract. Be careful not to over mix the batter or your cheesecake will rise in the oven and then fall and crack when it cools.
Bake the cheesecake for 45 minutes. The center will still be pretty jiggly after this time, but turn off the oven and crack the door open. This will allow the cheesecake to cool very slowly which prevents cracking. Allow to cool in the oven for at least 1 hour, then move to the counter to cool completely.
If your cheesecake cracks or if you just like chocolate, make a chocolate ganache to top the cheesecake. To do this, add the chocolate chips, heavy cream, and butter to a microwave safe dish and microwave in increments of 30 seconds, stirring well in between each time. Be careful not to overheat. If the chocolate mixture softens and then gets hard again, or it gets grainy, you have overcooked it and the ganache is ruined. The best bet is to heat it, stir for at least a minute, and only then heat again if needed. It will probably take 60-90 seconds worth of heating time to get the chocolate smooth.
Allow the ganache to cool slightly so that it is thicker, and then pour over top of the cheesecake.
Once the chocolate has cooled and hardened, cover the cheesecake with plastic wrap and refrigerate overnight. If you cover with plastic wrap before the chocolate is hard, it will make the surface of the chocolate all funky.
Serve chilled.
Do I need a springform pan for this cheesecake?
Yes, you need a springform pan if you're going to make a cheesecake. The sides of a springform pan expand and can be removed so that you can slide a slice of the cake out easily. I honestly don't know what you could use if you don't have a springform pan. If you don't use one, you're going to have a huge mess on your hands when you try to cut the cheesecake.
Is a water bath necessary for this cheesecake?
Some recipes will tell you that a water bath is essential for baking a cheesecake. They claim that a cheesecake baked without a water bath will be dry, overly dense, or cracked. I have not found this to be the case with any cheesecake I've ever baked.
I personally think that water baths are risky because, if you don't get the springform pan wrapped tightly enough, the water will leak in and ruin your crust. I had that happen several times in my early cheesecake baking days.
After giving up on the springform-pan-in-the-water water bath, I used to put a pan of water on the rack below the cheesecake, allowing the steam to fill the oven. However, one time I forgot to do it, and guess what! The cheesecake was awesome. So now, I never use one because I have found that it is just not necessary. Why do the extra work if you don't need to?
Why did my cheesecake crack?
The most common reason for a cracked cheesecake is over beating the filling, resulting in an excess air in the batter. Extra air is the enemy of a cheesecake because it makes the filling puff up in the oven, and then it cracks as it cools and sinks.
You should never use a whisk to mix cheesecake filling. Don't use the whisk attachment on your mixer, either. If you're using a stand mixer, use the paddle attachment. If you're using a hand mixer, the beaters are good. And of course, if you're doing it by hand, go for a spatula instead of a whisk.
Even if you use a paddle attachment or the beaters, you could still add too much air if you beat and beat and beat the filling. So, never mix more than is absolutely necessary.
If you aren't sure if you've beaten it long enough, turn off the mixer and use a spatula to turn the filling over a few times and look for pockets of unmixed ingredients. If it's evenly mixed, don't beat any more.
One good thing about this cheesecake is that you're going to cover it with marshmallows, so even if it does crack, no one will know.
More tips for the best Pecan Crust Cheesecake
Use quality ingredients - Try to stick with the name brand ingredients, because the quality of your ingredients will make a huge difference in your finished cheesecake.
Keep the oven door closed - Don't peek at your cheesecake while it's baking. The cold air can shock the cheesecake and make it crack.
Likewise, when the cook time is done, and you've jiggled it to make sure the edges are set, put it back into the hot oven with the door cracked an inch or two, and let it cool in there for an hour. This also helps to prevent cracking.
Don't over bake - Don't over bake your cheesecake. Turn the heat off and crack the door open as soon as the outer edge is set. The center should be jiggly.
Check out these other delicious gluten-free desserts while you're here:
Recipe