The best coconut macaroon recipe is soft and chewy on the inside and crisp and golden on the outside. These gluten-free and dairy-free cookies are low in sugar and simple, quick, and easy to make!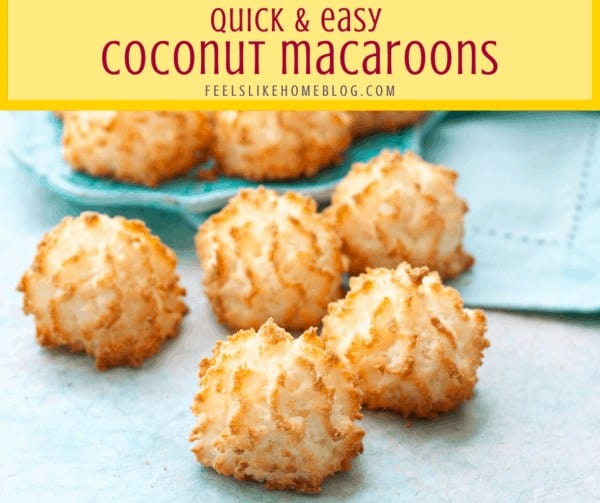 We have been doing a lot of baking this holiday season, both gluten-free and regular. Our most recent creation was this coconut macaroon recipe which is a delightfully gluten-free treat.
I thought coconut macaroons usually had flour in them, but when Allie and I researched, we discovered that most do not. You can find coconut macaroon recipes with flour, but the bulk have none. We found a few different recipes and combined the best parts of each to make these coconut macaroons, and there is no flour in them whatsoever.
Allie and I love to cook together, and this was, of course, a fun experience. In fact, the recipe is so easy that she was able to do most of it all by herself, and she's only five! Even young children can make this recipe because there's nothing hot or dangerous in it, except that you have to bake the finished cookies. Kids can make this one with very minimal help.
What you'll need to make the best gluten-free macaroons
See printable recipe card at the bottom of the page for measurements and nutritional information.
Large egg whites - You will not use the egg yolks in this recipe. Save them for something else or throw them away.
White sugar
Shredded sweetened coconut
How to Make The Best Coconut Macaroons
Preheat the oven to 350º.
Prepare the baking sheet. Line a rimmed baking sheet with parchment paper.
Prepare the batter. Combine the egg whites (not whole eggs!), sugar, almond extract, and vanilla in a small bowl. Fold the coconut into the egg white mixture and mix until it's well coated.
Form the macaroons. Use a small cookie scoop or a pastry bag with a tip to measure out 1 heaping tablespoon of cookie dough for each macaroon. There should be approximately 15 cookies.
Bake at 350º for 20 minutes. Allow to cool on the baking sheet for at least 15 minutes before transferring to a wire cooling rack.
Can you dip these coconut cookies in chocolate?
Many coconut macaroons are dipped in melted dark chocolate, and you certainly could do that with these. They are firm enough to dip and hold together really well. We didn't dip ours because it was an extra step, and Allie was proud that she had done them all by herself.
To dip in chocolate, make a batch of chocolate ganache using chocolate bars or chocolate chips and dip the macaroons while the ganache is hot. . Heat the chips for 30 seconds, stir. Heat for another 30 seconds. It's necessary to do it in small time increments so that the chocolate doesn't burn.
Once your chocolate is melted and stirs into a smooth paste, you can spear the coconut macaroons with a fork and dip the bottoms in the chocolate. Lay them on the parchment paper you used earlier or on wax paper to firm up.
Storing gluten-free coconut macaroons
I recommend storing these gluten-free cookies in an airtight container at room temperature. No need to keep them in the fridge. They will stay good for 3-5 days.
What's the difference between macaroons and macarons?
Macaroons (these) are little piles of coconut and egg white and typically have a chewy texture. Macarons are little sandwich cookies with filling in between two light, puffy layers. Macarons are also usually gluten-free but are very very different from the recipe below.
Check out these other delicious gluten-free desserts while you're here:
Recipe