Gluten-free pecan pie has no crust, so there's no messing with wheat flour substitutes. All you have to do is create a firm filling, top with pecans, and bake!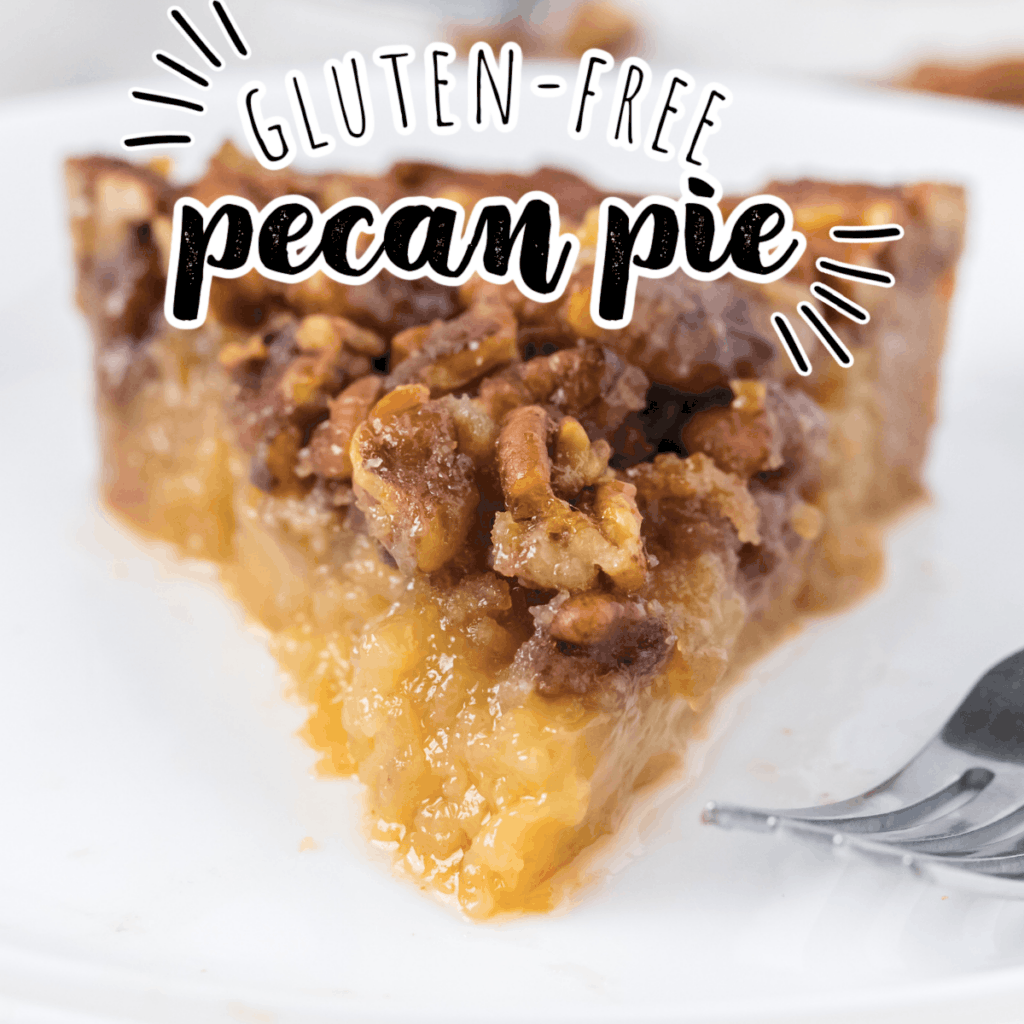 I love pecan pie. It has long been my favorite pie ever, and I have made a lot of them. And ate them. No holiday went by without a decadent pecan pie. (Here's the best pecan pie recipe in the whole wide world.)
When I went gluten-free, I thought I wouldn't be able to eat another pecan pie, because the filling is sort of jiggly and won't hold up without a crust. And I certainly didn't want to mess around with alternate flours and baking mixes and have a gluten-free pie crust that sort of tasted like a pie crust but not really.
But then I had a thought. I never loved the crust of the pie anyway, so why not adjust the recipe a bit and make the pie without the gluten-free crust?
I did it, and the pie was a crazy success. As you can see in the photo above, the pie was sturdy enough to hold its shape even without the crust. It came out of the pan easily, held together just fine, and tasted amazing.
So, yes, you CAN have pecan pie even if you are gluten-free!
This recipe is so simple and easy that it almost feels like cheating to share it with you. All you have to do is measure out the ingredients in the right proportions, mix it all together, pour it into a pie pan, and bake.
It's the perfect dessert for Thanksgiving, Christmas, or a random Sunday dinner!
What you need to make a gluten-free pecan pie
Equipment
The only equipment you really need for this pie is a large bowl to mix the filling in, a 9-inch pie plate and a triangular pie server to get the pieces out of the pie plate.
I have only used the shallow Pyrex pie plate pictured below, so I don't know whether you could make this crustless pie in metal or stoneware pie plate. I also don't know if it will work in a deep dish pie plate. I suspect that the shallow pan is part of why this gets as firm as it does.
Ingredients
White granulated sugar - I used white sugar in this pie, but an equal amount of packed brown sugar would also taste great.
Light corn syrup - I don't understand the chemistry behind this pie, but you need the corn syrup to make the filling mixture stick together.
6 eggs - These are essential to bind the sugars together and make the pie firm.
Melted butter - This gives the filling a nice, rich flavor.
Vanilla bean paste or an equal amount of pure vanilla extract - I have switched over from using vanilla extract to using vanilla paste almost exclusively.
Vanilla extract is an alcohol-based liquid with the consistency of water. To make it, vanilla beans are soaked in alcohol for a long time (many months). There are no actual vanilla beans in extract.
Vanilla paste on the other hand is a combination of highly concentrated vanilla extract, actual crushed up vanilla beans, and a binder (which can be either xanthum gum or corn syrup, read the label). It is the consistency of Elmer's glue.
The reason I prefer vanilla paste is that, aside from having actual vanilla beans inside, the paste has a richer, more bold flavor, and it has no alcohol taste at all.
2 cups pecan pieces - A lot of pecan pie recipes call for pecan halves. You are certainly welcome to use pecan halves, but I prefer chopped pecans for several reasons:

Pecans are incredibly expensive, and pecan halves are the most expensive kind of pecans. Pecan pieces (or chopped pecans) are significantly cheaper than pecan halves.
Pecan halves are big and make the pie more difficult to cut. Pecan pieces slide out of the way and allow you to cut exactly the size and shape pie slices that you intended.
This may be my imagination, but I think pecan pieces soak up the sweet filling better than pecan halves and have less likelihood of burning.
How to make this crustless gluten-free pecan pie recipe
Preheat oven to 325º.

Whisk together all ingredients except pecans in a mixing bowl. When well blended, stir pecans into the syrup and pour into a greased pie pan. Bake for 45 minutes.

There is no need to reserve pecans to decorate the top. In my experience, those just burn before the pie is cooked through.

See how all the pecans are coated with creamy, sweet pecan pie filling? Those will be so tasty!

When the pie is set and no longer jiggly, remove to a wire rack and allow to cool for 3 hours or until room temperature. If desired, chill in the refrigerator until ready to serve. Top with whipped cream or vanilla ice cream if desired (but I don't think it needs either one).



Why this is the very best pecan pie recipe there is
Simple recipe - This recipe is super simple with only 6 easy to find ingredients.
Easy preparation - Skipping the pie crust makes preparation of this pie a 5-minute affair. It could not be easier to chop the pecans, whisk together the filling, and pour them into the pie crust.
To die for texture - The pecans on top of this pie get crisp and toasty while the nuts underneath stay a little on the chewy side. The sweet filling is creamy and rich. There is something about a southern pecan pie that you simply can't beat, and this recipe comes out perfect every single time.
Tips for baking a better pecan pie
Allow the pie to cool completely - Pecan pie must be served at room temperature or (even better) chilled in the refrigerator for a couple of hours. The filling will be very liquid and runny if served even a little bit warm.
Stay away from artificial sweeteners - Don't try to lighten this recipe by using Splenda or another artificial sweetener. They don't work. Trust me; I know. Pecan pie filling won't set up without both sugar and corn syrup, and you'll end up with a gooey liquid mess instead of a nice firm pecan pie.
I'm allergic to pecans. Is there a pecan-free version?
Yes! You can substitute walnuts, hazelnuts, or macadamia nuts in this recipe. Any of the three will be delicious. I recommend chopping the nuts before mixing them into the filling.
Is corn syrup gluten-free?
Most of the time, yes. Most corn syrup is made only from corn, and corn doesn't have any gluten.
However, be sure to read the label as ingredients can change and off-brand corn syrup sometimes adds artificial ingredients for color or flavor.
Can I freeze gluten free pecan pie?
Yes! Pecan pie freezes very well, and no one will know you didn't just bake it.
To freeze this pie, allow it to cool completely on a wire rack and then place it in the freezer. When it is frozen solid, wrap the pie in plastic wrap or aluminum foil. Place the wrapped pie into a plastic freezer bag or an airtight freezer container. It can be kept in the freezer for up to 3 months.
When you're ready to serve the pie, simply thaw it in the refrigerator overnight. You can serve it chilled from the fridge or allow it to warm up to room temperature for a couple of hours prior to slicing.
How to make a gluten free and dairy free pecan pie
This pie is super easy to make diary free as well as gluten free. All you have to do is use a non-dairy butter such as Smart Balance. Everything else remains the same.
Another alternative to the dairy butter is coconut oil. It works just as well as dairy butter, and you will not notice any coconut flavor in the finished pie.
Try these other delicious gluten free desserts while you're here:
Recipe