The best easy homemade pecan pie recipe - This traditional Southern recipe is homemade from scratch except for the crust which is premade and packaged. Classic simple recipe for Thanksgiving dinner like Grandma used to make. Original gooey no fail instructions.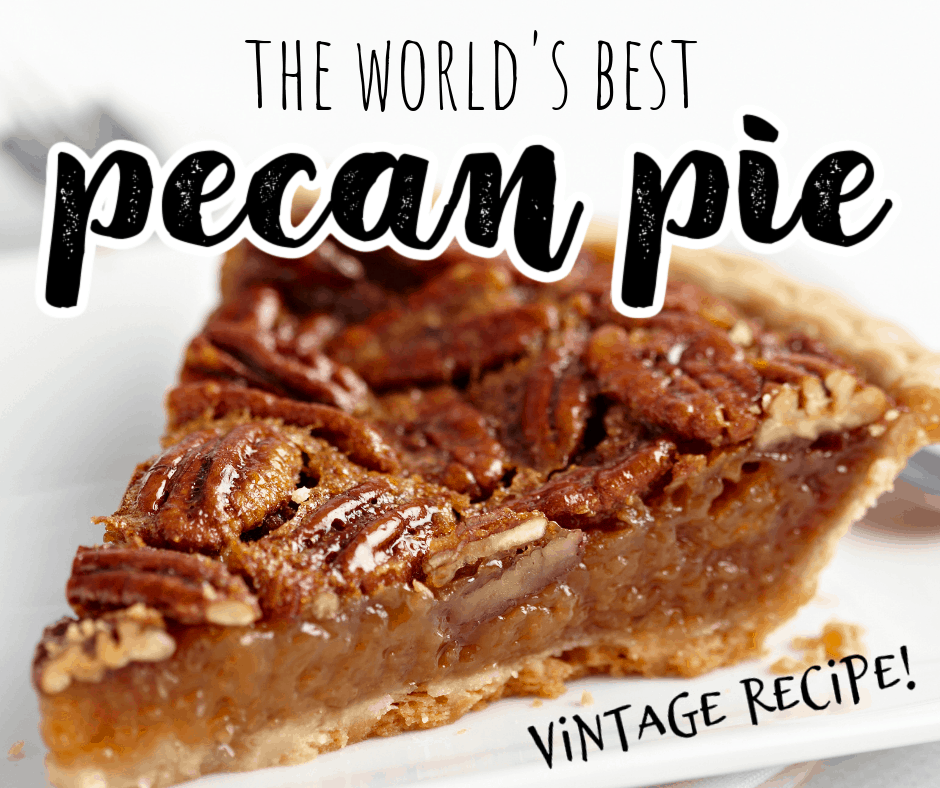 There is nothing like a pecan pie with its crunchy nuts, gooey sweet filling, and flaky crust. This is the world's best pecan pie recipe because it comes out perfectly every time!
I love pecan pie. I'm a real pecan pie aficionado, and I've never eaten one as tasty as this.
Many Novembers ago, I gained about fifteen pounds perfecting my very own pecan pie recipe. My gain is your gain because I'm going to share it with you, in the spirit of the coming holidays.
Also, this recipe works equally well in a deep dish pie plate or a normal shallow one. I've tried both, and I prefer the deep dish because there's more gooey filling in each bite, but that's just my personal preference. If you use a shallower plate, you may need to adjust your cooking time. A shallow pie will cook more quickly and may burn if you're not careful.
Looking for a gluten-free pecan pie? Hop over to this post for the best one you'll ever bake!
What you'll need to make the world's best pecan pie
Equipment
Of course, you will need a pie plate, and I also recommend a pie shield. They are very inexpensive, and they can save your pie crust from burning if the pie takes a little longer than expected to bake.
Ingredients
1 pre-made pie crust - A package of pie crusts in the dairy case contains 2 crusts. You will only need 1 of these crusts to make a pecan pie. You can use the second one to make a beautiful pumpkin pie with pecan streusel topping and have two very impressive desserts to serve this year.
Eggs - These bind the filling together. The pie won't work without them.
Light corn syrup - I use light corn syrup, and I have never used dark corn syrup. I know you can buy both, and I honestly don't know what the difference is, so I can't really help you decide which is better for your pie. If you want the same delicious pie that I make, use light.
Light brown sugar - I do know the difference between light and dark brown sugar. Dark brown sugar contains more molasses which is slightly sweet but also slightly bitter. I highly recommend getting the light brown sugar as that is most likely the base for the pecan pie flavor you're used to.
Vanilla bean paste - I am in love with vanilla bean paste. It's basically a sweeter and more concentrated form of vanilla extract, and it is made from crushed up vanilla beans rather than just alcohol steeped in vanilla beans. If you don't want to invest in vanilla bean paste (you really should!), you can use the same amount of vanilla extract with decent results.
Melted butter - This recipe doesn't call for a lot of butter (only 3 tablespoons which is slightly less than half of a stick), but the better is essential to the taste and consistency of the filling.
1 pinch of salt - Even though it's a tiny amount, don't skip this. It helps to balance the extreme sweetness of the corn syrup and brown sugar.
Pecans - Some people take the time to cut each nut individually and to line the top of their pies with pecan halves. I do not do this. I am lazy, and I think that a pecan pie made from chopped pecans tastes just as good as one topped with pecan halves (and maybe even better for the reason I will explain below). So I chop the pecans with my Food Chopper into nice big pieces OR mash them a bit in the bag they come in OR buy already chopped pecans.
About the pies you see topped with whole pecans - I tried topping my pecan pie with pecan halves twice. The first time, I made the pie as the instructions below indicate, and then I laid pecan halves in a pretty pattern over the entire top of the pie. This was a disaster because the pecan halves had no sugary coating and burned in the oven.
The second time I tried tossing the pecan halves in the sugary filling and then arranging them on top of the pie. This worked well enough because the pecans didn't burn, but I thought the pie was hard to cut because the halves were big. It was extra work for no benefit at all, save the fact that the pie looked nice on the table.
I don't know about you, but I'd rather have a pie that is easy to cut and serve (and eat!) than one that is breathtakingly beautiful on the table. I have opted for chopped pecans ever since.
How to make the best pecan pie recipe
Preheat the oven to 350ºF.
Press the pie crust into the pie plate, leaving a little bit of an edge above the pie plate (so it doesn't fall down) and pre-bake (see note below about how to pre-bake a pie). Bake the crust for 8 to 10 minutes, until it is just barely golden and not at all brown.
Meanwhile, in a 2 quart bowl, whisk together the eggs, corn syrup, brown sugar, vanilla bean paste, and melted butter. Stir in the chopped pecans.
When the crust comes out of the oven, pour the syrup and pecan mixture into it.
Bake the pie in the preheated oven about 1 hour or until firm. Let it cool on a wire rack for at least 1 hour before serving (if you don't, it will be very runny when you try to cut it).
Why this is the very best pecan pie recipe there is
Simple recipe - This recipe is super simple with only 7 easy to find ingredients.
Easy preparation - Buying a pre-made pie crust makes preparation of this pie a 5-minute affair. It could not be easier to chop the pecans, whisk together the filling, and pour them into the pie crust.
To die for texture - The pecans on top of this pie get crisp and toasty while the nuts underneath stay a little on the chewy side. The sweet filling is creamy and rich. There is something about a southern pecan pie that you simply can't beat, and this recipe comes out perfect every single time.
Tips baking a better pecan pie
Pre-baking - In the recipe below, I state that you should press the unbaked pie shell into the pie pan and pre-bake. You should first stick it all over with a fork. Don't do it so much that you make the crust into Swiss cheese, just enough that any air bubbles that form underneath the crust will be able to escape without causing a big lump in your cooked pie crust.
Pricking is an important step any time you pre-bake a pie crust because the crust gets crispy in the pre-baking stage, and you don't want the crispy crust to be raised up with a big air bubble underneath. Don't skip it.
Using a pie shield - Keep an eye on the pecans and crust edge of your pie during baking. If you notice that they are starting to move past golden brown into deep brown or almost black, cover the pie with aluminum foil. Nobody likes burnt pecans or burnt crust on the edge of their pie.
If the crust is the only issue, use a ring of aluminum foil so that the pecans continue to brown while the crust is protected. Better yet, invest in a couple of pie shields before the holidays so that you'll be prepared for that and don't end up trying to make an aluminum foil ring while your pie crust is turning black.
Allow the pie to cool - Pecan pie must be served at room temperature or (even better) chilled in the refrigerator for a couple of hours. The filling will be very liquid and runny if served even a little bit warm.
Stay away from artificial sweeteners - Don't try to lighten this recipe by using Splenda or another artificial sweetener. They don't work. Trust me; I know. Pecan pie filling won't set up without both sugar and corn syrup, and you'll end up with a gooey liquid mess instead of a nice firm pecan pie.
How to store pecan pie
As I mentioned above, this pie is best served chilled. So it stands to reason that you would want to refrigerate the leftovers, although I have let my pecan pie sit on the counter for a day or two without having it spoil. I wouldn't let one sit out for more than that though.
You can actually freeze a pecan pie (the whole thing or a piece of it) and come out with beautiful results. Bake the pie as the instructions recommend, cool it completely, then wrap tightly with plastic wrap or aluminum foil. Slide the wrapped pie into a zippered freezer bag or an airtight container and freeze for up to 3 months. When you're ready to serve the pie, thaw overnight in the refrigerator and allow it to warm up to room temperature before slicing. No one will ever know it wasn't freshly baked.
THE REST OF OUR THANKSGIVING MENU
We don't get creative with our Thanksgiving menu. We like routines. We like the comfort of the same old food.
And for the leftovers, try one of these delights:
You can read more about my easy and traditional Thanksgiving menu.
Recipe