This easy turkey salad recipe is made with leftover roast turkey, hard-boiled egg, pecans, mayo, and mustard. It's the best way to enjoy leftover Thanksgiving turkey! Ready in 15 minutes. Gluten-free.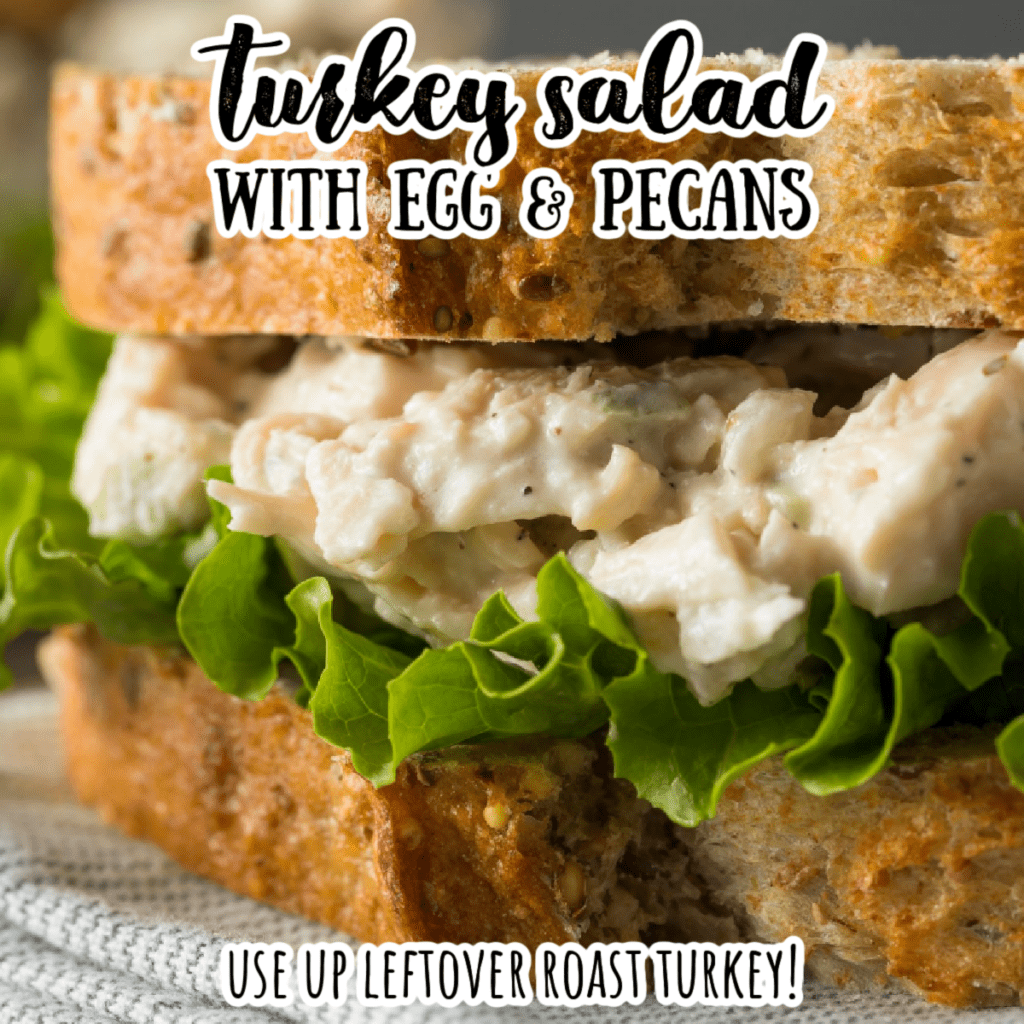 After a major holiday, Joe and I usually eat leftovers of the holiday meal over and over and over.
It's pure laziness.
We eat Thanksgiving dinner or Christmas dinner or Easter dinner five or six or seven times over the course of the weekend.
I wouldn't mind that, except that I'm not a huge fan of plain roast turkey. It's all I can do to eat it for the big meal, let alone eating it meal after meal in the days after the holiday.
After Thanksgiving this year, I was hoping to find a way to use up some of our turkey without actually eating a bunch of leftover turkey with gravy.
This recipe was born.
I was thinking when I made it of the chicken salad that my mom had at my bridal shower. All I remember about it was that they thought it was my favorite, but I had never eaten it before that very brunch.
Instead of eating roast turkey six times, I made this turkey salad over and over and ate it six times. It was delicious.
At any rate, it had the traditional mayo and mustard in it, celery salt and onion powder instead of crunchies (which I absolutely hate in my chicken, egg, ham, or turkey salad), and pecans. Even though I hate crunchy celery and onion bites, I love the soft crunch of pecans in it. I don't know what the difference is, but I love the nuts.
What you need to make leftover turkey salad
Ingredients
Spicy dijon or horseradish mustard
Miracle Whip - I like to use both Miracle Whip and mayonnaise for the ultimate in salad perfection. The two flavors
Mayonnaise
Garlic powder - I think fresh garlic is overpowering in this recipe, so stick to a bit of garlic powder.
Celery salt - If you like crunchy bits in your turkey salad, by all means, cut a stalk of celery. I both hate fresh celery and hate crunchy stuff in my chicken and turkey salad, so I stick to the celery salt for the flavor. Don't leave this out completely though.
Onion powder - See above note about raw celery. I hate to bite into a raw onion, so onion powder does the job. Also, do not leave this out.
Hard boiled eggs, cut into cubes
Leftover cooked turkey, shredded or cubed - You could also use leftover roast chicken or rotisserie chicken from the grocery store.
Chopped pecans - I know I said I hate crunchy stuff in my turkey salad, but pecans don't count. I love the texture that the pecans give to the salad.
Shredded cheddar cheese - This is the little extra thing that sends this recipe over the top in amazing-ness.
How to make classic leftover turkey salad
Mix together the mustard, Miracle Whip, mayonnaise, garlic powder, celery salt, and onion powder in a small bowl.
Mix the turkey, egg, pecans, and cheese together in a larger bowl.
Pour the dressing over the salad and mix well.
Serve on crackers or in a sandwich.
How to serve turkey salad
My favorite way to enjoy leftover turkey salad is on top of Ritz crackers. I just love it.
You could also put a scoop of turkey salad on a sandwich with regular or gluten-free bread, on a croissant, in a tortilla as a wrap, or in a lettuce leaf as a lettuce wrap. You can also put your sandwich in a panini press and eat it hot.
I like to serve this salad with other cold salads like cucumber pasta salad, macaroni salad, or potato salad. I know it's November, but it reminds me of a summer picnic. You could also serve the sandwich with homemade air fryer potato chips or sweet potato fries.
Turkey salad variations
You could, of course, substitute chicken in this recipe for a delicious chicken salad. Diced ham would also be good.
This salad is also really good with halved grapes, dried cranberries, or pomegranate seeds mixed in with the pecans. Use a handful or two.
Avocado goes with everything, so this salad is really nice with some diced avocado thrown in with the pecans and cheese.
In place of the pecans, you could use walnuts or almonds.
As stated above, if you like crunchy bits in your salad, you could add fresh celery and red or green onions in place of the celery salt and onion powder.
How long can you keep turkey salad?
Store leftovers in an airtight container in the refrigerator for up to 3-4 days. Don't let it sit out for longer than an hour or two as the mayo could spoil.
I would not recommend freezing turkey salad. The mayo would most likely separate, and the pecans would get soggy, and it would generally be bad news.
The Rest of our Thanksgiving Menu
We don't get creative with our Thanksgiving menu. We like routines. We like the comfort of the same old food.
And for the leftovers, try one of these delights:
You can read more about my easy and traditional Thanksgiving menu.
Recipe