Whether you're feeding a crowd or just overflowing with cucumbers, this easy pasta salad is the perfect dish to bring to a spring or summer BBQ or cookout. Cut the sugar in half to make it a healthy option.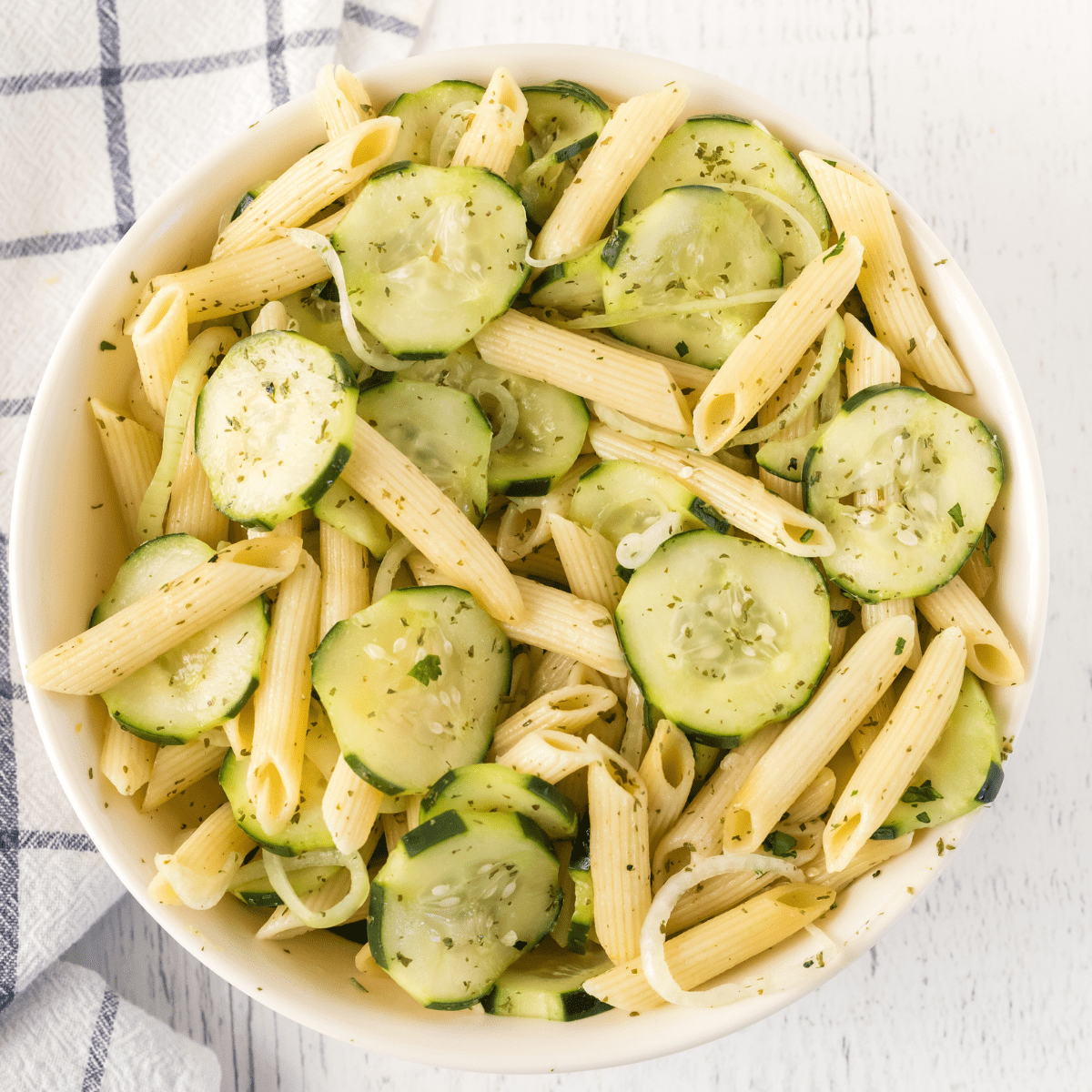 A lifetime ago, we had a dear friend who had a swimming pool in her backyard. She loved entertaining, and her house and yard and pool were always full of people.
Our friend was my mom's age. They had originally been friends but had had a falling out, and Joe and I never stopped going over to visit. My mom's friend became our friend.
Our friend's sister was a masterful cook. She made everything superb, from chicken salad to cake. Many of my recipes still today have come from that friend's sister.
Sadly, we have lost touch with that friend, but I still have all of her sister's recipes, and we still make them regularly.
On most summer Saturdays back then, a dozen or more people were spread out at several round tables on her patio, chatting and eating and periodically getting in the pool to swim.
This cucumber pasta salad was originally her sister's recipe. She made it often for our summer get-togethers and picnics and BBQs.
Now, whenever we go to a picnic or potluck in the summer, we take this pasta salad. When we have a bounty of cucumbers, we make this pasta salad.
I really like this pasta salad because it doesn't have any mayo in it. That means it can sit out on the table for a couple of hours without worrying about the mayonnaise spoiling. It also makes the salad taste fresher and lighter, in my opinion.
Like most pasta salads, the flavor in this one gets better the longer it sits, so make it a day ahead if you can. It is wonderful paired with BBQ or hamburgers or sandwiches or... anything, really. It's just so good.
What you'll need to make this cucumber pasta salad recipe
Equipment
You could make this entire recipe with a very sharp knife, if you have excellent knife skills.
I however prefer to use some tools that make preparation easier:
Mandoline - This is a machine that cuts perfectly even and thin slices from vegetables like cucumbers and onions. I prefer to use it rather than slicing with a knife because the slices are even.
Garlic press - If you don't have a garlic press, you can mince or crush the garlic with a knife. But make sure the pieces are very small because no one wants a mouthful of fresh raw garlic when they're eating a cold salad.
Ingredients
8 ounces tube pasta like penne - You could use any shape of pasta. I like the tube shape because it holds the dressing better. I also use rotini sometimes, for the same reason. Gluten free pasta is just as good as wheat pasta.
1 tablespoon olive oil - You need this for the dressing, but your favorite type of liquid oil would be fine. I would not use coconut oil as you have to chill the salad.
2 medium cucumbers, sliced thin (peeled or not, as you prefer) - I like to peel stripes in my cucumbers, but you could just as easily peel them entirely or not peel them at all.
1 medium onion, sliced thin - I like to use a sweet Vidalia onion, but you could also use a red onion.
1 cup sugar - I know this is a lot of sugar, but you need it. You can use half Splenda for a healthier dish, but I wouldn't totally replace the sugar with Splenda as that might have an odd taste.
1 cup water
¾ cup white vinegar - I prefer the flavor of white vinegar, although if you really wanted to, you could probably use apple cider vinegar instead.
1 tablespoon mustard - I use dijon mustard because of its smooth consistency.
1 tablespoon dried parsley - If you want to use fresh, use 3 tablespoons of chopped fresh parsley.
1 teaspoon salt - You need this to balance the sweet and tart flavors.
1 teaspoon pepper - You can use less if you don't like the flavor of pepper.
1-2 cloves garlic, pressed - I love garlic and use a lot, sometimes 3-4 cloves. If you aren't a huge garlic fan, use just one clove.
How to make cucumber pasta salad from your garden
Prepare the pasta. Boil a few quarts of water in a large pot. Cook pasta according to package directions until al dente. Drain and rinse and add to a large bowl.
Prepare the cucumbers. Peel stripes on your cucumbers. (There's actually no reason to do or not to do this, aside from I think it is pretty when you do it. Peel them or not as you prefer.) Slice the cucumbers into thin slices. You can also cut the slices in half if you prefer, but I leave them whole.

Prepare the onions. Peel and slice a medium onion very thin.
Assemble the salad. Toss the cucumbers, onions, and olive oil into the pasta and mix well.

Prepare the dressing. Whisk together the sugar, water, white vinegar, mustard, parsley, salt, pepper, and garlic until well blended. Pour dressing over the salad and toss to coat.

Wait. Cover the salad and refrigerate for at least 3-4 hours or overnight (preferred). It tastes better the longer it sits. Stir it in the dressing occasionally if you think of it.

Cucumber pasta salad variations
I think this pasta salad is amazing just the way it is, but there are a couple of adjustments you could make to add some variety.
Add tomatoes - Some seeded and chopped tomatoes would be a nice addition.
Add fresh dill - Mix about 2 tablespoons of chopped fresh dill with the dressing.
Add lemon - Squeeze a couple of lemons and replace half of the vinegar with fresh lemon juice.
Here are a few recipes to pair with cucumber pasta salad:
Recipe