How to make the best cucumber salsa - This simple and easy dip recipe uses crisp, fresh veggies like tomatoes, cukes, and spicy peppers for the ultimate healthy summer salsa! Serve with baked tortilla chips or as a topping for meat or tacos.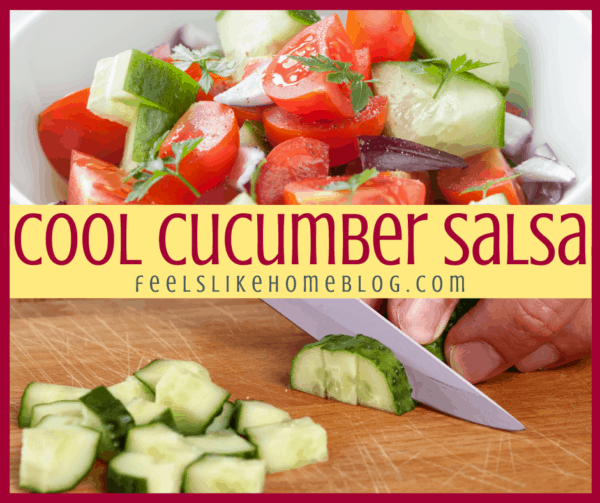 I have a little mirror attached to the rearview mirror in my car. It telescopes and twists and turns so that I can keep an eye on my babe while I'm driving. I picked up our CSA share today, and I set the big bag on the back seat as I do every week. This week, when I got in the front seat, I saw something in the mirror that really made me laugh.
I didn't scold her or take it away because - seriously? The kid grabbed a fresh cucumber out of the bag and starting eating it! It was a parent's dream.
She crunched that cucumber the whole way home.
In honor of Gracie's sudden affection for cucumbers, I am sharing my cucumber salsa recipe. It's dee-licious.
Ten years ago, when I bought my house, there was a dilapidated swimming pool inside of a little fence in the back yard. The pool had fallen into such disrepair that the only viable option was to rip it out. I've never replaced it.
Last year, Joe decided to take advantage of the fenced-in area and build a little garden. (We live in a slightly wooden, suburban area, so we get critters of all shapes and sizes.)
At first, the garden didn't produce much. He mulched and fertilized and tilled. Still a lot of nothing. This year, Joe has been working in his garden every day. He's been watering and tending and loving those plants.
His work has really paid off, and the garden is flourishing. Between the garden and the CSA, we have scads of tomatoes, cucumbers, peppers, and zucchini. It's been great.
So what to do with all of that produce? Well, as you know, we are spending a lot of time canning and putting food up for the winter. But, we still like to eat fresh.
How to make the best cucumber salsa
Mix cucumbers, tomatoes, sweet pepper, hot pepper, onion, garlic, lime juice, parsley, cilantro, dill, and salt in a large bowl. Cover and refrigerate at least an hour.
Serve with your favorite tortilla chips. This recipe also makes a nice pico de gallo garnish for meat or tacos.
Because this salsa goes so well with tacos, you should try it with the recipes below. It really kicks them up a notch.
Recipe