This recipe shows you how to make the best chicken burritos ever! Stuffed with shredded Mexican chicken, BBQ sauce, rice, cheese, feta, Greek yogurt or sour cream, and salsa, these are so delicious and make the best lunch and dinners! Could use a low carb or gluten-free tortilla or serve the filling over lettuce in a bowl.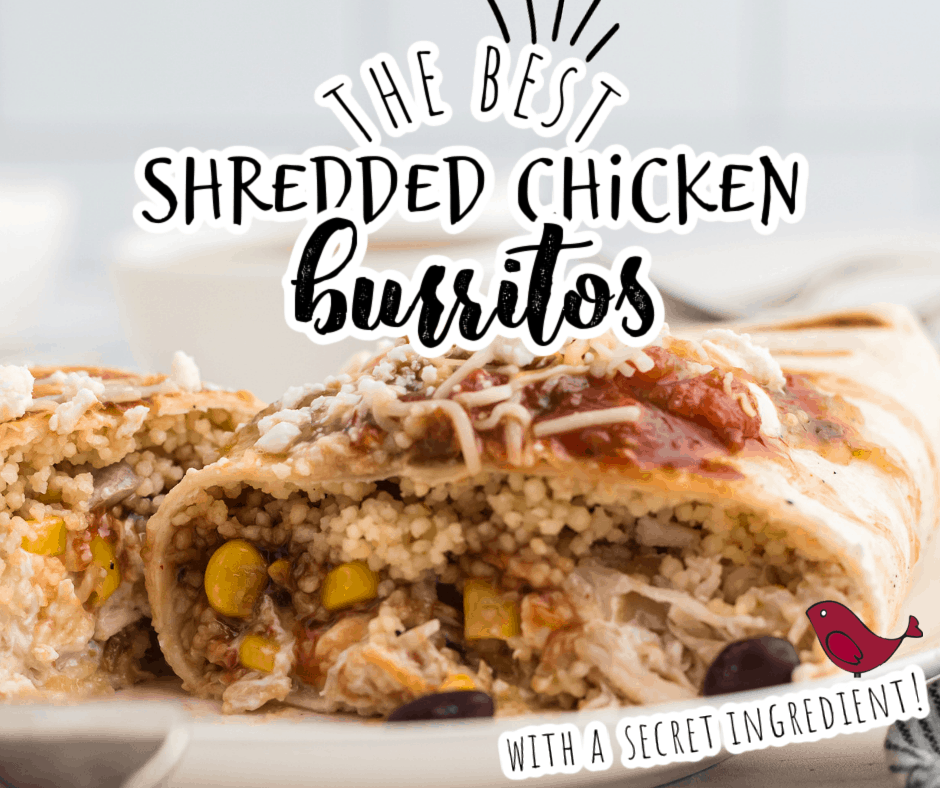 These burritos are like the pinnacle of food for Joe and me. They're stuffed with everything imaginable - shredded chicken, couscous or rice, black beans, corn, Mexican blend cheese, salsa, Greek yogurt or sour cream, and feta cheese.
Sure, fancier food is nice, but these burritos are something we could eat day in and day out, all the time. We love them.
They're the pinnacle of food for us because they're like the burritos we get at a local restaurant called Neato Burrito.
I've written about Neato Burrito before as we've tried on several occasions to recreate their yumminess at home (partly because their burritos are HUGE and we need a little portion control around here).
What do you put in the best chicken burritos? (and the secret ingredient!)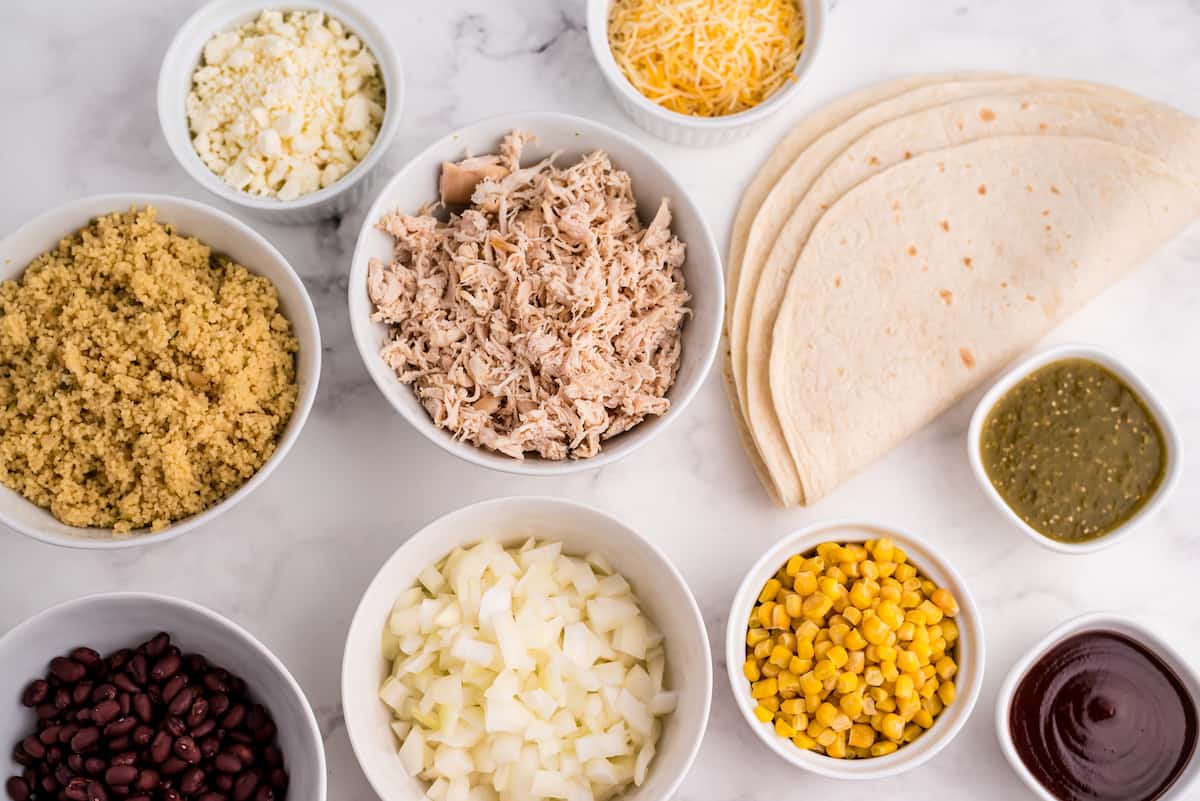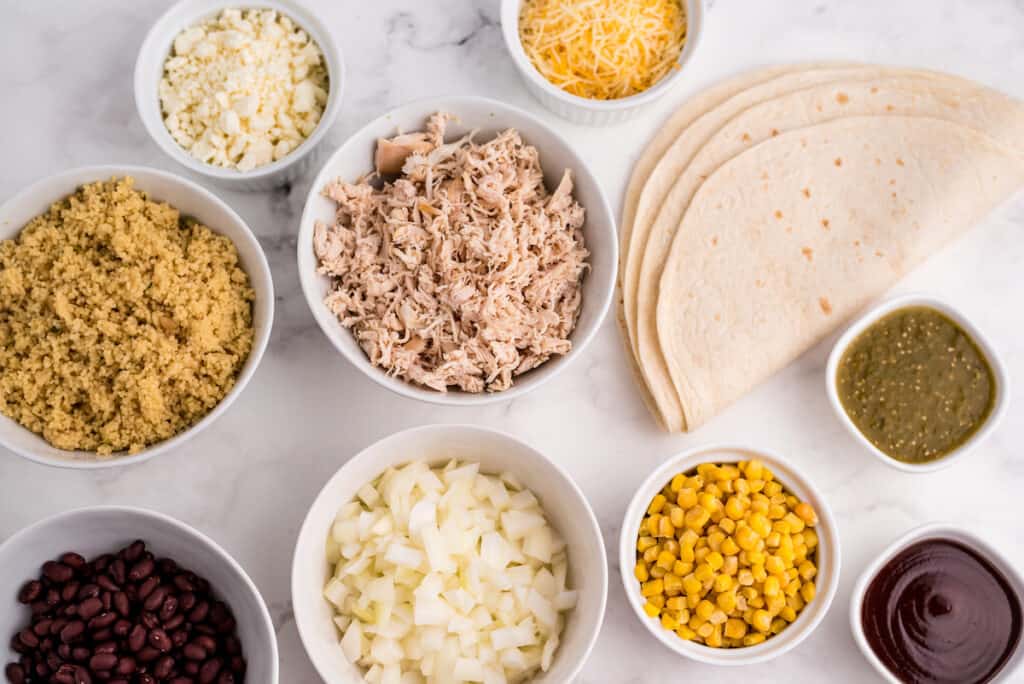 Olive oil
Chopped onion - Onion makes everything taste better, but if you hate onion, you can skip it.
Chopped jalapeño pepper - Also optional, provides some heat. If you want the flavor without the heat, remove the seeds and membranes from inside the pepper. Always use caution when handling hot peppers as the oils from the pepper will burn your eyes, nose, mouth, and other sensitive areas if you have it on your hands and touch them. Alternately, you could use chopped bell peppers instead.
Boneless chicken breasts or tenders, cooked and shredded - I usually buy a can or two of shredded chicken, and it works. You can also make this Instant Pot chicken or this Instant Pot chicken and rice to use in this recipe or buy a rotisserie chicken at the grocery store and shred that. I have also used the steak from this Crockpot steak and beans recipe and the shredded beef from this Instant Pot recipe, and those were amazing too.
Black beans, drained but not rinsed
Frozen corn, thawed
Fresh lime juice - This is optional.
4 burrito-sized flour tortillas or flavored wraps
1 package couscous or rice, prepared according to package directions - We used to always rice because that's what Neato uses. But then we tried couscous and loved that even better. You can even leave the carbs out all together and still have a great burrito.
BBQ sauce - My favorite is Sweet Baby Ray's, but use whatever you like.
Mexican blend cheese - You can use almost any cheese for these burritos. Neato uses plain cheddar cheese. I use a Mexican blend if I have it in the fridge, but if I don't, I go for sharp cheddar.
Salsa verde - I like salsa verde, but I don't have a favorite brand. I just buy whatever.
Regular salsa - You can use whatever you like, but my current favorite is Newman's Own pineapple salsa.
Low fat Greek yogurt or sour cream - We have switched over 100% from sour cream to Greek yogurt for several reasons. First, I am lactose intolerant, and Greek yogurt has less lactose than sour cream (Don't ask questions; I do not understand this.). But we had already stopped using sour cream before that revelation because Greek yogurt has significantly more protein and less fat - and tastes exactly the same as sour cream. I buy the 0% fat Greek yogurt, and no one has ever complained. They even use it to make French Onion Dip for chips, and still no complaints.
Crumbled feta cheese - This is the SECRET INGREDIENT! Whoever would have thought that you should put Greek cheese in a Mexican burrito? I didn't, until I had Neato's jalapeño feta salsa which is basically jalapeños, feta, and sour cream all mixed together with other awesomeness that they keep secret. Because I can't actually make their salsa at home, I do the next best thing - add a handful of feta to my burritos. And it makes them AMAZING.
Guacamole - Optional, for garnish
How to make perfect easy chicken burritos
Heat olive oil in a large skillet over medium-high heat.
Sauté onion and pepper until it is beginning to soften. Add the shredded chicken, black beans, and corn. If desired, squeeze the juice from one lime over the chicken mixture and season with salt and pepper. Stir to distribute. Continue to sauté until the mixture is evenly heated.

Place a tortilla on your working surface.
Spread ⅓ cup of couscous/rice over the center of the tortilla.

Top with a generous squirt of BBQ sauce (about 2 tablespoons).

Top with ½ cup of chicken mixture.

Add a generous ½ cup of shredded cheese. You could microwave the burrito now for 20-30 seconds if you wanted to melt the cheese.

Spoon salsa verde and regular salsa over the cheese.

Spread 2 tablespoons of Greek yogurt and 2 tablespoons of feta over the salsa.

Roll the burrito and grill it in an electric grill or under a panini press for 3 minutes. If you have neither, you could wrap it in foil and bake it in a 350ºF oven for 10 minutes.

Repeat with remaining tortillas.
Top with additional salsa, salsa verde, feta, Mexican cheese, and/or guacamole.
How do you roll a chicken burrito?
Once you know the trick, rolling a burrito is easy!
Warm the wrap in the microwave for about 20 seconds. Warm tortillas are easier to fold and don't break or tear as easily.
Place about a half cup of filling in the center of the burrito, in a tall rectangle about half the length of the wrap and maybe a third of the width.
Fold the bottom of the tortilla up over the filling.
Fold the top of the tortilla down over the filling and the bottom.
Fold one side of the tortilla over the center, enclosing the already wrapped filling.
Fold the other side over the first side.
Reshape as necessary to make sure all the filling is wrapped up.
Place the burrito seam side down on a plate.
Tips and tricks for better burritos
Make sure you have burrito-sized tortillas. They need to be at least 8-inches across, but 10-inches works even better.
If you're making burritos for kids, try using a 6-inch burrito and using way less filling or just cut a bigger one in half.
If you want to cook the chicken while assembling the burritos, you can throw some chopped up tenders or breasts in with the onions. You'll need to cook it a bit longer than you would otherwise, but it will work. If you're cooking the chicken from raw, you'll definitely want to season it with salt and pepper, add some lime juice, and add some taco or fajita seasoning (see below).
If you want spicier chicken, add a tablespoon or two of taco seasoning or fajita seasoning when you add it to the skillet.
If you want a heartier burrito, you can add refried beans. Smear them on the tortilla before adding anything else.
If you're not a fan of couscous, white, cilantro lime, or Spanish rice works really well too.
If you don't have an electric grill or a panini press, you can toast the burritos in a dry cast iron skillet or in a 350ºF oven for 10-15 minutes. (I really like them toasted, so I'd personally go for the skillet over the oven.)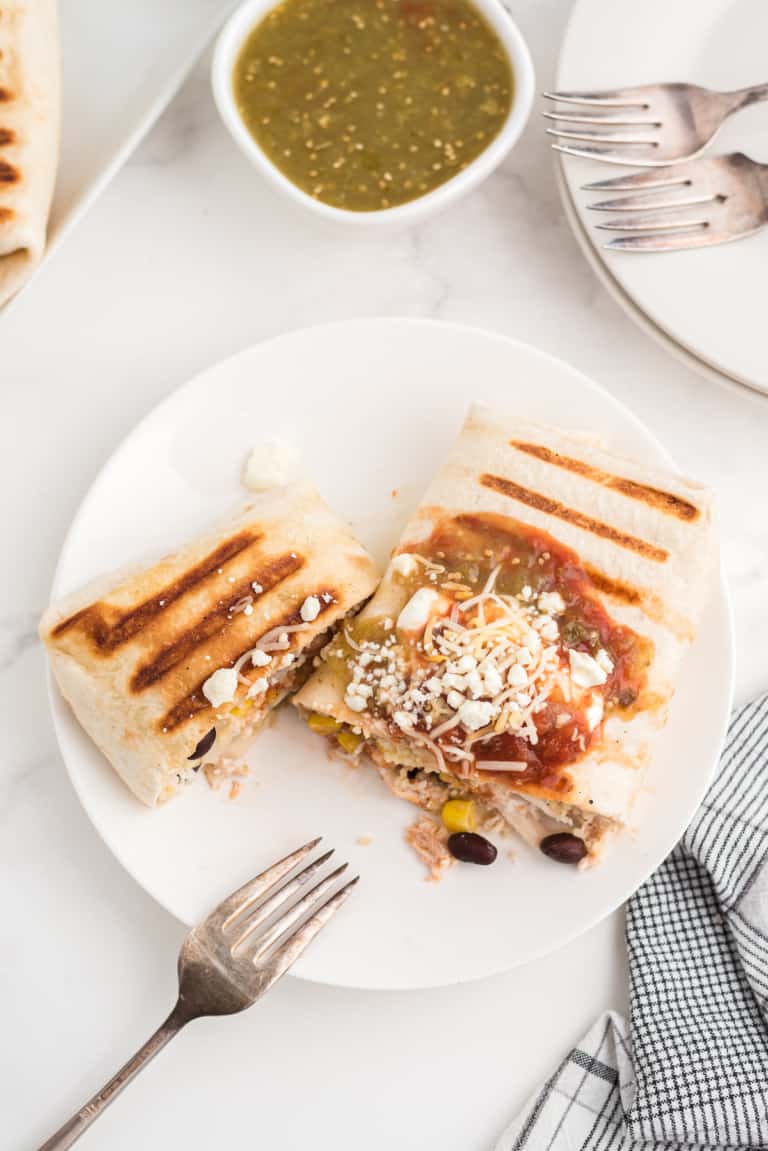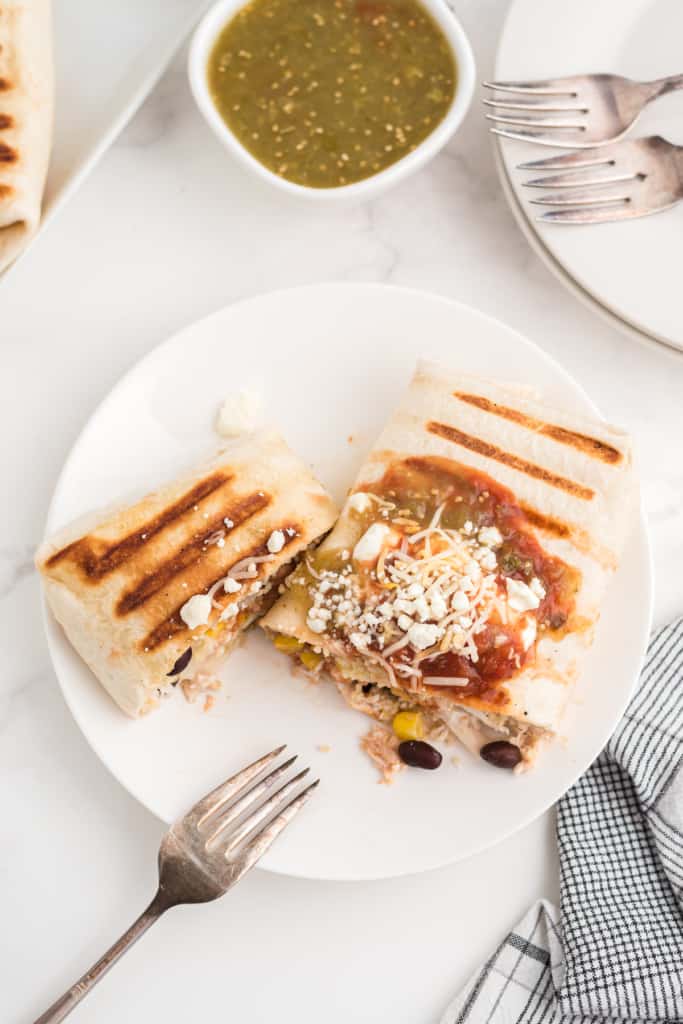 How many calories are in a chicken burrito?
As written, each burrito in this recipe has 488 calories. Read on for some substitutions you can make that will lower that.
Are burritos healthy?
Burritos are as healthy as the ingredients you put in them. If you use lower sugar and lower fat ingredients, your finished burrito will have less sugar and less fat. (Naturally.)
Healthy substitutions
Sour cream - Greek yogurt has more protein, less fat, and fewer calories and tastes just like sour cream.
Black beans - Black beans are very healthy because they contain a lot of nutrients and fiber. Read the label to find a can with lower salt content, or buy dried beans and rehydrate them yourself. (Google how to do that. It's easy but takes 12 hours.)
Salsa - Salsa often has added sugar. Read labels to find one without as much or make your own salsa at home. I really like black bean salsa (omit the additional black beans in the recipe) and cucumber salsa.
Cheese - Cheese is my favorite food, but if you want to reduce the calories and fat in your burrito, you could use a lower fat cheese, use less cheese, or leave it out altogether.
Veggies - I don't put veggies in my burrito, but you could add some shredded romaine lettuce, diced cucumber, and/or diced tomatoes to bulk up the burrito without adding additional calories.
Tortilla - You can cut almost all the carbs by layering the ingredients in a bowl instead of wrapping them in a tortilla. That's actually how I make these for myself! The kids use tortillas, and I make mine in a bowl.
Storing a chicken burrito
It is best to make these burritos only as needed because they don't store well once assembled. You can wrap your leftovers in aluminum foil and keep them for up to 3 days in the refrigerator. I do not recommend freezing assembled burritos.
If you think you will have a lot leftover, I recommend storing the ingredients separately and assembling the burrito only as you're ready to eat. You can store the chicken mixture in an airtight container in the refrigerator for up to 3-5 days.
You can also freeze the chicken mixture in an airtight container for up to 2 months. To use, thaw overnight in the fridge and heat in the microwave or in a skillet when you're ready to assemble the burritos.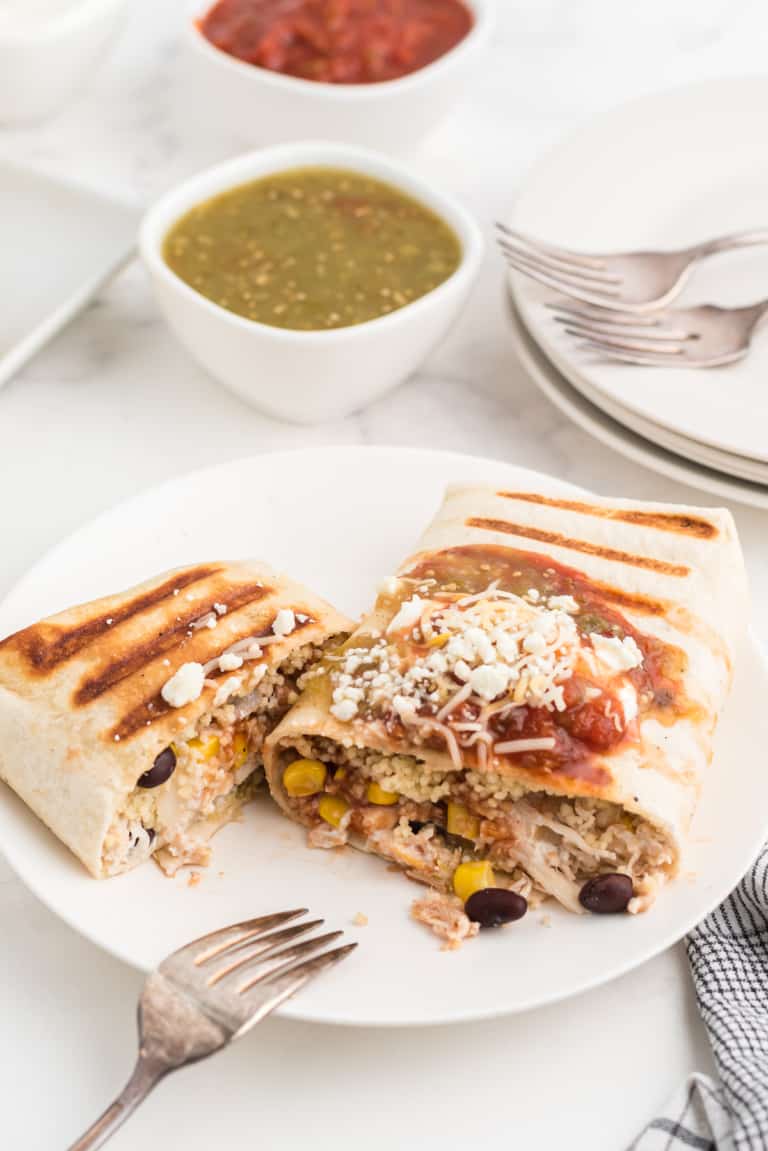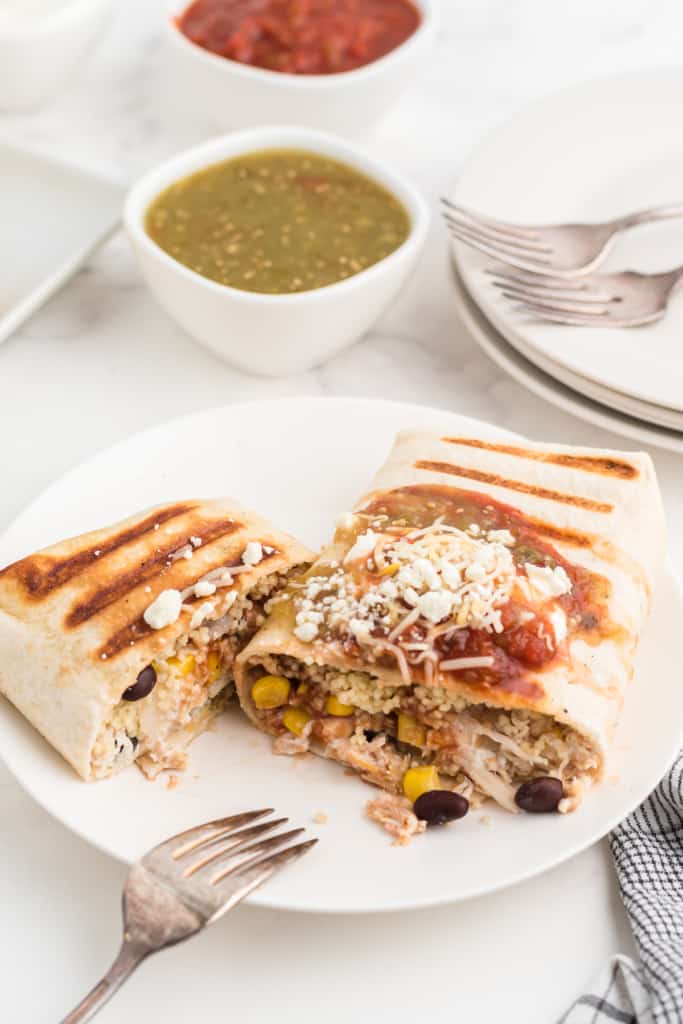 What to serve with chicken burritos
These burritos are huge and a full meal on their own, but if you want to serve a side dish, I'd recommend one of the following:
More delicious burrito & taco recipes
Recipe