This is the best keto broccoli salad recipe with no mayo, and it's healthy, easy, and delicious with a simple homemade oil and vinegar dressing and no mayo. This low carb broccoli salad with bacon makes a great healthy side dish for lunch, or as a holiday salad. Gluten free and dairy free.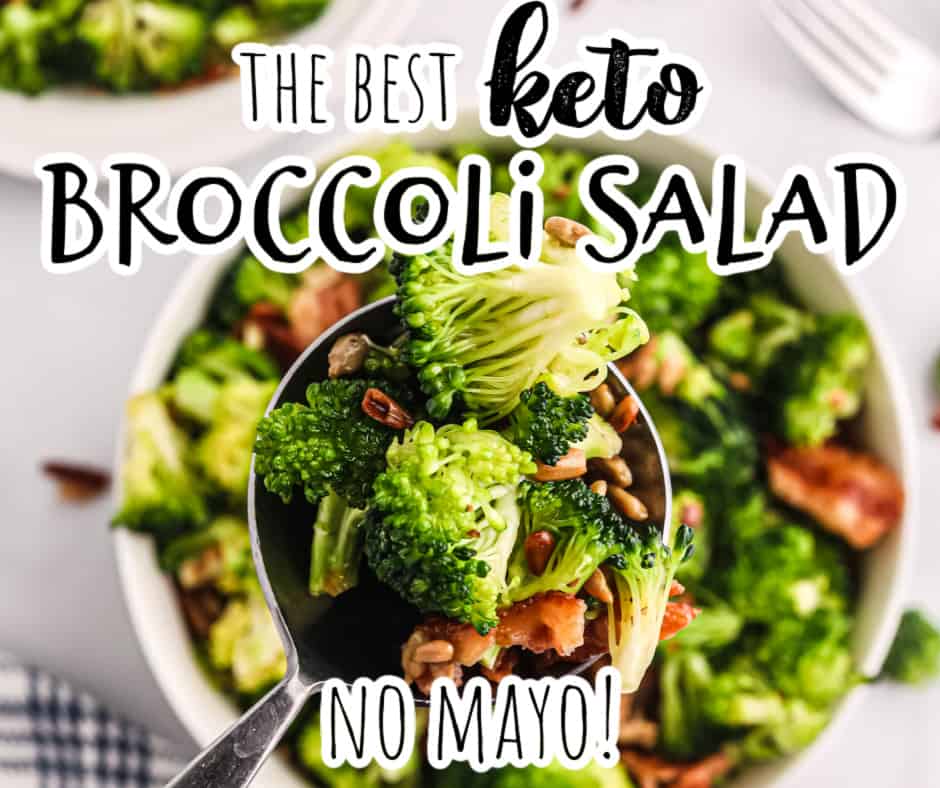 I love broccoli salad. When I worked in an office for a short time in 2016 and 2017, the organization had frequent catered meetings for outside clients and politicians, and we employees were allowed to eat the leftovers when the meeting was over. My favorite thing on the menu was broccoli and cauliflower salad. It was amazing - and loaded with sugar and calories.
It can be hard to know what salads are safe to eat on a low carb diet because the dressing IS often loaded with sugar. My own creamy broccoli salad recipe is relatively low sugar (only 4 tablespoons of sugar for 1 pound of broccoli), but I have been looking for something a little different than the standard salad with mayo dressing.
The recipe below hit the spot for me with a non-creamy dressing that blends the sweetness of olive oil with the tanginess of apple cider vinegar. It is good as written, but I am thinking about playing with the oil to vinegar ratio a bit more to see if I can cut the calories a bit without losing any flavor. If I get something that works well, I'll edit the recipe.
Do I need to cook the broccoli?
Fresh broccoli can be used completely raw or blanched. I have never blanched mine because I prefer easy, but people who do say it makes the florets a little softer and more chewable while introducing a juiciness that is otherwise lacking. If you want to try blanching it, here's what you'll do:
Bring a large pot of salted water to a vigorous boil. While the water is heating, prepare an ice bath in a large bowl or pot, fill it halfway up with cold water and add lots of ice.
Add the chopped broccoli to the boiling water and cook for 1 minute - absolutely no more!
Immediately drain the broccoli florets and drop into an ice bath for 5 minutes. (This is THE most critical step of the process. If you don't cool the broccoli right away, you will end up with fully cooked broccoli.)
Transfer the broccoli to a salad spinner and spin it dry.
Place the broccoli on a kitchen towel and continue to dry and drain while you prep the rest of the salad.
Keto broccoli salad ingredients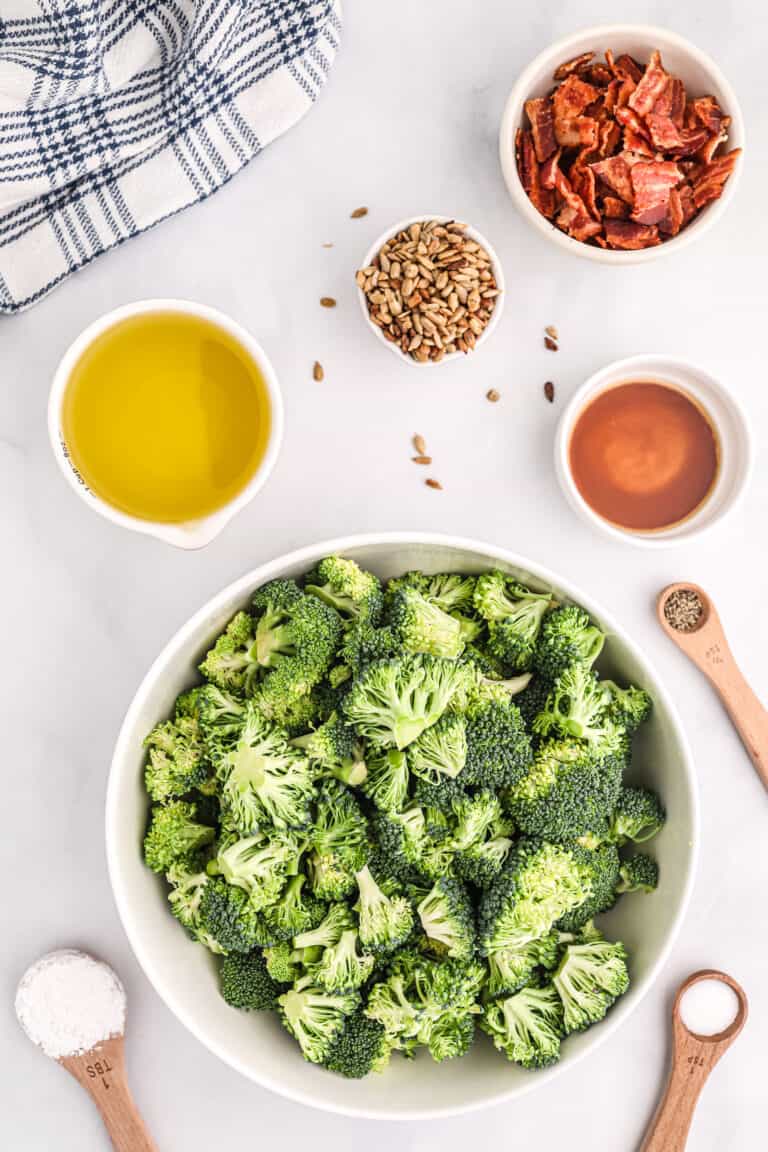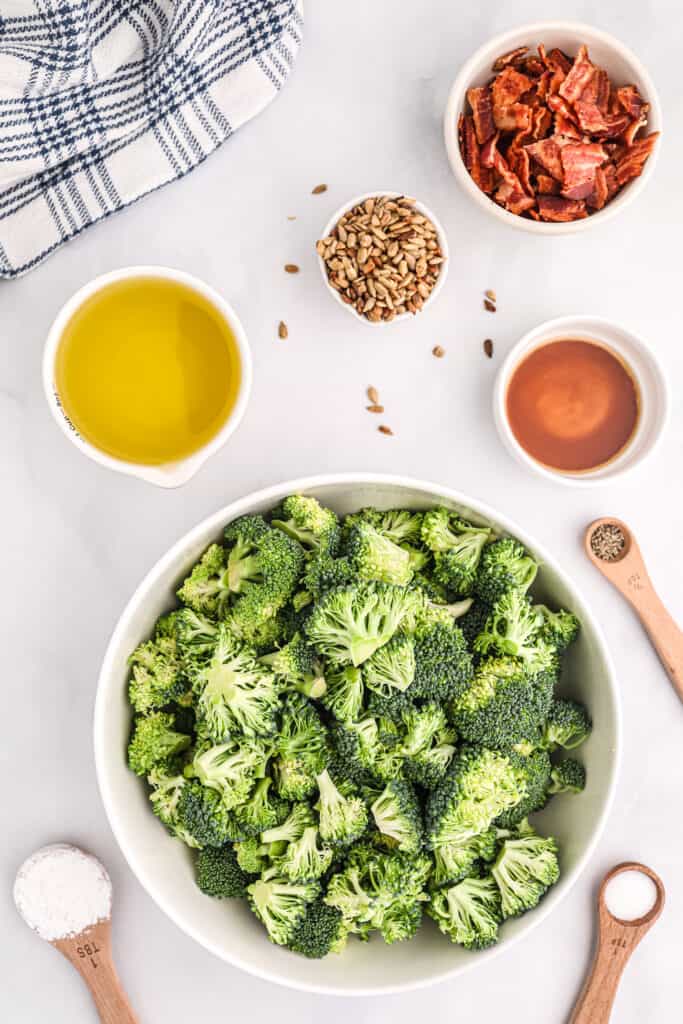 In the salad:
Broccoli gives the salad a great crunch and taste along with major health benefits.
Red onion is milder and sweeter than any other onion when eaten fresh.
Crispy bacon gives the salad a salty crunch and who doesn't love bacon?
Sunflower seeds aren't used enough and give extra flavor to the salad, plus are high in protein.
In the dressing:
Apple cider vinegar is super healthy, and the flavor is nicer in this recipe than red wine or white vinegar.
Extra virgin olive oil adds sweetness and balances out the acidity of the vinegar.
Fresh garlic adds a pungent seasoning for depth.
Artificial sweetener provides a little sweetness without calories.
Do you use the stems or just the florets?
Personally, I use both the florets and the stems. The stems have a crunchy green skin which you can cut off with a knife or peeler if you are so inclined, but I don't mind the skin at all and just leave it on.
To prepare your broccoli, cut close to the base of each floret. Cut those big florets into smaller clumps for the salad. You can see in the photos that none of them are big; you want to aim for bite-sized even for children, if you're serving any.
To cut the stalks, take whatever you've removed from the florets and cut the dry part off the bottom (usually about a ½" will do). Slice the stalk in half lengthwise and then cut each half into ½" slices. These pieces will be crisp without being tough and will be nice to eat.
How to make the salad
For the salad:
To prepare the broccoli, cut the florets from the stalks, setting the stalks aside. Chop the florets into small pieces and place in a large bowl. Some people discard the stalks, but I like to use them. Simply cut the stalks in half lengthwise, then slice each half into thin half circles. They are crunchy and have a more mild flavor than the florets. Add these to the florets in the large bowl.
Add the red onion, bacon, and sunflower seeds to the broccoli in the bowl.

For the dressing:
In a small bowl, whisk together the rest of the ingredients - olive oil, vinegar, garlic, sweetener, salt, and pepper until the dressing is combined and smooth.
Pour dressing over the salad and toss to combine.
You can serve immediately or chill in the fridge until ready to serve.

Tips for the best broccoli salad
If you're really short on time, you can speed up the salad by buying a bag of broccoli slaw. It is typically just julienned stems, so you won't have any florets, but it still tastes like broccoli and will work in a pinch.
I always use a garlic press which makes easy work of smashing garlic. You could also mince it with a knife if you like having garlic-smelling fingers.
You can't go wrong with more bacon. Feel free to add in even more if you want. Bacon is protein, and protein is healthy, right?
This broccoli salad recipe can be made up to 3 days in advance, just be sure to keep the dressing and the salad separate. Prepare the salad and dressing separately as instructed in the recipe, and just toss together when it's time to serve. The dressing is wonderful after it sits for a couple of hours.
Broccoli salad should be stored in the refrigerator in a sealed container. The salad will keep well for up to 5 days. Do not freeze.
This salad is perfect year-round but is especially well-received at summer gatherings, picnics, potlucks, barbecues and the like. But it's also a staple during the holidays, so what can I say?
If you love broccoli salad like I do, I urge you to give this one a try! I know you'll love it just as much as I do!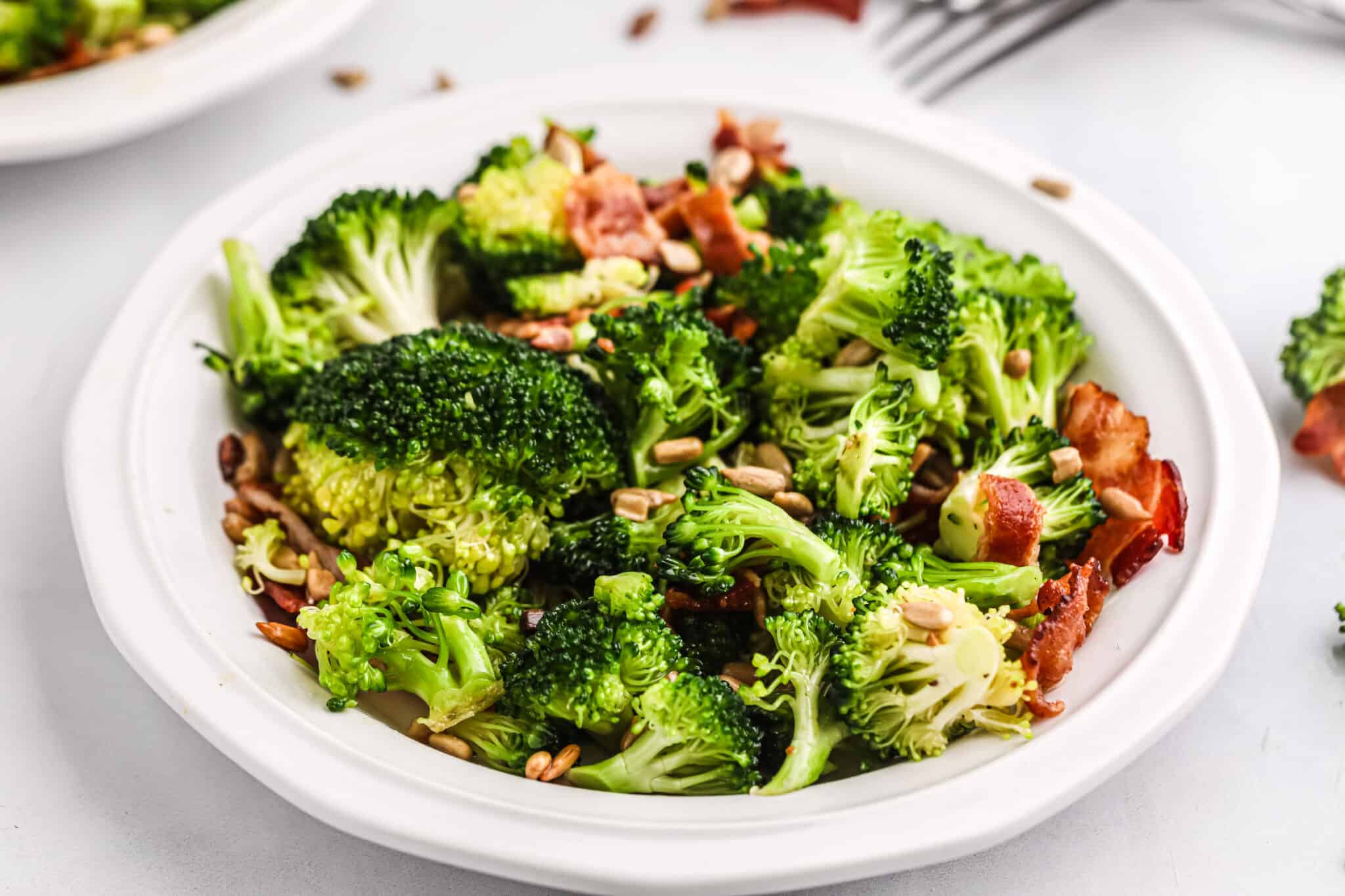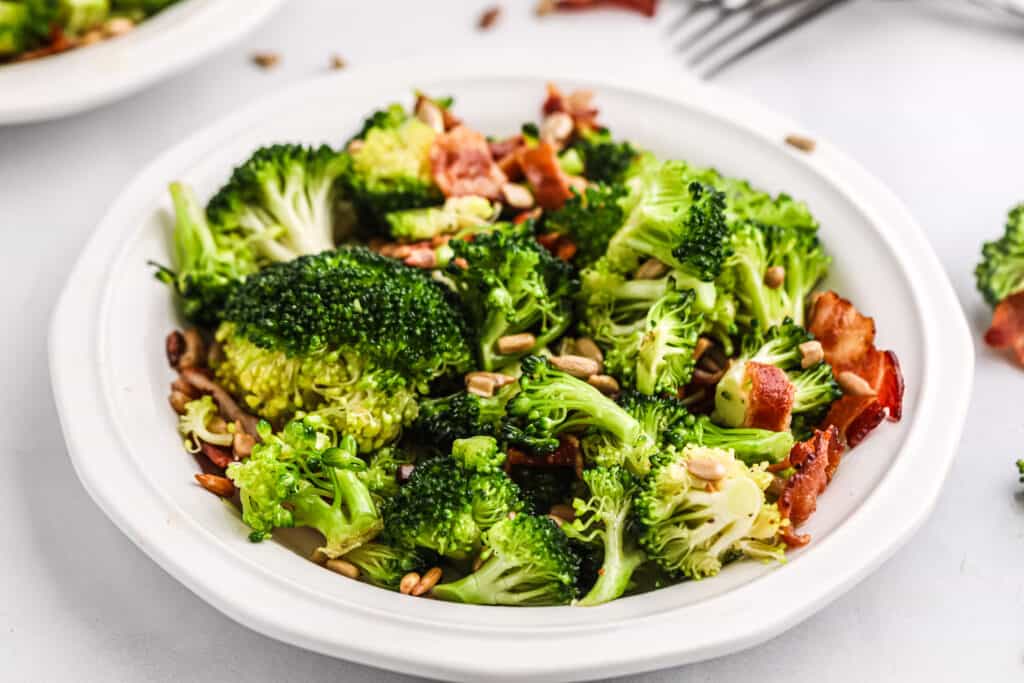 Broccoli salad variations
This salad is so simple and easy, but that doesn't mean that it's dull! You can play with the ingredients and change the flavor quite a bit – while still keeping the sweet tanginess that you know and love!
Protein– Turn your salad into a full meal by adding some grilled or shredded chicken, salmon, or hard cooked eggs. (Find instructions for the best hard cooked egg method over here.)
Cheese– Add a sprinkle of shredded cheddar or crumbled feta or blue cheese for a more intense flavor.
Vegetables– Feel free to add any of your other favorite low carb vegetables, like cauliflower, bell peppers, or spinach.
Plant based protein– Following a plant based diet? Add some beans, tofu, or tempeh.
Try these other delicious salads while you're here:
Recipe