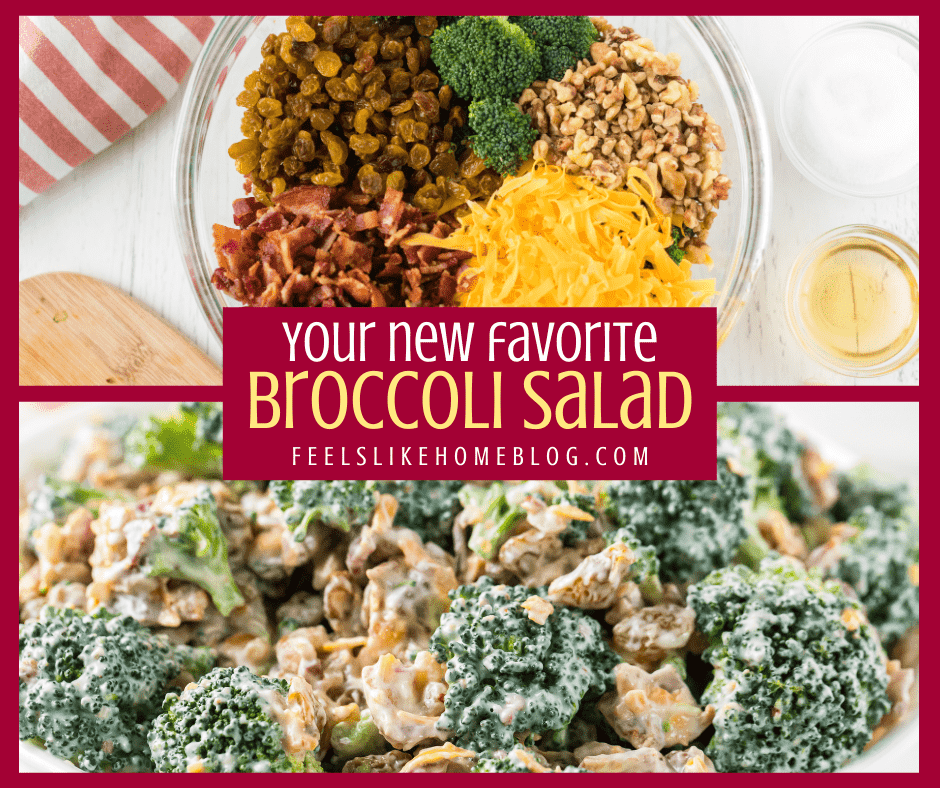 Our favorite broccoli salad recipe is a mix of broccoli, bacon, cheddar cheese, walnuts, and golden raisins topped with a creamy and sweet mayonnaise yogurt dressing. It's the best easy and healthy summer BBQ side dish!
I love broccoli.
I love it raw, baked, drenched in cheese, and splashed with balsamic vinegar.
I've never met a broccoli dish I didn't like.
When Joe and I were thinking about adding a vegetable dish to our beloved Thanksgiving feast, we both thought of broccoli, but neither of us had a recipe in mind.
Suddenly, it was the night before our feast, and we still hadn't decided on a recipe.
I took matters into my own hands. I was glad to have a couple of bags of pre-cut broccoli and used them to make my favorite cold broccoli salad.
My broccoli salad was the biggest hit of the meal. There were only 3 or 4 little broccoli pieces left over, not even a small bowlful.
I was sad about that. I wanted to have it for breakfast the next day. There wasn't enough left over even for breakfast.
This recipe came out so well that I made it again for our second Thanksgiving feast with Old Grandma, and this time, I doubled the recipe. It lasted a little longer, but not much.
How to make our favorite broccoli salad
Cook bacon over medium high heat. Drain it well and pat dry to remove as much of the grease as possible. Crumble the dried bacon and set it aside.
Pour broccoli into a large mixing bowl. Add to it a large handful of golden raisins (my sister says that's a cup but I think it's more than that) and a large handful of walnuts. Add the crumbled bacon and two big handfuls of shredded cheddar cheese.


In a small bowl, whisk together rice wine vinegar, garlic, sugar, and mayo. Pour the dressing over the broccoli and toss it well. Make sure it's all blended and well-coated.

Refrigerate the salad for a couple of hours to overnight to let the flavors blend.

Try these other delicious salads while you're here:
Recipe