This simple, quick, and easy loaded bacon cheddar deviled eggs recipe is keto, paleo, and gluten free. It makes the best fancy deviled eggs perfect for any holiday like Thanksgiving, Christmas, or Easter. Use Miracle Whip or mayo in this unique low carb recipe.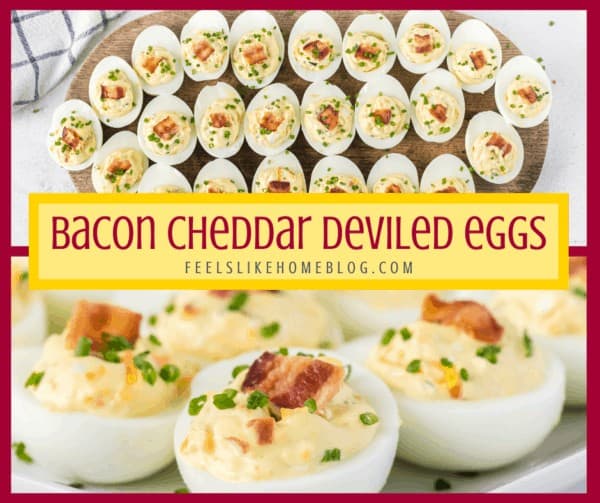 I'm drooling over the title; aren't you?
I love deviled eggs. Everyone I know loves deviled eggs.
Around here, a dozen deviled eggs disappears before you even set the plate down.
We ask my sister to bring deviled eggs to every single family dinner, and she always makes about three dozen, and we always ask her to leave the leftovers behind because we want to eat them for every meal until they are gone.
Deviled eggs are amazing.
Right after my bariatric surgery, I ate deviled eggs at least once a day. They're small and healthy if you use light mayo or Miracle Whip, and they taste so good. I still eat them pretty often.
This recipe in particular is delightful because of the addition of bacon and cheddar cheese. There isn't a lot of either one, but it's enough to give the filling a rich, slightly smoky flavor and every bite is loaded with crunchy bacon and sharp cheddar cheese.
How to Make the Best Bacon Cheddar Deviled Eggs
Prepare the eggs. Hard boil the eggs using your preferred method. These days, we use the Instant Pot, but before we had one, we used this method with excellent results. If you use week-old eggs, they will be easier to peel than fresh eggs because the air pocket inside the egg will be a bit larger. Carefully peel the eggs; slice each in half lengthwise. Remove yolks from all eggs. Reserve 24 egg whites, and finely chop remaining 4 whites.


Prepare the filling. Mash the yolks with a fork. Add mayo or Miracle Whip, sour cream or Greek yogurt, spicy mustard, lemon juice, and pepper. Mix well.

Add finely chopped egg whites, bacon (reserving a 24 pieces of bacon to garnish), cheddar cheese, and onions. Mix well.

Assemble the deviled eggs. Fill a cake decorator with the egg yolk mixture. Pipe one tablespoon of mixture into each egg white. If you don't have an icing decorator, spoon one heaping tablespoon of mixture into each egg white. It will work but won't look as pretty.


Garnish each deviled egg with a small piece of bacon that you reserved earlier. Sprinkle with extra chives or green onion slices.

Let the eggs mellow. Cover and refrigerate eggs for two hours to overnight to allow flavors to blend. These deviled eggs aren't at their best when they are freshly prepared. They get better the longer they sit.
What can I do with all these hard cooked eggs?
I have some wonderful recipes for you! Try one or more of these:
Recipe