Quick and easy classic deviled eggs recipe made with simple ingredients: mayo or Miracle Whip, horseradish mustard, Worcestershire sauce, and seasoning to taste.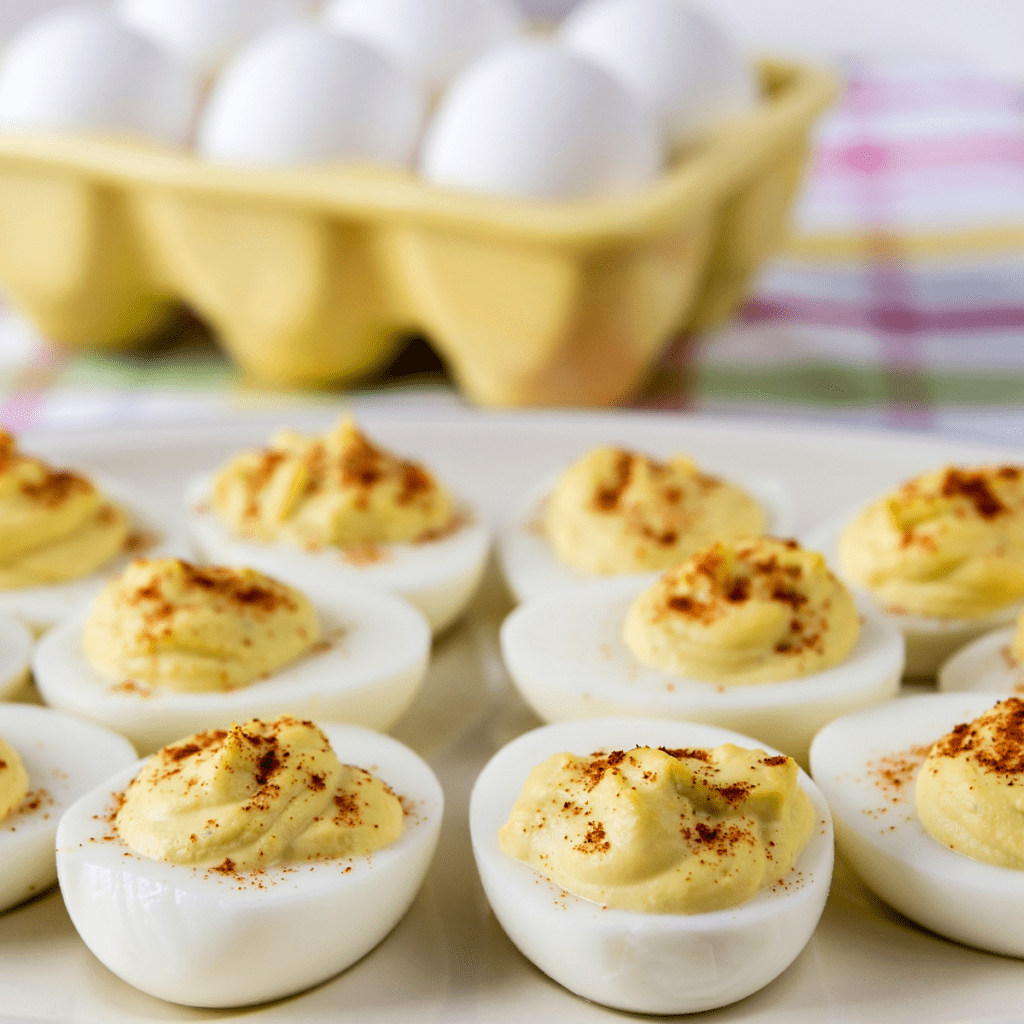 I love to eat deviled eggs, and whenever we have a family meal, I request my sister to make some and bring over.
Despite this deep and abiding love for the appetizer turned side dish turned main course, I hadn't made any in eons. I asked her for her recipe (which is our mom's recipe and probably our grandma's recipe too), and the following is what she told me.
Actually, what really happened is that I asked her to make me some, and she said no, so then I asked her for the recipe. I figured if I had to make them myself, I might as well make the ones I really like.
What you'll need to make classic deviled eggs with Worcestershire sauce
See printable recipe card at the bottom of the page for all measurements and nutritional information.
Peeled hard cooked eggs - You can cook these using your preferred method. See instructions below for mine.
Miracle Whip Light or mayonnaise - I prefer Miracle Whip but if you only have mayo, use that.
Horseradish mustard - I love horseradish mustard and use it in everything. I only suggest a small amount in this recipe so that you can't really taste the horseradish but you get the added boost in flavor that it offers.
Spicy brown mustard - Some recipes use plain yellow mustard or dijon mustard, but I think that spicy or seedy mustard has a better overall flavor.
Worcestershire sauce - If you use Worcestershire sauce, you don't need salt, but you may want to add a sprinkle of freshly ground black pepper.
Red paprika - This is just to sprinkle over the tops, but don't leave it out because it adds a delicious flavor.
How to make the best classic deviled egg recipe
Prepare the eggs. Hard boil 2 dozen eggs using your preferred method. We used to do them on the stovetop which works really well if you follow these hard boiling instructions, but now we prefer to use the Instant Pot as it is more consistent and the eggs seem to peel easier (ours is the model I linked and has an eggs button). When they are cooked, rinse under cold water and then peel. Cut each egg in half the long way and pop the yolks out into a medium mixing bowl. Set the whites aside.

Prepare the filling. In a small bowl, mash the egg yolks with a fork and combine with Miracle Whip Light, or mayo, both mustards, and Worcestershire sauce with the mashed yolks. Stir to blend well. Taste and adjust ingredients as necessary to suit your palate.

Assemble the deviled eggs. Use an icing decorator, two spoons, or a plastic bag with the corner cut off, pipe the yolk mixture into the white halves. You could use any decorator for a pretty, finished look, but two spoons will work too. The key is to fill the well in each egg white until it is heaping with the delicious yolk mixture.

Garnish and serve. Place eggs on a platter or tray. Top the finished deviled eggs with a little sprinkle of paprika. If you prefer the flavor of smoked paprika, you could use that instead. Serve chilled.

What can I do with all these hard-cooked Easter eggs?
I have some wonderful recipes for you! Try one or more of these:
Recipe