How to make the best simple homemade Instant Pot potato salad without celery or onions - nothing crunchy! Quick & easy recipe uses light mayonnaise and mustard for a healthy twist on a classic favorite. Includes hard boiled eggs.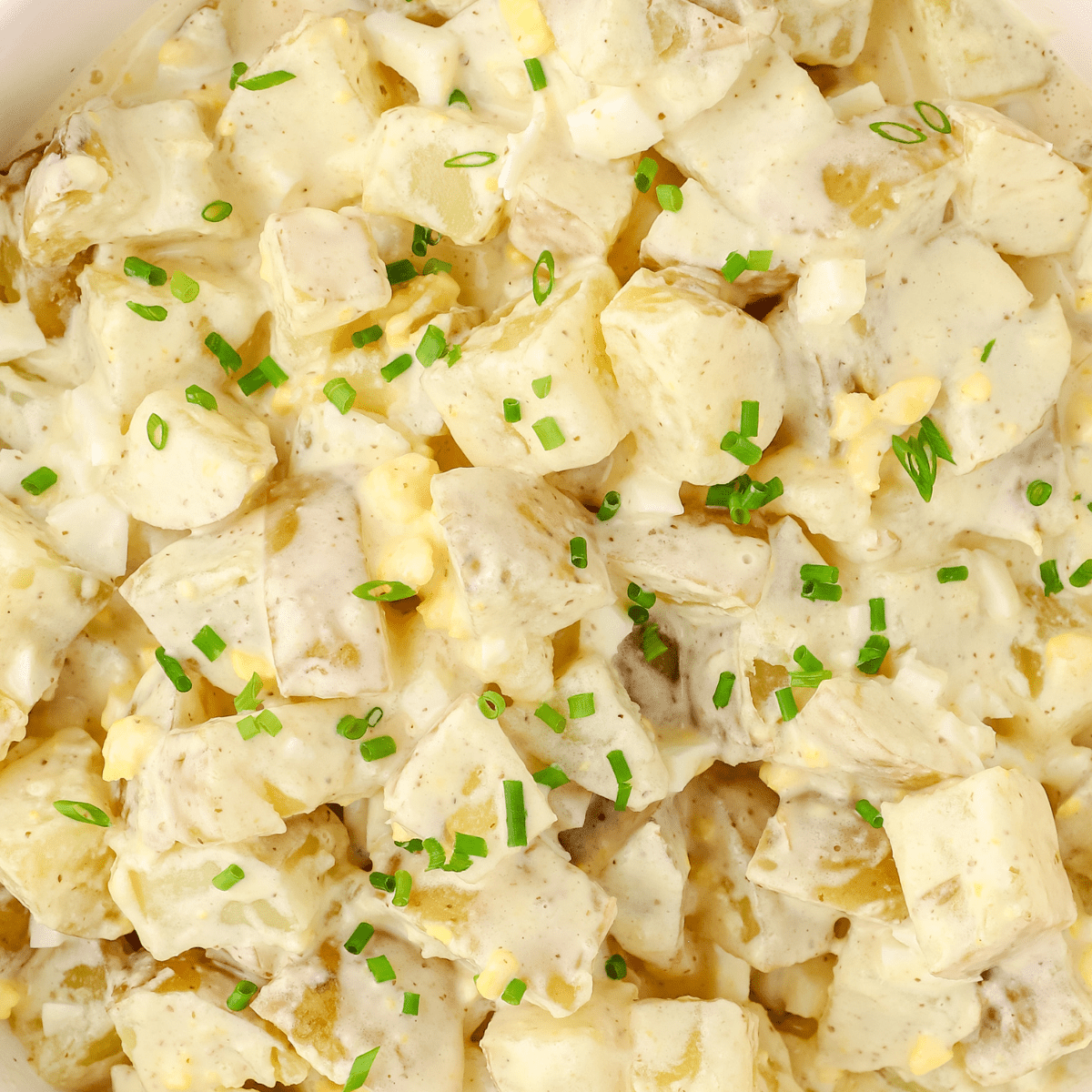 We had an impromptu bbq picnic on Memorial Day. We hadn't planned it, really, but invited a few people over the night before to enjoy our air conditioning (the temperature was expected to soar into the mid-90's) and some good food. We ended up eating outside on the deck, which was totally ridiculous given the temperature outside.
At any rate, Joe whipped up my favorite macaroni salad for the picnic. Knowing that my mom doesn't like cold macaroni, I asked him to make up some potato salad, too.
When he asked for a recipe, I told him to use the same recipe for the dressing he'd used on the macaroni salad. He made a couple of minor adjustments, and the result was fantastic.
Astounding.
Lick the spoon and plate and bowl good.
That potato salad was so very delicious that I wished I could have eaten it every day for a week. We're going to have to make it again. Soon.
Can I also say that I HATE CRUNCHY BITS in my potato salad? Onions, celery, peppers, I hate them all. It's not that I object to them in theory, but I hate the smooth creaminess of my potato salad being interrupted by those little bursts of flavor. NO THANK YOU. So this recipe doesn't have any. You're welcome.
What you'll need to make the best simple Instant Pot potato salad
Equipment
Instant Pot - Of course, you'll need an Instant Pot or another brand of electronic pressure cooker, although I did include a link at the bottom for boiling the eggs without one. If you have a steamer basket or trivet, you can put that in the bottom of the pot, but the potatoes will cook okay without either one.
You'll also need a sharp knife, mixing bowl, and measuring cups and spoons.
Ingredients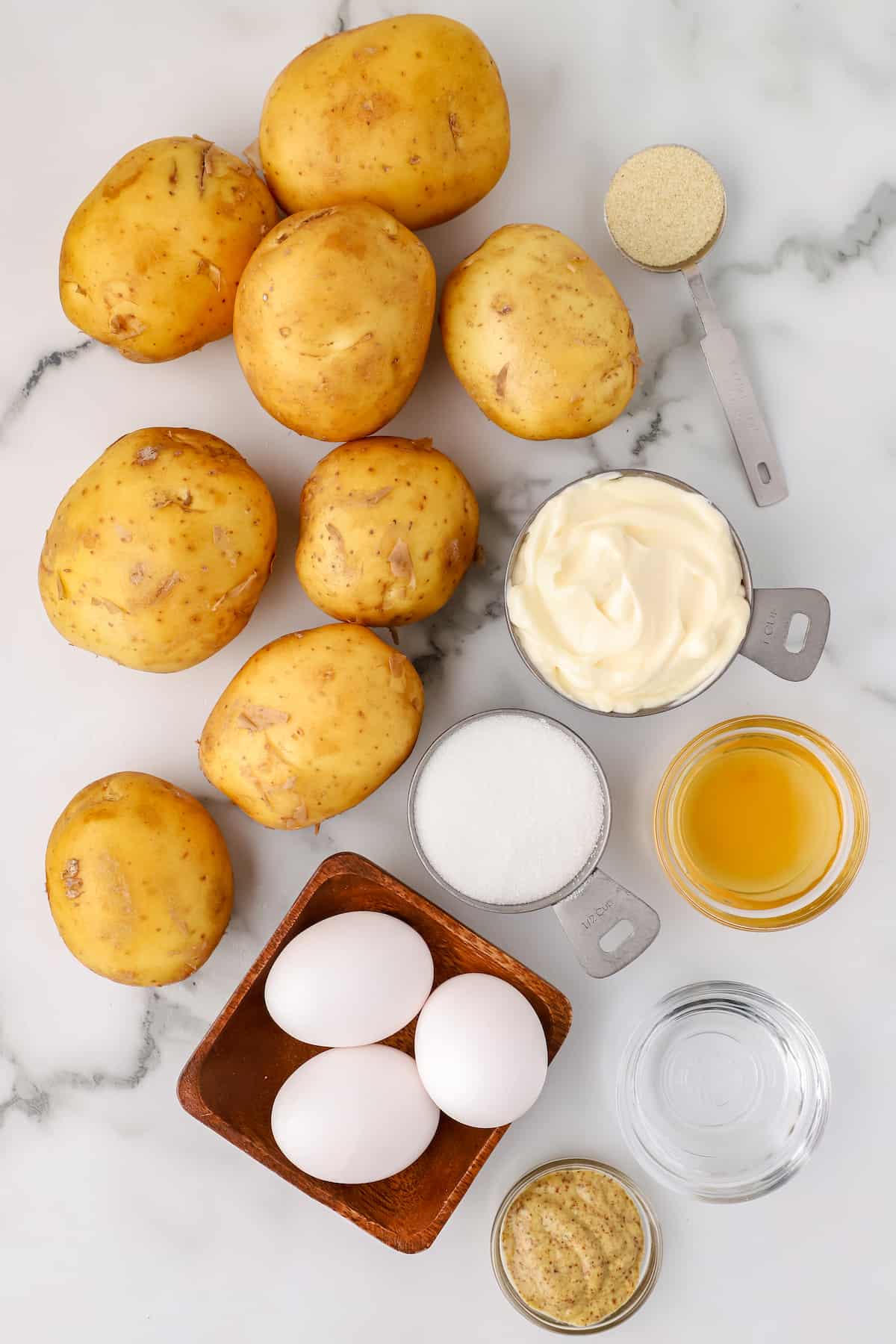 See printable recipe card at the bottom of the page for measurements.
Yukon Gold potatoes - You can use any type of potatoes, but I prefer the creaminess of yellow potatoes. Red potatoes would work well in this recipe too. I'm not a huge fan of russets personally, but you could use them if you like them.
Eggs - I like hard boiled eggs in my potato salad. If you don't, leave them out.
Salted water - This is only to cook in the Instant Pot and will not be included in the finished salad.
Light mayonnaise - Potato salad is notoriously unhealthy, so I improve its nutritional profile a bit by using light mayonnaise. You can't tell the difference in the finished recipe. If you prefer, you can use Miracle Whip in place of the mayo, but leave out the vinegar below if you do.
Horseradish mustard - I love horseradish mustard in an unnatural way. If you don't, use spicy brown, dijon mustard, or, as a last resort, yellow.
Sugar, Splenda, or stevia - I use sugar, but any type of sweetener will work. But you need something or else the dressing will taste flat.
Water - A very small amount of water makes the dressing thin enough to pour over the potatoes.
Apple cider vinegar - If you replace the mayo with Miracle Whip, leave this out.
Onion powder - I hate crunch in my potato salad, but I do like the flavor that onion gives the dressing. So I use onion powder. Feel free to use fresh raw onion if you like it.
How to make Instant Pot potato salad the easy way
Wash the potatoes well and peel if desired. (I don't.) Cut potatoes into bite-sized chunks.

Add the potato chunks to the Instant Pot with 2 cups of water plus 1 tablespoon of salt. Place eggs on top of potatoes. Seal the lid and pressure cook on high pressure for 5 minutes. Then natural release for 5 minutes, then quick release and place in an ice bath for 5 minutes to stop cooking.

Drain potatoes thoroughly (use a salad spinner or pat with paper towels if necessary). Place in a large bowl.
Peel the eggs, cut in half, remove yolks, and chop whites into 1-inch pieces. Set aside.
In a medium bowl, mash the egg yolks, then stir them together with the rest of the potato salad dressing: mayo, mustard, sugar/sweetener, water, vinegar, and onion powder.

Mix mayonnaise mixture well with a whisk or fork.

Pour dressing over potatoes and mix well. Add eggs and toss to distribute.

Refrigerate an hour to overnight to allow the flavors to blend. Just before serving, sprinkle with chives or parsley for a garnish.

Should you peel the potatoes for potato salad?
It's all up to you. Some people peel their potatoes, some don't. I don't.
But if you want to peel them, there's nothing wrong with that either.
Can you make Instant Pot potato salad ahead of time?
Yes, and it tastes best if you do. You can make it as much as 2-3 days ahead and store it in the fridge until you're ready to serve it.
I recommend making potato salad at least an hour before serving, or earlier if you can. It tastes best after the dressing has rested a while.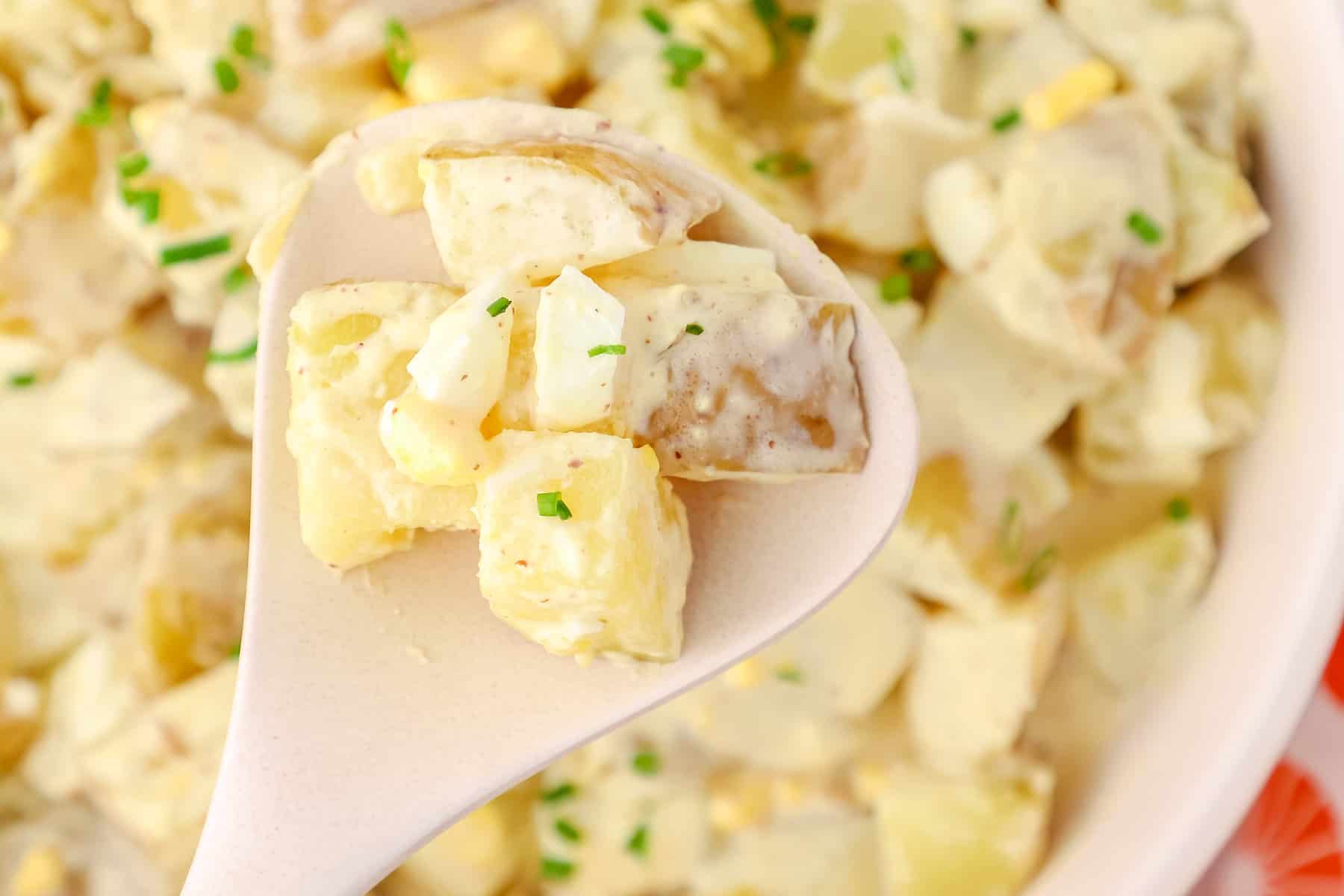 Variations
As I have mentioned above, I abhor crunchy bits in my potato salad. If you like them, you could add ½ cup raw sweet or red onion, raw celery, raw bell pepper, and/or chopped dill pickles (or dill pickle relish).
You can also add crumbled bacon.
If you think the dressing is missing something, you could add 1 teaspoon of salt, 1 tablespoon of garlic powder, or an extra tablespoon or two of vinegar or even dill pickle juice. Start with the salt.
Storing leftover potato salad
Because this salad is made with a mayonnaise dressing, you should keep it in the fridge, not leaving it out on the table for longer than an hour.
Store leftovers in an airtight container in the refrigerator for up to 5 days.
I don't recommend freezing potato salad. It doesn't thaw well.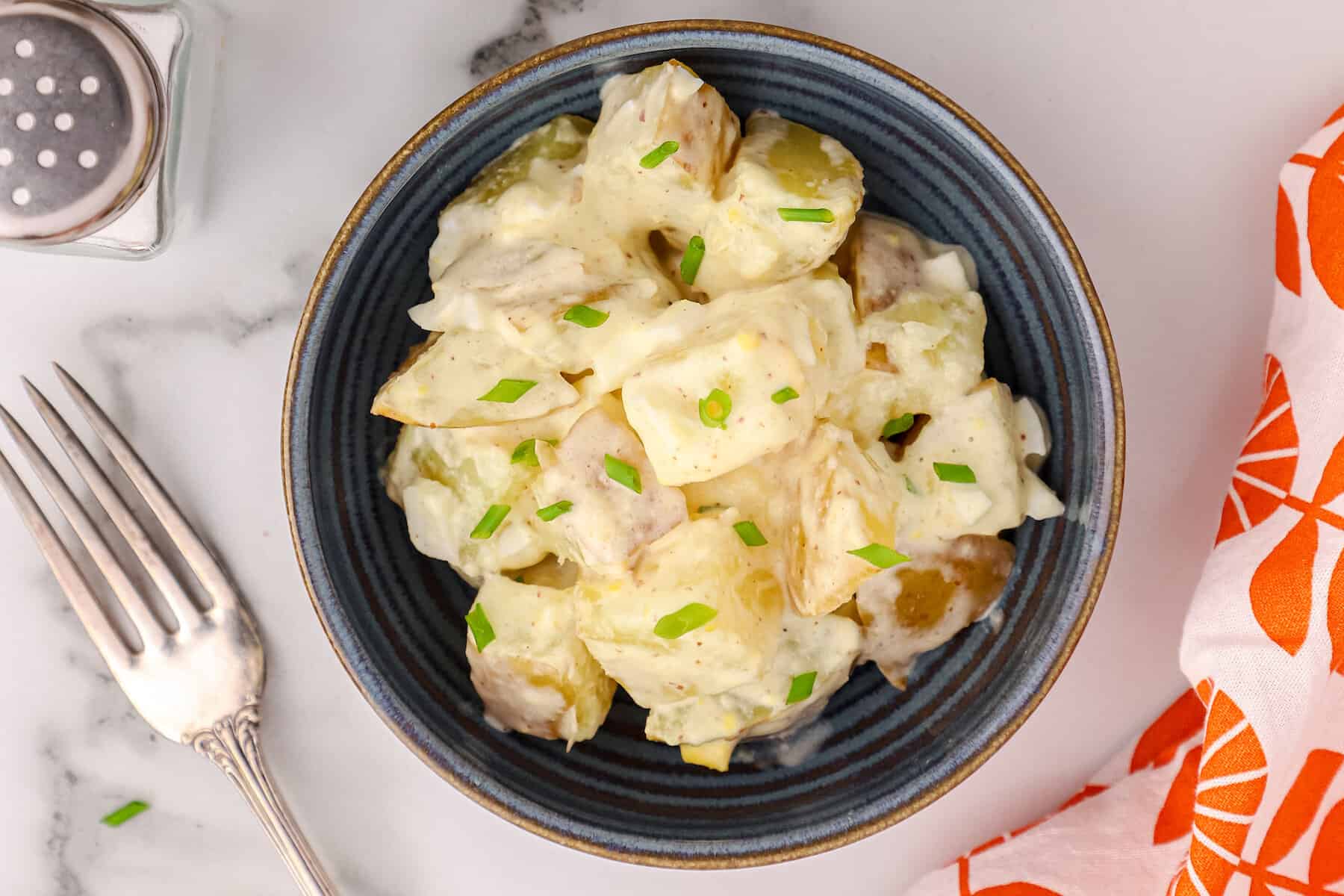 Try these other delicious salads while you're here:
Recipe