How to make the best oriental salad with ramen noodles - With an easy Asian vinaigrette dressing, this ramen noodle salad is made from healthy cabbage and sesame seeds in a vinaigrette dressing.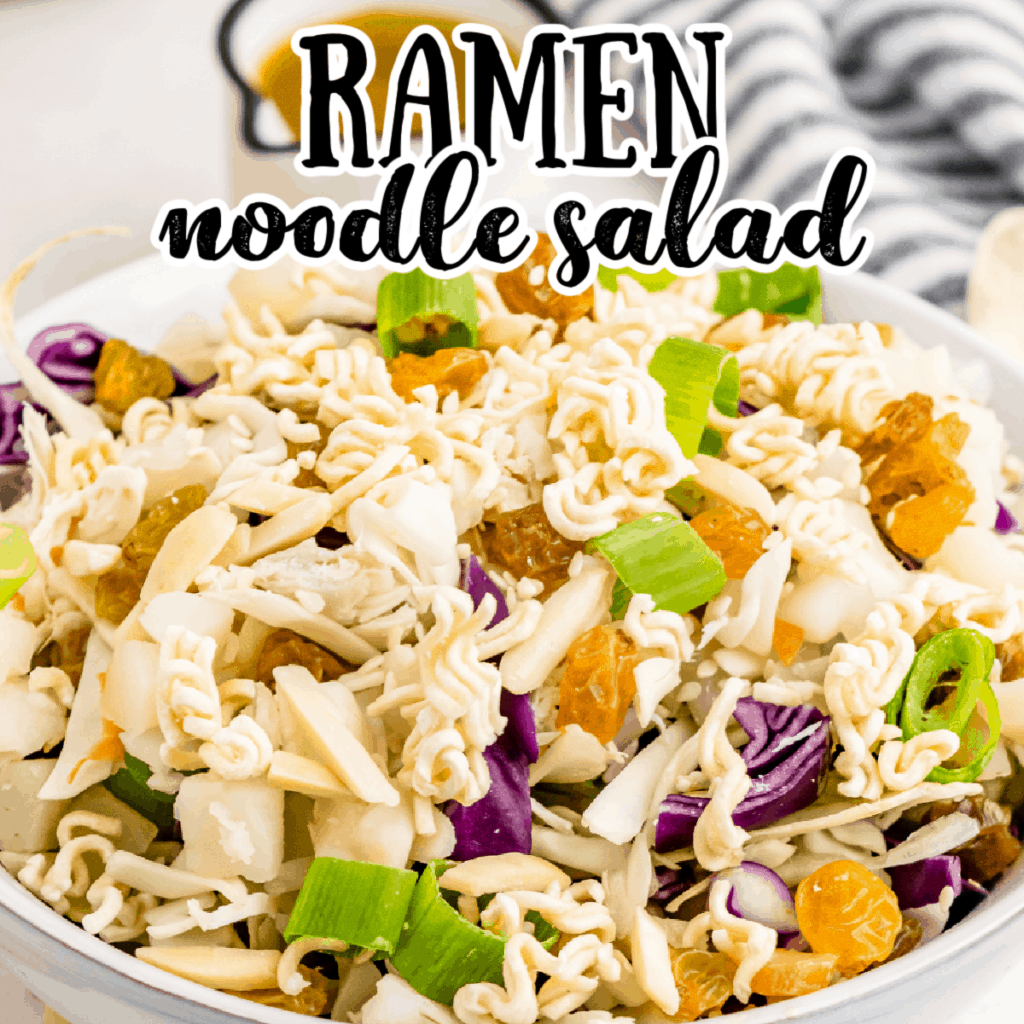 I've had this Ramen Noodle Salad at lots of different picnics and potlucks, and I have always loved it. It has a tangy vinaigrette dressing and lots of crunchy cabbage, dry ramen noodles, and water chestnuts. I liked it so much that I made up my own recipe similar to all those that I've tried.
This recipe is so versatile and transports really well, which is why it's such a big hit at summer BBQs and picnics. It always gets rave reviews, and now that I make it myself, I get asked for the recipe every single time I make it.
If you're making this salad the night before (which I always recommend - the noodles soften in the fridge overnight), leave out the almonds and sesame seeds until the last minute. They will get soggy if left in the dressing too long and especially if they go in the fridge.
What you'll need to make ramen noodle salad
There are no special tools needed for this recipe.
Ingredients
For the salad
4 tablespoons sesame seeds
½ cup almonds, slivered
4 cups green cabbage, shredded - If you are short on time, buy a bag or two of coleslaw vegetables from the produce section of the grocery store. Most likely, it will be a mix or green and red cabbage and carrots.
2 cups red cabbage, shredded
1 cup carrots, shredded
½ cup green onions, sliced
8 ounces water chestnuts, drained & chopped
½ cup golden raisins
8 oz chicken breast shredded
2 packages Ramen noodles, broken into smallish pieces, reserve seasoning packets
For the dressing
⅓ cup vegetable oil
½ cup rice wine vinegar
2 tablespoons sugar
2 spice packets from the ramen noodles - total of 2 packets, not 4
How to make ramen noodle salad
First, toast the sesame seeds and almonds. Spread them on two separate baking sheets and bake at 275º, 5 minutes for the sesame seeds and 10 to 15 minutes for the almonds. Cool completely before adding to the salad.
Next, mix the salad. Combine the green and red cabbages, carrots, green onions, water chestnuts, raisins, shredded chicken breast, and crushed ramen noodles in a large bowl.

Whisk together the vegetable oil, rice wine vinegar, sugar, and the seasoning packets from the ramen noodles.

Pour over salad and toss to coat thoroughly.

Chill for up to 8 hours to allow the flavors to blend and the noodles to soften.
Add the almonds and sesame seeds immediately before serving.
A shortcut for this salad
Because we all like shortcuts, am I right?
If you don't have the time or inclination to shred your own cabbage and carrots, look for a couple of bags of coleslaw mix at the grocery store. It will contain a blend of green and red cabbage and usually carrots, too. Instant salad!
A substitution to try
I love cilantro, and I think it goes really well with this salad. You can either add ¼ cup to all the other ingredients in the salad, or you can substitute ½ cup for the green onions. It's good both ways.
Try these other delicious salads while you're here:
Recipe