How to make the best homemade sweet chili sauce recipe. It is simple, quick, and easy to DIY and so tasty! It's sweet and spicy and you will love to put it on everything from chicken to shrimp to salmon and even french fries, kabobs, and stir fry!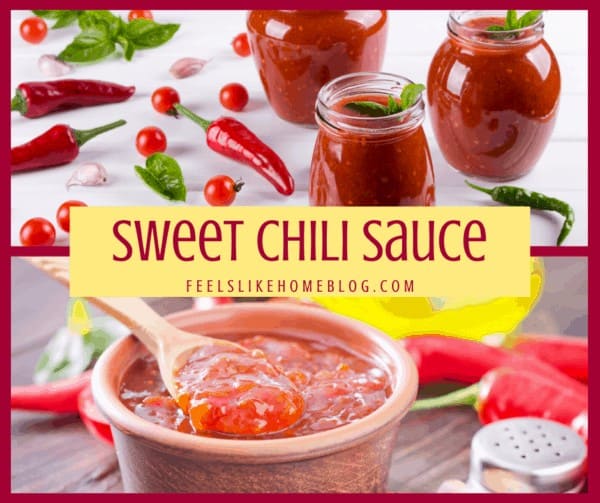 We used sambal oelek for this dish. It is an Asian staple made from ground red chili peppers in a vinegar sauce. We have grown to love it ever since using it in a General Tso's Chicken recipe last year. I think it's the perfect pepper source for this sauce. I have heard that you can find this at some bigger grocery stores and at Asian groceries, but we just buy ours on Amazon. It's not too expensive and very easy to find without driving around.
How to Make the Best Homemade Sweet Chili Sauce
Prepare the sauce. Pour ¾ cup water and all of the vinegar into a saucepan and bring to a boil over medium-high heat. (Remaining water will be used later to mix with the cornstarch.) Stir in sugar, ginger, garlic, and ketchup; simmer for 5 minutes. Simmer means to heat it so that small bubbles form but it doesn't actually boil.
Stir sambal oelek or chili peppers into the sauce. If you are concerned that the sauce might be too spicy for you, use less sambal oelek than I include in the recipe and stir in more after tasting.
Thicken the sauce. Mix the cornstarch and remaining ¼ cup water until they form a thick slurry. Add this to the saucepan a little at a time, continuing to simmer, until the sauce is the thickness you desire. (We use all of it so that the finished sauce is like a dip, but if you want a sauce you can pour on stir fry, you would use less.) Stir until well blended.
Refrigerate. Pour sauce into a bowl. Cover and refrigerate until needed, at least an hour up to overnight. It is a lot better after the flavors meld in the fridge.
Other homemade sauces and dip recipes
Recipe