This spicy honey sriracha mayo (or aioli) recipe has a delicious sweet heat with a note of garlic. Sriracha gives is a flavorful heat, honey adds sweetness, and the mayonnaise base makes it rich and creamy. Once you make this 5 minute sauce, you'll be hooked!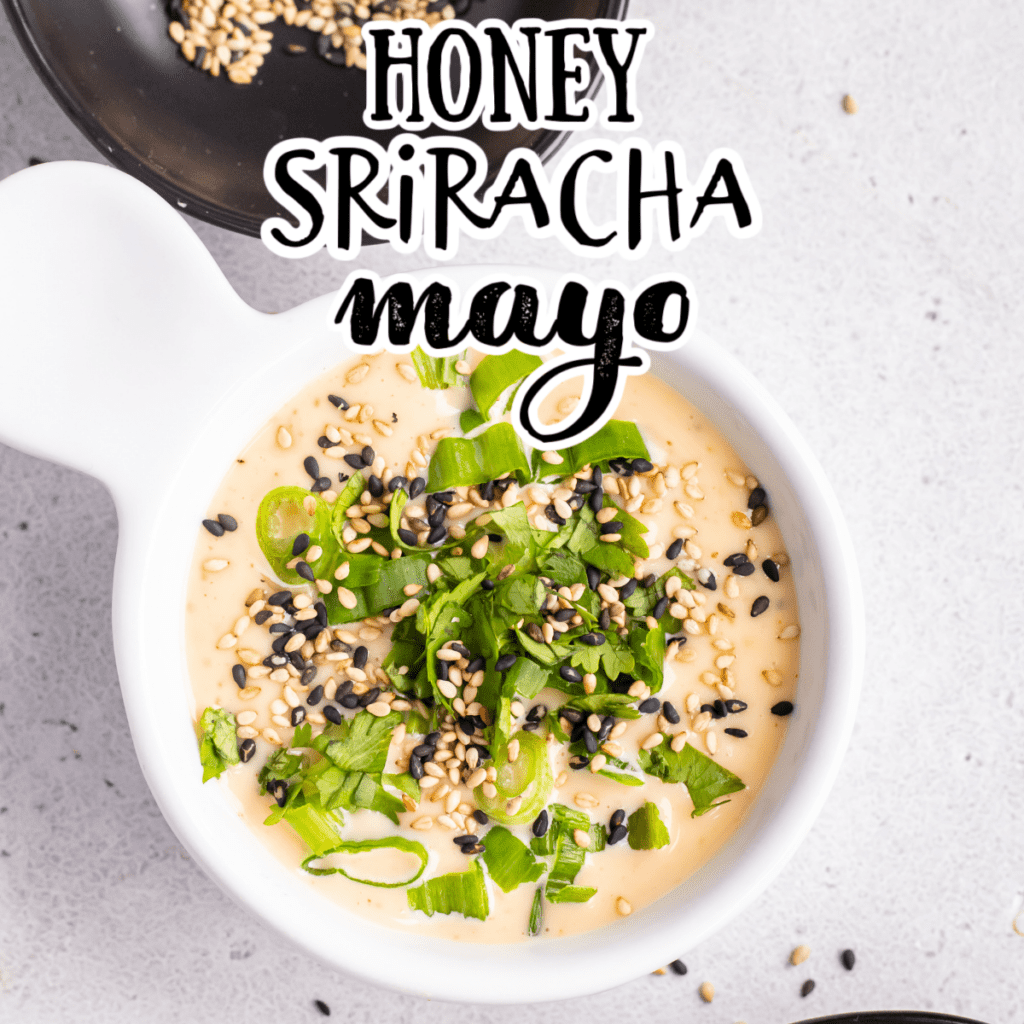 Sriracha is world famous, or at least it seems that way to me. Almost everyone I know who likes spicy food is obsessed with it.
People use sriracha chili pepper sauce on everything from pho soup to sushi to tacos to pizza. (Yes, even pizza!)
My taste for super spicy food has wanted as I've gotten older, but I do still like the flavor of sriracha and other hot pepper sauces. That's where this sweet hot sauce was born.
The mayonnaise base of this aioli (that's a fancy word for flavored mayo!) cuts the heat of the sriracha and makes it a really mild and palatable condiment with all the flavor and not so much of the heat. That said, it's very personalizable, so if you love super hot stuff, go crazy with the sriracha and enjoy the sauce your way!
What is sriracha?
Before I explain the recipe, let me introduce you to the star ingredient: Sriracha. Sriracha is a type of hot sauce or chili-garlic sauce made from a paste of sun-ripened chili peppers, vinegar, garlic, sugar and salt.
Sriracha is spicy, tangy and a little sweet with a texture thicker than Tabasco but thinner than ketchup.
Straight out of the bottle, Sriracha is very hot. Like, hot enough to make your face red and your nose run.
What you'll need to make honey sriracha aioli
Equipment
Ingredients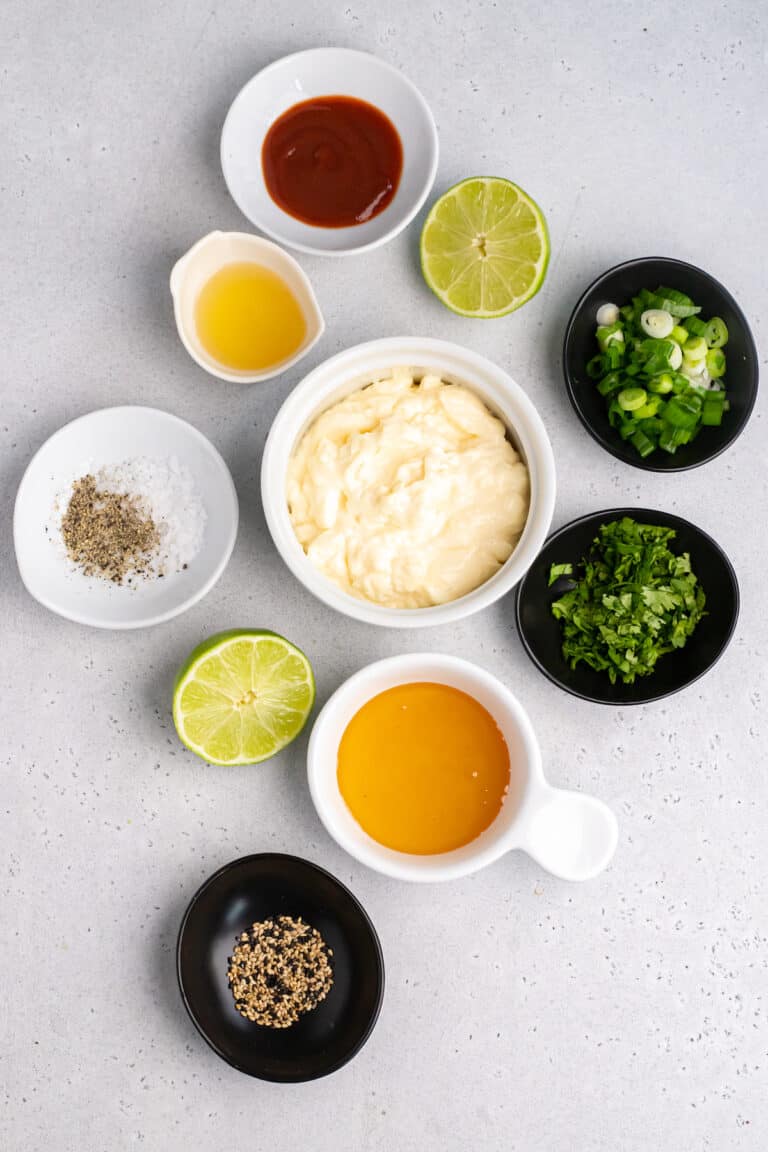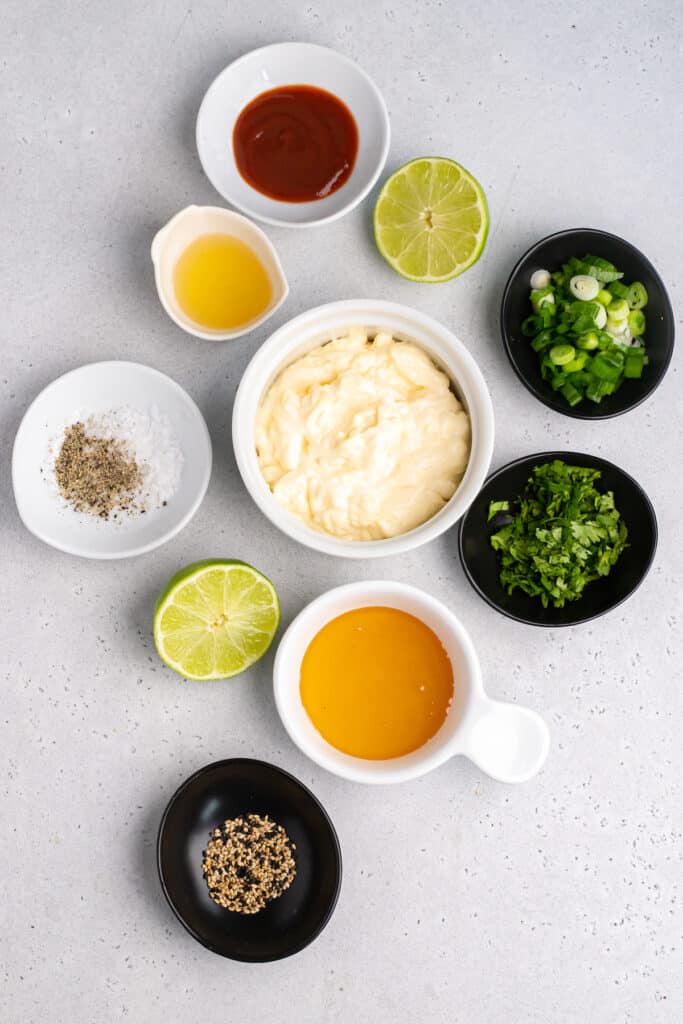 Mayonnaise - You can use full fat or light; it won't matter much. Mayo gives this aioli a rich and creamy base. I love Miracle Whip, but you CANNOT use it in this recipe. The flavors will be all wrong. You need regular mayonnaise.
Sriracha chili sauce - This provides the heat in your spicy mayo. You won't use a lot, so that it's not super spicy. Make the recipe as written, and adjust to add more sriracha if you prefer a hotter flavor. If you prefer, you can substitute with tabasco or another type of hot sauce or even sambal oelek which is a specialty red chili paste that my family LOVES.
Honey - This provides the sweetness in the mayo, and it works really well to balance the heat from the sriracha.
Rice vinegar or apple cider vinegar - You need a little tanginess to pull all of the flavors together. I prefer the clean, bright flavor of rice vinegar, but you can use apple cider vinegar or even plain white vinegar if that's all you have.
Fresh lime juice - Please, for the love of God and all that is holy, do not use lime juice from a bottle. That stuff is a sad substitute for real lime juice. Buy a lime and squeeze it yourself. They cost less than a dollar. Okay to substitute fresh lemon juice if you prefer.
Fresh garlic - As with the lime, please buy a bulb of garlic and press or mince a fresh clove. There is no comparison between the pungent flavor of a fresh clove of garlic and the blandness of jarred garlic or garlic powder. This recipe needs the fresh stuff. A bulb of garlic also costs less than a dollar.
Salt - I don't specify an amount of salt to use because it's a very individual thing. There is some salt already in the mayo and the sriracha, so add about ¼ teaspoon and taste it. Add more if you think it needs more, but do it in small increments.
Black pepper, freshly ground if possible - This isn't as important as the lime and garlic, but if you're able to grind your own pepper, it will have a nicer flavor in your sauce.
1 green onion - This is for garnish, so you can leave it out if you want to.
sesame seeds - This is also for garnish, so you can leave it out if you want to.
Fresh cilantro - Also garnish, so you can leave it out if you want to.
How to make this honey sriracha mayo recipe
Whisk together mayonnaise, Sriracha hot sauce, honey, vinegar, lime juice, and pressed garlic in a small bowl. Mix until thoroughly incorporated.

Season with salt and pepper to taste.
Sprinkle chopped green onions, chopped cilantro, and sesame seeds.
Pour into an airtight container and refrigerate until serving. It will taste best if it sits for at least an hour before serving.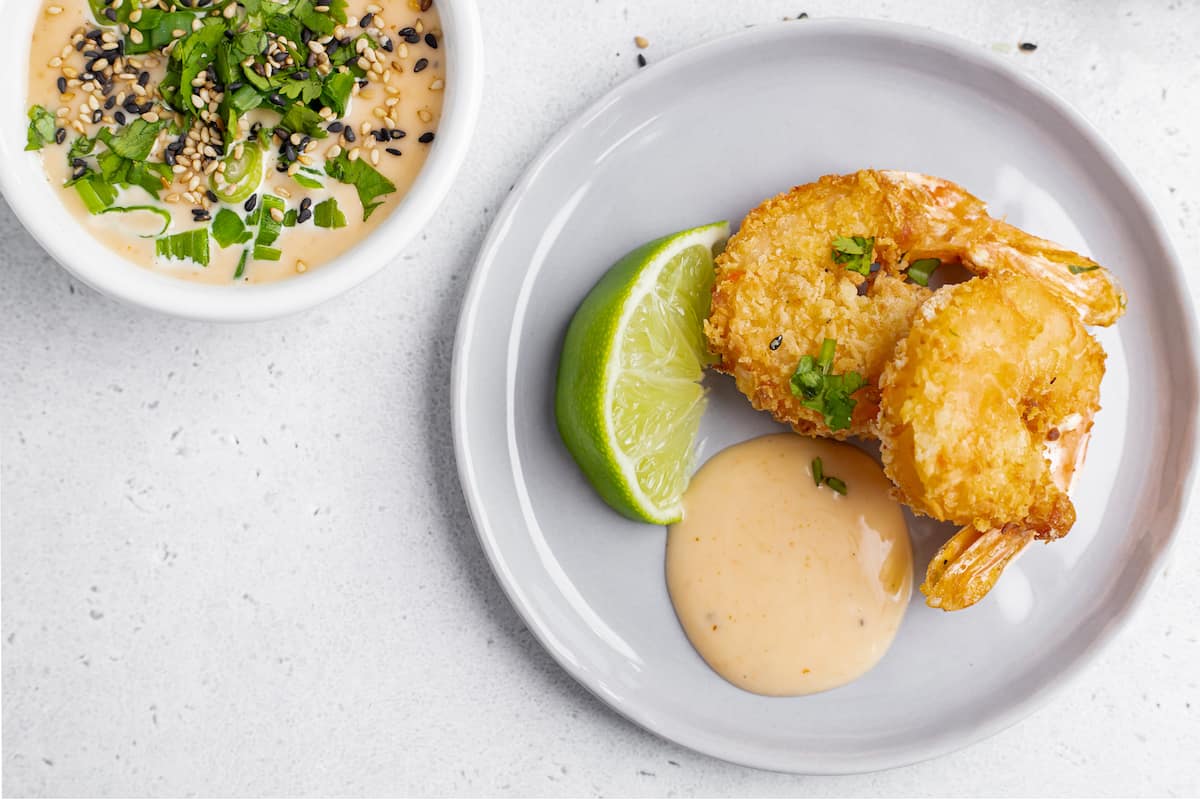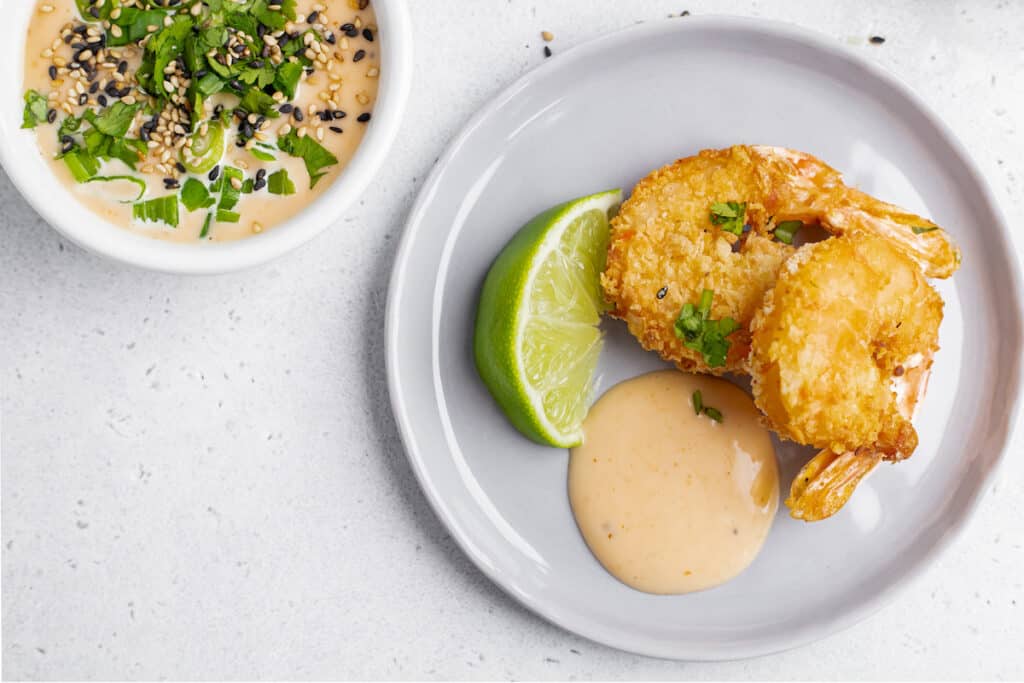 What to serve honey sriracha sauce with
My favorite way to use this mayo is as a dip for air fryer coconut shrimp (pictured above). But it's also awesome with:
Sandwich spread - Use on sandwiches like a plain old ham & cheese.
Burgers like my black and blue burger - Just replace the lemon garlic aioli with this spicy version.
Veggies - Use as a spicy dipping sauce for cucumber or red pepper sticks.
French fries - This is awesome as a dip for traditional white potato fries or even sweet potato fries.
Home fries - I love to drizzle this on my tangy home fries.
Chicken - This is awesome on a grilled chicken sandwich or in place of pizza sauce on a chicken crust pizza.
Sushi - Drizzle your sushi with this spicy sauce.
Honey sriracha mayo variations
There are a lot of things you can do to change the flavor of this easy, 5 minute dip.
Use more or less sriracha. For a really spicy dip, add an extra tablespoon or two. For a milder version, use half.
Use a different type of hot sauce.
Double the honey for a sweeter dip.
Use all vinegar or all lemon or lime juice.
Leave out the garlic.
Replace the garlic with minced onion or add minced onion in addition to the garlic.
Add 1 tablespoon of soy sauce.
Add 1 tablespoon of dijon or spicy mustard.
Can you make honey sriracha mayo lighter?
You sure can! Replace some or all of the mayo with plain Greek yogurt.
If you don't want to use Greek yogurt, you could use light or fat free mayonnaise.
Is sriracha mayo vegan?
As it is written, this recipe is not vegan, but it's easy to make it that way. Simply replace the traditional mayo with vegan mayo and read the label to make sure your sriracha is vegan (some contain fish sauce). You'll also want to replace the honey with 1 tablespoon of white sugar or 2 tablespoons of agave.
How to store honey sriracha mayo sauce
I think the flavors in this sauce taste better after they've sit and blended for a bit. I prefer to make it about an hour before I'll use it. But that's optional. It still tastes good if you use it right away.
Pour this sauce into an airtight container and store it in the refrigerator for up to a week.
Is sriracha mayo the same as yum-yum sauce?
Not really. They can be used interchangeably, but yum-yum sauce is typically a mayonnaise base mixed with ketchup or tomato paste and spices. This spicy mayo is mixed with sriracha hot sauce and spices. Yum-yum sauce is more mild whereas sriracha mayo is spicier.
Can you make spicy mayo without sriracha?
Not really. You can adjust the amount of sriracha in this recipe to make it more mild, but you can't really have spicy mayo without something spicy.
If you prefer a much more mild sauce, I'd recommend sweet chili sauce.
Other homemade sauces and dip recipes
Recipe