Oven roasted sweet potato fries are a simple and easy, healthy side dish to serve with any meal. This savory recipe stays crispy and gets devoured. Always make a double batch for leftovers!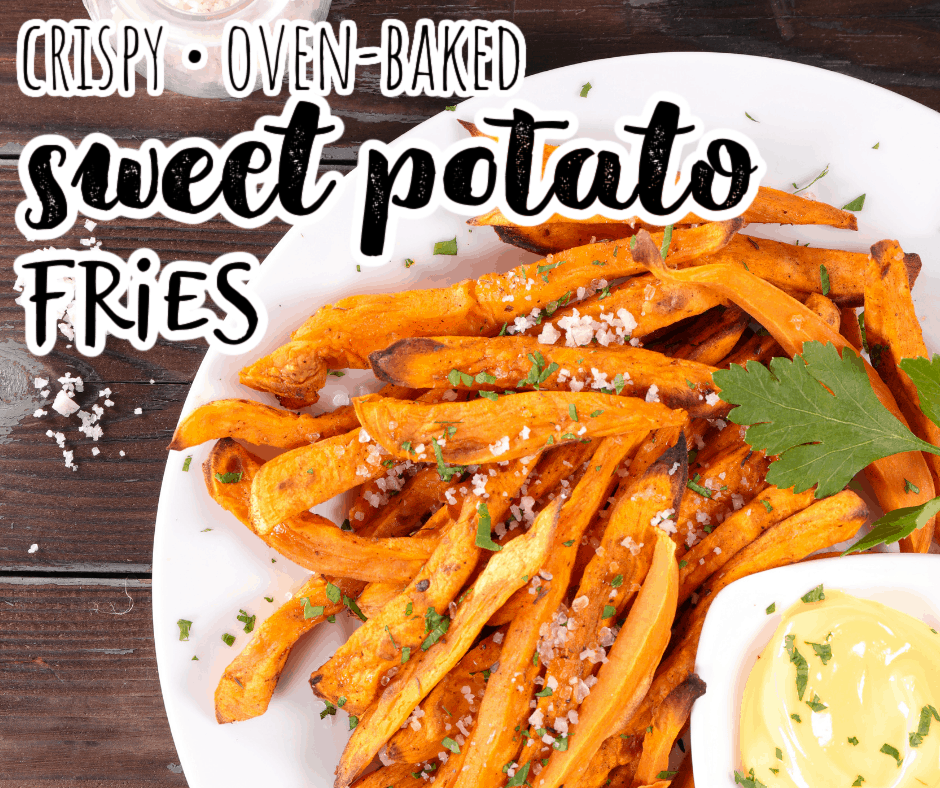 This spring, I ran across sweet potato plants at Walmart and picked up a 6-pack on a whim. I got a giant flower pot to put them in and a big bag of Miracle Gro potting soil to fill it with.
I came home and set up my giant flower pot at the back of our driveway, planted my tiny plants, watered them, and waited.
By the end of July, my plants were huge and healthy, creating a large mound of leaves on the top of the flower pot with many tendrils hanging down the sides to the ground beneath.
At this point of the summer, Joe had been complaining for weeks about the animal destruction in his garden. He blames a groundhog that lives under the bank on the side of our house; I blame a flock of deer that prowl around. (I know deer don't form flocks; they form herds. It just makes me laugh to say that.)
Either way, something has eaten all of his zucchini plants, down to the ground. Same with the cucumbers, yellow squash, and some of the spaghetti squash. No fruits, no plants. They're gone, even the stems.
In addition to my sweet potatoes, I planted a mild jalapeño and an orange bell pepper in containers in the driveway, and those, along with my sweet potato vines, had been totally unbothered by the creature.
Until one day when they weren't.
This morning, all the pretty big leaves on the bottom half of the pot had been neatly snipped off and eaten. The stems were there, but no leaves. I think this is evidence of Joe's groundhog and not the deer, who would probably have concentrated on the leaves at the top of the pot rather than the trailers down the sides.
Anyway, I think the vermin has decimated Joe's garden in the backyard and has now moved on to my containers in the front. I don't know what this will mean for my sweet potato tubers, hopefully growing big and strong under the soil. Maybe the plants will send out new leaves (which will probably get snipped off by the creature as soon as they emerge), and maybe they won't. Time will tell.
Fortunately for us, sweet potatoes are not in short supply at the grocery store where they are available year-round. We have, so far, always gotten ours there, and will probably continue to do so.
I'll have to let you know in the fall whether I get any spuds out of my big pot in the driveway.
Even though we're waiting for my sweet potato harvest, we are still eating sweet potato fries. We have these pretty often because the kids will eat them, and because they taste good, and because they are the only french fries I can eat. (White potatoes are not part of my bariatric diet.)
You can buy pre-made sweet potato fries in the freezer section of the grocery store, but those are typically pre-fried in oil, and I'm not down with that. It adds fat and calories to an otherwise healthy food. So we cut our own sweet potatoes using a mandoline and then spread them on a baking sheet and bake them.
And they're quite yummy and quite healthy. As I said above, even our kids will eat them.
How to make the best sweet potato fries
Cut the potatoes into even sticks and soak them in water for at least 30 minutes.
Drain and dry the sweet potato sticks.
Toss the sticks in olive oil then sprinkle with spices and cornstarch.
Roast in a 425 degree oven for 15 minutes, then flip and roast an additional 15 minutes.
Let the fries rest on the baking sheet for 5-10 minutes, then salt and serve.
The secret to crispy fries
This recipe is probably a little more complicated than most, but the reason for that is that traditional sweet potato fries recipes turn out soggy, limp fries because they don't address the starch issue and the extra oil issue. My recipe does both.
Here's what you have to do:
Soak the sweet potatoes in water - this removes starch and allows the potatoes to get crispy in the oven.
Dust the sweet potatoes with cornstarch - this removes the excess oil, preventing the fries from getting soggy.
Save the salt for serving - salting the potatoes before cooking draws out moisture, leaving you with soggy fries. If you hold off until just before serving, you'll get the flavor of the salt without the sogginess.
An easy twist on traditional sweet potato fries
An easy twist on traditional sweet potato fries is to add some Parmesan cheese right before baking. That would make them pretty similar to my Garlic Parmesan Roasted Carrots.
Serve sweet potato fries with one of these dips:
My kids love to dip these fries in warm maple syrup. I sometimes eat them with melted butter or one of these tasty dipping sauces:
Sweet potato oven fries pair really nicely with these other recipes:
Recipe