This recipe for Maryland crab cakes uses no filler, so all you get is the creamy flavor of the crab meat with a hint of Old Bay seasoning. I like to use lump crab meat for these low carb crab cakes, but you could just as easily use smaller pieces with some lump mixed in for a less expensive alternative that will actually stick together a little bit better than just the lump crab on its own.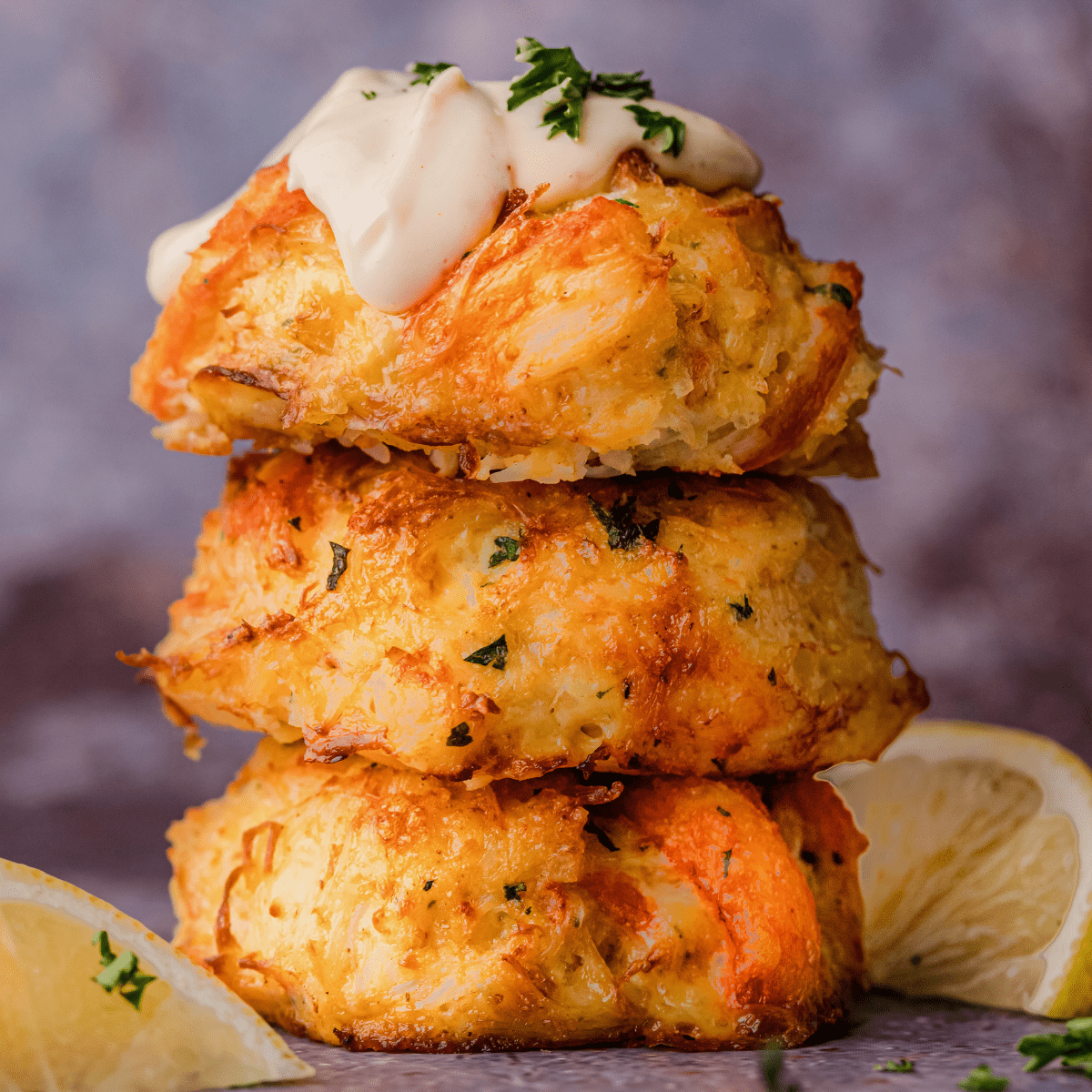 Since my bariatric surgery, I have fallen in love with seafood. There's no better food for a high protein, low carb, low calorie diet. Crab, scallops, and shrimp have incredibly high amounts of protein and less than half the calories of other types of meat, including chicken. Seafood is amazing.
I really like crab cakes especially, but unfortunately, most crab cake recipes have a lot of bread in them and that is not bariatric friendly. This particular recipe has no filler at all which makes it perfect for me and for anyone on a low carb, low calorie, gluten-free, or keto diet. The mayonnaise does add calories, but you need it to make the crab stick together in a patty. If you totally omit both the mayo and the bread crumbs, you will just have lump crab meat on a plate and it will not form any kind of cakes or patties.
The lack of breadcrumbs does not impair these crab cakes at all. In fact, they are pretty amazing if I do say so. You will love them! Even my 9-year-old eats and loves them and thinks they taste great. In fact, we are having them for Christmas Eve dinner because we enjoy them so much.
What are Maryland crab cakes?
Traditional Maryland crab cakes are patties made from the best jumbo lump crab meat, mixed with breadcrumbs or cracker crumbs, mayonnaise, mustard, Old Bay seasoning, eggs, and sometimes Worcestershire sauce. They are typically pan-fried, but not breaded or coated in flour. We like ours baked or broiled to give them a crispy shell without a lot of added oil.
Crab cakes get a bad reputation because crab meat is so expensive, but when you compare the cost of making your own at home to buying them out in a restaurant, $15 a pound doesn't seem nearly so bad. (That's what we paid today at a locally owned grocery store.) We get 4 really generous crab cakes from a one-pound can, so we bought two cans to prepare for Christmas Eve.
Making these authentic Maryland crab cakes is super easy. Basically, you just mix everything except the crab until it's well blended, then you fold in the crab gently as to not break up the lumps, form it into patties, and bake. It couldn't be easier.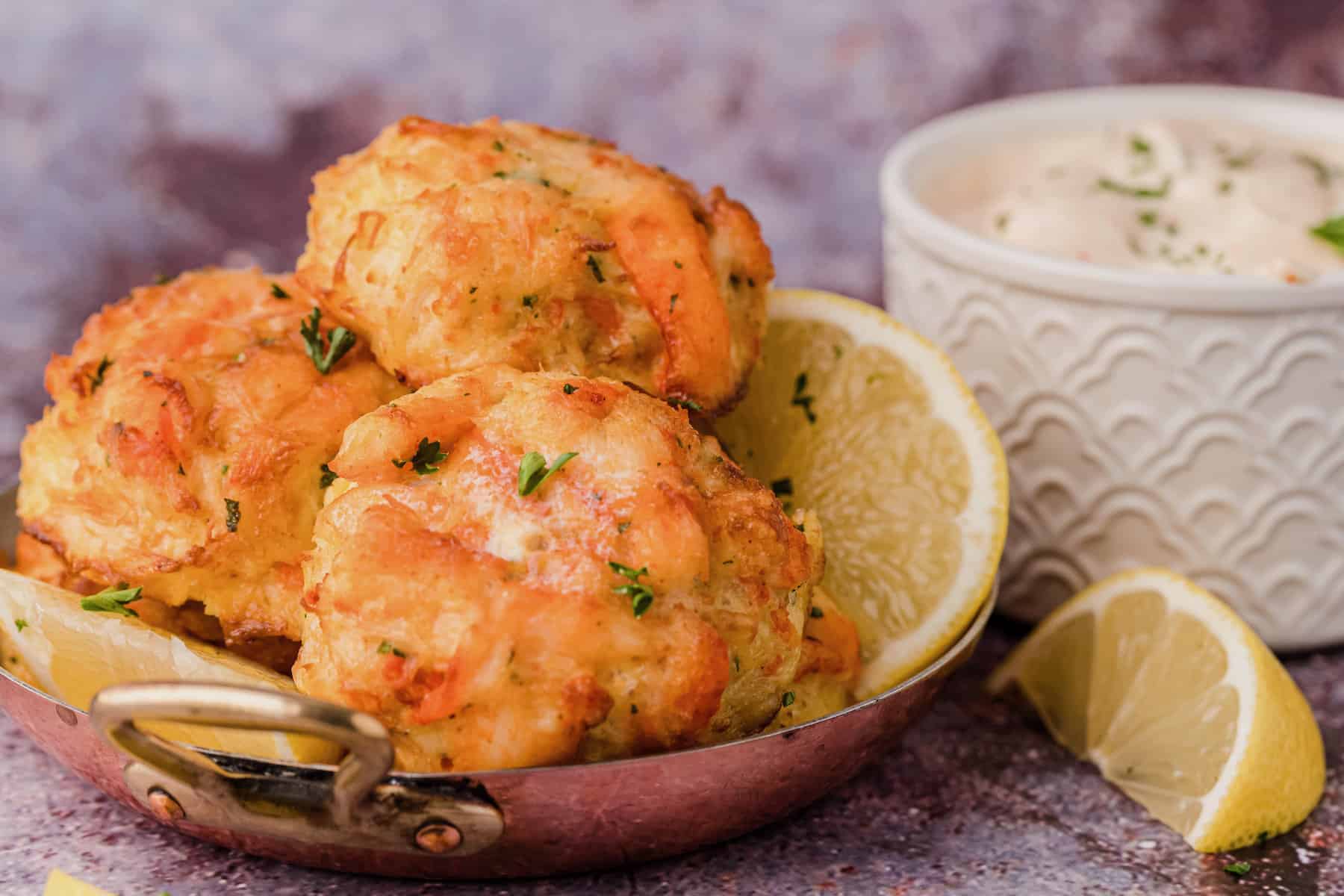 These keto crab cakes are allergy friendly!
There's a lot missing from these paleo crab cakes, namely wheat, and sugar. They are friendly to almost all allergies and diets: keto, paleo, gluten-free, grain-free, sugar-free, and nut-free. They do contain a bit of Parmesan cheese, eggs, and mayonnaise, but that's it.
These low carb crab cakes are baked, not fried, so they are also low calorie and low fat.
And what's more, despite everything that they don't have, these crab cakes do have all the flavor or texture that you love thanks to some Old Bay and the crab meat itself.
What you'll need to make low carb Maryland crab cakes
Equipment
You'll need one whole egg and one egg yolk, so you'll need an egg separator or a very steady hand to get the yolk out of the whites.
You'll also need a baking sheet, preferably with raised edges to catch any liquid that cooks out of the crab during baking, and parchment paper to line it.
Ingredients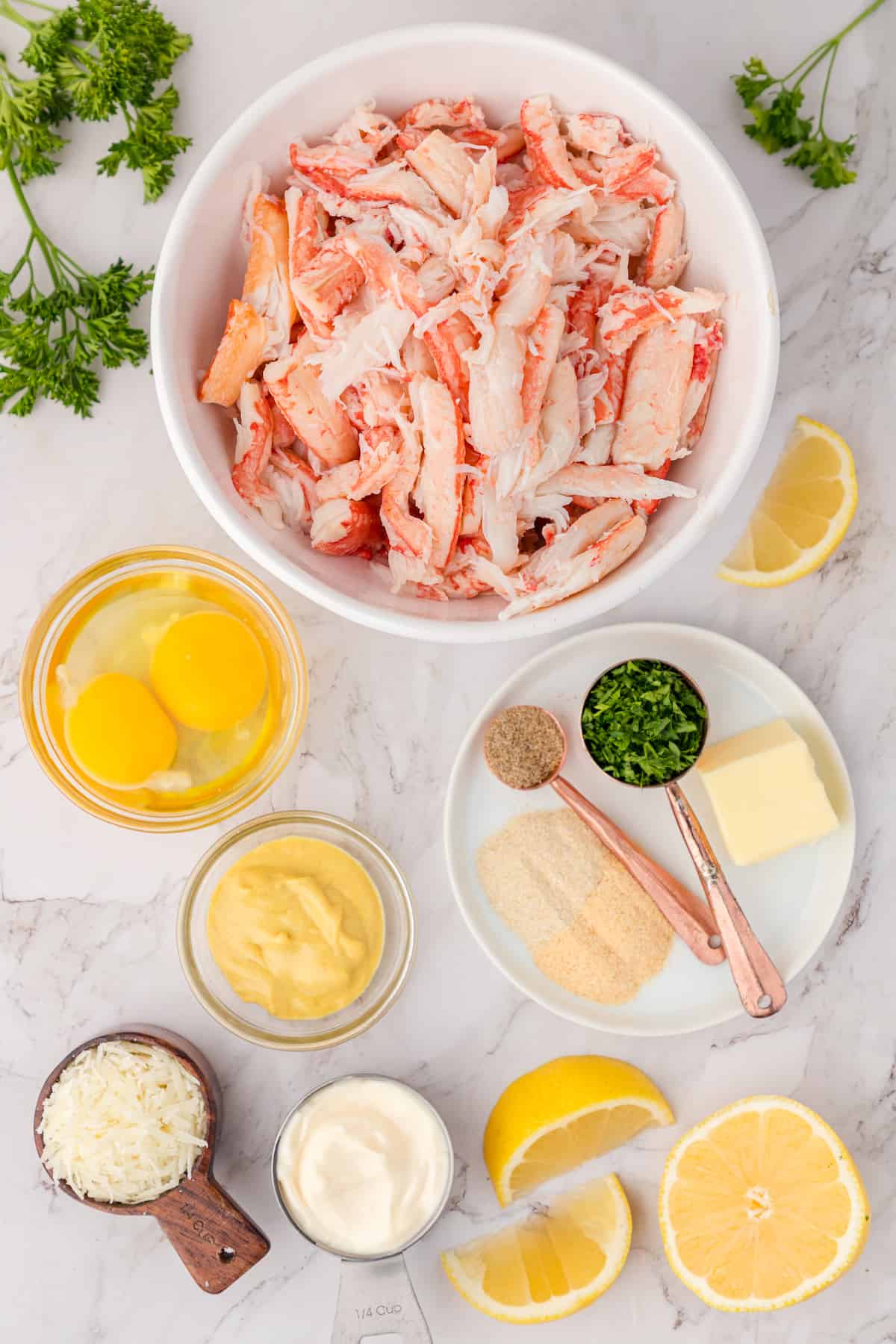 Scroll to the bottom of the page for a printable recipe card with measurements and nutritional information.
Light mayonnaise - You don't want Miracle Whip here. It needs to be real mayo.
Dijon mustard - We use horseradish mustard which gives them a little zip.
1 large egg, beaten
1 large egg yolk, beaten with whole egg above
Parmesan cheese - This needs to be the slivered kind that is in the refrigerated section, not that awful powdery garbage that is shelf stable.
Onion powder
1 tablespoon chopped parsley - We use dried, but fresh parsley would also be nice. If you use fresh, use 2 tablespoons.
Old Bay - This is a crab cake staple on the east coast. It is THE spice that makes crab cakes crab cakes. You need Old Bay. If you can't find it, try to find seafood seasoning which is like a distant cousin of Old Bay.
Jumbo lump crab meat - Canned or fresh crab meat will work.
Melted butter
Fresh lemons, cut into wedges
Can you use imitation crab meat?
Can you? Yes, I guess you could. However, imitation crab meat contains wheat and sugar, and it is not low carb.
What's more, imitation crab meat does not taste like real crab meat, and you will most likely not be happy with your low carb crab cakes if you use it.
How to make low carb keto crab cakes
Instructions
Preheat oven to 400º.
Blend mayonnaise, mustard, eggs, Parmesan, onion powder, garlic powder, parsley, and Old Bay in a medium bowl.

Gently fold in crab, being careful not to break up the lumps.

Divide crab mixture into 4 large or 6 small portions. Shape each into a ball and place on a baking sheet lined with parchment paper.

Drizzle crab cakes with melted butter. Bake 20 to 25 minutes, until golden brown.

Add a squeeze of lemon juice before serving.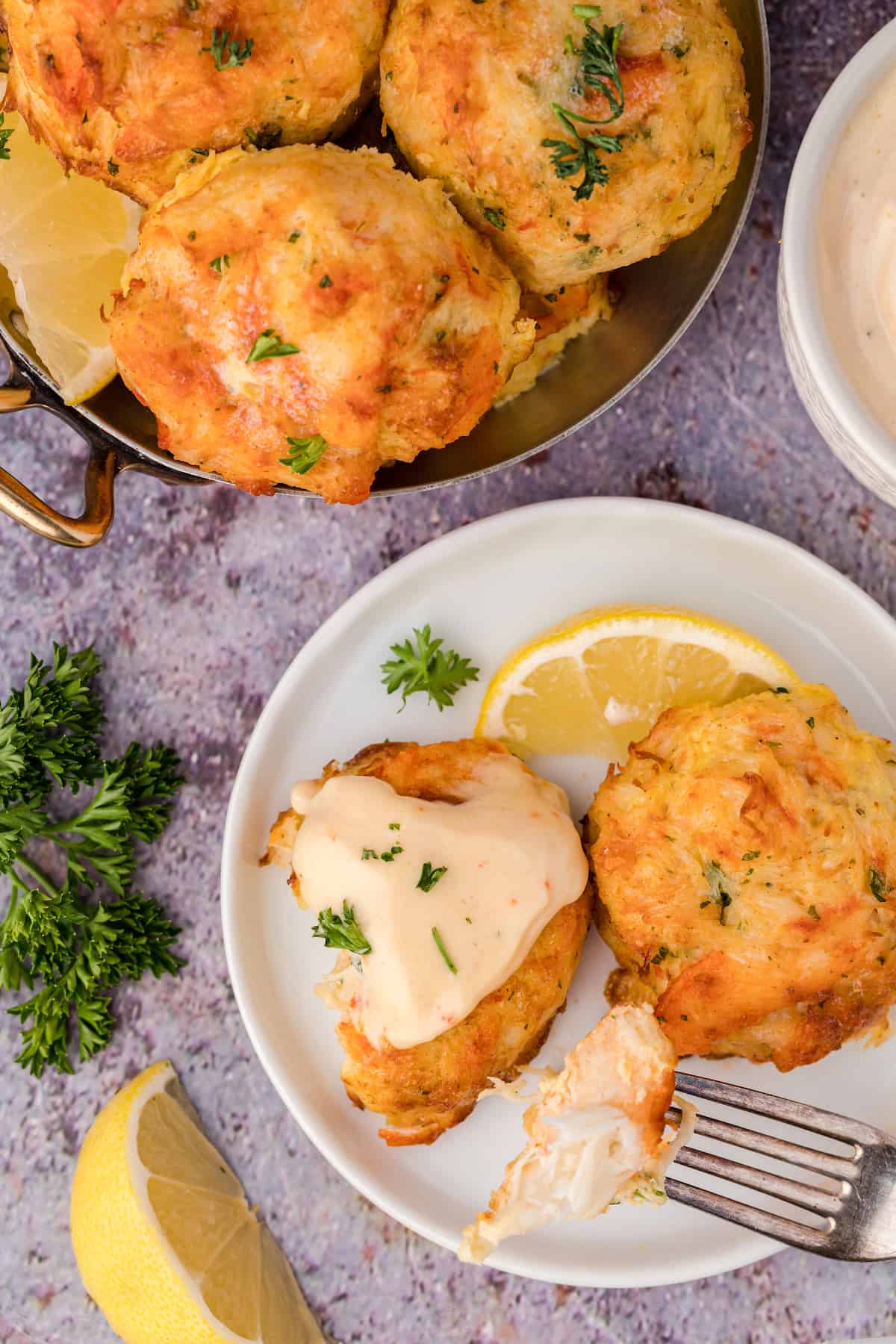 My best tip for better keto crab cakes
Be careful not to over mix the crab meat. If you mix it too much or too vigorously, you will break the meat into tiny pieces, and that will destroy the texture of the crab cakes.
What to serve with low carb crab cakes
I like to serve these crab cakes with remoulade sauce, lemon aioli, cocktail sauce, or tartar sauce. For sides, I like BLT salad, roasted asparagus, or roasted red beets.
How to store leftover Maryland crab cakes
You can store these crab cakes in an airtight container in the refrigerator for 3-4 days, and you can also freeze these crab cakes.
To freeze them, place the leftover crab cakes in a single layer on a parchment paper lined baking sheet and place in the freezer. Once they are frozen solid, wrap each cake in plastic wrap and then place the wrapped cakes into a zippered freezer bag. You can keep them this way for up to 3 months.
To serve frozen crab cakes, thaw in the refrigerator over night, then bake on a parchment paper lined baking sheet for 15 minutes at 250ºF.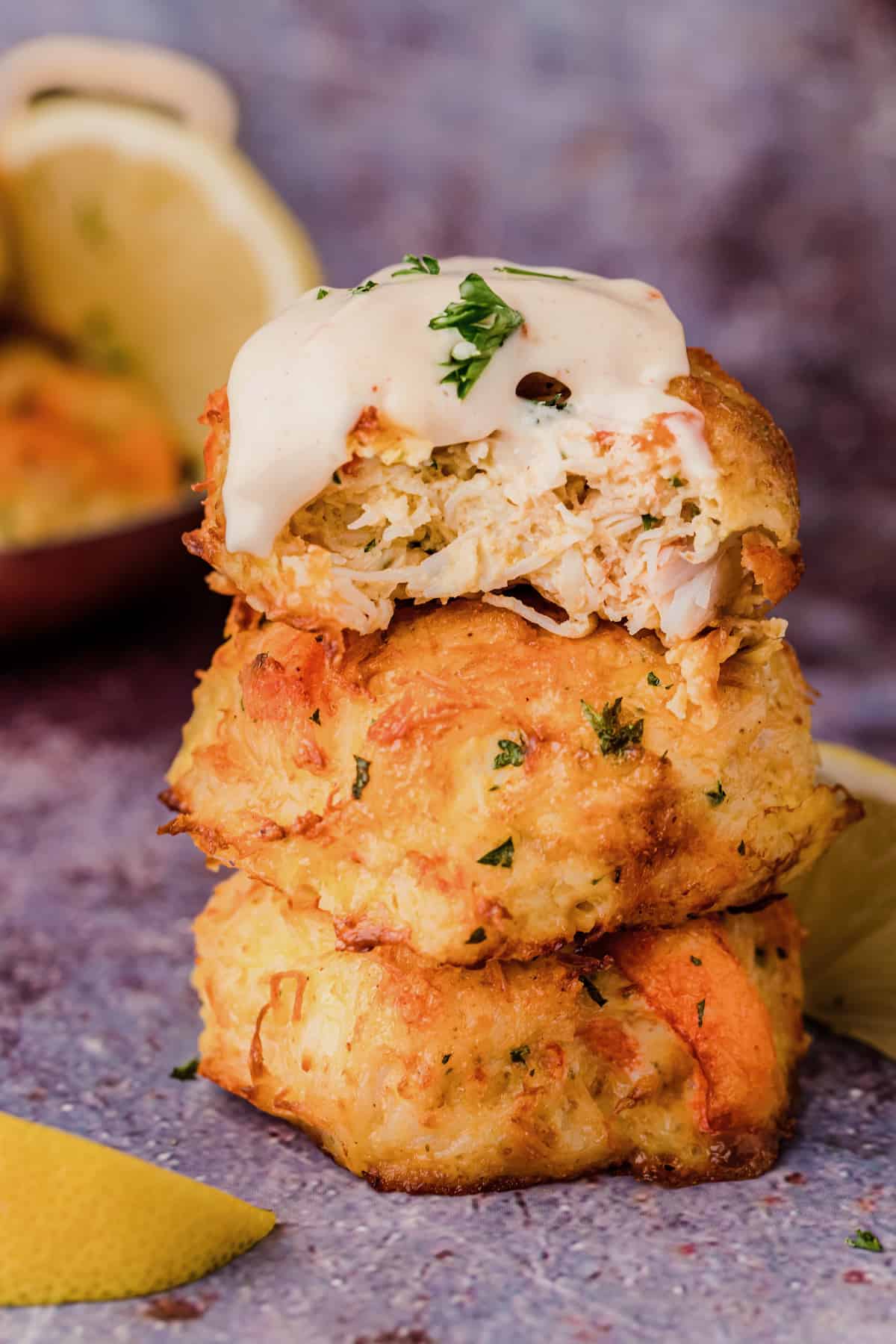 You might also like these other seafood dishes:
And these other low carb recipes while you're here:
Recipe